(1) NEBULA NOMINATIONS DEADLINE. It's today, and only a few hours away.
(2) VET BILL APPEAL. Amazing Stories' Steve Davidson has launched the "Bo the Wonder Dog Medical Fund" at GoFundMe.
My wife and I adopted Bo nearly 17 years ago.

He's been a great friend and companion, helping me through the loss of my wife to cancer and being a "great guy".

Bo has some issues: he's had chronic pancreatitis and has been diagnosed with Chron's disease.

…With the loss of my wife a couple of years ago, my personal financial picture has changed dramatically (loss of one entire income, health care, etc) and, while I've kept up with the bills (barely) and gotten some help from the family, I anticipate that expenses for treatment will continue for a while and I simply can not afford them.

At the current time, the outstanding balance on his bill is approximately $1300.00 – and that does not include the bill for emergency vet care when I had to bring him in at 11:30 pm on 2/16/20 [sic]. I expect that we are currently looking at around $2500 all told, and that's just going to increase with additional office visits, tests and medications.

Bo is an extremely intelligent, vibrant, engaged silky terrier; the image shown here appeared on the cover of the Sunday Concord Monitor (NH) showing his involvement with Amazing Stories magazine.

And Bo is the last remaining connection I have with my wife as we adopted him together and he is in many ways the child of our marriage.

I simply don't want him to suffer, regardless of what the eventual diagnoses ends up being and I don't want him to suffer simply because the bills can't be paid.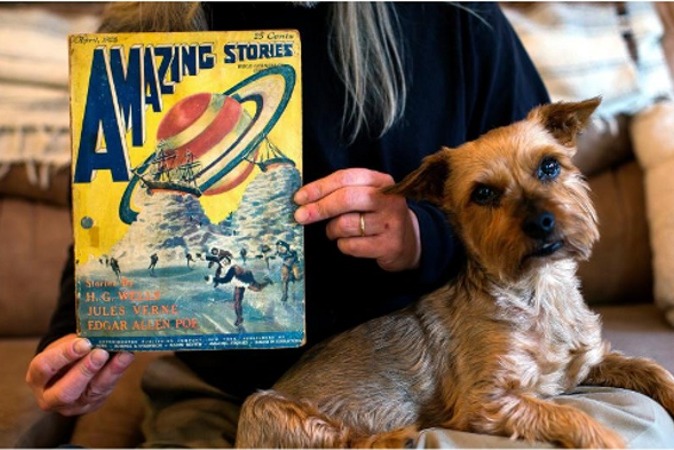 (3) HWA INTERVIEW SERIES. Horror Writers of America is celebrating Women in Horror Month by interviewing some of the top women in the horror field in a series called Females of Fright. Here's what's online so far —
(4) BUTLER'S PARABLE ON STAGE. There will be a performance of the stage adaptation of "Octavia E. Butler's Parable of the Sower" on Saturday, March 7 in UCLA's Royce Hall. See details at the link.
Based on the novels Parable of the Sower and Parable of the Talents by Octavia E. Butler, this genre-defying work of political theater featuring a powerhouse ensemble of 20 singers, actors and musicians harnesses 200 years of Black music to give musical life to Butler's acclaimed science fiction novel. Parable of the Sower, set in 2024 and published in 1993, presciently grapples with many of the same issues we face today—global warming, corporate influence over government, a destabilized economy, water scarcity, food scarcity, the privatization of social services, homelessness, public safety, a return of long forgotten diseases and the profit-making machine that runs the medical industry. Written by singer, composer and producer Toshi Reagon in collaboration with her mother, Dr. Bernice Johnson Reagon (song leader, composer, scholar, social activist and founder of Sweet Honey In the Rock), Parable Of The Sower is a mesmerizing theatrical work of rare power and beauty that reveals deep insights into gender, race and the future of human civilization.
(5) STILL NO CIGAR. "Sonic the Hedgehog movie: Critics put the brakes on" – a BBC survey of the media response.
The reviews are in for the new-and-improved Sonic the Hedgehog movie, and the critics have been getting their (human) teeth stuck in.

The trailer was out last May, but Sonic went back to the drawing board after fans reacted badly to how he looked.

Variety said he "has been redesigned to satisfy fans, but no-one figured out how to make him as fun as he is fast".

And IndieWire declared that "fixing Sonic's terrifying face hasn't made this movie any less of a nightmare".

Jim Carrey plays Dr Robotnik, who – as well as the US government – is chasing the supersonic Sega hedgehog, portrayed in voice and facial motion capture by Ben Schwartz.

The Guardian gave the film two stars, noting how "dastardly Jim Carrey gives Sonic the blues".

The paper's critic Steve Rose wrote: "Carrey's moustache-twirling villain is more fun and far more animated than the charmless hero in this derivative caper."
(6) NOODLING AUDIBLY. Scott Edelman invites fans to nibble fried noodles with John Edward Lawson in Episode 115 of his Eating the Fantastic podcast.
My latest lunch on which you get to eavesdrop is with John Edward Lawson, the author of 16 books of fiction and poetry, plus numerous chapbooks. His short stories have been collected in such titles as Pocketful of Loose Razorblades, Discouraging at Best, and most recently Devil Entendre, while his poetry can be found in multiple titles, including The Plague Factory, The Scars Are Complimentary, Bibliophobia, and the Bram Stoker Award finalist The Troublesome Amputee.

He's the founding editor of Raw Dog Screaming Press, which was given a Specialty Press Award by the Horror Writers Association in 2019. He currently serves as vice president of Diverse Writers and Artists of Speculative Fiction, and also manages the Broadkill Writers Resort, which he founded in 2016.

We met for lunch recently on a rainy day in Washington D.C. at Dolan Uyghur restaurant. It was my first taste of Uyghur cuisine, and I was quite impressed, particularly by the hand pulled noodles in my Laghman.

We discussed the birth of the bizarro horror subgenre (and the surprisingly democratic way in which it was named), the reason Alien both repelled and attracted him, how trying to sell screenplays led to him publishing his first short fiction instead, the story of his which was the most emotionally difficult to write, how he won a poetry award only after giving up on poetry, the unexpected gift he was given when starting his own publishing company, his initial doubts about naming his press Raw Dog Screaming, how he survived the 2008 financial meltdown which sank so many small presses, why he loves watching people bicker, the reason he became known as "the forgotten black man of horror," and much more.
(7) TODAY'S BIRTHDAYS.
[Compiled by Cat Eldridge.]
Born February 15, 1883 — Sax Rohmer. Though doubtless best remembered for his series of novels featuring the arch-fiend Fu Manchu, I'll also single out The Romance of Sorcery as he based his mystery-solving magician character Bazarada on Houdini who he was friends with. (Died 1959.)
Born February 15, 1907 — Cesar Romero. Joker in the classic Batman TV series and film. I think that Lost Continent as Major Joe Nolan was his first SF film, with Around the World in 80 Days as Abdullah's henchman being his other one. He had assorted genre series appearances on series such as The Man from U.N.C.L.E., Get Smart, Fantasy Island and Buck Rogers in the 25th Century. (Died 1994.)
Born February 15, 1914 — Kevin McCarthy. Best remembered as Dr. Miles Bennell in The Invasion of the Body Snatchers. He would later have recurring roles in Twilight Zone and is in the Twilight Zone movie as well having a cameo in the Seventies remake of The Invasion of the Body Snatchers. Other SF credits include The Howling, Innerspace, Addams Family Reunion and Looney Tunes: Back in Action in which he had a cameo as Dr. Miles Bennell. (Died 2010.)
Born February 15, 1916 — Ian Ballantine. He founded and published the paperback line of Ballantine Books from 1952 to 1974 with his wife, Betty Ballantine. The Ballantines were both inducted by the Science Fiction Hall of Fame in 2008, with a joint citation. During the Sixties, they published the first authorized paperback edition of Tolkien's books. (Died 1995.)
Born February 15, 1917 — Meg Wyllie. She was the Talosian "Keeper" in the Trek pilot episode, "The Cage". She would show up later in Batman as Grandma in the "Black Widow Strikes Again" episode and earlier in her career, she was in Twilight Zone episode "The Night of the Meek" as Sister Florence. She's Granny Gordon in The Last Starfighter. (Died 2002.)
Born February 15, 1935 — Paul Wenzel, 85. Disney illustrator responsible for such works as the Mary Poppins posters, the Walt Disney commemorative stamp and concept art of The Haunted Mansion. For those of you asking why he's here, I'll note that during the Sixties, he did both covers and interiors for Fantastic Stories of Imagination, If ,Galaxy, Space Travel and Worlds of Tomorrow
Born February 15, 1945 — Jack Dann, 75. Dreaming Down-Under which he co-edited with Janeen Webb is an amazing anthology of Australian genre fiction. It won Ditmar Award and was the first Australian fiction book ever to win the World Fantasy Award. If you've not read it, go do so. As for his novels, I'm fond of High Steel written with Jack C. Haldeman II, and The Man Who Melted. He's not that well stocked digitally speaking though Dreaming Down-Under is available on Kindle. 
Born February 15, 1948 — Art Spiegelman, 72. Author and illustrator of Maus which if you've not read, you really should. He also wrote MetaMaus which goes into great detail how he created that work. And yes, I know he had a long and interesting career in underground comics but I'll be damn if I can find any that are either genre or genre adjacent. 
Born February 15, 1958 – Cat Eldridge, 62, is the publisher of Green Man Review and Sleeping Hedgehog. Cat, who's had some severe health problems, likes to remind people, "Technically I died in 2017 and was revived in the same year."
Born February 15, 1971 — Renee O'Connor, 49. Gabrielle on Hercules: The Legendary Journeys and Xena: Warrior Princess. I'm reasonably that I watched every damn episode of both series when they aired originally. Quite fun stuff. Her first genre role was first as a waitress in Tales from the Crypt andshe's had some genre film work such as Monster Ark and Alien Apocalypse. She's also played Lady Macbeth in the Shakespeare by the Sea's production of Macbeth.
(8) PEAK TELEVISION IS HERE. [Item by Olav Rokne.] Watching television in the modern era is like trying to drink from a fire hose: According to Nielsen, there were 646,152 unique programs available to view on television in 2019. This is the first time that there's been a full survey done of available content, but they also ran numbers for the previous few years, and found that 2019 saw 10 per cent more content available than any previous year. From WIRED: "There Were 646,152 Things to Watch on TV Last Year"
From the report: "We are at the flash point of the "streaming wars," with an array of new subscription and ad-supported platforms seeking to capitalize on what is a massive global opportunity for consumer attention and value."
(9) ANOTHER BRANCH IN THE TREE. "'Ghost' DNA In West Africans Complicates Story Of Human Origins" – NPR has the story.
About 50,000 years ago, ancient humans in what is now West Africa apparently procreated with another group of ancient humans that scientists didn't know existed.

There aren't any bones or ancient DNA to prove it, but researchers say the evidence is in the genes of modern West Africans. They analyzed genetic material from hundreds of people from Nigeria and Sierra Leone and found signals of what they call "ghost" DNA from an unknown ancestor.

Our own species — Homo sapiens — lived alongside other groups that split off from the same genetic family tree at different times. And there's plenty of evidence from other parts of the world that early humans had sex with other hominins, like Neanderthals.

That's why Neanderthal genes are present in humans today, in people of European and Asian descent. Homo sapiens also mated with another group, the Denisovans, and those genes are found in people from Oceania.

The findings on ghost DNA, published in the journal Science Advances, further complicate the picture of how Homo sapiens — or modern humans — evolved away from other human relatives. "It's almost certainly the case that the story is incredibly complex and complicated and we have kind of these initial hints about the complexity," says Sriram Sankararaman, a computational biologist at UCLA.
(10) ONE OF THESE DAYS… "Wanted: New astronauts for Nasa Moon mission"
Going into space is a dream shared by children and adults around the world.

Although humans have not stepped foot on the Moon in almost half a century, Nasa hopes to change this. It plans to land the first woman – and the next man – on the lunar surface by 2024.

And now the US space agency is looking for candidates to take part in its future missions.

So with applications opening from 2 to 31 March, what does it take to become an astronaut?

Nationality matters

Since the 1960s, Nasa has selected 350 candidates to train as astronauts, with 48 currently in the active astronaut corps.

But as it is a US federal agency, the first requirement to join Nasa is American citizenship, although dual nationals are also eligible to apply.

This rule has not put everyone off: late British astronaut Piers Sellers left the UK and became a US citizen as part of his dream to become an astronaut, and later flew on three space shuttle missions.
(11) AND HOW. BBC video — "Record-breaking astronaut: 'Do what scares you'".
Christina Koch spent 328 days on the International Space Station and was part of the first all-female spacewalk.

The astronaut also surpassed the previous female record reached by Peggy Whitson in June 2017 for time spent in space.

She touched back down to Earth on 6 February.
(12) DRONING AWAY. PetaPixel invites you to "Watch an Anti-Drone Laser Literally Fry a Bunch of DJI Drones from Miles Away".
Israeli defense technology company Rafael Advanced Defense Systems Ltd recently released a demo of their special "Drone Dome" counter-drone defense system. A car-mounted anti-drone solution that can fry unwelcome drones from miles away using a high-powered laser beam.
[Thanks to Cat Eldridge, Mike Kennedy, Olav Rokne, Andrew Porter, Chip Hitchcock, JJ, Martin Morse Wooster, John King Tarpinian, Scott Edelman, and Michael Toman for some of these stories. Title credit goes to File 770 contributing editor of the day Ingvar.]