(1) HWA SERIES. The Horror Writers Association Blog continues its Women in Horror Month series of interviews with "Females of Fright: Linda Addison".
3) Who were/are your biggest influences?
That is a long list of people. The first person that influenced me to write is my mother. She was a fantastic storyteller and would entertain the nine of us with fables she made up. This made it feel very natural to create stories for me. Also, two strong female characters from the Star Trek television series were huge influences: Uhura (Nichelle Nichols) as the first Black female officer in a SF series and Christine Chapel (Majel Barrett) whose character said more with a look than words.

When I was in high school, I loved Maya Angelou, Ralph Ellison, Toni Morrison, Alice Walker, James Baldwin, Eudora Welty, and Langston Hughes because of the music in their writing. In college, I discovered genre writers Isaac Asimov, Anne McCaffrey, Robert Heinlein, Octavia Butler, Nancy Kress, and Connie Willis. In horror, some of my female influences were Anne Rice, L. A. Banks, Elizabeth Massie, Marge Simon, and Charlee Jacob. Looking back, I see that I read more male SF and horror writers than female because the field didn't have as many in print as they do now and even fewer Black female writers.

When my story was published in Sheree R. Thomas' Dark Matter anthology in 2000, it gave me so much exposure and made a huge difference in my career. Others lifted me up with their belief in my writing early on: Jack Ketchum, Terry Bisson, Nancy Kress, Straub, L. A. Banks, Douglas Clegg, and so many more…
(2) CHANGING OF TH GUARD AT DISNEY. "Bob Iger steps down at Disney, Bob Chapek named new CEO" – the LA Times has details:
In a stunning move that marks the end of an era for one of the entertainment industry's great corporate success stories, Bob Iger on Tuesday stepped down as chief executive of Walt Disney Co. after 15 years in the job.

Bob Chapek, a 27-year Disney veteran who most recently led the company's massively important parks and consumer products business, was named Iger's successor, effective immediately.

Iger, 69, has assumed the role of executive chairman, the company said. In that role, he will direct the Burbank entertainment giant's creative endeavors and help guide the company's board through the leadership transition until the end of his contract on Dec. 31, 2021, Disney said in statement.

Disney's CEO succession plan was the subject of speculation for years as Iger delayed plans to leave the company. Disney's board last extended Iger's contract was in December 2017, when Disney announced that it was buying much of 21st Century Fox from Rupert Murdoch. As part of those negotiations, Murdoch requested that Iger stay on to run the company rather than leave when he'd planned….
(3) RETRO DRAMA. Mark Leeper has finished his complete overview of all feature-length dramatic presentations eligible for the Retro Hugo. Originally done in three installments, the full article now is available here — "Comments on the 1945 Retro Hugo Nominations in the Dramatic Presentation Category".
Members of the 2020 World Science Fiction Convention will be given an opportunity to vote retroactively for Hugo Awards for 1945, for works from 1944. I am not actually old enough to have been around in 1944. The year 1944 was roughly a flowering when fantastic media was seen by much of the public. I am not sure when I started seeing fantastic media from the year 1944 until about 1960, but I do remember the early general public availability of some of the films nominated for a 1944 Retroactive Hugo. They had science fiction and fantasy for which the fiction was absurdly bad (but fun) and the "science" contained no science at all. It can still be fun to be misinformed by science from someone who knows less science than you do and by fiction that is just written. There is a certain charm to science fiction written by someone with no obvious understanding of science trying their best to make it sound credible

Many true fans of science fiction and fantasy still retain an interest in the fantasy fiction from 80 years earlier. Reading it creates an atmosphere from a writing style of decades ago. Few fans delude themselves into believing that this prose eight decades old is true artistry.

Personally I see only one or two titles among the nominees that say to me "classic." By the time I finish this article you will probably have very little doubt which two are the ones that I consider the true classics. In the meantime I will hint for the reader think about which would the real classic be. Evelyn and I will both be viewing the choice of nominees and independently recording our opinions.

Enjoy your sojourn to the fun films of 1944. I know I will.
(4) SEES RIGHT THROUGH IT. "'The Invisible Man': Film Review" in The Hollywood Reporter.
This is not your father's or, for that matter, grandfather's The Invisible Man, even though it marks the launch of Universal's revived attempt to seriously refresh and refashion its 1930s/'40s horror lineup for the modern age. Rather, enterprising writer-director Leigh Whannell (writer of Saw and Insidious and director of Insidious: Chapter 3) has imaginatively gone in a different direction by meeting the requirements of the title both literally and figuratively. At the same time, the movie stakes a claim for new mystery-horror territory worthy of a talent like Elisabeth Moss, who amplifies the qualities of the script with a top-shelf woman-in-severe-jeopardy performance….
(5) DON'T OPEN THE BOX! Last night on PBS' Antiques Roadshow:
Caution: this appraisal may melt your face off! Watch as James Supp appraises a prototype Ark of the Covenant from the 1981 Indiana Jones film "Raiders of the Lost Ark" at Crocker Art Museum in Sacramento, CA.
(6) A STEP ON THE WAY TO MARS. The LA Times reports "SpaceX gets approval to build its Mars spaceship at Port of L.A."
The Los Angeles City Council approved a permit Tuesday that allows the Elon Musk-led company to use a site on Terminal Island at the port to build aerospace parts.

With the vote, SpaceX is now cleared to start work at the site; last week, the L.A. Board of Harbor Commissioners green-lighted the permit.

SpaceX representatives told L.A. City Councilman Joe Buscaino's office that the company was interested in the port site because it needed additional manufacturing capacity for its Starship spaceship and rocket booster. A SpaceX representative at last week's harbor commissioners meeting did not mention Starship by name during his presentation of the project, but he said the company would use the port site to further its goal of creating an interplanetary society that includes Mars.
(7) TODAY IN HISTORY.
February 25, 1999 — Escape from Mars premiered on UPN. It was directed by Neill Fearnley and produced by Peter Lhotka. It was written by im Henshaw, Peter Mohan. It starred Lia Poirier, Allison Hossack , Peter Outerbridge, Allison Hossack and Michael Shanks. There are no critical reviews of it but the reviews at IMDB and Amazon make it clear that this is a horrible film. And the audience numbers at Rotten Tomatoes are simpatico withose opinions at 27%. You can see it here.
(8) TODAY'S BIRTHDAYS.
[Compiled by Cat Eldridge.]
Born February 25, 1906 — Mary Chase. Journalist, playwright and children's novelist. She's best remembered for the Broadway playwright who penned Harvey which was later adapted for the film that starred James Stewart. Her only other genre work was the children's story, "The Wicked, Wicked Ladies In the Haunted House". The latter is available at the usual digital publishers but Harvey isn't. You can get Harvey as an audiobook. (Died 1981.)
Born February 25, 1909 — Edgar Pangborn. For the first twenty years of his career, he wrote myriad stories for the pulp magazines, but always under pseudonyms. It wasn't until the Fifties that he published in his own name in Galaxy Science Fiction and The Magazine of Fantasy & Science Fiction. His Tales of a Darkening World work is certainly well-crafted and entertaining. He's deeply stocked at reasonable prices at the usual digital publishers. (Died 1976.)
Born February 25, 1913 — Gert Fröbe. Goldfinger in the Bond film of that name. He also the Baron Bomburst in Chitty Chitty Bang Bang, Professor Van Bulow in Jules Verne's Rocket to the Moon and Colonel Manfred von Holstein in Those Magnificent Men in their Flying Machines, a film that's at least genre adjacent. (Died 1988.)
Born February 25, 1917 — Anthony Burgess. I know I've seen and read A Clockwork Orange many, many years ago. I think I even took a University class on it as well. Scary book, weird film. I'll admit that I'm not familiar with the Enderby series having not encountered them before now. Opinions please. (Died 1993.)
Born February 25, 1922 — Robert Bonfils. Illustrator, known for his covers for pulp paperback covers, many of an erotic nature. I've not heard of him but ISFDB lists quite a few genre works that are, errr, graced by his work. Sex is certainly his dominant theme as can be seen in the covers of Go-Go SADISTO, Orgy of the Dead and Roburta the Conqueress. I've included the cover of From Rapture with Love, an obvious rip-off a Bond film, as an example of his work. (Died 2018.)
Born February 25, 1938 — Diane Baker, 82. She starred in Journey to the Center of the Earth with James Mason, and shortly thereafter, she's Princess Yasmin in The Wizard of Baghdad. She's Kathy Adams in the "Beachhead" episode of The Invaders, and Fran Woods in the "Saturday's Child" episode of the original Fantasy Island. I think her last genre role was as Dolores Petersen in the "Water, Water Everywhere" episode of Mann and Machine.
Born February 25, 1938 — Malcolm Tierney. He's Lt. Shann Childsen, the Imperial Prison Officer who questions Skywalker and Solo on what they are doing with Chewbacca in Star Wars, he's in the Sixth Doctor story, "The Trial of a Time Lord" as Doland. (Died 2014.)
Born February 25, 1944 — Mary Hughes. Solely here because she was a bikini-clad robot in Dr. Goldfoot and the Bikini Machine, a too obvious Bond ripoff made entertaining by Vincent Price in the lead role. Her career spanned but three years. Another film she was in was The Ghost in the Invisible Bikini where she played, errr, a bikini clad Mary, and Boris Karloff played The Corpse.
Born February 25, 1968 — A. M. Dellamonica, 52. A Canadian writer who has published over forty rather brilliant short works since the Eighties. Her first novel, Indigo Springs, came out just a decade ago but she now has five novels published with her latest being The Nature of a Pirate. Her story, "Cooking Creole" can be heard here at Pod Castle 562. It was in Mojo: Conjure Stories, edited by Nalo Hopkinson.
Born February 25, 1971 — Sean Astin, 49. His genre roles include Samwise Gamgee in the Rings trilogy, Mikey Walsh in The Goonies, and Bob Newby in the second season of Stranger Things. He also shows up in Justice League: War and in Justice League: Throne of Atlantis filmsvoicing both aspects of Shazam, a difficult role to pull off. He reprises that role on the Justice League Action series.
(9) COMICS SECTION.
Lio finds one size does not fit all when it comes to being abducted by aliens.
(10) SQUOOBS AND COMPANY. When Mysterious Galaxy bookstore reopened in San Diego this month, representatives of the Mandalorian Mercs and Imperial Sands Garrison were on hand: "Mercs 'Haran'galaar – Mysterious Galaxy Grand Opening' Event Report".
Event location: San Diego, CA
Date: February 08, 2020
Clan(s) Involved: Haran'galaar Clan
Mission Objective: Photo ops
Event Report: Mysterious Galaxy book store opened its doors again and Haran'galaar member Squoobs Jaro was there to show support. Guests were treated to photo ops with Squoobs along with members of the Imperial Sands Garrison.
(11) LAW LAW LAND. In "Useful Laws of the Land" on the Collaborative Fund website, Morgan Heusel discusses "Benford's law of controversye: "Passion is inversely proportional to the amount of real information available," which Gregory Benford promulgated in Timescape.
8. Benford's law of controversy: "Passion is inversely proportional to the amount of real information available."

The line appeared in science fiction author Gregory Benford's book Timescape.

Data has a way of keeping excitement in check, whereas if you have to take a leap of faith on something you're likely to leap as far as your mind allows.

The median income of the people of another state: data I can confirm and everyone can agree on.

The feelings and political beliefs of the people of another state: no way for me to easily tell. But I can guess and draw conclusions, some of which are wrong and missing content, and might anger me, which angers them, and so on.

Former Netscape CEO Jim Barksdale once said, "If we have data, let's look at data. If all we have are opinions, let's go with mine."

He wasn't serious, but it seriously explains a lot of things.
(12) IT'S A BABY! In the Washington Post, David Betancourt, reporting from the Toy Fair New York, says the market is about to be flooded with Baby Yoda merchandise, including a doll that makes baby noises if you hold his left hand and the theme from "The Mandalorian" if you hold the right. He interviews "Mandalorian" producer Dave Piloni, who says that one reason why Baby Yoda merchandise is becoming available now is that they wanted to surprise people with the character and couldn't start production of Baby Yoda stuff until after the show was launched: "Baby Yoda toys are finally arriving. Sure, they missed the holidays — but at least that prevented spoilers."
And on Thursday at the Dream Hotel in Manhattan, the Child was everywhere. Legos, action figures, costumes, backpacks, hats, shirts, wallets and socks were all on display. An image of the now-classic moment in "The Mandalorian" when a young Baby Yoda reaches out of a capsule and extends the cutest finger in the universe for the first time? Framed and ready for your wall. The capsule itself? Also available, and featuring an animatronic Baby Yoda that blinks, coos and will melt your heart, for $60.
(13) YOU'RE INVITED TO GO APE. Fathom Events is selling tickets to a theatrical screening of King Kong on March 15.
In the classic adventure that made her a star, Fay Wray plays the beautiful woman who conquers the savage heart of a giant ape.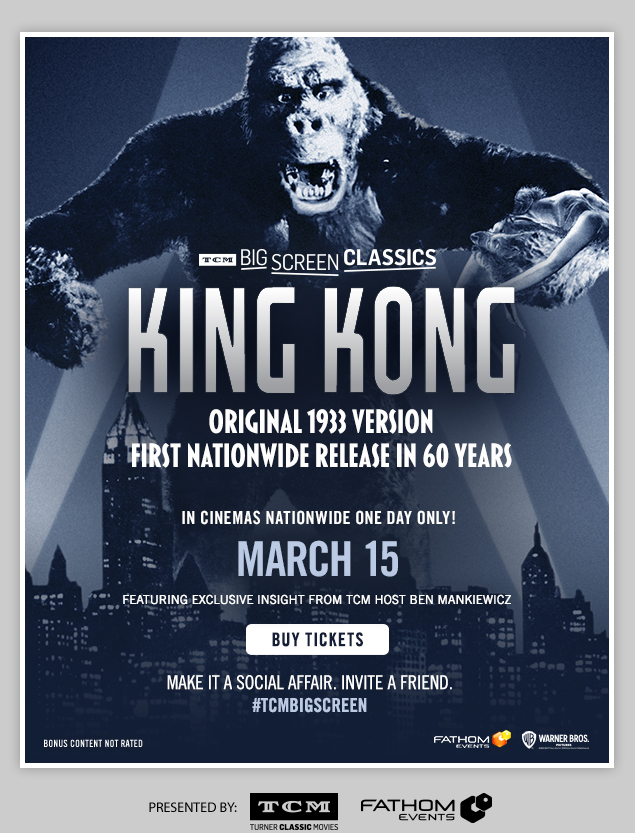 (14) FROM DA VINCI TO DA CAPO. Dan Brown's next project is for young children. Wild Symphony, a hybrid picture book and album, featuring a mouse conductor who recruits other animals to join his orchestra.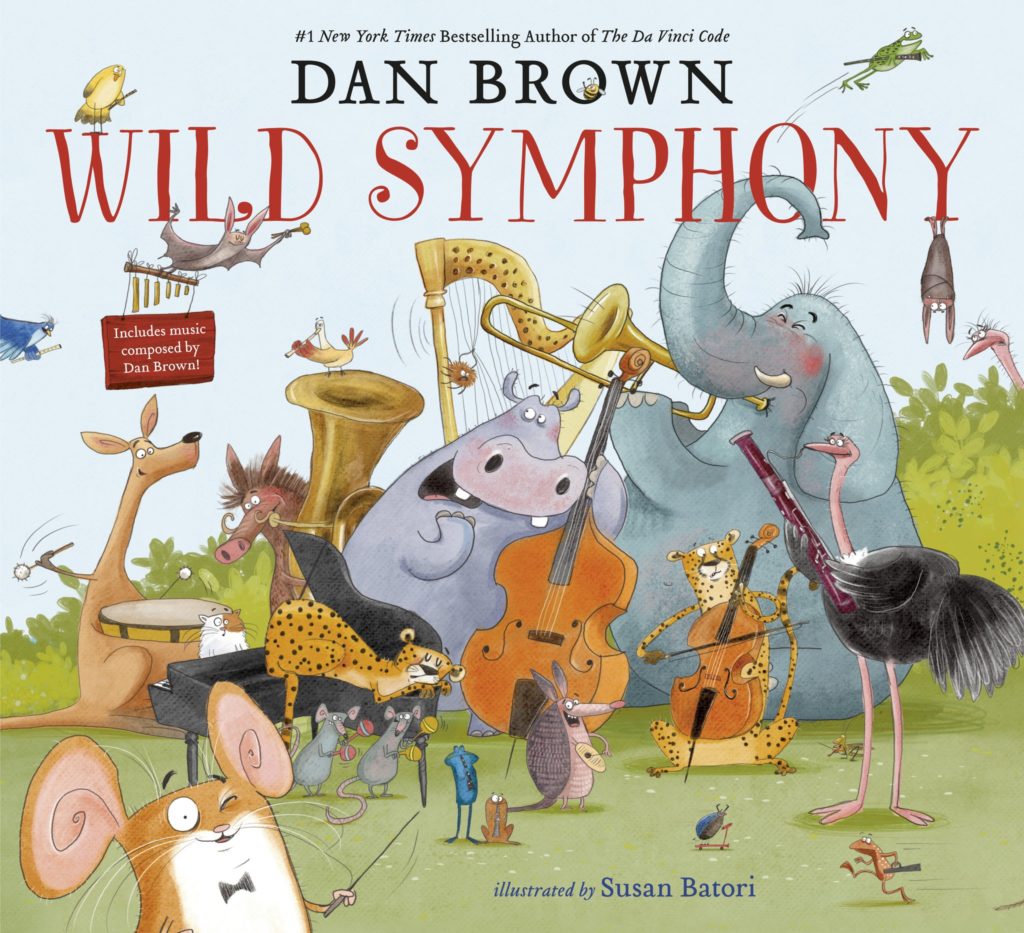 Before he became a best-selling writer, Dan Brown was an aspiring musician. In 1989, he self-produced an album of children's music he arranged on synthesizers, titled "Musica Animalia." It sold around 500 copies, and Brown soon forgot about it.

He had better luck as a novelist, with page-turners like "The Da Vinci Code," "The Lost Symbol" and other thrillers that collectively have more than 220 million copies in print.

Now, three decades later, Brown is reviving his musical career with a hybrid children's album and picture book that grew out of the music and poems he wrote for "Musica Animalia."
(15) STEALING COMEDY GOLD. James Davis Nicoll acquaints Tor.com readers with a Donald Westlake series in "A Funny Thing Happened on the Way to the Heist".
…Just as Parker was the perfect lead for noir crime novels, hapless, likeable Dortmunder was the perfect lead for a comic heist series. There's always stuff that needs stealing in New York; there are no end of unanticipated complications that can transform what was on paper a simple plan into a hilariously inconvenient maze of stumbling blocks for Dortmunder and his crew. It's no surprise, therefore, that Westlake wrote fourteen novels and eleven or so short stories about John Dortmunder, Kelp, Murch, Tiny, and the rest of the crew before the author's death put an end to the series.
(16) TEAMING WITH A ROBOT. "What do we look for in a 'good' robot colleague?" BBC devotes a long article to answering the question, with field observations as well as speculation.
How can we make our robot colleagues feel more at home? Teams of psychologists, roboticists and managers are trying to find out.

With a tank-like continuous track and an angular arm reminiscent of the Pixar lamp, the lightweight PackBot robot was designed to seek out, defuse and dispose of the improvised explosive devices, or IEDs, that killed and injured thousands of coalition soldiers during the wars in Iraq and Afghanistan. Bomb disposal was and is highly dangerous work, but the robot could take on the riskiest parts while its human team controlled it remotely from a safer distance.

US Army explosive ordinance disposal technician Phillip Herndon was assigned a PackBot during his first tour in Iraq. Herndon's team named their robot Duncan, after a mission when the robot glitched and began spinning in circles, or doughnuts (doughnuts led to Dunkin Donuts, hence Duncan). His fellow bomb disposal techs named theirs too, and snapped photos of themselves next to robots holding Xbox controllers, dressed in improvised costumes or posing with a drink in their claws.

A PackBot was a piece of lifesaving kit, but it also felt like a comrade. No other equipment evoked the same kind of emotional pull, said Herndon, who retired from the army in 2016 as a first sergeant. Duncan's final mission came one night when an enemy combatant fired on the robot as it worked to defuse a bomb. The strike disabled the IED, potentially saving lives, but destroyed the robot. "It was actually kind of a sad day for all of us," says Herndon. "You do wind up in this situation where you have this robot for a tremendous amount of your operations, and all of a sudden you're without a robot… There's this emotional and operational missing link."

Herndon was hardly alone in his attachment. Bomb-disposal robots have proven to be highly effective both at clearing explosives and at eliciting affection from their human handlers, some of whom have held robot funerals and award ceremonies for favoured bots.

These relationships offer illuminating insights into the experience of working with a robotic teammate, something an increasing number of workers in fields from healthcare to retail will be called on to do.

…'Helping, not taking jobs'

"You need to think from the beginning of how you're going to put these teams together, and give the robot [or] AI the job that the robot or AI does best and that the human doesn't want to do, or that's too boring or dangerous for the human," says Nancy Cooke, a professor of cognitive science and director of Arizona State University's Center for Human, Artificial Intelligence, and Robot Teaming.
(17) WHERE DID THE VIRUS COME FROM. "Coronavirus: The race to find the source in wildlife" – BBC has the story.
…Somewhere in China, a bat flits across the sky, leaving a trace of coronavirus in its droppings, which fall to the forest floor. A wild animal, possibly a pangolin snuffling for insects among the leaves, picks up the infection from the excrement.

The novel virus circulates in wildlife. Eventually an infected animal is captured, and a person somehow catches the disease, then passes it on to workers at a wildlife market. A global outbreak is born.

Scientists are attempting to prove the truth of this scenario as they work to find wild animals harbouring the virus. Finding the sequence of events is "a bit of a detective story", says Prof Andrew Cunningham of Zoological Society London (ZSL). A range of wild animal species could be the host, he says, in particular bats, which harbour a large number of different coronaviruses.

So how much do we know about the "spillover event", as it's known in the trade? When scientists cracked the code of the new virus, taken from the body of a patient, bats in China were implicated.

The mammals gather in large colonies, fly long distances and are present on every continent. They rarely get sick themselves, but have the opportunity to spread pathogens far and wide. According to Prof Kate Jones of University College London, there is some evidence bats have adapted to the energetic demands of flight and are better at repairing DNA damage. "This might enable them to cope with a higher burden of viruses before getting sick – but this is just an idea at present."

…The second part of the puzzle, then, is the identity of the mystery animal that incubated the virus in its body and possibly ended up in the market at Wuhan. One suspect for the smoking gun is the pangolin.
(18) COMPUTERIZED INCOMPETENCE. BBC reports "Pets 'go hungry' after smart feeder goes offline".
Owners of a device designed to release food for pets say their animals were left hungry during a week-long system failure.

Petnet allows owners to schedule and control feeding via a smartphone app.

When the BBC contacted Petnet on its advertised email address, the email bounced back with a delivery failure notice.

One pet owner tweeted: "My cat starved for over a week", while others complained about other hardware issues.

"My three Gen2 feeders constantly jam and won't dispense food," wrote another.
[Thanks to Chip Hitchcock, Evelyn Leeper, Cat Eldridge, Andrew Porter, Martin Morse Wooster, John King Tarpinian, JJ, Michael Toman, James Davis Nicoll, and Mike Kennedy for some of these stories. Title credit goes to File 770 contributing editor of the day Acoustic Rob.]