(1) WHERE THE FUTURE COMES FROM. Nnedi Okorafor was featured in Chicago Magazine in January: "Nnedi Okorafor's Books Focus on Future Tense".
What are some of your favorite books?

Wizard of the Crow [by Ngugi wa Thiong'o], The Talisman by Stephen King [and Peter Straub], Life of Pi [by Yann Martel], and Ben Okri's The Famished Road, which is like a dream, so psychedelic. It's probably the most influential book for me. It's about a young boy who was born with spirit friends, but it's an adult novel. He views the world in such a way that the mystical and mundane coexist. It's set in Nigeria during a very politically tumultuous time. Akata Woman, my new book, pays homage to The Famished Road. The first time I read it, I was an undergrad. This guy I was dating had gotten it for an African studies class and I just stole it from him. He didn't care. He didn't even read it. For me, it changed everything.
(2) AARDMAN NEWS. [Item by Martin Morse Wooster.] I watched this 2015 BBC Documentary, "A Grand Night In: The Story of Aardman", directed by Richard Mears, which tells the story of Aardman. You learn lots of things in it, including where their name came from — it's a 1972 animation that company founders Peter Lord and David Sproxton sold to the BBC about a creature that's half-human, half aardvark. They talk about how Nick Park submitted student films to the company and essentially became the third partner, with his creation Wallace and Gromit earning him two Oscars with a third for his short "Creature Comforts."
Lots of actors and fellow animators are in this, including Terry Gilliam, Matt Groening, John Lasseter, and even Jeffrey Katzenberg, the great Bill Nighy, who's done voice work for Aardman, says the four things that seem to him to be England at its best are the Rolling Stones, Harold Pinter, Crystal Palace FC, and Aardman Animations.
Aardman fans will note this show was done before the last theatrical release, Early Man, which bombed and led to everything Aardman does going straight to Netflix.
Fun facts: the documentary says that the Oscar for best animated feature happened because of the success of Chicken Run (2000). Nick Park says he wanted to call Wallace And Gromit: The Curse Of The Were-Rabbit "The Great Vegetable Hunt" but changed it because focus groups of kids said they didn't like vegetables.
I thought this was a fun hour.
(3) M SQUAD. [Item by Steven French.] Some alliteration here! "A mashup of mythology, Middle-earth and Marvel comics, …" — "Marlon James: 'Violence is violent and sex is sexy. You are supposed to be appalled'" in The Guardian.
…He read whatever he could get his hands on – "the only category I needed for a book was 'next'" – coming late to classic fantasy fiction simply because there wasn't a drugstore paperback of The Lord of the Rings. Instead he gorged on film tie-ins, fairytales and comics. He attended the "posh" school, where he always felt a bit of an outsider. It was this sense of "having to negotiate a world you don't belong to", that he associated with Mantel's Thomas Cromwell, and which he gives to Sogolon and also to the ambitious Nina Burgess in A Brief History, the character closest to him, he says….
(4) TABLE TOP SFF GAMES. CBR.com gives us "The 10 Best Sci-Fi Board Games, Ranked".
3. Terraforming Mars Is Corporate Greed & Future Progress

Terraforming Mars is one of the most beloved board games in the world at the moment. The game currently sits in the top 5 board games of all time, according to hobbyists on the website Board Game Geek. In Terraforming Mars, players take on the role of different corporations that are attempting to terraform and mine resources from Mars for greed and political gain. The game has tons of unique cards, combos, and strategies which is what keeps players coming back to it time and time again.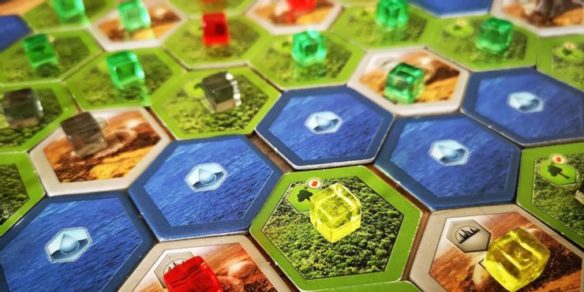 (5) HOME ON THE STRANGE. "Outer Range: First look at Josh Brolin's Amazon Prime Video thriller" at Vanity Fair.
…Brolin plays Royal Abbott, an old-school cowboy and patriarch tested by horrors both known and unknown. In the former category: His daughter-in-law has gone missing, and simmering tension with the rival Tillerson family is about to reach a boil. And in the latter: A giant metaphysical void has popped up on the Abbott property, representing…something. An alternate dimension? Aliens? Nightmares? As Royal stumbles upon it, we quickly glean that it's his—and our—destiny to find out. Eventually.

Outer Range is difficult to pinpoint, its shades of Yellowstone and Westworld (continuing in prestige TV's ongoing Western trend) gradually giving way to a true singularity….
(6) CLEAR FEAR. Catriona Ward contends, "'When done right, horror is a transformative experience'" in a Guardian Q&A.
Does it chafe to be described as a horror writer?
Like most terms applied to books, it's both really useful and not useful at all, but I love horror. I think it's one of the most expressive, most empathetic genres you can work in. Everyone feels afraid at some point in their life. Reading is a sustained act of telepathy or empathy, and reading horror is even more profound than that: it's asking people to share real vulnerabilities of yours and open themselves up to their own. It is like going down a tunnel, and hopefully the writer is leading the way with a torch, taking the reader's hand….
(7) MEDIA BIRTHDAY.
1994 — [Item by Cat Eldridge] Twenty-eight years ago this evening, TekLab, the third of the TekWar episodes, aired. Created by William Shatner who you all know, the novels are ghost-written by Ron Goulart, but I don't know how much input he had into the TV series. TekWar would be developed for television by Stephen Roloff who earlier had done the same for Friday the 13th: The Series and Beyond Reality, also produced in Canada.
TekLab would take our detectives to London attend a ceremony at the Tower of London which marks the start of a campaign to restore the British monarchy. Before the film ends, much will happen including the appearance of Excalibur.
The primary cast was Greg Evigan as Jake Cardigan, Eugene Clark as Sid Gomez, William Shatner as Walter Bascom, Michael York as Richard Stewart, Laurie Winger as Rachael Tudor and Maurice Dean Winter as Lt. Winger.
I can't say the critics loved this William Shatner created affair as they didn't, with one saying of the series in general that it was "bargain basement science fiction with a stale protagonist, a convoluted murder mystery, and a narrative that feels incomplete." Audience reviewers at Rotten Tomatoes currently give this film specifically a thirty-one percent rating.
(8) TODAY'S BIRTHDAYS.
[Compiled by Cat Eldridge.]
Born February 27, 1934 — Van Williams. He was the Green Hornet (with the late Bruce Lee as his partner Kato) on The Green Hornet and three Batman cross-over episodes. He would voice President Lyndon B. Johnson on the Batman series, show up in an episode of Mission Impossible, and also do a one-off Quinn Martin's Tales of the Unexpected and that's it. (Died 2016.)
Born February 27, 1937 — Barbara Babcock, 85. She had a remarkable six roles on Star Trek, first as Mea 3 on "A Taste of Armageddon" followed the "Assignment: Earth" episode as Beta 5 Computer / Isis, then in "The Tholian Web" as the voice of Cmdr. Loskene followed by being on "Plato's Stepchildren" as Philana. Her final appearance was in "The Lights of Zetar" as the Voice of Zetar. Somebody in casting really, really liked her voice. She also showed up on Green Hornet, Logan's Run, Mission: Impossible, Night Gallery, Salem's Lot and Alfred Hitchcock Presents.
Born February 27, 1940 — Howard Hesseman. Though best-known as DJ Johnny Fever on WKRP in Cincinnati and the New WKRP in Cincinnati (and yes, I remember the frozen turkey episode vividly), he did do quite a bit of genre. His first genre role I'm reasonably sure was as Dr. Louis Faraday in The Flight of The Navigator, a most superb film, he is Rupert King in "Titan Man" portion of Amazon Women on the Moon. He's Doctor Berg in Martin Child, and his last genre film was Halloween II where he was Uncle Meat. Huh. He's done one-offs on the Faerie Tale Theatre, The Ray Bradbury Theatre and The Outer Limits. (Died 2022.)
Born February 27, 1944 — Ken Grimwood. Another writer who died way too young, damn it. Writer of several impressive genre novels including Breakthrough and Replay, a World Fantasy Award winner, which I've thoroughly enjoyed and Into the Deep and Elise which are listed in ISFDB but which I'm not at all familiar with. Who's read them? (Died 2003.)
Born February 27, 1960 — Jeff Smith, 62. Creator and illustrator of Bone, the now complete series that he readily admits that "a notable influence being Walt Kelly's Pogo". Smith also worked for DC on a Captain Marvel series titled Mister Mind and the Monster Society of Evil. He's won a very impressive eleven Harvey Awards and ten Eisner Awards! Kindle, though not Apple Books, has the complete Bone for a very reasonable twenty dollars.
Born February 27, 1962 — Adam Baldwin, 60. Genre roles include Firefly and its continuation in Serenity as Jayne Cobb. Colonel John Casey in the exemplary Chuck series, Independence Day as Major Mitchell and Mike Slattery in The Last Ship, series I've yet to see. He's also done voice work such as Hal Jordan and Jonah Hex on Justice League Unlimited, and Metamorpho on Beware the Batman.
Born February 27, 1964 — John Pyper-Ferguson, 58. I certainly remember him best as the villain Peter Hutter on The Adventures of Brisco County, Jr. but I see that he got he got his start in Canadian horror films such as Hello Mary Lou: Prom Night II and Pin: A Plastic Nightmare. His first major SF role was in Space Marines as Col. Fraser. And though he has an extensive one-off career in genre series with over two dozen appearances, his occurrence as a repeated cast member is not uncommon as he's Agent Bernard Fainon in the new Night Stalker for several episodes, shows up as Tomas Vergis on Caprica for six episodes and I see he's had a recurring role on The Last Ship as Tex Nolan. Yep, two Last Ship performers here in these Birthdays.
(9) COMICS SECTION.
(10) SPEED OF LIGHTFINGERS. Oghenechovwe Donald Ekpeki told Facebook readers a funny story related to his interview in a recent issue of Locus.
(11) TIME ON HIS HANDS. "Men In Black Turns 25: Why The Movie Remains A Sci-Fi Comedy Classic" at GameRant.
…Barry Sonnenfeld's Men in Black is one of the most popular science-fiction films of the past half-century. Joining the ranks of Star Wars, Star Trek, and most recently Dune, the Men in Black franchise has the benefit of being one of the most internationally recognizable science-fiction I.P.'s in recent memory. While the sequels and reboot of the M.I.B. property have certainly done a lot towards hindering the brand, the first Men in Black remains a propulsive, thrilling, and funny entry in a landscape that often sees more failures than successes….
And John King Tarpinian says, "The movie made me to want to buy the Hamilton Ventura watch."
(12) TAKING THE HANDOFF. Geek Tyrant boosts the signal for "STAR WARS Severed Hand Magnets Include Luke Skywalker and Wampa Hands". What a concept.
Regal Robot has a Star Wars Separation Collection, and they introduced two new severed hand magnets. Those magnets include a severed Luke Skywalker hand holding a lightsaber and a severed wampa hand, the one sliced off by Luke Skywalker….
(13) VIDEO OF THE DAY. Fanac.org has taken a sound recording of Fred Lerner's 1963 interview of fannish legend Sam Moskowitz, matched in still photos to create a YouTube video.
Sam Moskowitz (SaM) was the chairman of the first World Science Fiction Convention (1939), a mover and shaper of science fiction fandom from the earliest days, and a historian of the field.

In this audio interview (presented with illustrative pictures) from 1963, Fred Lerner, noted librarian, bibliographer and historian, conducts a conversation that ranges from the definition of science fiction, to typical early plots, to an analysis of the early 60s magazine and paperback industry.

SaM was both a professional in the field, a writer, anthologist and critic as well as an iconic fan presence. In this interview, he speaks as a professional, casually inserting fannish references as he discusses the differences between science fiction fandom in the 30s and 60s, analyzes how fans relate to the general readership, and talks about the gaps that science fiction can fill.

In Fancyclopedia.org, it is reported that "one friend described him as "physically massive" — with a booming voice." In later years, SaM had throat cancer which required the surgical removal of his larynx, necessitating that he speak through an electronic voice-box, held against his throat. In this recording, you can hear SaM speak in his own voice about the field he loved and lived in. Thanks to Fred Lerner for providing the recording, and to Dr. Eric Fleischer (Dr. Gandalf) for digitization.
[Thanks to Martin Morse Wooster, JJ, John King Tarpinian, Chris Barkley, Steven H Silver, Daniel Dern, Steven French, Andrew Porter, Michael Toman, Cat Eldridge, and Mike Kennedy for some of these stories. Title credit belongs to File 770 contributing editor of the day Daniel Dern.]