(1) SF AND THE PARTY. In New Scientist Lavie Tidhar explains why "In China, this is science fiction's golden age".
In the 1980s, science fiction once again fell foul of the ruling party, as a new "Anti-Spiritual Pollution Campaign" emerged as a backlash to Deng Xiaoping's modernisation and liberalisation policies. Deng's opponents in the party railed against Western "bourgeois imports" of all kinds, and with sci-fi seeming to fall firmly in that category, it was all but wiped out for a time.

The genre's recovery was partly led by the emergence of Science Fiction World magazine in Chengdu, and its energetic editor, Yang Xiao, herself the daughter of a prominent party member. Having such influential backing allowed Science Fiction World to bring together many young writers for an "appropriate" reason.

By the end of the century, Chinese sci-fi entered its own golden age. Although the authorities still raised the issue of literary "appropriateness", the old restrictions had gone. One prominent contemporary sci-fi author is Han Song, a journalist at the state news agency Xinhua. Many of his works are only published outside the mainland due to their political themes, but Han is still widely recognised at home. His fiction can be dark and melancholy, envisioning, for instance, a spacefarer building tombstones to fellow astronauts, or the Beijing subway system being turned into a graveyard in which future explorers, arriving back on Earth, find themselves trapped on a fast-moving train. Along with Liu Cixin and Wang Jinkang, he is considered one of the "Three Generals" of Chinese sci-fi.
(2) SHARING THE MUSIC. The LA experimental hip-hop group Clipping, reported here the other day as seeking a Hugo nomination for their sci-fi oriented album Splendor & Misery, has raised the ante. Now they are giving away free copies to Hugo voters.
Started as a joke but now our label gave us free DL codes for our album to give out to any #HugoAward voters who want them. Hit us up! https://t.co/S6kai3ZNXV

— clipping (@clppng) February 28, 2017
Their goal is to be nominated in the Best Dramatic Presentation (Short Form) category.
They are distributing free download codes via Twitter, but voters are allowed to share.
@gamethyme Yes. Feel free to share with friends. That code will work for anyone. Number of DLs is limited, but it's a pretty high limit

— clipping (@clppng) February 28, 2017
I figure it wouldn't be fair to post it online – Clipping could have done that themselves – but i you're a Hugo voter who's not on Twitter and want to get the DL code, email me a mikeglyer (at) cs (dot) com and I will send it to you.
(3) IMADJINN TIME. Nominations are open for the 2nd annual Imadjinn Awards given to small press and independently published authors. Authors nominate their own titles (a form Is provided at the site).  A professional jury determines the finalists and the winners. The awards will be announced Saturday, October 7 at the Imaginarium Convention in Louisville, KY. (See last year's winners here.)
(4) GUNN THEME. A book about 2013 Worldcon guest of honor, Saving the World Through Science Fiction: James Gunn, Writer, Teacher and Scholar by Michael R. Page, has just been published by Macfarland.
One of the major figures in science fiction for more than sixty years, James Gunn has been instrumental in making the genre one of the most vibrant and engaging areas of literary scholarship. His genre history Alternate Worlds and his The Road to Science Fiction anthologies introduced countless readers to science fiction. He founded the Gunn Center for the Study of Science Fiction in 1982. But Gunn has also been one of the genre's leading writers. His classic novels Star Bridge (with Jack Williamson), The Joy Makers, The Immortals and The Listeners helped shape the field. Now in his nineties, he remains a prominent voice. His forthcoming novel is Transformation. Drawing on materials from Gunn's archives and personal interviews with him, this study is the first to examine the life, career and writing of this science fiction grandmaster.
(5) CHUCK TINGLE, VOID WHERE EXHIBITED. I tell you, they can't give this man a Nobel Prize too soon. The only delay will be thinking up a category for it.
do not forget CHUCK TINGLE'S GUIDE TO THE VOID is out now it is top of the charts on amazon now please enjoy https://t.co/PI6bd2Rim6 pic.twitter.com/1KOAk9Y2oQ

— Chuck Tingle (@ChuckTingle) February 28, 2017
Hugo nominated author Dr. Chuck Tingle is well known for his thoughts on love and romance, but there is another side to this revered modern philosopher that is needed now more than ever. Dispensed within this non-fiction volume is everything that you need to know about The Void, a terrifying place outside reality that is constantly overflowing with cosmic horror. Will you know what to do when The Void starts leaking into your timeline? Within Dr. Chuck Tingle's Guide To The Void you will find multiple strategies for battling The Void, as well as survival techniques that could save your life, should you ever find yourself lost within The Void's infinite grasp of existential dread. Most creatures of The Void are covered in detail, including Void Crabs, worms, Ted Cobbler, and The Man With No Eyes And Wieners For Hair. Also included within this guidebook is important information on Void related subjects like reverse twins, Truckman, the lake, and the call of the lonesome train. For anyone interested in the darker planes that lie just outside of The Tingleverse, this book is for you. Warning: This book includes mind-bending depictions of existential cosmic horror. Read responsibly, and stop immediately if you begin to suffer any symptoms of Void Madness.
(6) MEMORIES. Connie Willis added two new posts to her blog this month.
But certainly not to us. My family and I have known him for over forty years. He had dinner with us countless times (and especially one memorably snowed-in Thanksgiving at my grandmother's house), taught my daughter Cordelia to hang spoons from her nose, and loved talking to my husband about science, especially on the trip to the total eclipse we took to Montana in 1979. (I feel so bad he won't be here for this summer's eclipse. It'll be right in his hometown, Wheatland, Wyoming.)

He was one of my best friends, and I'd rather have talked to him than anybody. He was smart, witty, and full of fascinating stories about horror movies and urban legends and weird news articles. At our last dinner a mere two weeks ago at Cosine, an SF convention in Colorado Springs, he had all sorts of wry and insightful comments about Saturday Night Live, the movie Hidden Figures, and Donald Trump.

But he was not just a friend. He was also a mentor to me before that term even became popular. He taught me how to write, how to critique, how to find my way around the complex maze of the science fiction world without getting in trouble. He encouraged me to go to conventions, introduced me to everyone he knew (and he knew everybody from Jack Williamson to Harlan Ellison to George R.R. Martin) and got me onto panels. He even got me my first Hugo nomination by relentlessly talking me up to everybody.
A TREE GROWS IN BROOKLYN by Betty Smith.

This book about a girl growing up in New York City in the early 1900s was loaned to me when I was ten or so, by somebody who thought I'd like it, and I adored it, even though I was probably too young to really understand it. But I totally identified with Francie, who loved to read and spent all her time in the public library. At one point, she decided to read her way alphabetically through the library, so I decided to do that, too, and discovered all sorts of books I'd never have read otherwise: Bess Streeter Aldrich's A Lantern in Her Hand, Margery Allingham's A Tiger in the Smoke, Peter Beagle's A Fine and Private Place (about which more later), and Peter DeVries's Washed in the Blood of the Lamb, which had the memorable line, "The recognition of how long, how long is the mourner's bench upon which we sit, arms linked in undeluded friendship, all of us, brief links, ourselves, in the eternal pity."

Unfortunately, I'd only made it through part of the D's when I discovered science fiction and I abandoned Francie's plan to read everything with a spaceship-and-atom symbol on the sign.
(7) TODAY IN HISTORY
February 28, 1965 – Dr.  Terror's House of Horrors premieres in North America.
(8) REFERENCE BOOKS. People are still buzzing about Sunday night's Oscar mixup, especially those hoping to leverage social media attention by mentioning it. But librarians?
If you enjoyed the #Oscars last night, here's some library book recommendations! #librarylife pic.twitter.com/KqvxWCl4oR

— Platteville Library (@PlattevillePL) February 27, 2017
(9) ARMAGEDDON ACTOR. Heritage Auctions is auctioning celebrities' collections in Dallas on March 18. One of the items of genre interest was owned by Bruce Willis.
Among his top offerings is a French Movie Poster from Forbidden Planet (est. $3,000). This large-format poster in French "grande" size (47 by 63 inches), from the 1956 Metro-Goldwyn film, features one of the most iconic images from the science fiction genre: Robbie the Robot carrying an unconscious beauty. All text, including the film's title, is written in French. The poster includes a letter of authenticity signed by Willis.
(10) NEVER SEEN. The following week at the Vintage Movie Posters Signature Auction a rare Invisible Man poster will bring top dollar.
Perhaps one of the most impressive of all of the great Universal Studios horror posters, a terrifying, 1933 one sheet teaser poster for The Invisible Man could sell for as much as $80,000 in Heritage Auctions' Vintage Posters Auction March 25-26 in Dallas. "Even the most advanced collectors have never seen this poster in person," said Grey Smith, Director of Vintage Posters at Heritage Auctions. "(Artist) Karoly Grosz does a hauntingly wonderful job capturing the insanity that slowly takes hold of the film's mad scientist. In only a few instances did, the studio produce a teaser for their horror greats but when they did they were often outstanding."
(11) WOMEN OF LEGO The proposed "Women of NASA" LEGO set covered in last July in the Pixel Scroll has been approved for production the toy company announced today.
Design, pricing, and availability

We're still working out the final product design, pricing and availably for the Women of NASA set, so check back on LEGO Ideas in late 2017 or early 2018 for more details.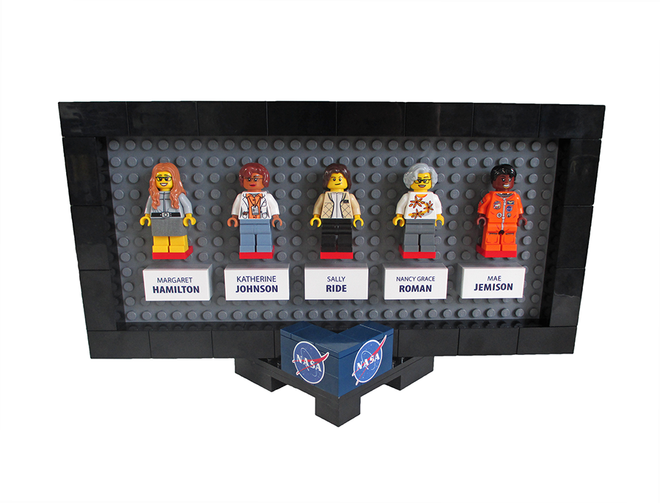 (12) PROMO. Kameron Hurley sent supporters custom dust jackets forThe Stars Are Legion, released earlier this month.
The swag has arrived! Thanks again @KameronHurley for this and for an amazing book! pic.twitter.com/fq3g5H65OH

— Andrew Turnwall (@AndrewTurnwall) February 28, 2017
She also has done a blog tour to promote the book. The posts are listed here.
(13) MAINTAINING HIS IMAGE. French campaigner uses tech to be in two places at once: "Holograms, mistrust and 'fake news' in France's election" from the BBC.
The communications coup of the French presidential election so far goes to far-left candidate Jean-Luc Melenchon who, with a flick of his fingers, appeared at two simultaneous rallies 350 miles apart and created more internet buzz than he could have imagined.

The technology required was nothing new – he does not have the money – but the performance was done with panache. Walking on stage in Lyon, Mr Melenchon materialised at exactly the same moment in hologram form before supporters in Paris. He then made a speech to both audiences for 90 minutes. He likes to talk.

Afterwards Mr Melenchon claimed 60,000 live followers of the event on Facebook and YouTube. Millions more in France and around the world read about the exploit afterwards and clicked online for a taster. In publicity terms it was magisterial.
(14) SHELF SPACE RACE. History of an object important to many fans.
The Billy bookcase is perhaps the archetypal Ikea product.

It was dreamed up in 1978 by an Ikea designer called Gillis Lundgren who sketched it on the back of a napkin, worried that he would forget it.

Now there are 60-odd million in the world, nearly one for every 100 people – not bad for a humble bookcase.
(15) THE ADULTS IN THE ROOM. Were Chuck Wendig and John Scalzi channeling their inner McCalmont and Glyer when they had this Twitter exchange?
@scalzi I AM IN MY ROOM NOW AND I AM WRITING A BOOK ON THE WALLS

HA HA HA YOU CAN'T STOP ME DAD

— Chuck Wendig (@ChuckWendig) February 28, 2017
(16) TERRIBLE PUN. Wish I had thought of it first….
BREAKING NEWS:

A werewolf has apparently mated with the Loch Ness Monster.

Please retweet to raise a Were Ness.

— Mmmm Dowling (@MarionDowling) February 26, 2017
(17) A SPACE TAIL. Spark, a teenage monkey and his friends, Chunk and Vix, are on a mission to regain Planet Bana – a kingdom overtaken by the evil overlord Zhong. Voices by Jessica Biel, Susan Sarandon, and Patrick Stewart. In theatres April 17.
[Thanks to John King Tarpinian, Steven H Silver, Eric Franklin, JJ, Cat Eldridge, and Chip Hitchcock for some of these stories. Title credit goes to File 770 contributing editor of the day Karl-Johan Norén.]