(1) SINCE THERE'S NOTHING ON TV TOMORROW. MeTV has located several downloadable designs for making Star Trek ships from paper that you can use to keep yourself busy on Sunday if football is not your thing.
In Japan, the art of paper modeling is commonplace. Companies like Sankei sell miniature papercraft kits for building everything from cartoon creatures to houses and vehicles. Here in the West, it has started to catch on, as fans use two-dimensional paper to recreate three-dimensional models of their favorite characters, props and even spaceships.

In the Sixties, you might recall, we had rather simple coloring books, sticker books and paper dolls. Now, this has gone to a whole new level. Better yet, fans have created patterns anyone can print up and assemble for free. (We recommend spending for some high quality photo paper, though.)

As fans find new ways to engineer this craft, no subject is left out of the mix. Star Trek, naturally, remains a mainstay of the craze, but just about any classic sci-fi show you can think of has papercraft models available for download. We found Voyage to the Bottom of the Sea submarines and the Jupiter 2 from Lost in Space….

We hunted down some favorites, if you are so inclined to give it a try. You can print and build:

The Galileo II Shuttle (instructions, template)
(2) MARS MY DESTINATION. Abraham Sherman of The John Carter Files tells why Elon Musk has him feeling more optimistic about reaching the Red Planet – "Home Sweet Mars".
…Currently, the next milestone on SpaceX's path to Mars is for them to finish and launch the Falcon Heavy (FH) rocket, the first of their rockets that will have sufficient power to get spacecraft to Mars.  After the FH gets off the ground late this year, the next milestone will be in 2018, when the unmanned Red Dragon capsule is to be launched atop a FH, and sent to test propulsive landing on Mars – a technique which forgoes parachutes and airbags and is entirely dependent on the built-in boosters of the capsule.  https://www.youtube.com/watch?v=07Pm8ZY0XJI  The Red Dragon mission is the small tip of a much larger spear which was described in detail during Musk's presentation at the IAC.

The SpaceX flagship for Mars colonization will be the Interplanetary Transport System (ITS).  https://www.youtube.com/watch?v=0qo78R_yYFA  It will be the largest rocket ever built, and will be able to take one hundred Mars colonists at a time to the Red Planet.  It is in the design phase, and is currently scheduled to make its maiden voyage in 2024.  Once the colony is up and running and can accommodate massive numbers of new colonists at a time, the plan is to send dozens, or even hundreds of ITS spacecraft simultaneously to Mars.  SpaceX has proven to be uniquely motivated and situated to get to Mars several years ahead of any other organization, public or private….
(3) MOONWALKING. Famous astronaut "87-Year-Old Buzz Aldrin Slays The Runway At New York Fashion Week" reports The Huffington Post.
Buzz Aldrin took to the catwalk Tuesday in a New York Fashion Week debut he said was "as easy as walking on the moon."

The 87-year-old astronaut ? who in 1969 became the second person to walk on the moon ? sported a metallic bomber jacket in designer Nick Graham's show, aptly titled "Life on Mars."

Aldrin couldn't have looked cuter in his pants, sneakers and self-designed "Get your ass to Mars" shirt.
(4) JUST NEEDS A LITTLE SMACK. Ursula K. Le Guin took offense at a letter to the editor published by The Oregonian attempting to justify political "alternate facts" as akin to science fiction. Her rebuttal appeared on February 1:
A recent letter in The Oregonian compares a politician's claim to tell "alternative facts" to the inventions of science fiction. The comparison won't work.  We fiction writers make up stuff. Some of it clearly impossible, some of it realistic, but none of it real – all invented, imagined —  and we call it fiction because it isn't fact. We may call some of it "alternative history" or "an alternate universe," but make absolutely no pretense that our fictions are "alternative facts."

Facts aren't all that easy to come by. Honest scientists and journalists, among others, spend a lot of time trying to make sure of them.  The test of a fact is that it simply is so – it has no "alternative."  The sun rises in the east.  To pretend the sun can rise in the west is a fiction, to claim that it does so as fact (or "alternative fact") is a lie.

A lie is a non-fact deliberately told as fact.  Lies are told in order to reassure oneself, or to fool, or scare, or manipulate others. Santa Claus is a fiction.  He's harmless. Lies are seldom completely harmless, and often very dangerous.  In most times, most places, by most people, liars are considered contemptible.

Ursula K. Le Guin, Northwest Portland
(5) NOW I UNDERSTAND. James Whitbrook of i09 explains "The Detailed, Depressing Reason Deep Space Nine and Voyager May Never Get Full HD Versions".
…By the mid-1980s, video technology had advanced enough to the point that many TV shows—including Star Trek: The Next Generation—were no longer editing the 35mm film footage, but scanning it into computers, transforming it into the lower, TV-friendly resolution and edited from there to save money. In TNG's case, that helped make the VFX work on the show easier, but it also meant there all the show's film was left in separate pieces. Essentially, for the HD release of Star Trek, all people had to do was scan each episode. For The Next Generation, they would have to scan all those original pieces of film and then edit together each episode again, themselves. It's more difficult, more expensive, and much more time-consuming.

What's amazing is that they actually did this for TNG's Blu-ray release, which was a radical, unprecedented, and incredibly daunting task. Following the edited tape versions that were originally broadcast, a new team painstakingly recreated every episode of the show from the 35mm film footage, a process that cost millions and millions of dollars. But as TNG is the jewel in the Star Trek crown for legions of fans, it was seen as worth it….
(6) NOT SCI-FI, BUT OH WOW! John King Tarpinian spied this item for sale —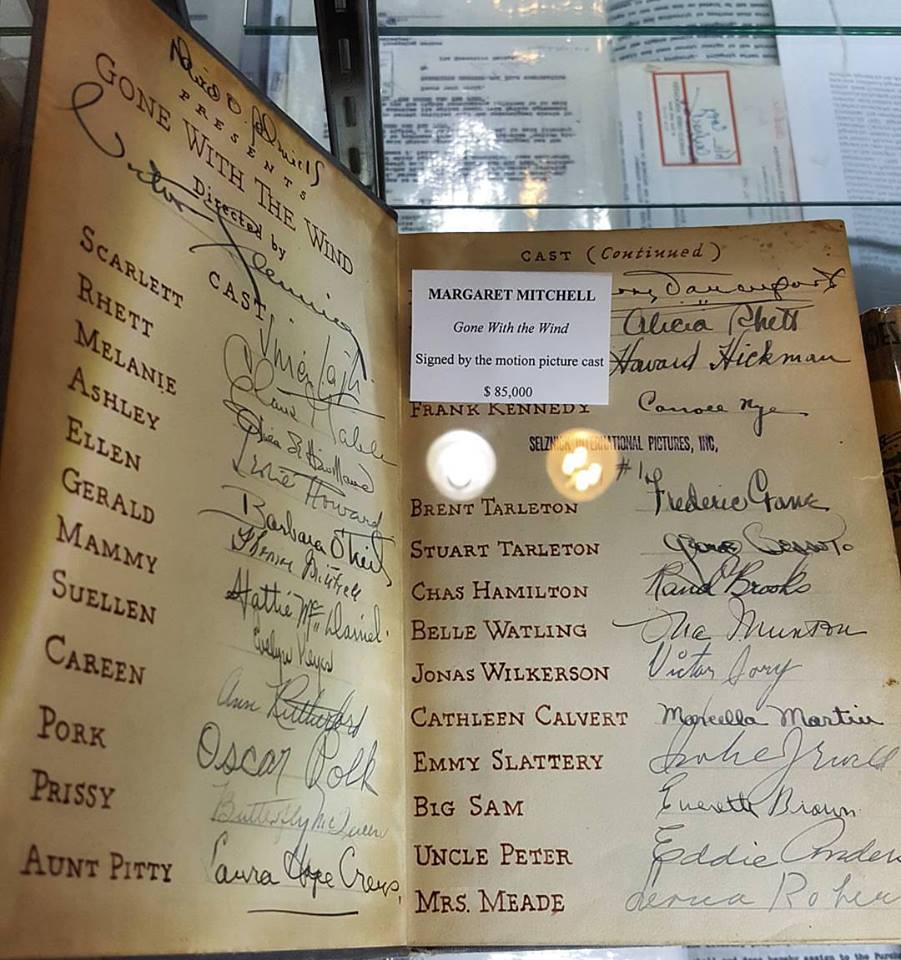 (7) DON'T KNOW WHAT TO CALL THIS ONE. Atlas Obscura's video about Wisconsin's House on the Rock makes me want to visit. As a connoisseur of hoaxes, I wish I'd discovered it years ago!
(8) TODAY'S BIRTHDAY BOY
Born February 4, 1940 — Filmmaker and zombie auteur George A. Romero, in NYC.
(9) HORROR IN SPACE. Here is the Super Bowl TV Spot for the forthcoming movie Life. Looks interesting, in a menacing sort of way…
(10) URBAN WRIGHTS. Futurism shows six examples of what architects think "The City of the Future" will look like.
…Architects and urban planners are letting their imaginations run wild — after all, where else can we go but toward our most outlandish, exciting, and sometimes even dystopian imaginings of the future?

Artisanopolis

For five years now, the Seasteading Institute has been working toward building Artisanolopolis, a floating city that runs on solar and hydroelectric power.

To make food production sustainable, the entire city would feature greenhouses, and a desalination plant would be responsible for the production of safe drinking water. The floating island would be protected by a massive wave breaker designed to prevent water damage to the structure.

Last year, the Seastanding Institute signed a memorandum with the French Polynesian government to begin construction on this ocean domain by 2019. If everything goes according to plan, the world's first floating city, operating with significant political autonomy, may be ready for habitation as early as 2020.
(11) MEMORY GAPS. Unlike me, the staff at MeTV seems to remember all "15 forgotten sci-fi and fantasy series of the 1970s". The question is – which of us is better off?
Time Express

1979

Charlie's Angels creators Ivan Goff and Ben Roberts failed to strike gold again with this nostalgic flop. Think of it as Fantasy Island with time travel. Vincent Price starred as the conductor of a time-traveling train that would take passengers to the past in order to relive important points in their lives. Only four episodes aired before it was canceled. The synthesizer-heavy theme song was cool, though, clearly inspired by Kraftwerk's "Trans Europe Express."
(12) NASFiC NEWS. NorthAmeriCon '17, the NASfiC in San Juan, has opened Art Show registration.
NorthAmeriCon '17 will have an Art Show! We welcome original art on science fiction, fantasy, astronomical, or fannish themes.

Registration for artists is now open through Jo Hogan's website for managing artist data:
(13) AN ENCOURAGING WORD. NASA's Kepler & K2 SciCon IV convention for scientists has a Code of Conduct, too. Thoughts?
Code of Conduct

The community of participants at astronomical meetings and in astronomical research is made up of members from around the globe with a diverse set of skills, personalities, and experiences. It is through these differences that our community experiences success and continued growth. We expect everyone in our community to follow these guidelines when interacting with others both inside and outside of our community. Our goal is to maintain a positive, inclusive, successful, and growing community.

As members of the community,

We pledge to treat all people with respect and provide a harassment and bullying-free environment, regardless of sex, sexual orientation and/or gender identity, disability, physical appearance, body size, race, nationality, ethnicity, and religion. In particular, sexual language and imagery, sexist, racist, or otherwise exclusionary jokes are not appropriate. We will treat those outside our community with the same respect as people within our community.
We pledge that all discussions between members of the community should be done with respect, and we pledge to take proactive measure to ensure that all participants are heard and feel confident that they can freely express their opinions.
We pledge to help the entire community follow the code of conduct and to act accordingly when we note violations.

This code of conduct applies to all community situations, including conferences, associated social events, on social media, and one-on-one interactions….
(14) SEE PROPS OF THE EXPANSE. Adam Savage visits the props department of Syfy's The Expanse, where armorists and propmakers engineer the weapons, helmets, and the gear that give weight and story to the universe of the show. Prop master James Murray shows Adam some of the unique props his team has made, revealing aesthetic and functional details.
[Thanks to JJ, Andrew Porter, David K.M. Klaus, and John King Tarpinian for some of these stories. Title credit goes to File 770 contributing editor of the day Stoic Cynic.]