(1) CALL THE MOUNTIES. Imagine that — when you walk around town costumed as an armed survivalist, some people just can't help believing their lying eyes: "Cosplay goes bad for gamer in Grande Prairie".
Grande Prairie RCMP draw firearms in response to man dressed as video game character

It was almost game over in Grande Prairie this week for a cosplay enthusiast.

Dressed as a character from Fallout, a popular post-apocalyptic video game series, the man walked down a street wearing a gas mask, helmet, armour and bullet belt.

He carried a flag that said "New California Republic" — one of the factions from the games.

A man dressed as a character from the Fallout video-game series walks down a street in Grande Prairie. (Kyle Martel/Facebook)

RCMP Cpl. Shawn Graham told CBC News that police received calls just before 5 p.m. Tuesday from citizens concerned the man was wearing what looked like a bomb on his back.

At least eight officers responded with their long guns drawn. Photos show them crouched behind vehicles and bushes
(2) HPL. Thanks to rcade, we know what a World Fantasy Award nominee pin looks like: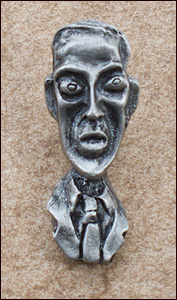 (3) NEW DIGS. LASFS sold its clubhouse and is vacating the premises. They haven't bought a replacement property yet, so the club will be meeting temporarily at the Art Directors Guild in Studio City beginning May 4. More details at Meetup.
(4) A HAMMER FILM. We've seen ice cream made with liquid nitrogen; Nottingham University professor Martyn Poliakoff shows that same liquid gas can be used to make the new "indestructable" 5-pound note destructible.
In a clip uploaded to his Periodic Videos series on YouTube, the professor said:

"The Bank of England is issuing new bank notes starting with the five pound note, and they made them plastic and there have been all sorts of advertisements that you cannot break them.

"I felt immediately challenged, and I had the idea that if we froze it with liquid nitrogen, the strands of the polymer would be frozen rigid and you may be able to break it, hitting it with a hammer."
(5) WHO BLABBED? CBR.com reports animated adaptation of Alan Moore and Dave Gibbons' Watchmen is on the way.
An animated adaptation of Alan Moore and Dave Gibbons' celebrated "Watchmen" is on the way, and it may arrive sooner than you'd think.

A recent survey by Warner Bros. "A-List Community" program, which regularly asks subscribers for their opinions on upcoming or recent film and television projects, has revealed the studio is bringing the graphic novel to animated form.

Reading the survey's description of the project as "an upcoming made-for-video movie," it's apparent the film is already either in development, or in the final stages of production.

The survey further describes the film as "A faithful adaptation of the Watchmen graphic novel executed in an animation style that mirrors the source material." Going by that description, it's safe to assume Warner Bros. Animation has opted to take a similar approach to the comic as it did when bringing Frank Miller's "Dark Knight Returns" and Moore and Brian Bolland's "The Killing Joke" to life; both of those films homaged the respective artist's style, making changes as needed to properly animate the story.

It's interesting to note, though perhaps not surprising, that at no point in the survey are Moore or Gibbons mentioned. While Gibbons participated in the production and promotion of director Zack Snyder's 2009 live-action "Watchmen" adaptation, Moore has made his disapproval of any "Watchmen" follow-up extremely clear. He was once quoted as saying he'd be "spitting venom all over" the Snyder-directed film, and has expressed on numerous occasions his preference that the original story be left to stand on its own.
ComicsBeat  sounded cranky when they relayed the story – "Someone broke NDA and revealed that an R-rated watchmen animated movie is coming".
It's a little surprising that news of this new adaptation of Watchmen has leaked to the general public so quickly as membership to Warner Bros. A-List Community program requires the signing of an non-disclosure agreement….
Then they proceeded to quote the NDA language at length, presumably to shame the rival news site. Bad, naughty news site!
(6) I LIKE CAKE. Lynn Hirschberg, in W magazine article "Gal Gadot Listened to Beyonce in Preparation for her Wonder Woman Debut", profiles Gadot, who discusses how Beyonce provided inspiration, how she auditioned blindly for the part, and how despite being in a superhero movie she still likes to decorate cakes.
On the day we met, she was channeling her powers into decorating a cake. (Who would've guessed that the actress had such a way with fondant?) "I want to start with a blue cake," Gadot said definitively, as we entered Duff's CakeMix, in Los Angeles. She was wearing simple black pants, a navy sweater, and classic black Gucci loafers.

Although she was six-months pregnant with her second child, the baby bump was nearly undetectable. Gadot, who has a doelike quality, wasn't wearing makeup and her dark hair was pulled back in a ponytail. "You couldn't have invented a more perfect ­Wonder Woman than Gal," Patty Jenkins, the film's director, told me later.
(7) YOUR MOROSE ROBOT PAL. I think this is cool, although the name "Orpheus – The Saddest Music Machine" is a bit of anthropomorphizing I could do without. Having survived the effects of puppy sadness, do I really need robotic sadness?
We need companions in our lives. And it's always helpful to have one who needs you in return. Orpheus, a robot-shaped DIY music box that plays music and lights up, is a bit sad and melancholic. But he looks cheerful, and he has a big heart. Orpheus will be a steadfast companion to any older child or adult. Though he needs some help being his best self, right out of the box.   Assemble Orpheus yourself or with your kids from the laser-cut wood pieces, and soon you will have your own hand-cranked music box with moving gears and lights, as well as arms and legs. His melody is called "Cycle of Happiness," which you can play any time you need some inspiration, or when you feel Orpheus needs some attention. Orpheus is available in the U.S. through ThinkGeek before anyone else.
(8) THE WRITE CHOICE. Although it won't be a pal, you could spend more than a hundred times more money on this geeky Chushev pen.
The "Complication" fountain pen pays homage to the Swiss watchmaking trade for all the innovations in precision mechanics it has achieved. Inspired by the craftsmanship of the Swiss masters, Chavdar Chushev, saw the miniature details in the watches as ideal specimens for abstract art compositions. From that moment, he spent the next three decades refining his technique and evolving his creative vision. The sophisticated design of the "Complication" is the result of countless artistic iterations and technological evolutions.
(9) COMIC SECTION. John King Tarpinian knows you'll appreciate the sf reference in Frank and Ernest.
He also recommends the cinematic humor in Brevity.
On the other hand, Martin Morse Wooster is certain Tolkien fans will want to throw things at Stephen Pastis after reading today's Pearls Before Swine.
(10) HANSEN OBIT. Actor Peter Hansen died April 9 at the age of 95. He was one of the stars of the 1951 science-fiction film When Worlds Collide, which won an Academy Award for special effects. He also appeared in an episode of TV's Science Fiction Theatre.
However, his real claim to fame was years spent playing a character on the soap opera General Hospital, earning an Emmy in 1979 as Best Supporting Actor.
More details here.
(11) TODAY'S BIRTHDAY WIZARD
Born April 15, 1990 – Emma Watson
(12) DOOMED AGAIN. LegalVision analyzes why an Australian court ordered the destruction of The One Ring – "This Apparently Precious Ring: Tolkien Estate Limited v Saltamacchia".
The Infringement Issues

The Respondent hosts a website called "Australian Jewellery Sales". Over the course of eight years, the Respondent sold approximately 1300 rings with the One Ring Inscription between $5 and $30 AUD each. He advertised the rings by referencing phrases such as: "The Lord of the Rings"; "The Hobbit"; and "Bilbo Baggins".

The Respondent has about 50 remaining rings with the One Ring Inscription left. Right up until the date of the proceedings he continued to offer them for sale. The Respondent argued his rings did not accurately replicate the One Ring Inscription. It is important to note, here, that reproduction of copyright work does not need to be exact. The infringement must be a "substantial part".
(13) WHAT'S COOKIN'? Enceladus also shows signs of life, although there's still more hope for Europa:
Could there be life under the icy surface of Saturn's moon Enceladus?

Scientists have found a promising sign.

NASA announced on Thursday that its Cassini spacecraft mission to Saturn has gathered new evidence that there's a chemical reaction taking place under the moon's icy surface that could provide conditions for life. They described their findings in the journal Science.

"This is the closest we've come, so far, to identifying a place with some of the ingredients needed for a habitable environment," Thomas Zurbuchen, associate administrator for NASA's Science Mission Directorate in Washington, said in a statement.

However, the scientists think that because the moon is young, there may not have been time for life to emerge.

In 2015, researchers said that there was evidence of a warm ocean under the moon's surface, as NPR's Geoff Brumfiel reported.

This posed an exciting prospect — researchers wondered whether that warm ocean might be interacting with rock to create a form of chemical energy that could be used by some forms of life.

If true, it would be analogous to ancient organisms on Earth fueled by the energy in deep-sea ocean vents.
(14) IMPROVING RECOGNITION. AIs are biased, probably due to inadequate samples: "Artificial intelligence: How to avoid racist algorithms".
The Algorithmic Justice League (AJL) was launched by Joy Buolamwini, a postgraduate student at the Massachusetts Institute of Technology, in November 2016.

She was trying to use facial recognition software for a project but it could not process her face – Ms Buolamwini has dark skin.

"I found that wearing a white mask, because I have very dark skin, made it easier for the system to work," she says.

"It was the reduction of a face to a model that a computer could more easily read."

It was not the first time she had encountered the problem.

Five years earlier, she had had to ask a lighter-skinned room-mate to help her.

"I had mixed feelings. I was frustrated because this was a problem I'd seen five years earlier was still persisting," she said.

"And I was amused that the white mask worked so well."
(15) IT'S CALLED ACTING. Variety's Lawrence Yee, in "Meet Rose, The Biggest Little Part' in Star Wars: The Last Jedi", discusses how Grace Marie Tran, who plays Rose, appeared on a panel at the Star Wars Celebration in Orlando and while she couldn't say anything about the film, she did say she told her parents she was shooting "an indie movie in Canada" and bought some maple syrup to prove to her parents she was in another country.
(16) THAT THING THEY DO. George Saunders probes "What writers really do when they write".
…An artist works outside the realm of strict logic. Simply knowing one's intention and then executing it does not make good art. Artists know this. According to Donald Barthelme: "The writer is that person who, embarking upon her task, does not know what to do." Gerald Stern put it this way: "If you start out to write a poem about two dogs fucking, and you write a poem about two dogs fucking – then you wrote a poem about two dogs fucking." Einstein, always the smarty-pants, outdid them both: "No worthy problem is ever solved in the plane of its original conception."

…I had written short stories by this method for the last 20 years, always assuming that an entirely new method (more planning, more overt intention, big messy charts, elaborate systems of numerology underlying the letters in the characters' names, say) would be required for a novel. But, no. My novel proceeded by essentially the same principles as my stories always have: somehow get to the writing desk, read what you've got so far, watch that forehead needle, adjust accordingly. The whole thing was being done on a slightly larger frame, admittedly, but there was a moment when I finally realised that, if one is going to do something artistically intense at 55 years old, he is probably going to use the same skills he's been obsessively honing all of those years; the trick might be to destabilise oneself enough that the skills come to the table fresh-eyed and a little confused. A bandleader used to working with three accordionists is granted a symphony orchestra; what he's been developing all of those years, he may find, runs deeper than mere instrumentation – his take on melody and harmony should be transferable to this new group, and he might even find himself looking anew at himself, so to speak: reinvigorated by his own sudden strangeness in that new domain.

It was as if, over the years, I'd become adept at setting up tents and then a very large tent showed up: bigger frame, more fabric, same procedure….
(17) VISITING SPACE SOON. A European Shuttle?
While Tumino and his team have worked on IXV and then Space Rider, there have been other European concepts in the background. UK company Reaction Engines has a design for an unmanned spaceplane, Skylon, that will launch satellites and the German Aerospace Agency has a concept called SpaceLiner that carries people. But, neither will be in orbit before Space Rider or anytime soon.

Space Rider could be in orbit in 2020 or 2021, as design funding was approved by Esa's 27 member states in December last year. The money will enable Esa to work with the Italian Aerospace Agency, Cira, which is managing the project, and Thales Alenia Space and Lockheed Martin to complete the spaceplane's design in 2019.

Its first flights will not, however, leave the Earth's atmosphere. A full-scale model will be dropped in 2019 – both by atmospheric balloon and helicopter to test how it lands.
(18) ANOTHER APRIL FOOLS CLASSIC. Mount Vernon's newest website translation for visitors is in Klingonese. And it's dialed-in to Klingon sensibilities, as this video tour of George Washington's home shows.
[Thanks to Martin Morse Wooster, Chip Hitchcock, JJ, John King Tarpinian, Cat Eldridge, and Andrew Porter for some of these stories. Title credit goes to File 770 contributing editor of the day Greg Hullender.]