(1) DRAWING A LINE IN THE SILICON.  Tor author S.L. Huang, in "Genre Labels: What Makes A Book More Thriller Than Sci-Fi?" on CrimeReads, says "I've been a science fiction and fantasy nerd for as long as I can remember," and that a book is more of a thriller than sf if "the science-fiction elements feel more realistic," the book is in a contemporary Earth setting, and the book is written at a thriller pace with many short chapters rather than a sf pace.
4. Making the science fiction a single switch flip.

Lots of science fiction books have a broad array of speculative elements—worldbuilding, culture, technology, language, and advancements in science are just a few elements science fiction writers consider when building intricate other universes. But it's not the only way to do science fiction. And a lot of the speculative stories that feel more mainstream have that "switch flip" element—that single, isolated "what if" that sets off everything.

What if we could extract viable dinosaur DNA from amber? What if a disease like this got out? What if this person switched bodies?

Then, after that one, singular leap of faith, the rest of the book logic plays out identically to how our real-world logic would work, with only that fundamental beginning change….
(2) STREAMING PLAYGROUND. Of necessity, Escape Room L.A.'s business has gone virtual. They've created two Escape Room scenarios for groups to play on Zoom, at $15 per person.
These live-hosted games feature both audio and visual clues. Your host will verbally describe your surroundings while showing you a series of images and puzzles, letting you know how you can interact with everything you see. It will be up to you to work together to solve the fun clues and tricky challenges! Can you escape in one hour or less?
There's "The Lost Pyramid" and "Escape from Planet X." The description of the latter is –
A vacation in outer space takes a wrong turn when your spaceship crash-lands on an uncharted alien planet. You discover that all of the crew have disappeared and the aliens are getting restless! In this fun, wacky adventure, it's up to you to find a way to get the spaceship up and running and escape from Planet X before the aliens attack.
(3) THE BOOKS THEY DECIDED TO DISCUSS. In "Positron 2020 Report: Analyses of Chicagoland Speculative Fiction Book Clubs", Jake Casella Brookins runs the numbers on Chicago-area sff book club selections, looking at race/gender balance in selected titles, genre changes over time, most-read authors, and how the various clubs' lists of choices compare. "Pretty niche stuff," says Brookins, "but SF/F scholars, readers, booksellers & librarians might be interested."
His introduction to the report begins —
In-person book clubs are necessarily tied to very real and geographic communities. As I write this, Chicago is entering its second month of lockdown due to Covid-19. While many groups and organizations are successfully shifting to online meetings, the future of our clubs, bookstores, and libraries are uncertain. Ironically, this lockdown has given me the first chance to take a deep look at Chicago's SF book clubs since Positron's inception.

This report focuses entirely on book club meetings. While data from book sales and library loans would paint a much larger picture of reader behavior and preferences, there are a few advantages to using book club discussions as the unit of analysis, even beyond privacy and logistic concerns. At the most basic level, selection for a book club indicates that the book was definitely read, by at least some members. Furthermore, book club members are a distinct class of readers, committing not only to read books in community, but to share their opinions, a behavior that likely spills beyond the group itself. Through their recommendations, it is likely that book club members have an outsize influence on readers generally.

For me, joining a few SF book clubs was a huge part of adjusting to life in Chicago. They led me to massively important books I might not have otherwise discovered, and introduced me to my spouse and many friends. The clubs certainly have a direct influence on many bookstores and libraries. And, at the level of SF as a culture, the importance of book clubs is easily overlooked, and could provide a window into the specifics of how books, authors, and ideas move through the reading community….
(4) FALLEN SNOW. Entertainment Weekly issues an invitation: "Ballad of Songbirds and Snakes: Listen to the first 11 minutes of the Hunger Games prequel'.
Centered on the original trilogy's antagonist, the story follows an 18-year-old Snow as he prepares for his one shot at glory as a mentor in the 10th Hunger Games. He's up against it, though: His family has fallen on hard times, and he's forced to guide the female tribute from District 12, the lowest of the low. Suddenly, their fates are intertwined.
The audio clip is here at Soundcloud.
(5) BEWARE OF FALLING HOUSES. Connie Willis just read a book about the making of The Wizard of Oz movie and is eager to share what she learned about "The Ruby Slippers And The Wizard's Coat".
…One of the most fascinating sections was about the ruby slippers, which, in case you've forgotten, belonged to the Wicked Witch of the East and which Glinda the Good Witch gives Dorothy after the house falls on her (the Witch, not Glinda) and kills her. The ruby slippers protect Dorothy from the Wicked Witch of the West (sort of.) At any rate, the only way to take them off her is to kill her, which makes Dorothy quite a target. (You'd think Glinda would have thought about that.)

They also hold the secret to Dorothy's getting home. All she has to do is click the heels together and say three times, "There's no place like home" to be magically transported back to Kansas. That means they're central to the plot and in many ways the heart of the movie. After Toto, of course.

Like everything else involved in the making of the movie, the ruby slippers were more complicated than they looked. In the first place, the book had specified "silver shoes", but Louis B. Mayer wanted to show off his Technicolor so he decided they should be red–and that they should "sparkle."…
(6) MEDIA BIRTHDAY.
May 12, 1989 — The Return Of Swamp Thing premiered. The follow-up to Swamp Thing, it was directed by Jim Wynorski, with production by Benjamin Melniker and Michael E. Uslan. The story was written by Neil Cuthbert and Grant Morris. It starred Dick Durock and Heather Locklear who replaced Adrienne Barbeau as the female lead which Barbeau was in Swamp Thing. Louis Jourdan also returns as a spot-on Anton Arcane. Like its predecessor, neither critics nor the audience reviewers at Rotten Tomatoes liked it so it had a poor twenty seven rating. The original Swamp Thing series which also Durock in contrast has an eight three Percent rating among audience reviewers! [CE]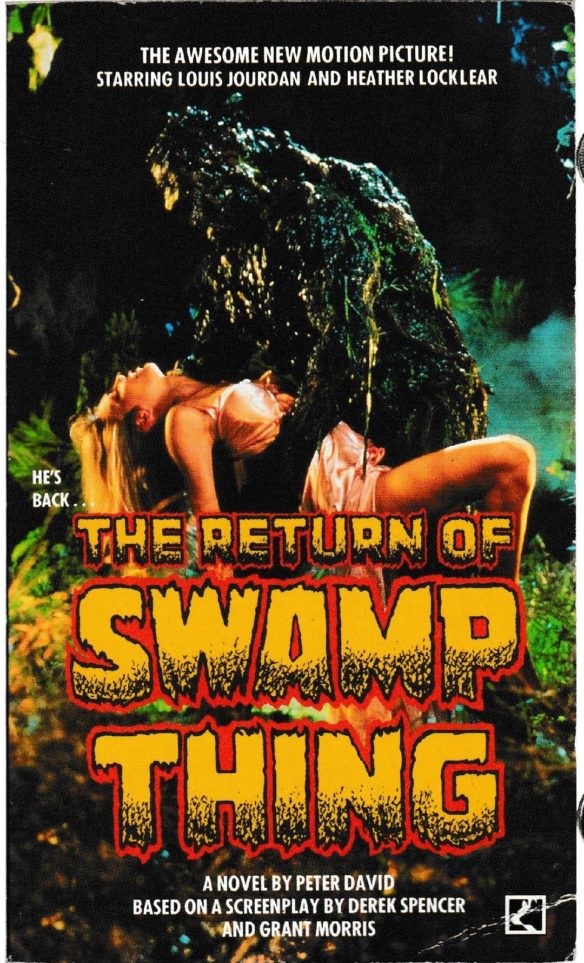 (7) TODAY'S BIRTHDAYS.
[Compiled by Cat Eldridge and John Hertz.]
Born May 12, 1812 – Edward Lear. With us in fantasyland for his nonsense poems, he was famous in his day as a painter and illustrator. First major bird artist to draw from live birds; look at this parrot. Here are some Albanians. Here's Masada. His musical settings for Tennyson's poems were the only ones Tennyson approved of. It may be that a grasp of reality makes his nonsense cohere – it holds together. We may never see an owl dancing with a pussycat, but they do in his creation – in a hundred languages. (Died 1888) [JH]
Born May 12, 1828 – Dante Gabriel Rossetti. Put his third name first in honor of The Divine Comedy. Founded the Pre-Raphaelite school of art because he thought Raphael (1483-1520) had ruined things; see how this led him to imagine Proserpine. His poetry too was fantastic. He is credited with the word yesteryear. He loved wombats. (Died 1882) [JH]
Born May 12, 1902 – Philip Wylie. His novel Gladiator was an inspiration for Superman. When Worlds Collide (with Edwin Balmer) inspired Alex Raymond's Flash Gordon. No doubt he was a prolific pulp writer with quite a few of his novels adapted into films such as When Worlds Collide (co-written with George Balmer) by George Pal. Columnist, editor, screenwriter, adviser to the chairman of the Joint Congressional Committee for Atomic Energy, vice-president of the International Game Fish Association. Wrote "Anyone Can Raise Orchids" for The Saturday EveningPost. In The Disappearance a cosmic blink forces all men to get along without women, all women without men. (Died 1971) [JH/CE]
Born May 12, 1907 – Leslie Charteris. Born with the surname Yin; his Chinese father claimed descent from the Shang Dynasty emperors. Passenger on the maiden voyage of the Hindenburg. A hundred books, also films, radio, television, about his character Simon Templar, the Saint; also "The Saint" Mystery Magazine; others wrote some too, Vendetta for the Saint is by Henry Harrison. Detective fiction is our neighbor, and both ISFDB and ESF list the series with the latter noting that "Several short stories featuring Templar are sf or fantasy, typically dealing with odd Inventions or Monsters (including the Loch Ness Monster and Caribbean Zombies." The Last Hero really is SF, with a disintegrator and a scientist who doesn't care who gets it. (Died 1993) [JH/CE]
Born May 12, 1928 – Buck Coulson. Applauded by fanziners – we have costumers and filksingers, don't we? – for Yandro, ten times a Best-Fanzine Hugo finalist, winning once, co-edited with his wife Juanita – speaking of filksingers. Together Fan Guests of Honor at the 30th Worldcon; the Coulsons to Newcastle Fund sent them to the 37th. With Gene DeWeese, Buck wrote Now You See It/Him/Them loaded with allusions to fans, including Bob Tucker whose doing this himself led to calling the practice "tuckerism"; Juanita is not left out. Two Man from U.N.C.L.E. books with DeWeese, translated into Dutch, French, Hebrew, Japanese. Book reviews for Amazing. Active loccer (letters of comment to fanzines). Two terms as as SFWA Secretary (first Science Fiction Writers, then Science Fiction & Fantasy Writers, of America). Mildly described as having an acerbic writing style.(Died 1999) [JH]
Born May 12, 1942 — Barry Longyear, 80. Best known for the Hugo- and Nebula Award–winning novella Enemy Mine, which became a film by that name as well. Gerrold would later novelize it. An expanded version of the original novella as well as two novels completing the trilogy, The Tomorrow Testament and The Last Enemy make up The Enemy Papers. I'm very fond of his Circus World series, less so of his Infinity Hold series. (CE)
Born May 12, 1968 — Catherine Tate, 52. Donna Noble, Companion to the Eleventh Doctor. She extended the role by doing the Doctor Who: The Tenth Doctor Adventures on Big Finish. She also played Inquisitor Greyfax in Our Martyred Lady, aWarhammer 40,000 audio drama, something I did not know existed. [CE]
(8) COMICS SECTION.
(9) SUPERHERO PREVIEW. "DC's Stargirl: New Images Offer the Best Look Yet at Doctor Mid-Nite and Hourman" at ComicBook.com.
In just under a week, a new generation of justice comes to DC Universe when DC's Stargirl premieres on the streaming service on Monday, May 18. The series, which follows high school sophomore Courtney Whitmore as she moves to Blue Valley, Nebraska following her mother's marriage to Pat Dugan and becomes the hero Stargirl and inspires an unlikely group of young heroes to help her stop the villains of the past. Now, ComicBook.com has an exclusive look at two of those young heroes ready to fight for justice in their super suits: Doctor Mid-Nite and Hourman.
(10) HAPPY BIRTHDAY ESCAPE POD. Hugo-nominated sff fiction podcast Escape Pod has reached a major milestone — "Escape Pod Turns Fifteen!" The celebration includes creation of a book — Escape Pod: The Science Fiction Anthology.
Escape Pod has been bringing the finest short fiction to millions all over the world, at the forefront of a new fiction revolution. Specializing in science fiction, the podcast gives its audience a different story each week that's fun and engaging, with thought-provoking afterwords from its episode hosts.

The anthology, assembled by editors Mur Lafferty and S.B. Divya, gathers original fiction and audience favorites from:
Maurice Broaddus
Tobias Buckell
Beth Cato
Tina Connolly
Cory Doctorow
Greg Van Eekhout
Sarah Gailey
Kameron Hurley
N. K. Jemisin
Mary Robinette Kowal
Mur Lafferty
Ken Liu
Tim Pratt
John Scalzi
Ursula Vernon
Preorder now from Titan Books, Amazon US, Amazon UK, Amazon CA, and Forbidden Planet.
(11) RETRO BLAST. Cora Buhlert continues to review the best of 1944 in "Retro Review: "City" by Clifford D. Simak".
"City" is a science fiction novelette by Clifford D. Simak, which was first published in the May 1944 issue of Astounding Science Fiction and is a finalist for the 1945 Retro Hugo. The magazine version may be found online here. "City" is part of Simak's eponymous City cycle and has been widely reprinted….

Warning: Spoilers beyond this point! …
(12) FASHION REPORT. Aliette de Bodard understandably likes this style.
(13) NOT HOME ALONE. In "Creativity in the Time of Shutdown", Mad Genius Club's Amanda S. Green tells how everyday life is squeezing her writing time, and the commenters chime in about their own challenges.
…All this has made me wonder how the writers out there who have been used to having their alone time to write have coped with suddenly having their kids and spouses/partners home. With schools and businesses closed, our isolated work styles have been impacted by having people home all the time. A number of us have had to transform into teachers and tech advisors as our kids try to navigate their school classes through Zoom and similar programs. We've had to adjust to our spouses/partners invading our work area as they work from home.

Sooo many people in our spaces again.

And we can't even escape to the library or the coffee shop because they're closed too….
(14) STILL INFLUENTIAL. The Detroit News explains why "Octavia Butler's prescient sci-fi resonates years after her death".
…A revolutionary voice in her lifetime, Butler has only become more popular and influential since her death 14 years ago, at age 58. Her novels, including "Dawn," "Kindred" and "Parable of the Sower," sell more than 100,000 copies each year, according to her former literary and the manager of her estate, Merrillee Heifetz. Toshi Reagon has adapted "Parable of the Sower" into an opera, and Viola Davis and Ava DuVernay are among those working on streaming series based on her work. Grand Central Publishing is reissuing many of her novels this year and the Library of America welcomes her to the canon in 2021 with a volume of her fiction.
(15) PUTTING A GOOD FACE ON THINGS. Cheering viewers up while we're stuck at home."Lincolnshire make-up artists lifting lockdown spirits" – BBC video.
A group of make-up artists in Lincolnshire are painting themselves as superheroes and cartoon characters to pass the time during the lockdown.

They have been getting together online and setting each other make-up challenges to keep busy.
(16) LEARN FROM THE MASTER. "Studio Ghibli artist teaches anime fans how to draw Totoro" – video.
An anime film producer from Japan's Studio Ghibli has given fans a quick lesson on how to draw one of its most famous characters: Totoro.

According to Toshio Suzuki – the secret lies in the eyes.
(17) FUN TO BE WITH? BBC introduces us to "The robot that helps before you ask it to" — short video.
A project led by Ocado Technology has developed a robot to work alongside people. Using advanced artificial intelligence, it can follow the motions of its human colleagues, and offer to help them before they even ask for assistance.
(18) STRIKING A PERFECT MATCH. Back in the days of black-and-white TV, Peter Cook and Dudley Moore treated their fans to puppet parody in Superthunderstingcar.
(19) THESE CHAIRS ARE MADE FOR TALKING. Past Aussie Worldcon chairs David Grigg and Perry Middlemiss talk about their favorite sff on the small screen in "TV or not TV?" at their latest Two Chairs Talking podcast. Their favorites include The Expanse, The Outsider, For All Mankind, and Star Trek: Picard.
(20) VIDEO OF THE DAY. In "Sea You" on Vimeo, Ben Brand finds the backstory of the fish a widow has for dinner.
[Thanks to JJ, John King Tarpinian, Cat Eldridge, John Hertz, Chip Hitchcock, Mike Kennedy, Martin Morse Wooster, Michael Toman, and Andrew Porter for some of these stories. Title credit goes ti File 770 contributing editor of the day Kevin Harkness.]