(1) FINE DESIGN. The Nebula Award is truly a thing of beauty! (As was the winner's dress.)
(2) SPOILER OF THRONES. Daniel Dern says, "I guarantee that, alas, this WON'T Be the closing scene in the Game of Thrones finale."
WE SEE JON SNOW IN BED.

NEXT TO HIM, WE SEE THE BACK OF A WOMAN WITH LONG WHITE HAIR WITH LOTS OF FANCY BRAIDED HAIR ON THE BACK OF HER HEAD.

JON REACHES OVER AND TAPS HER ON THE SHOULDER. "Daeny, wake um. You won't believe the dream I just had."

SHE ROLLS OVER.

Vg'f Fhmnaar Cyrfurggr.
(And a tip of the hat to this classic.)
(3) BANNED BOOKS. Die Kasseler Liste/The Kassel List is a huge database of banned books which grew out of an art project exhibited at the documenta 14:
Die Kasseler Liste is a growing database that presently comprises 125,000 data sets. It documents the global scale of censorship. Book bans persist across the world, on all continents, with varying reach and intensity, depending on political and social contexts.

Die Kasseler Liste covers vast territories and a large time frame. The earliest entries are taken from the "Index Librorum Prohibitorum," which the catholic church first published in 1559 and which is represented in the database in its final version from 1948. It is but one example for censorship originating not only from government institutions. Civil and religious institutions similarly have their own history of systematically infringing on the right to freedom of expression. The Catholic lay organization Opus Dei, also featured in Die Kasseler Liste, is another case in point, where rigid and coercive reading directions provide the members with a tiered index. On the other hand, school districts and school libraries in the United States of America also have a record of systematically banning books from their collections.
(3) BREAKING THE STEREOTYPE. Cora Buhlert recently took on the Retro Hugo novelette finalists and concluded that "The Golden Age Was More Diverse Than You Think".
…But even taking the known problems with the Retro Hugos into consideration, the breadth and variety of stories on the 1944 Retro Hugo ballot is astounding (pun fully intended), as is the fact that quite a few of them don't really fit into the prevailing image image of what Golden Age science fiction was like. And this doesn't just apply to left-field finalists such as Das Glasperlenspiel by Hermann Hesse in the novel category or Le Petit Prince by Antoine de Saint-Exupéry and The Magic Bed-Knob by Mary Norton in the novella category, neither of whom I would have expected to make the Hugo ballot in 1944, if only because US science fiction fans wouldn't have been familiar with them. No, there also is a lot of variety in the stories which originated in US science fiction magazines.

So let's take a look at the novelette category at the 1944 Retro Hugos….
(4) HISTORY OF TOXICITY. In "'The Phantom Menace' at 20: How the first episode of the 'Star Wars' saga created toxic fandom" on Yahoo! Entertainment, Ethan Alter interviews Simon Pegg as part of an article about how the reaction to Star Wars: The Phantom Menace in 1999 was the first sign of "toxic fandom."
…The message of The Phantom Menace is that even the most stable of societies can topple with the smallest push — in this case a minor trade dispute that sets the stage for the rise of a previously obscure senator with imperial ambitions. As he did with A New Hope, Lucas cloaked that larger lesson in a PG-rated adventure that's made with children in mind … but not the children who saw Star Wars in theaters in the '70s. And so — unhappy with a Star Wars movie that wasn't the Star Wars they remembered — a sizable segment of the fanbase made their displeasure known, embracing an image of themselves as the keepers of the flame, which meant that their opinion of Star Wars was the only correct opinion of Star Wars.

They found an outlet on the still-young medium the internet, where like-minded critics could congregate and launch their arguments or personal attacks anonymously out on the franchise's creator and other fans as the prequel series continued…
(5) TODAY IN HISTORY.
One of these movies did not feature Jar Jar Binks. I hope it isn't too toxic of me to point that out.
May 19, 1966 — The Navy Vs. The Night Monsters premiered in theaters.
May 19, 1999 — Star Wars: Episode I – The Phantom Menace was released theatrically.
(6) TODAY'S BIRTHDAYS.
[Compiled by Cat Eldridge.]
Born May 19, 1944 — Peter Mayhew. Chewbacca from the beginning to The Force Awakens, before his retirement from the role. The same year he first did Chewy, he had an uncredited role as the Minotaur in Sinbad and the Eye of the Tiger. He also shows in the Dark Towers series as The Tall Knight. (Died 2019.)
Born May 19, 1946 — Andre the Giant. Fezzik in The Princess Bride, one of all-time favourite films. Also an uncredited role as Dagoth In Conan the Destroyer. He's actually did a number of genre roles such as The Greatest American Hero and The Six Million Dollar Man. (Died 1993.)
Born May 19, 1948 — Grace Jones, 71. First genre appearance was as Stryx in Rumstryx, an Italian TV series. Her next was Zulu in Conan the Destroyer followed by being May Day in A View to Kill and Katrina in Vamp. She was Masako Yokohama in Cyber Bandits which also starred Adam Ant. Her last genre role to date was Christoph/Christine in Wolf Girl.
Born May 19, 1948 — Paul Steven Williams. Editor, Complete Stories of Theodore Sturgeon and the PKDS Newsletter. Writer, The Only Apparently Real: The World of Philip K. Dick of Philip K. Dick and Theodore Sturgeon, Storyteller. (Died 2013.)
Born May 19, 1966 — Polly Walker, 53. She's performed on Caprica as Clarice Willow and on Warehouse 13 in the recurring role of Charlotte Dupres, as well as performing the voice work for Sarkoja in John Carter. And she was in Clash of the Titans as Cassiopeia.
Born May 19, 1966 — Jodi Picoult, 53. Her Wonder Women work is exemplary (collected in Wonder Women, Volume 3 and Wonder Woman: Love and Murder).
(7) TO THE MOON. Oliver Morton connects sff with the ambitious efforts to reach the Moon in "Lunacy: how science fiction is powering the new moon rush" at the Guardian.
…The robot vanguard has already set forth. Later this year India will attempt to become the fourth nation to land a probe on the moon; an Israeli attempt to get there failed in April, but its backers plan to try again. China has landed two robot rovers on the moon's surface in the past five years. One visited the near side, the familiar pockmarked face seen from Earth; the other went to the overflown-but-never-before-visited far side. The Chinese space agency has talked of sending humans in their wake, perhaps in the early 2030s.

They may be beaten to it. Last year Yusaku Maezawa, a Japanese fashion entrepreneur and art collector, signed a contract with SpaceX, the rocket firm founded by Elon Musk, for a flight around the moon. He intends to take a crew of as-yet-unspecified artists with him…
(8) TOUGH TOWN. Today's celebrity accident:
(9) REMEMBER ME TO HAROLD SQUARED. Andrew Liptak tells readers of The Verge that "A Memory Called Empire is a brilliant blend of cyberpunk, space opera, and political thriller".
…That setup is the start to a stunning story that impressively blends together Martine's fantastic and immersive world, a combination political thriller, cyberpunk yarn, and epic space opera that together make up a gripping read. Mahit's situation is the perfect introduction to an unfamiliar world, as Martine moves her through the gilded halls of the Teixcalaanli capitol, meeting the politicians she's been sent to interact with, the fantastical technologies installed in the city, and the poetry that represents the pinnacle of high culture for the empire.
(10) WOMEN IN SFF. Library of America publicizes editor Lisa Yaszek's collection "The Future Is Female! 25 Classic Science Fiction Stories by Women, from Pulp Pioneers to Ursula K. Le Guin".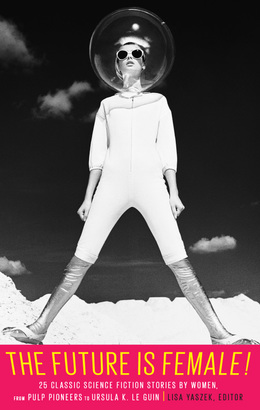 Bending and stretching its conventions to imagine new, more feminist futures and new ways of experiencing gender, visionary women writers have been from the beginning an essential if often overlooked force in American science fiction. Two hundred years after Mary Shelley's Frankenstein, SF-expert Lisa Yaszek presents the best of this female tradition, from the pioneers of the Pulp Era to the radical innovators of the 1960s New Wave, in a landmark anthology that upends the common notion that SF was conceived by and for men….

Visit the companion website for more on these stories and writers, including author biographies, appreciations by contemporary writers, original pulp covers and illustrations, adaptations into other media, press coverage, and more.
(11) WHEN IN CRETE. Israeli author Yakov Merkin is not impressed. I recognize his name as someone JDA interviewed for his YouTube show.
(12) CRUMB CONTROVERSY, In "Cancel Culture Comes for Counterculture Comics" in Reason, Brian Doherty looks at pioneering underground comics artist R. Crumb and the vigorous debate about whether he should still be read or is so irretreivably racist and sexist that he should be "cancelled."
…The brief against Crumb is both specific to his famous idiosyncrasies and generally familiar to our modern culture of outrage archeology. His art has trafficked in crude racial and anti-Semitic stereotypes, expressed an open sense of misogyny, and included depictions of incest and rape. Crumb's comics are "seriously problematic because of the pain and harm caused by perpetuating images of racial stereotypes and sexual violence," the Massachusetts Independent Comics Expo (MICE) explained last year when removing Crumb's name from one of its exhibit rooms.
Such talk alarms Gary Groth, co-founder of Fantagraphics, the premiere American publisher of quality adult comics, including a 17-volume series of The Complete Crumb Comics. "The spontaneity and vehemence" of the backlash, Groth says, "surprised me—and I guess what also disheartened me was, I'm pretty sure the vast majority of people booing Crumb are not familiar with his work.…This visceral dislike of him has no basis in understanding who Crumb is, his place in comics history, his contribution to the form."
(13) END OF A THEORY. Yahoo! Entertainment carried many articles about The Big Bang Theory series ending, several linked in the opening paragraphs of "Sarah Michelle Gellar's 'Big Bang' Finale Cameo: Here's How It Came Together".
In the end, Big Bang Theory's unluckiest lovebird lost his girlfriend but gained a Buffy the Vampire Slayer, staking claim to one of the series finale's biggest moments in the process.

As previously, lightly teased, Sarah Michelle Gellar made a surprise cameo in Thursday's swan song (read full recap here) as Raj's date to Sheldon and Amy's Nobel Prize ceremony….
(14) TRIVIAL TRIVIA. Walter Lantz, Woody Woodpecker's creator, did the opening sequence animation along with the animation of Bella Lugosi's Dracula turning into a bat for Abbott and Costello meet Frankenstein.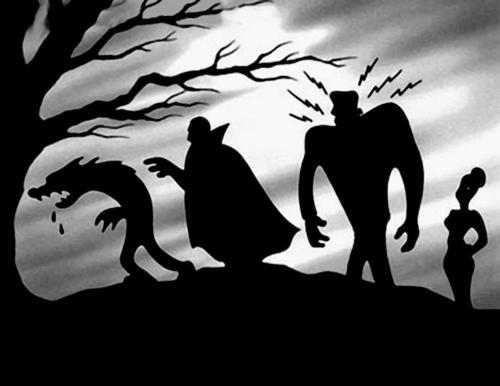 [Thanks to JJ, Chip Hitchcock, Cora Buhlert, Cat Eldridge, Michael Toman, Mike Kennedy, Martin Morse Wooster, John King Tarpinian, Andrew Liptak, Carl Slaughter, and Andrew Porter for some of these stories. Title credit goes to File 770 contributing editor of the day Jack Lint.]