(1) OUT OF TIME.  Unlike some others that have been scooped up by Amazon and Netflix, no rescue is in sight for this series. "NBC cancels Timeless, but a wrap-up movie may happen" reports Sci-Fi Storm.
Sorry Timeless fans, but NBC has officially passed on a third season of the show. Now, we've been here before, when they announced that the show was canceled after the first season but fan uproar managed to convince NBC brass to reconsider. Unfortunately this time there doesn't appear to be any hope for a second such resuscitation with the second season ratings failing to hit targets. However, we understand that NBC and Sony have been talking about a possible 2-hour wrap-up movie – but nothing has come of it so far.
(2) JURASSIC OR GOTHIC? NPR critic Chris Klimek's "Dino Vs. The Volcano: 'Jurassic World: Fallen Kingdom' Generates Intermittent Heat" deserves its introductory subhead: "In this derivative but fitfully inventive fifth installment of the Jurassic franchise, our heroes try to rescue Isla Nublar's dinosaurs from extinction-by-lava, only to get their ash handed to them."
Children are plagued by the occasional certainty that there's a monster in their basement, if not right under their bed, and they're almost always wrong. Jurassic World: Fallen Kingdom, the follow-up to 2015's mediocre but hugely successful revival of the Jurassic franchise, is the exception that proves the rule.

This fifth installment is so desperate to recombine the strands of the 25-year-old series in a novel way that halfway through its ruuuuuuuun! time, it takes a bizarre but not unwelcome left turn, evolving from yet another sweaty Central American dino-safari into a Gothic haunted house flick.

Monsters in the basement. Monsters in the bedroom. Monsters on the auction block, with creepy Toby Jones holding the gavel! Oh, and a little girl (Isabella Sermon) whose stern-but-loving governess (Geraldine Chaplin) scolds her when her enunciation sounds too American. Jurassic World raked in the fifth-highest box-office take in film history, grossing a paltry $1.7 billion, so you can see why the filmmakers felt compelled to tweak the formula into something a little closer to Jurassic Wuthering Heights.
(3) CARRIE FISHER. This ceremony took place in May: "Carrie Fisher honored with commemorative plaque outside TCL Chinese Theatre".
A permanent memorial to Carrie Fisher is now in place outside the TCL Chinese Theatre in Hollywood.

The commemorative stone plaque was originally unveiled in December prior to the release of "Star Wars: The Last Jedi," but it is now affixed in cement in front of the famed theater's entrance.

Fisher's brother Todd was on hand for the unveiling of the plaque at the theater's forecourt….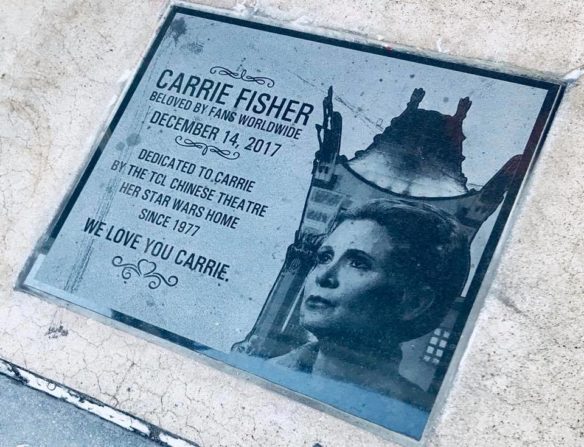 (4) REMAKE. The history of the future in one tweet:
JURASSIC PARK SEQUEL IDEA:

3 Million AD.

The humans are extinct.

The dino-scientists find mosquitoes with human blood.

Guess who they clone…

Jeff. Fucking. Goldblum.

They mix up the mosquito DNA with Goldblum's.

Surprise assholes.

This is now a sequel to The Fly.

— JR (@JRDRD) June 21, 2018
(5) ROGER AND OUT. In honor of the 30th anniversary of Who Framed Roger Rabbit, SYFY Wire's Josh Weiss has interviewed Charles Fleischer, who voiced Roger. The interview includes several anecdotes from filming the movie — Fleischer was actually on-set with Bob Hoskins (who played human private eye Eddie Valiant), et al., doing lines off camera: "Who Framed Roger Rabbit at 30: How Roger's iconic voice made the cut".
Before 1988, Hollywood had already come up with the idea of mixing live action with animation in the same space; it wasn't a novel idea, although the execution was rudimentary and ultimately less immersive than distracting. One had to suspend their disbelief far beyond the normal limit in order to feel like Gene Kelly was dancing with Jerry Mouse or Julie Andrews was being served by penguin waiters.

Mary Poppins, Anchors Aweigh, and Pete's Dragon might have done it first, but Who Framed Roger Rabbit perfected the art of mixing live action with animation, taking it to a place no one had ever imagined.

Roger Rabbit (an adaptation of Gary K. Wolf's 1981 novel Who Censored Roger Rabbit?) changed all the rules…
Quoting the first and last Q&A's:
Q: How did you end up getting the role of Roger Rabbit?
A: Bob Zemeckis had seen me do my stand-up. And he asked me to come in and help them audition actors for the Eddie Valiant role to read the character [of Roger] off camera, so someone could react to it. After doing several of those, he offered me the job….

Q: If you were to be approached for a sequel all these years later, what would be your response?

A: When do we start?
(6) NOT WHAT YOU'D EXPECT FROM A JPL FOUNDER. Glenn Garvin reviews Strange Angel in "CBS Dabbles in America's Unusual Occult History in Strange Angel" at Reason.com.
In an epoch when we've already had television shows about heroic motorcycle gangs and cuddly-puppy serial-killers-next-door, I suppose we shouldn't be surprised when a devil-worshiping aerospace engineer takes center stage. Yet the effects of the digital age on television diversity continue to amaze me.

It was not so long ago that any American who turned on his television at 8 p.m. on a Friday had a choice of Family Matters, Uncle Buck, America's Most Wanted, Quantum Leap, or putting a gun in his mouth. And now the digital arm of what used to be known as The Tiffany Network has a series with a hero, or at least protagonist, who regularly masturbates on magic tablets in an attempt to summon the Whore of Babylon.

To be fair, neither the Whore of Babylon nor any of her precursor acts has appeared in the first three episodes of Strange Angel. But it should be just a matter of time. The series is based on a biography of Jack Parsons, a real-life pioneer of American rocketry and one of the founders of NASA'S Jet Propulsion Lab. More interestingly, he was also a follower of Aleister Crowley, the wandering, omnisexual occultist, practitioner of black magic and, at the very least, Luciferian fellow traveler. (Crowley always denied being a Satanist, but rather undercut his claim by referring to himself as "the Beast 666" and mailing out "Antichristmas cards.")
(7) MARTIAN NIGHTFALL. The lights are going out all over Mars and may not be relit in this rover's lifetime: "Mars Dust Storm Now 'Planet-Encircling,' Dimming Hopes For NASA Rover".
NASA scientists are still holding out hope they will hear from the surprisingly long-lived Mars rover. It went into snooze mode earlier this month, thanks to a gargantuan dust storm on the Red Planet that's blocking beams from reaching the solar panels that recharge the rover's batteries.

But like light on Mars, hopes of hearing from Opportunity anytime soon have dimmed.

NASA says the two-week-old storm doubled in size over the weekend, and is now officially a "planet encircling" or "global" event.

Opportunity's science operations have been suspended, but it is happily not the lone Mars rover.
(8) COMICS SECTION.
Chip Hitchcock saw Frankenstein admiring a new tattoo at Bizarro.
(9) OCTAVIA BUTLER. Steven H Silver covers Octavia Butler's birthday for Black Gate in "Birthday Reviews: Octavia E. Butler's 'The Book of Martha'".
Octavia E. Butler was born on June 22, 1947 and died February 24, 2006.

Butler earned a Hugo Award in 1984 for her short story "Speech Sounds."  In 1985, her novelette "Bloodchild" received both the Hugo and the Nebula Award.  She received a second Nebula Award in 2000 for the novel Parable of the Talents.  In 2010, she was posthumously inducted into the Science Fiction Hall of Fame.  She received the SFWA's Solstice Award in 2012.  Kindred: A Graphic Novel Adaptation, based on her 1979 novel Kindred, earned her and Damian Duffy a Bram Stoker Award in 2018.  She had several other award nominations as well.
(10) MONKEYING AROUND IN COMICS. Walmart — the proverbial 800 lb. gorilla of retail shopping in the US — is so powerful a force that it can reportedly get Bowdlerized editions of music and the like produced just for its stores. Well, this isn't that… but it may be reminiscent. DC Comics is issuing series of 100-page compilations to be sold just at Wally World. The first 4 to go on sale (1 July) will be  Batman Giant, Superman Giant, Justice League of America Giant, and Teen Titans Giant. Syfy Wire has the story — "DC Comics announces Walmart exclusive 100-page Giant anthology comics featuring Bendis, King, and more".
DC Comics is making an ambitious new publishing push aimed directly at Walmart shoppers.

The publisher announced Friday that it has partnered with the massive retail chain for a series of "100-page Giant" anthology titles that will feature both exclusive new stories and reprints of classic tales from various eras in DC Comics history. The inaugural titles in the line will go on sale July 1, and will ultimately feature serialized stories from top DC creators including Brian Michael Bendis, Tom King, Dan Jurgens, Amanda Conner, Jimmy Palmiotti, and Tim Seeley.

"We are extraordinarily excited about working with Walmart to expand the reach of our books," DC Publisher Dan DiDio said in a press release. "These new monthly books combine new and accessible stories with reprints of classic comic series. It's a great way for new readers to get into comics and follow the characters they've grown to love in TV and film."
(11) REVIEWING TOLKIEN. Book Marks at Literary Hub shares the original opinions of "C. S. Lewis, W. H. Auden, & Edmund Wilson on The Lord of the Rings". For example, here's what Auden told readers of the New York Times in 1954:
The first thing that one asks is that the adventure should be various and exciting; in this respect Mr. Tolkien's invention is unflagging, and, on the primitive level of wanting to know what happens next, The Fellowship of the Ring is at least as good as The Thirty-Nine Steps.
(12) NEITHER A BURROWER NOR A LENDER BE. J.C. Kang gives a rundown on "Orconomics: A Satire by J. Zachary Pike" at Fantasy-Faction.
When I'd finished laughing and the dust had cleared, I came up with this easy way to characterize Orconomics:

An unabashed celebration of D&D character classes, races, magic, and terminology.
Subversion of common fantasy tropes.
A metaphorical lesson in Mortgage Backed Securities and other derivatives.
Hilariously witty prose.
One hell of a wonderfully crafted, insidious plot worthy of the Koch Brothers' undermining of democracy.
(13) ADVANCE PEEK. Scott Meslow, in a GQ story called "EXCLUSIVE: Your First Look at the 100% Real* Script for the Fan-Made Star Wars: The Last Jedi Remake, Which is Definitely Happening", writes what he says is the script for the film, which he says is written by "Real Mature Adults who love Star Wars so much they spend at least seven hours a day complaining about it online."
STAR WARS: THE LAST JEDI REMAKE opens where STAR WARS: THE FORCE AWAKENS left off, with REY handing LUKE SKYWALKER his lightsaber.

LUKE: Hey, that's my lightsaber! Thanks! [Luke takes lightsaber] Now it's time for me, the Last Jedi, to go kill Snoke and save the galaxy!

REY applauds. Finally, her life's work as the galaxy's greatest lightsaber courier is complete. [Note: Rey is never seen again.]…
(14) YOUR MOVIE MAY VARY. Meantime, Timothy the Talking Cat is trying to fund his own scam — "Tim's Last Jedi Remake Update: aka 'Porgzooka'". The "leaked" production photo cracked me up.
(15) SCALY MODEL. In "What makes people deeply dippy for dinosaurs?" the BBC quotes several opinions given in connection with a tour of a diplodocus skeleton. One academic suggests:
Here's how he thinks the everywhere – "dinosaurs are on cereal boxes; they're on children's clothes" – and the nowhere – they're dead – work on us: "The fact dinosaurs are extinct makes them ours.

"A dinosaur can't object to our interpretation.

"They're malleable – inaccessible but right next to us; a success and failure; scary and reassuring. The ambivalence is a real part of it. They bring together these concepts – mystery and reality with enough space in between to do what we like.

"There's a distance but a close distance – and it's a distance we control."

Meanwhile, the author of Jurassic Park says he has no idea why….
(16) SUPER SOUTH CAROLINIANS. On The Late Show with Stephen Colbert, Mike Colter and Stephen reenact the first issue of the comic book Luke Cage.
[Thanks to JJ, Chip Hitchcock, Robot Archie, Martin Morse Wooster, Mike Kennedy, Cat Eldridge, John King Tarpinian, Carl Slaughter, and Andrew Porter for some of these stories. Title credit belongs to File 770 contributing editor of the day Rob Thornton.]