(1) MÜNCHHAUSEN DEBATE. Some regard Retro-Hugo nominee Münchhausen to be the best thing on the ballot, while others are considering refusing to rank it at all because the movie was made in Germany during the Third Reich. Cora Buhlert and Evelyn C. Leeper are two fans who are on opposite sides of the argument.
Buhlert analyzes a lot of the ethical questions in "Why you should not dismiss "Münchhausen" out of hand".
… This post grew out of a comment on Steve J. Wright's blog (whose Hugo and Retro Hugo reviews you should really read), where Steve expressed that he was unsure whether he should vote for Münchhausen due to its provenance. His is not the only comment along those lines I have seen, so here is a post explaining why you should not dismiss Münchhausen out of hand.

… However, quite a few Hugo voters have issues with Münchhausen, because it was made in Germany during the Third Reich and they don't want to vote for "a Nazi film". This is wrong, because – unlike some of the pretty crass propaganda stuff found elsewhere on the Retro Hugo ballot, particularly in the dramatic presentation and graphic story categories – Münchhausen is not a propaganda film, merely a film that happened to be made during the Third Reich. For while the Nazi propaganda movies are infamous – even though hardly anybody has seen them, because they still cannot be publicly displayed in Germany except for educational purposes* – these propaganda movies (about forty) only make up a small percentage of the total film output of the Nazi era. In fact, it's a lot more likely to find propaganda in a random Hollywood movie made during WWII than in a random German movie. For the vast majority of the German movies made during the Third Reich were apolitical entertainment: musicals, melodramas, comedies, romances and the like.

…It's also notable that most of the Münchhausen cast and crew, including director Josef von Baky, had careers that continued unimpeded in postwar Germany. And considering that both the Allies and the postwar West and East German authorities came down harder on artists who were involved with questionable movies than on Nazi doctors, judges, civil servants, military officers, etc… who were actually responsible for the deaths of many people (cause the latter were deemed important for building up the postwar state, while the former were not), this means that most of the people involved with Münchhausen were not Nazis….
Evelyn C. Leeper takes the other side in "Evelyn C. Leeper's Retro Dramatic Presentation, Long Form Reviews" at MT VOID.
MUNCHHAUSEN was an attempt to provide the German audience with the lush Technicolor films they were not getting from Hollywood in 1943. And the film is beautiful, with some scenes reminiscent of Brueghel paintings, and the scenes on the moon quite fantastical. As a Hugo finalist, though, it has two flaws. One is that long stretches are fairly boring–I just don't find Munchhausen's intrigues with Catherine the Great very interesting. The second is that if people balk at giving an award to a film directed by someone accused of sexual misconduct and possible rape, what should one think of awarding a Hugo to a film made by the Nazis as a propaganda film (of the "Volksfilm" style)? It's a fine line, I agree, but while I think the film worth watching (it's available free on YouTube, and if you get it on DVD, whoever is getting the royalties, it's not the Nazi party), I cannot vote to give it a Hugo.
(2) SCALING MT. TSUNDOKU. [Item by rcade.] Wajahat Ali, a New York Times opinion writer and CNN contributor, asked for advice on Twitter about meeting his goal of reading 3 books a month:
In the replies, someone recommends the essay "How to read a lot of books" by David Evans, an economist who read 104 books in 2018:
The favorite suggestion among Twitter users is to get off social media.
(3) GOING FOUR IT. The New Yorker's Anthony Lane is there when "'Toy Story 4' Plays It Again".
…"Toy Story 4" is directed by Josh Cooley, and it must be said that, for a while, the tale doesn't seem like the freshest that Pixar has ever told. Woody (voiced by Tom Hanks, as ever), Buzz Lightyear (Tim Allen), and their bunch of pals are forced to adjust when young Bonnie (Madeleine McGraw), in whose bedroom they reside, departs for orientation day at kindergarten and returns with a toy—or a thingamajig—that she has made. His name is Forky (Tony Hale), he was put together from cutlery, pipe cleaners, and goggly eyes, and he clings to a fervent belief that he is trash. Time and again, despite not having read Dostoyevsky, he has to be stopped from throwing himself away. Parents with children of Bonnie's age may find these scenes difficult to explain….
(4) CARRYING A TUNE IN A BIG DIPPER. James Davis Nicoll was inspired by File 770 comments to consider the definition of space opera: "Single Star System Space Opera; or, Those Pesky Belters, Revisited" at Tor.com.
One world is not enough (probably). There are space operas that center on one world—novels such as Dune or The Snow Queen come to mind—but their plots require interactions between that planet and the rest of the narrative universe. The story may take place on one world, but this world is only one of many.

Space travel is a therefore a necessary feature of space opera. Travel can delightfully complicate the plot: trade, migration, proselytization, and the chance that the local equivalent of the Yekhe Khagan might pop by with ten thousand of his closest friends to discuss taxation and governance.
(5) PREFERRED SFF. [Item by Martin Morse Wooster.] Tyler Cowen interviewed Google's chief economist, Hal Varian, in his podcast "Conversations With Tyler." ("Hal Varian on Taking the Academic Approach to Business").  In minute 38 of the interview, Varian recommended some sf.  He liked Frederik Pohl's "The Midas Plague" in which robots produce so much stuff that the rich live lives of bucolic simplicity while the poor have to consume until they keel over.  Varian also liked L. Sprague de Camp's Lest Darkness Fall, and said that if he could live at any time in history, it would be in the Rome of the fifth century described in de Camp's classic novel.
(6) EXPERIENCE TOR AUTHORS. Available free from Macmillan for various digital formats: "Tor.com Publishing 2019 Debut Sampler: Some of the Most Exciting New Voices in Science Fiction and Fantasy".
Read free sample chapters from the most exciting new voices in science fiction and fantasy today, including C. S. E. Cooney, Katharine Duckett, Jennifer Giesbrecht, Kerstin Hall, Vylar Kaftan, Scotto Moore, Tamsyn Muir, Lina Rather, Priya Sharma, and Emily Tes.
(7) ALL FOR SCIENCE. Via the Self-Published Fantasy Blog-Off's FB group, Mark Lawrence has asked for self-published authors to provide titles for the purpose of looking at how Goodreads ratings might correlate with sales.
In the past I have looked at the relationship between "number of Goodreads ratings" and "sales" for recent traditionally published fantasy books.

"What do Goodreads ratings say about sales?" (from 2015.)

Data from self-published authors has shown a much greater variability.

If you want to help out (note your name and your book name will not be used) then message me the following information for each fantasy book you want to tell me about. It will become a point on a graph. I will not share your figures with anyone (except as an anonymous point on a graph). Note – please only submit info for books with more than 200 Goodreads ratings:
Year the book was published
number of Goodreads ratings for the book
number of copies sold via Kindle Unlimited
number of copies sold in all other formats
estimate the % of all non KU sales (i.e number listed in 4) that were free / £0.00
(8) FIELDS OBIT. Star Trek writer Peter Alan Fields died June 19. StarTrek.com paid tribute:
For Trek, Fields wrote or co-wrote a total of 13 episodes, most notably the TNG hours "Half a Life," "Cost of Living" and "The Inner Light," as well as the DS9 installments, "Dax," "Duet," "Blood Oath," "In the Pale Moonlight" and "The Dogs of War," among others. In short, he had a hand in several of both shows' finest moments. He also served DS9 as a co-producer and later producer from 1993 to 1994, spanning seasons one and two.
(9) TODAY IN HISTORY.
June 22, 1925 — The Lost World enjoyed its original theatrical premiere. The feature starred Wallace Beery and Bessie Love. And yes, Arthur Conan Doyle was said to have approved of this version. Indeed in 1922, Conan Doyle showed O'Brien's test reel to a meeting of the Society of American Magicians, which included Harry Houdini. He refused to say if it was actual footage or not.
June 22, 1979 – Alien debuted.
(10) TODAY'S BIRTHDAYS.
[Compiled by Cat Eldridge.]
Born June 22, 1856 — H. Rider Haggard. Writer of pulp fiction, often in the the Lost World subgenre. King Solomon's Mines was the first of his novels with Allan Quatermain as the lead and it, like its sequels, was successful. These novels are in print to this day. Haggard by the way decided to take ten percent royalties instead of a flat fee for writing, a wise choice indeed. And let's not forget his other success, She: A History of Adventure, which has never print out of print either. (Died 1925.)
Born June 22, 1936 — Kris Kristofferson, 83. He first shows up in a genre film, The Last Horror Film, as himself. As an actor, his first role is as Bill Smith in Millennium which is followed by Gabriel in Knights, a sequel to Cyborg. (A lack of name creativity there.) Now comes his role as Abraham Whistler in Blade and Blade II, a meaty undertaking indeed! Lastly, he voiced Karubi in Planet of the Apes.
Born June 22, 1947 — Octavia E. Butler. As you know, I do research before I decide who gets a Birthday write-up. I kept running across her detractors who grumbled that she was one of those dread SJWs. Well let's note that she's a multiple recipient of both the Hugo and Nebula awards, and she became in 1995 the first genre writer to receive a MacArthur Fellowship. As regards her fiction, I'd suggest the Xenogenesis series shows her at her very best but anything by her is both good and challenging. I'm pleased to note that iBooks and Kindle have everything of hers available. (Died 2006.)
Born June 22, 1949 — Meryl Streep, 70. She'd make the Birthday list just for being Madeline Ashton in Death Becomes Her and her epic battle there with Goldie Hawn. She's the voice of Blue Ameche in A.I. Artificial Intelligence, and a very real Aunt Josephine in Lemony Snicket's A Series of Unfortunate Events. She's the voice of Felicity Fox in Fantastic Mr. Fox, based off the on Dahl's 1970 children's novel. She voices Jennie in a short that bring Maurice Sendak's dog to life, Higglety Pigglety Pop! or There Must Be More to Life. She's The Witch in Into The Woods. I think that it.
Born June 22, 1953 — Cyndi Lauper, 66. Ok I'm officially old as I'm thinking of her as always young. Genre-wise, she played a psychic, Avalon Harmonia, on the Bones series. She also has one-offs in series as diverse as The Super Mario Bros. Super Show!, Shelley Duvall's Mother Goose Rock 'n' Rhyme and Happily Ever After: Fairy Tales for Every Child. Oddly enough she has one serious acting credit, Jenny (Ginny Jenny/Low-Dive Jenny) in Bertolt Brecht's The Threepenny Opera.
Born June 22, 1958 — Bruce Campbell, 61. Where to start? Well let's note that Kage loved him so I've linked to her review of Jack of All Trades. I personally like just as much The Adventures of Brisco County, Jr. and think it's well worth checking out. I think his work as Ash Williams in the Evil Dead franchise can be both brilliant and godawful, often in the same film. The series spawned off of it is rather good. Oh and for popcorn reading, check out If Chins Could Kill: Confessions of a B Movie Actor, his autobiography.
Born June 22, 1971 — Laila Rouass, 48. She was Sarah Page, an Egyptologist on Primeval, a series I highly recommend if you've not seen it. She played Colonel Tia Karim, a traitorous UNIT officer in the two part "Death of The Doctor" on The Sarah Jane Adventures. This story was the last to feature Sarah Jane Smith and the Doctor, The Eleventh here, together onscreen. Jo Grant would also show up.
Born June 22, 1973 — Ian Tregillis, 46. He is the author of the Milkweed Triptych trilogy which is frelling brilliant. He's contributed three stories to Max Gladstone's The Witch Who Came in From the Cold, a rather good serial fiction anthology (if that's the proper term) and he's got another series, The Alchemy Wars, I need to check out.
(11) UPDATE. Jim C. Hines tells fans why he needs to start a "Writing Hiatus and Other Changes":
There's no real news on the cancer front. If all goes well, Amy will get the next dose of chemo on Monday and Tuesday. But we have to wait a bit longer to see if and how well this is working. We're also waiting on insurance approval for the CAR T-cell procedure she needs. In the meantime, she's still pretty weak, but her pain is better managed, which helps a lot.

This last round – discovering the masses in her abdomen after six months of chemo and treatment – flipped a switch in my brain. Before, I'd been struggling to make time to write, squeezing in anywhere from 200-500 words a few times a week. But with this setback, I just stopped.

I'm not quitting forever. Terminal Peace is still under contract, and I've got an idea for a contemporary fantasy I want to do next. But…priorities, you know? I need to spend time with my wife. I need to be there for the kids. And I need to stop pushing myself to do ALL THE THINGS, and to stop beating myself up for not being able to do everything.

My editor has been incredibly understanding. So much love for Sheila and DAW! The longer gap between books two and three of this trilogy is going to suck, but c'est la vie. I just can't worry about that right this minute….
(12) TROTTING THE GLOBE. Rich Lynch has posted the 22nd issue of his zine My Back Pages online at eFanzines.com.
Because of the temporal nearness of the upcoming Irish Worldcon, Issue #22 has a travel-oriented theme and has essays involving Native American culture and Indian food, tall mountains and ocean vistas, ancient computers and modern cell phones, completed walks and works-in-progress, rental cars and water buses, famous writers and somewhat obscure composers, small spittoons and large ash heaps, opened time capsules and preserved brains, strange stories and familiar melodies, glass artifacts and wooden bells, sunny afternoons and inky-dark skies, colorful theories and black & white comics, intense business meetings and serene beach life, fine cheese and a traffic jam, labyrinthine passageways and an expansive convention center, old friends and "old school"…and 15 minutes of media fame – in Estonia!
(13) LOOKING TO REDECORATE? Popular Mechanics displays the latest fashions from Star Wars.
(14) BITE YOUR TONGUE. The Warp Zone's sketch shows scenes from Steve Rogers' domestic life with Peggy Carter in "Captain America's Life After Endgame."
(15) COLLECTOR'S ITEM. Sorry, wrong number.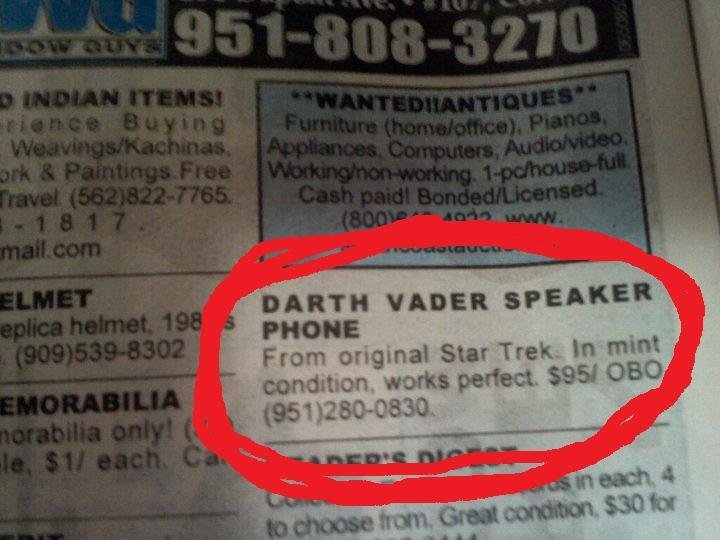 (16) BIG TICKET ITEM. Comicbook.com astonishes with the news that "Disneyland Has Already Sold Three of the $25k R2-D2 Droids at Star Wars: Galaxy's Edge".
If you had a spare $25,000 lying around, what would you spend it on? Believe it or not, a total of three people have already spent that amount of money on a very specific purchase at Star Wars: Galaxy's Edge, the latest Disneyland attraction that immerses fans in the galaxy far, far away. According to The OCR, the park is selling a "$25,000 life-size custom astromech unit" which is sold at Driod Depot and "looks just like the 3-and-half-foot-tall R2-D2."
(17) LOCKED AND LIDDED. Alasdair Stuart says, "This week's The Full Lid takes us from the mutable dimensions of grief and horror to how much fun dying slowly in orbit can be."
In the first instance, I take a look at Starfish, AT White's fiercely inventive and intensely personal exploration of grief and inter-dimensional invasion. It's a great, determined and uniquely voiced movie and one you should definitely seek out.

Elsewhere, Matt Miner's eco-noir direct action specialists return and get WAY more than they bargained for in Lab Raider issue 1. I've enjoyed the way Matt's explored this world through the two previous standalone mini-series, Liberator and Critical Hit and this new series looks to be just as good.

Finally, I take a look at Adr1ft, the under-rated EVA/Survival game released a couple of years ago. It has interesting things to say about the pressures of modern spaceflight, looks absolutely beautiful and is frequently terrifying. An overlooked gem, albeit one leaving a trail of empty oxygen cylinders in its wake.
---
Adr1ft

I've spent a good chunk of this week slowly dying in space. it's been fun! Adr1ft, by Three One Zero and published by 505 Games is a pared down, minimalist game that demands attention and cheerily punishes you for not giving it. I found a lot to enjoy in there, not the least of which is the killer opening. You wake up in a damaged space suit, in a decaying orbit, surrounded by the shattered remains of a vast space station that has very recently exploded. Player and character enter the game in identicla states of confusion and the plot unfolds at the same pace you follow the debris trail around the shattered station. You are Commander Alex Oshima, head of the HAN-IV project. You are the lone survivor of a catastrophic accident. The accident was your fault.

Now what?

The game perfectly embodies the brutal math of orbital survival without ever getting over-excited about how unforgiving it is….
(18) ELECTRICITY BY THE BALE. Nature reports on "Sunlight harvested by nanotubes".
The efficiency of junction-based solar cells has almost reached its theoretical limit, and it is therefore imperative to explore methods for converting sunlight into electricity that do not require semiconductor junctions. Writing in Nature, Zhang et al. report a key advance in this direction. They demonstrate a junction-free solar cell that is produced by curling an atom-thick semiconductor layer into a nanoscale tube.
(19) IN TONGUES WITHOUT FLAME. "Cambridge language conference marks Game of Thrones lingo".
The brains behind some of science fiction's most popular invented languages are gathering for a conference to showcase their skills.

The San Diego-based Language Creation Society has brought together "conlangers" – or people who "construct" languages – in Cambridge.

Among the languges represented is Dothraki, as used in Game of Thrones.

UK organiser Dr Bettina Beinhoff said the convention would enhance the network of language creators worldwide.
(20) WASP. Like the Eric Frank Russell novel, a tiny cause had a large effect: "Rogue slug blamed for Japanese railway chaos"
A power cut that disrupted rail traffic on a Japanese island last month was caused by a slug, officials say.

More than 12,000 people's journeys were affected when nearly 30 trains on Kyushu shuddered to a halt because of the slimy intruder's actions.

Its electrocuted remains were found lodged inside equipment next to the tracks, Japan Railways says.

The incident in Japan has echoes of a shutdown caused by a weasel at Europe's Large Hadron Collider in 2016.
(21) CRUSH IT LIKE QUINT. The Narragansett brewery claims it's not only music that soothes the breast of the savage beast:
(22) FOR NEVER IS HERD. What's that smell? "Curiosity rover finds gas levels on Mars hinting at possibility of life".
It's easy to get jaded about potential signs of life on Mars, but a recent discovery might raise eyebrows. The New York Times has learned that NASA's Curiosity rover has detected "startlingly high" levels of methane — the gas typically produced by life as we know it. The quantities are still tiny at 21 parts per billion, but that's three times the amount Curiosity spotted during a surge in 2013. The rover's operators were reportedly surprised enough to pause regularly scheduled studies to obtain follow-up data, with the additional findings slated to arrive on June 24th.
(23) BOT DYNASTY. You think their football team is good? Well… University of Alabama News: "UA Robotics Team Wins NASA's Grand Prize for Fifth Consecutive Year".
For the fifth consecutive year, the student robotics team from The University of Alabama won NASA's grand prize in its Robotics Mining Competition.

[…] Made up of 60 students, primarily from UA's College of Engineering, Alabama Astrobotics won the Joe Kosmo Award for Excellence, the grand prize, in NASA's 2019 robotic mining competition, NASA announced. UA's teams previously placed first in 2012 and from 2015-2018.

[…] In a separate event hosted at The University of Alabama, UA's team bested 27 other robotics teams from across the nation to win first in mining, first in the Caterpillar Autonomy Awards and the SSERVI Regolith Mechanics Award.

In the Robotic Mining Challenge held at UA, teams demonstrated how a robot they built over the past year could autonomously navigate and excavate simulated lunar and Martian soil, known as regolith.
[Thanks to Chip Hitchcock, Martin Morse Wooster, John King Tarpinian, Dann, Carl Slaughter, JJ, Cat Eldridge, Andrew Porter, SF Concatenation's Jonathan Cowie, rcade, Daniel Dern, and Mike Kennedy for some of these stories. Title credit goes to File 770 contributing editor of the day Rob Thornton.]