(1) WORLDCON 75 BONUS. 2017 Worldcon Vice-chair Colette H. Fozard sent an update about the printed souvenir books people are looking forward to receiving.
We have the list of people to send the printed souvenir book to, and we're sorry for the delay but it is due to a bonus!  We're doing a limited-run reprint of our short story anthology, Giants at the End of the World – A Showcase of Finnish Weird, and that book will be included with the mailed souvenir books. We ran out at con, so we're printing more to include with this mailing. We expect the printing and mailing to be done by the end of June.  Thanks so much for your patience!
(2) ANIMATED SPIDER-MAN TRAILER. Spider-Man: Into the Spider-Verse is coming from Sony Pictures Entertainment this Christmas.
Phil Lord and Christopher Miller, the creative minds behind The Lego Movie and 21 Jump Street, bring their unique talents to a fresh vision of a different Spider-Man Universe, with a groundbreaking visual style that's the first of its kind. Spider-Man™: Into the Spider-Verse introduces Brooklyn teen Miles Morales, and the limitless possibilities of the Spider-Verse, where more than one can wear the mask.
(3) VOTING. WIRED's Adam Rogers, in "Elections Don't Work at All. You Can Blame the Math", examines voting systems, and in particular Instant Runoff Voting as it applies to electing a new mayor for San Francisco. This is comparable to the system used for Hugo voting prior to EPH, except that SF voters are only allowed to rank 3 candidates while Worldcon voters can rank all available candidates (including No Award). Among other things, it's apparently slowing the determination of the outcome as paper ballots could be postmarked as late as election day.
…See, the San Francisco mayoral election isn't just another whoever-gets-the-most-votes-wins sort of deal. No, this race was another example of the kind of cultural innovation that California occasionally looses upon an unsuspecting America, like smartphones and fancy toast. Surprise, you guys! We don't even vote like y'all out here.

The way it worked is called ranked choice voting, also known as an instant runoff. Voters rank three choices in order of preference. The counting process drops the person with the fewest first-choice votes, reallocates that candidate's votes to all his or her voters' second choices, and then repeats. Does this sound insane? Actually, it's genius. It is also insane.
(4) MANITOBA BOOK AWARDS. Craig Russell writes, "I'm pleased to say that Fragment is on the shortlist for The Michael Van Rooy Award!" (See all the award categories on the Manitoba Book Award shortlist.)
The Michael Van Rooy Award for Genre Fiction
The Bootlegger's Confession by Allan Levine, published by Ravenstone Press, an imprint of Turnstone Press
Fragment by Craig Russell, published by Thistledown Press
The Mermaid's Tale by D.G. Valdron, published by Five River Publishing
Strangers – Book 1 of The Reckoner Series by David A. Robertson, published by HighWater Press, an imprint of Portage & Main Press
The Manitoba Writers' Guild ceremony for the upcoming Manitoba Book Awards will be held on Friday, June 15.
(5) BOURDAIN OBIT. Culinary explorer and TV personality Anthony Bourdain died of suicide on June 8. The Huffington Post explores his genre connection in "Anthony Bourdain's Boyhood Dream Was To Make Comics. Few People Know He Did.".
Bourdain once told CNN that he was a serious comic book collector as a kid. "At the end of the day, I'm a super nerdy fanboy," he said. He admitted to Jimmy Fallon that, unfortunately, he sold his collection for drugs back in the 1980s.

In 2012, Bourdain co-wrote his first comic with author Joel Rose. It was called "Get Jiro!" The setting is the not-so-distant "Bourdainian" future.
Foodies have taken over and celebrity chefs not unlike mob bosses run the world. The mysterious Jiro-San is the new hotshot sushi chef in town. The city's warring culinary factions have each given him an ultimatum: Join our
side or die.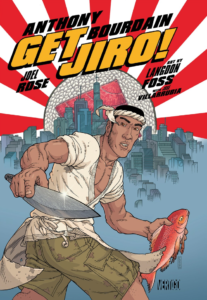 (6) BERTIN OBIT. Horror writer Eddy C. Bertin died May 22 reports his publisher David Sutton.
Very sadly I have to report that veteran horror and Cthulhu Mythos writer, Eddy C. Bertin, died on 22nd May while on holiday on the island of Crete. My association with Eddy goes back to my fanzine Shadow, in 1968, for which he wrote many articles on a variety of horror topics, including on the Cthulhu Mythos and European horror writers. His distinctive short stories were picked up by The Pan Book of Horror,The Year's Best Horror Stories and many more anthologies and magazines over the years. He was born in Germany, but later moved to Ghent and wrote in Dutch, Flemish, German and English.I am proud to have published a collection of his stories in 2013, The Whispering Horror.
(7) TODAY IN HISTORY
June 9, 1949 — 1984 was first printed, in London.
(8) TODAY'S BIRTHDAYS
Born June 8, 1910 — John W. Campbell, Jr.
Born June 8, 1928 – Kate Wilhelm
Born June 8, 1943 – Colin Baker
(9) MAGICAL MYSTERY THEATER TOUR. Coast-to-coast, north to south, "MST3K Live 30th Anniversary Tour" could be coming to a venue near you. Or not. Check it out at the link.
Mystery Science Theater 3000 announces the MST3K Live 30th Anniversary Tour featuring, for the first time in 25 years, original host and MST3K creator Joel Hodgson back in the red jumpsuit as Joel Robinson. Alongside new MST3K host Jonah Heston (Jonah Ray), Joel, Jonah and the Bots will bring new movies and all new riffs and sketches live to the stage across U.S. cities this fall. The MST3K Live 30th Anniversary Tour kicks off October 9 in Portland, ME and hits 29 cities to perform 42 shows across the U.S. Tickets for all dates go on sale Friday, June 8 via AXS.com and local venue box offices.

Of the upcoming tour, Hodgson says, "The craziest and most exciting thing for me is that I am putting on my old jumpsuit and will be riffing live, shoulder to shoulder with Jonah, Crow, and Tom Servo for two incredibly strange feature films. I'm going to have to go into training to get caught up to the skill level of Jonah and this new cast. If you saw last year's tour you have some idea just how talented these young movie riffers are."
(10) LIGHTS, CAMERA, ACTION FIGURE. You have truly made it when you have your own action figure. Entertainment Weekly has the story: "Shape of Water director Guillermo del Toro has an action figure — here's your first look".
(11) ROCKET STACK RANK. Eric Wong sent a link to RSR's "Outstanding LGBT Science Fiction & Fantasy of 2017" article. He notes —
June is Pride Month, and here are 45 outstanding stories with LGBT characters from 2017 that were either finalists for major SF/F awards, included in "year's best" SF/F anthologies, or recommended by prolific reviewers in short fiction (see Q&A).

This list could be useful for making nominations for the 2018 Gaylactic Spectrum Awards for Best Short Fiction (published in 2010-2017). Anyone can nominate through June 30, 2018. Stories from 2017 are below. See Outstanding LGBT Science Fiction & Fantasy of 2015-2016 for earlier stories.

Observations
(12) GALLOWAY SETTLEMENT. The January 15 Pixel Scroll linked to an op-ed by Margaret Atwood ("Am I a bad feminist?") regarding University of British Columbia professor Steven Galloway, who had an affair with a student and was accused of sexual misconduct.
Galloway has received a settlement from the university — the CBC has the story: "Author Steven Galloway awarded $167K in damages following UBC firing".

Author Steven Galloway, fired by the University of British Columbia in 2016, has been awarded $167,000 in damages following arbitration.

Galloway admitted to having an affair with a student but was also critical of the university's handling of the case, which sparked a divisive debate on campus and in the country's literary community.

On Friday, an arbitrator on the case said that some communications by the school contravened Galloway's privacy rights and caused harm to his reputation.

In his four-page decision, John B. Hall writes mostly about the process of the arbitration with little detail about what specific communications were damaging….
(13) CAP LAUNCHES AGAIN. Marvel has created a trailer for Captain America #1 by Ta-Nehisi Coates & Leinil Yu.
(14) VIDEO OF THE DAY. Danse Exquise on Vimeo is an absurd animation from Miyu Productions, set to the music of Claude Debussy, that includes a dancing crab and a political rooster.
[Thanks to Mike Kennedy, Cat Eldridge, Eric Wong, John King Tarpinian, Chip Hitchcock, Martin Morse Wooster, Carl Slaughter, Bill, Craig Russell, and Andrew Porter for some of these stories. Title credit belongs  to File 770 contributing editor of the day Christian Brunschen.]