(1) KGB. Fantastic Fiction at KGB reading series hosts Ellen Datlow and Matthew Kressel present Seanan McGuire and Nadia Bulkin in livestreamed readings on Wednesday, June 16 at 7 p.m. EDT. YouTube link to come.
Seanan McGuire
Seanan McGuire writes science fiction, fantasy, horror, and comics. She isn't very big on sleeping like a reasonable person. Her most recent novel is Angel of the Overpass, third in the Ghost Roads series. Her first novel, Rosemary and Rue, was published in 2009, and has since been followed by more than forty volumes under both her own name and the name "Mira Grant," her pseudonym for more horrific fiction.
Nadia Bulkin
Nadia Bulkin is the author of the short story collection She Said Destroy. She has been nominated for the Shirley Jackson Award five times. She grew up in Jakarta, Indonesia with her Javanese father and American mother, before relocating
(2) VIRTUAL EVENT FOR TIE-IN CHARACTERS. The University of Washington book store is hosting a 3-day free Zoom event (June 29-July 1) with 21 editors and authors who've contributed to the Turning the Tied anthology featuring tie-in characters, like Frankenstein's monster, John Carter of Mars, and Dracula. The publisher is the International Association of Media Tie-in Writers, and proceeds go to the World Literacy Foundation.. The link is here.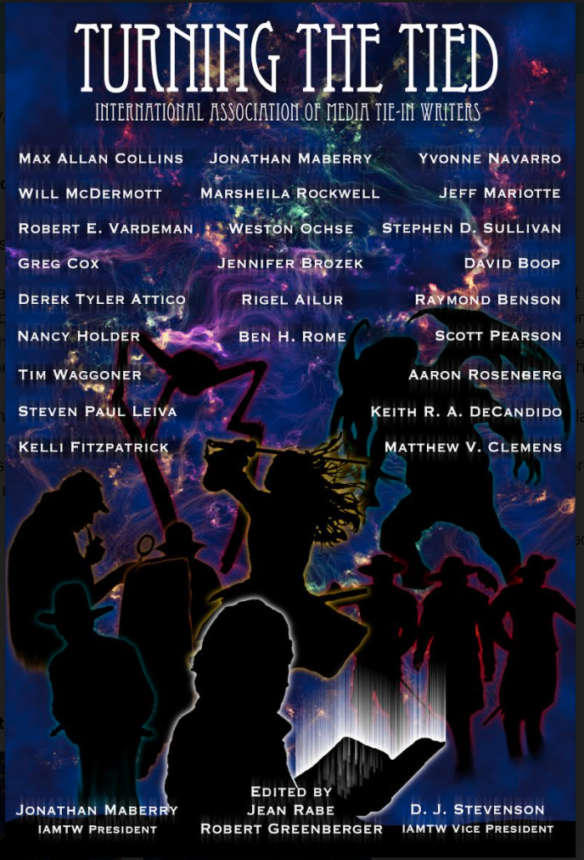 AUTHOR LINEUP
Tuesday, June 29
Bob Greenberger (moderator)
Keith DeCandido
Yvonne Navarro
Weston Ochse
Steven Paul Leiva
Jen Brozek
David Boop

Wednesday, June 30
Jean Rabe (moderator)
Aaron Rosenberg
Will McDermott
Nancy Holder
Stephen D. Sullivan
Tim Waggoner
Jonathan Maberry

Thursday, July 1
D. J. Stevenson (moderator)
Rigel Ailur
Greg Cox
Kelli Fitzpatrick
Scott Pearson
Ben Rome
Robert Vardeman
Derek Tyler Attico

This is a free event, but if you want to buy the book, see the link above.
The IAMTW's article about the book is here: Turning the Tied.
(3) CASTING "THE DEBARKLE." Amazing Stories' Steve Davidson, in "For Services Rendered", points people to Chapter 39 of Camestros Felapton's epic The Debarkle, "2015: April – The Finalists", where Steve's name is the first thing mentioned.
…I have no doubt that this discourse, when concluded, will be optioned for a major motion picture, with the only real question being, who will play me?  We don't want someone too good-looking as that would tend to distract from the intellectual nature of my character (by far a more important feature of my character than my ravishing good looks);  some have suggested that Steve Buscemi would be a good match, but I'm going to hold out for Samuel Jackson or maybe even Morgan Freeman (anyone who gets tapped to play both the POTUS AND God is a good match for me).  (Besides, I would truly enjoy defending the choice if others chose to object along "reverse white-washing" lines.)…
Dignity, always dignity!
(4) FRACTURED EUROPE TO SERIES. [Item by Paul Weimer.] Deadline is reporting: "'Tinker Tailor Soldier Spy' Team Reunite For Studiocanal Series 'Europa' Based On Dave Hutchinson's 'Fractured Europe Sequence' Spy Novels". I am excited. These novels are excellent and many people have slept on them, but not all (Adrian Tchaikovsky tuckerized the verse of these novels into his Time War novella for instance).
…In the first book, Europe In Autumn, Rudi, a chef based out of a small restaurant in Krakow, Poland, is drawn into a new career with Les Coureurs des Bois, a shadowy organization that will move anything across any state line for a price. Soon, Rudi is in a world of high-risk smuggling operations, where kidnappings and double-crossing are as natural as a map that constantly redraws itself.

[Director Tomas] Alfredson said: "Europa is a unique blend of classic spy novel and mind bending science fiction. Set in the not too distant future, in a world that for the most part looks and feels very much like our world today, the story offers a rich and thrilling allegory for our contemporary times."…
(5) SEASON'S GREETINGS. The "Apple TV+ Summer 2021 & Beyond" preview is not all sff – but plenty is.
Featuring The Morning Show S2, Ted Lasso S2, See S2, Truth Be Told S2, The Shrink Next Door, Schmigadoon!, Mr. Corman, Trying S2, Physical, CODA, Foundation, Invasion, Greyhound, Billie Eilish: The World's A Little Blurry, Palmer, Cherry, The Banker, Wolfwalkers, The Year Earth Changed, On the Rocks, Lisey's Story, Doug Unplugs, The Snoopy Show, Stillwater, Wolfboy and the Everything Factory, Puppy Place, and many more.
(6) NOT-SO-YOUNG PEOPLE READ OLD REVIEWS. That would be us! Congratulations to James Davis Nicoll who says, "Today marks 20 years since people started paying me to bitch about free books. It began with this Ben Bova novel" — Gonna Play for the Sky.
…There are two details that might allow readers to deduce that The Precipice was written in 2001 and not, say, 1972. 

One is the shoehorning of lunar helium three into the plot. I'm afraid that all too many SF authors have adopted lunar helium three mining as a pretext for space development. Mentioning it seems to have been de rigueur for any self-regarding space-resource exploitation novel. (This despite the sheer scientific illiteracy of the meme, upon which I have expended much vitriol.) Now, unlike many of his colleagues, Bova has some idea how little helium three there is in lunar regolith; the amount of regolith that needs to be processed to produce even small amounts of helium three means that lunar sources will be insufficient to allay Earth's climate woes2. Point to Bova!

The other is that unlike a lot of his contemporaries, Bova accepted anthropogenic climate change as a real thing and not, say, blatant lies put about by hairy-legged rad-fem commie tree-hugging gay vegetarian gun-grabbing subscribers to the Magazine of Fantasy and Science Fiction . It would be a better world if that bland acceptance of scientific fact were not unusual enough to be worth remarking on, but here we are…. 
(7) WHEN FANZINES WERE IN BLOOM. In Episode 54 of the Two Chairs Talking podcast, "Fandom is a way of life", Perry Middlemiss and David Grigg discuss science fiction fandom and their introduction to it via amateur magazine publishing. Perry also interviews Rose Mitchell, the Fan Guest of Honour at CoNZealand, the 2020 Worldcon.
(8) SOUND ADVICE. SYFY Wire encourages you to put on the headphones: "Raiders of the Lost Ark Sound Designers extra for Indiana Jones 4K Ultra HD".
"Snakes, why did it have to be snakes?" Well, it turns out it didn't — it was just macaroni all along. In a new video celebrating tomorrow's release of all four Indiana Jones movies on 4K Ultra HD, in turn celebrating the upcoming 40th Anniversary of 1981's franchise-igniting Raiders of the Lost Ark, we learn some tasty (and some not-so tasty) treats were involved in creating the sound effects for the fan-favorite film.   

As you can hear and see in the Paramount Pictures' video below, now you can go behind Raiders of the Lost Ark's snap, crackling, and ssssss-ing sound effects with legendary designer Ben Burtt (who won Oscars for his work on E.T. the Extra-Terrestrial and Indiana Jones and the Last Crusade) and go-to foley artist John Roesch (who, per IMDb, currently has 592 sound department credits). Together, the two of them bring along a bevy of inventive props to the Foley stage at Skywalker Sound in Northern California, to recollect how such everyday objects as the top of a toilet and a whole bunch of celery contributed to scenes that remain etched in our memories…
(8) MEDIA BIRTHDAY.
June 8, 1949 – On this day in 1949, George Orwell's Nineteen Eighty-Four: A Novel was first published in London by Secker & Warburg. It has been continuously in-print ever since and has had five film adaptations (feature and tv), at least seven radio plays, several theater productions, one opera and even a ballet. Vincent Price starred in the 1955 Lux Radio Theatre production which you can listen to here.
(9) TODAY'S BIRTHDAYS.
[Compiled by Cat Eldridge and John Hertz.]
Born June 8, 1829 – Sir John Millais, Bt.   Painter created a baronet by Queen Victoria, the first artist honored with a hereditary title.  President of the Royal Academy.  Here is Ferdinand Lured by Ariel (Shakespeare's Tempest).  Here is Speak! Speak! – when a critic said "I can't tell whether the apparition is a spirit or a woman," Sir John answered "Neither can he!"  Christ in the House of His Parents has no halos; a messy carpenter's shop; Mary is portrayed, accused Dickens, as "an alcoholic … hideous in her ugliness."  Ophelia was made the cover of Rich Horton's Best Fantasy of the Year, 2007 (hello, Rich).  It is essential to Shakespeare's Hamlet that Ophelia is a real woman.  Yet Sir John has, in her face, in his composition, and in his marshaling of detail, shone the light of fantasy compellingly upon this moment.  (Died 1896) [JH]
Born June 8, 1905 – Leslie Stone.  Author, ceramist, gardener.  One of the first women published in our early days; "When the Sun Went Out" was a 1929 Gernsback pamphlet promoting Wonder Stories, "Letter of the Twenty-Fourth Century" was in the December 1929 Amazing.  Two novels, a score of shorter stories.  Pioneer in writing about black protagonists, strong female characters.  Social criticism may have been strengthened by using relatively simple plots and personalities her readers were accustomed to.  Memoir, Day of the Pulps.  (Died 1991) [JH]
Born June 8, 1910 – John W. Campbell, Jr.  Author of half a dozen novels, a score of shorter stories like "Who Goes There?" and "Forgetfulness."  For 34 years edited Astounding, renamed Analog, and a short-lived fantasy companion, Unknown (see Fred Smith's Once There Was a Magazine). Ushered in the Golden Age of SF. Won 16 Hugos, of which eight were Retrospective, all but one for editing (the exception: Retro-Hugo for "Who Goes There?"). On the other hand, in his ASF editorials he supported many forms of crank medicine, and promoted Dianetics, and specious views about slavery, race, and segregation, all of which was well-known in sf fandom. In the Sixties he rejected Samuel R. Delany's Nova for serialization saying that he did not feel his readership "would be able to relate to a black main character." Focusing on his foundational contributions, his name was put on the John W. Campbell Award for Best New Writer, but after 46 years it was renamed the Astounding Award when a winner called him out for "setting a tone of science fiction that still haunts the genre to this day." (Died 1971) [OGH]
Born June 8, 1915 – Robert F. Young. Starting in the early Fifties through the Eighties, he wrote some one hundred fifty stories that appeared in Amazing Science Fiction, F&SF, Saturn, Fantastic Universe, Amazing Stories and many other publications. Several critics compared him in style to Bradbury. Late in his career, he wrote four genre novels including one released only in French, La quête de la Sainte Grille, that was a reworking of his "Romance in a Twenty-First Century Used-Car Lot" novelette. "Little Dog Gone" finished third for the Short Fiction Hugo at Loncon II to Gordon R. Dickson's "Soldier, Ask Not". Several thick volumes of his work are available at the usual digital suspects. (Died 1986.) (CE)
Born June 8, 1926 – Philip Levene. He wrote nineteen episodes of The Avengers including creating the Cybernauts which won him a Writer's Guild Award, and served as script consultant for the series in 1968–69. He also has three genre acting credits, one as a Supervisor in "The Food" episode of Quatermass II; the second as a Security Man in the X the Unknown film, and finally as Daffodil in Avenger's "Who's Who" episode. (Died 1973.) (CE)
Born June 8, 1928 – Kate Wilhelm. Author of the most exemplary, Hugo–winning Where Late the Sweet Birds Sang. She also won a Hugo for Best Related Book for Storyteller: Writing Lessons and More from 27 Years of the Clarion Writers' Workshop, and a Locus Award for Best Nonfiction for the same work. SFWA renamed their Solstice Award the Kate Wilhelm Solstice Award. She established the Clarion Workshop with her husband Damon Knight and writer Robin Scott Wilson. There's a number of other Awards as well. (Died 2018.) (CE)
Born June 8, 1930 – Roger Sims, age 91.  His Room 770 (shared with 3 others) of the St. Charles Hotel at Nolacon I the 9th Worldcon held our most memorable room party, running till the next day and almost eclipsing the con.  Co-chair, with Fred Prophet, of Detention the 17th Worldcon; both named Co-chairs Emeritus of Detcon the 11th NASFiC (N. Am. SF Con, since 1975 held when the Worldcon is overseas).  Fan Guest of Honor at Nolacon II the 46th Worldcon; at Rivercon XXIV.  DUFF (Down Under Fan Fund) delegate.  Co-chair (with Bill Bowers) of Corflu 4 (fanziners' con; corflu = mimeograph correction fluid, once indispensable); co-chair (with wife Pat Sims) of Ditto 10 and 17 (fanziners' con; a brand of spirit-duplicator machine, i.e. another copying technology).  Having published a fanzine Teddy Bear, he was appointed head of the Teddy Bear Army – no, it was the other way round.  [JH]
Born June 8, 1946 – Elizabeth A. Lynn, 75. She is well known for being one of the first genre writers to introduce gay and lesbian characters as an aspect of her stories. So in honor of her, the widely known A Different Light chain of LGBT bookstores took its name from her novel of that name. Her best known work is The Chronicles of Tornor series. Her Watchtower novel won a World Fantasy Award as did "The Woman Who Loved the Moon" story. (CE) 
Born June 8, 1948 – Suzanne Tompkins, age 73.  One of the Founding Mothers of CMUSFS (Carnegie Mellon Univ. SF Society).  With Linda Eyster, another Mother (later L. Bushyager), began the fanzine Granfalloon; with Ginjer Buchanan, published Imyrr; with ST's husband Jerry Kaufman, The Spanish Inquisition (Fan Activity Achievement award for this), Mainstream, Littlebrook.  Guest of Honor write-up of Buchanan for 77th Worldcon.  Various con responsibilities, e.g. Hotels department head at the 73rd Worldcon.  TAFF (Trans-Atlantic Fan Fund) delegate.  Fan Guest of Honor at Moscon III; with Jerry, at Balticon X, Westercon XLIV, Minicon XXVI, Boskone XXXIV.  "Suzle" to many.  [JH]
Born June 8, 1955 – Richard Chwedyk, age 66.  A dozen short stories, half a dozen poems.  One Nebula.  Ran writers' workshop for Chicon VI the 58th Worldcon, also at Windycons.  Toastmaster at Windycon 34.  Reviewer for Galaxy's Edge.  [JH]
Born June 8, 1965 – Paul & Stephen Youll, age 56.  British identical twins; both artists first exhibited at the 45th Worldcon; a dozen covers together until Stephen moved to the U.S.  Three hundred fifty covers by Paul, four hundred fifty by Stephen, plus interiors.  Art book for Stephen, Paradox; also in Vincent Di Fate's Infinite Worlds; Graphic Artist Guest of Honor at Boskone XXXVI, at Millennium Philcon the 59th Worldcon.  Here is a cover by both for On My Way to Paradise.  Here is a cover by Paul for Ringworld.  Here is Stephen's cover for the Millennium Philcon Souvenir Book.  [JH]
Born June 8, 1973 – Lexa Doig, 48. Cowgirl the hacker on TekWar,the post-Trek Shatner series that he actually made sense in as opposed to Barbary Coast. She was also Andromeda Ascendant/Rommie on Andromeda and Sonya Valentine on Continuum, andthe voice of Dale Arden in the animated Flash Gordon series. One-offs in Earth: Final Conflict, The 4400, Stargate SG-1, Eureka, V, Smallville, Supernatural and Primeval: New World. (CE)
(10) COMICS SECTION.
(11) PLUSES AND MINUSES. In "Microreview [book]: Antediluvian by Wil McCarthy", Paul Weimer gives Nerds of a Feather readers this rundown before analyzing why he concludes the book is fatally flawed:
Harv Leonel does not have a problem, but he has a Big Idea. It is his contention that the y-chromosome of the human genome can and does act like a quantum computer, recording and storing information, information that could be potentially accessed and remembered. What Harv does not realize is that hooking up his brain to a jury rigged device will not just draw on the history of his ancestors as straight up memory, but will plunge him into the very lives of his ancestors, histories that contradict much of what we know of the past. Or, these lives and stories will confirm that much of what we thought of as myth and legend actually happened in the past, preserved in our stories, but also contained within the y chromosome of men.

This is the premise of Wil McCarthy's novel, Antediluvian.

…Antediluvian, unlike Gaul, is divided into four parts, with the frame story of the "present day" where Harv's experiment takes place. After an initial use of the device to plunge him into the first story, the subsequent three stories play out without Harv's active desire or moving to do so, explained as being the aftereffect of the original use of the device. It's a useful conceit to allow the subsequent three memory explorations of the past to play out when they would not have rationally done otherwise. I suspect that a 1950's version of this novel would have had Harv hook himself up again, for "Science!". Fortunately, Harv as written here isn't quite the 1950's SF hero archetype in that regard, at least.

The first of the four memory delves into the past establishes the themes and ideas of the entire novel, is the longest, the most detailed, and I think the most successful. Harv is catapulted into the memories (or is it just the memories?) of Manuah Hasis, harbormaster of a neolithic metropolis by the edge of a sea and a great river, built on very flat ground. Manuah is worried about the slowly rising waters which threaten not only his harbor, but also the city itself. He has further worries when a comet appears in the sky, and gets ever larger as well. 

This first portion feels a lot like a L Sprague de Camp or Harry Turtledove or Judith Tarr historical fiction novel, except set in a legendary time and place in the Neolithic…
(12) SFF MUSIC VIDEO. Pitchfork invites all to "Watch Coldplay's New Sci-Fi Video for 'Higher Power'".
Coldplay's new single "Higher Power" has a new music video. Directed by Dave Meyers, the visual is a sci-fi odyssey on the planet Kaotica with robot dogs and dancing aliens. The press release notes references to The Terminator, Blade Runner, and The Fifth Element. Seoul's Ambiguous Dance Company appear in the video. Watch it below.
(13) VIDEO OF THE DAY. In "Honest Trailers: Invincible", the Screen Junkies take on the Amazon cartoon series, Robert Kirkman's latest effort, which, like his other series, is "extremely depressed," "relationship-focused, and hyperviolent: and features a protagonist who can't figure out what is going on, even though "he's Superman and his dad is Thanos."
(14) VIDEO OF ANOTHER DAY. "A Boy and His Atom" came out in 2013, but it could be news to some of you. View the GIF here,
A Boy and His Atom is a 2013 stop-motion animated short film released on YouTube by IBM Research. The movie tells the story of a boy and a wayward atom who meet and become friends. It depicts a boy playing with an atom that takes various forms. One minute in length, it was made by moving carbon monoxide molecules with a scanning tunneling microscope, a device that magnifies them 100 million times. These two-atom molecules were moved to create images, which were then saved as individual frames to make the film.[1] The movie was recognized by the Guinness Book of World Records as the World's Smallest Stop-Motion Film in 2013.[2]
[Thanks to Cat Eldridge, John Hertz, Mike Kennedy, Andrew Porter, David Doering, Paul Weimer, Edd Vick, Daniel Dern, Martin Morse Wooster, JJ, Michael Toman, and John King Tarpinian for some of these stories. Title credit belongs to contributing editor of the day Daniel Dern.]