(1) BUSIEK LIVE. Filer Kurt Busiek will be interviewed by Mark Evanier. The livestream starts August 18 at 7:00 p.m. Pacific.
Just two comic book writers sitting around, hundreds of miles apart, talking about comics. Mark Evanier chats with his pal Kurt Busiek about the comic book field and what some people don't understand about it.
(2) STAMPING IT OUT. In the Washington Post, retired admiral William H. McRaven, who served as the commander of the U.S. Special Operations Command from 2011-14, says that the 1997 movie The Postman is a fairly accurate description of the problems America faces in 2020. "Trump is actively working to undermine the Postal Service — and every major U.S. institution".
In the 1997 film "The Postman," set in post-apocalyptic America, Kevin Costner plays a drifter trying to restore order to the United States by providing one essential service, mail delivery. In the story, hate crimes, racially motivated attacks and a plague have caused the breakdown of society as we know it. In his quest to restore order and dignity to the nation, the Postman tries to recruit other postal workers to help rebuild the U.S.?government. But Costner's character is opposed by the evil General Bethlehem, who is fighting to suppress the postal carriers so he can establish a totalitarian government. Fortunately, our hero, gaining inspiration from the motto, "neither snow nor rain nor heat nor gloom of night," fights on against Bethlehem and saves the country.Not surprisingly, the movie was panned by critics and was a financial disaster. I mean really, racial strife and a plague so bad that it threatened our society? And even if that happened, who would try to destroy the Postal Service? Where do they come up with these crazy plots?

In retrospect, maybe we should give the movie another look. Today, as we struggle with social upheaval, soaring debt, record unemployment, a runaway pandemic, and rising threats from China and Russia, President Trump is actively working to undermine every major institution in this country….
(3) EXTRAS. After Hastings author Steven H Silver, who shared "The Novels I Didn't Write" with File 770 readers today, has collected this essay, the related ones published at John Scalzi's and Mary Robinette Kowal's blogs and Black Gate, as well as the information from his After Hastings website into a chapbook that is available for $3 plus postage (also available as a pdf). Silver says, "People interested can e-mail me. It runs to about 10,000 words." Contact him at: shsilver@sfsite.com
(4) TERRY PRATCHETT ON THE EXPENSIVENESS OF POVERTY. [Item by rcade.] A passage from the legendary Terry Pratchett is making the rounds on Twitter as a lesson on why being poor costs a lot of money:
It's from his 2003 Discworld novel Men at Arms and also turns up in Sarah Skwire's article for The Library of Economics and Liberty "Buying Boots".
It's not clear whether Ankh-Morpork has a functioning credit system. (Paper money doesn't appear in the city until Making Money, the 40th novel in the series, for example). It's also not clear–given the general rough and tumble aspects of Ankh-Morpork's "business" community–whether borrowing money is a particularly safe notion.
And here on Moneywise as an illustration of why poor people can't save money: "Boots Theory of Socioeconomic Unfairness".
Captain Vimes from Discworld knew that he should buy the good boots, but he simply couldn't afford it. This problem can be delayed by access to credit, but it's not the solution, nor should it be. Those with less immediate access to money can make their lives easier with proper use of credit, budgeting, personal savings, and frugal purchasing.
(5) STARING AT THE HORIZON. [Item by Olav Rokne.] Miles Surrey at The Ringer pays tribute to one of the classics of dark 1990s science fiction cinema, and tries to explain the enduring appeal of a movie that barely rates a 30 per cent on Metacritic. "One of the key reasons something as wicked as Event Horizon holds rewatch value: As long as you can stomach the gore, Dr. Weir's (Sam Neil) pivot from sympathetic scientist to full-blown emissary of hell is a campy tour de force." "'Hell Is Only a Word': The Enduring Terror of 'Event Horizon'".
For films that feature a character descending into madness, it's all about the look. Jack Torrance, staring out into the endless blizzard outside the Overlook Hotel; Travis Bickle, shaving his head into a Mohawk; Colonel Kurtz, moving out of the shadows of his decaying temple. Sometimes, a striking image tells you everything you need to know. For Sam Neill's character in a criminally overlooked horror film from 1997, it's the sight of him sitting in the captain's chair of a doomed spaceship, having torn out his own eyes.

"Where we're going," he says, "we won't need eyes to see."
(6) FUTURE AURORA AWARDS. At the Canadian Science Fiction and Fantasy Association annual general meeting over the weekend it was decided that the current Short Fiction category would be split into two awards for 2021. The new categories will be: Short Story for works that have less than 7,500 words and Novelette/Novella for works that have a word counts between 40,000 and 7,500.
The 2021 award ceremony will be held in Ottawa at Can-Con. It was also decided that the 2022 Auroras would be again be held in Calgary at When Words Collide.
(7) YOU'RE FIRED. "The Week Old Hollywood Finally, Actually Died" – the New York Times ran the obituary.
For decades, the best thing about being a Hollywood executive, really, was how you got fired. Studio executives would be gradually, gently, even lovingly, nudged aside, given months to shape their own narratives and find new work, or even promoted. When Amy Pascal was pushed out of Sony Pictures in 2015, she got an exit package and production deal worth a reported $40 million.

That, of course, was before streaming services arrived, upending everything with a ruthless logic and coldhearted efficiency.

That was never more clear than on Aug. 7, when WarnerMedia abruptly eliminated the jobs of hundreds of employees, emptying the executive suite at the once-great studio that built Hollywood, and is now the subsidiary of AT&T. In a series of brisk video calls, executives who imagined they were studio eminences were reminded that they work — or used to work — at the video division of a phone company. The chairman of WarnerMedia Entertainment, Bob Greenblatt, learned that he'd been fired the morning of the day the news broke, two people he spoke to told me. Jeffrey Schlesinger, a 37-year company veteran who ran the lucrative international licensing business, complained to friends that he had less than an hour's notice, two other people told me.
(8) MEDIA BIRTHDAY.
August 17, 1960 — The Time Machine premiered. The work of legendary director George Pal, it was based on the H.G. Wells novella of the same name. Pal also handled the production. The screenplay was by David Duncan, noted genre writer. It would lose out at Seacon to the Twilight Zone series for Best Dramatic Presentation. Cast was Rod Taylor, Alan Young, Yvette Mimieux, Sebastian Cabot and Whit Bissell. Some critics liked it, some didn't, and most thought the love interest angle sucked. It did very, very well at the box office. Audience reviewers at Rotten Tomatoes currently give it an excellent 80% rating. (CE)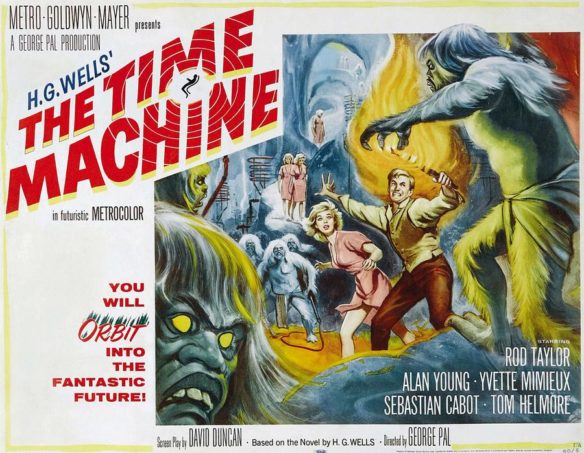 (9) TODAY'S BIRTHDAYS.
[Compiled by Cat Eldridge and John Hertz.]
Born August 17, 1920 – Lida Moser. Six decades as a photographer; pioneer in photojournalism. This ("Two Workers, Exxon") I respectfully suggest is more interesting than some she's famous for. So is this of Judy Collins. LM did all four Cities in Flight novels; here is The Triumph of Time. (Died 2014) [JH]
Born August 17, 1923 — Julius Harris. He's Tee Hee Johnson, the metal armed henchman courtesy of a crocodile in Live and Let Die, the eighth Bond film. Other genre appearances are scant — he's a gravedigger in Darkman, boat crew in King Kong and he shows up in the horror film Shrunken Heads. He had one-offs in The Incredible Hulk and the Friday the 13th series. (Died 2004.) (CE)
Born August 17, 1930 — Harve Bennett. The individual who gave us Star Trek II: The Wrath of Khan. Really he did. He would then serve as Producer on the next three Trek films, The Search for Spock, The Voyage Home and The Final Frontier. His only on-scene appearance is in the latter as the Starfleet Chief of Staff. (Died 2015.) (CE)
Born August 17, 1933 — Glenn Corbett. He shows up on the original Trek in "Metamorphosis" as the first incarnation of Zefram Cochrane. Other genre one-offs were The Man from U.N.C.L.E., Land of The Giants, The Immortal, Fantasy Island and Night Gallery. He appeared as General Kevin Matthews in City Beneath the Sea, the pilot for the series that was meant to replace Trek after it was cancelled but never got the green light. (Died 1994.) (CE)
Born August 17, 1945 — Rachael Pollack, 75. She's getting a Birthday note for her scripting duties on her run of issues 64–87 (1993-1995) on Doom Patrol. (Jim Lee confirmed this week that DC Universe is going to be a straight comics service like a Marvel Unlimited.) She's also assisted in the creation of the Vertigo Tarot Deck with McKean and Gaiman, and she wrote a book to go with it. (CE)
Born August 17, 1950 – Sutton Breiding, 70. Five dozen poems; some in Star*Line, even. Four short stories. Many of our more poetic writers, like Niven, or William Hope Hodgson, paint it through their prose; SB's renown rests on it. [JH]
Born August 17, 1952 – Susan Carroll, 68. Ten novels for us; many others, some under different names. Three Rita Awards. Ranks Gargantua and Pantagruel about even with Tristram Shandy. It seems right that the first and second in one series should be entitled The Bride Finder and The Night Drifter. [JH]
Born August 17, 1959 – SMS, 61. (Pronounced and sometimes written "smuzz".) Two dozen covers, two hundred interiors. Interview ("Art and Metaphysics at Party-Time") in Interzone. Captain Airstrip One comic strip with Chris Brasted and Alan Moore in Mad Dog, reprinted in Journey Planet. Here is Vector 152. Here is InterZone 100 featuring SMS. Here is The Ant-Men of Tibet. Here is The Derring-Do Club and the Invasion of the Grey. [JH]
Born August 17, 1960 – Fangorn, 60. Five dozen covers, a dozen interiors; graphic novels, films, games. Two BSFA (British SF Ass'n) Awards for artwork. Here is Myth Conceptions. Here is Outcast of Redwall. Here is Wourism. Guest of Honour at Eastercon 54 (U.K. nat'l con), NewCon 3, Bristol-Con 2016; scheduled for Novacon 50 (postponed). [JH]
Born August 17, 1962 — Laura Resnick, 58. Daughter of Mike Resnick. She is a winner of the John W. Campbell Award for Best New Writer in Science Fiction for "No Room for the Unicorn". I've not read her Manhattan Magic series so I'm interested to know what y'all think of it. She's readily available ion iBooks and Kindle. (CE)
Born August 17, 1966 — Neil Clarke, 54. Editor in Chief of Clarkesworld Magazine which has won an impressive three Best Semiprozine Hugos. SFWA also gave him a Kate Wilhelm Solstice Award. He also edits The Best Science Fiction of the Year series for Night Shade Books. (CE)
Born August 17, 1973 – Rae Carson, 47. Ten novels, eight shorter stories; some for Star Wars; The Great Zeppelin Heist of Oz (with husband C.C. Finlay). The Girl of Fire and Thorns a NY Times Best Seller. I found this: "Rae, tomorrow is my last day as mayor of [omitted – jh]…. an almost former executive woman leader…. it was edifying … to read a book that got the perils of leadership and faith *so right*." [JH]
(10) COMICS SECTION.
(11) FOCUS. Science Fiction and Fantasy Writers of America listed Focus on the Family Clubhouse in its August 2020 Market Report. (The Google cache file to the listing is here while it lasts.) The listing has been withdrawn.
(12) THE END IS HERE.
(13) BUT IS IT EXCELLENT? Parade Magazine interviewed the talent: "Keanu Reeves and Alex Winter Open Up About Their Excellent Adventures in Bill & Ted Face the Music ".
Why do you think the first Bill & Ted became an almost instant cult classic?

Reeves: I think there's an originality to it—the script, the words and the voices of these characters that had a friendship, a sincerity and an indomitable will. They're clever, there's a lot of heart to them, they're funny and unique.

Winter: Even when we first got the script when we were young, it was that dichotomy of the language being very ornate while the characters are kind of childlike. The writers and producers found it funny that we were taking the language so seriously. But then it's packed with a lot of stuff, a lot of characters. The movie moves like a freight train.
(14) SOME VOLUME AIR CONDITIONING. A departing research group leader leaves a note "To the future occupants of my office at the MIT Media Lab".
…I'm leaving the note because the previous occupant left me a note of sorts. I was working here late one night. I looked up above my desk and saw a visegrip pliers attached to part of the HVAC system. I climbed up to investigate and found a brief note telling the MIT facilities department that the air conditioning had been disabled (using the vice grips, I presume) as part of a research project and that one should contact him with any questions.

That helped explain one of the peculiarities of the office. When I moved in, attached to the window was a contraption that swallowed the window handle and could be operated with red or green buttons attached to a small circuitboard. Press the green button and the window would open very, very slowly. Red would close it equally slowly. I wondered whether the mysterious researcher might be able to remove it and reattach the window handle. So I emailed him….
(15) CALIFORNIA IS SMOKIN' AGAIN. They could use more A/C here: "'Highest temperature on Earth' as Death Valley, US hits 54.4C". Also a picture of the "firenado" in Northern California.
What could be the highest temperature ever reliably recorded on Earth – 130F (54.4C) – may have been reached in Death Valley National Park, California.

The recording is being verified by the US National Weather Service.

It comes amid a heatwave on the US's west coast, where temperatures are forecast to rise further this week.

The scorching conditions have led to two days of blackouts in California, after a power plant malfunctioned on Saturday.

"It's an oppressive heat and it's in your face," Brandi Stewart, who works at Death Valley National Park, told the BBC.

Ms Stewart has lived and worked at the national park on and off for five years. She spends a lot of her time indoors in August because it's simply too uncomfortable to be outside.

"When you walk outside it's like being hit in the face with a bunch of hairdryers," she said. "You feel the heat and it's like walking into an oven and the heat is just all around you."
More in the New York Times about these: "Fire Tornadoes Reported in Northern California Wildfire" (same picture as in the BBC story.)
The National Weather Service said it was planning to investigate reports of a rare occurrence of fire tornadoes arising on Saturday from a 20,000-acre wildfire in Northern California.

Dawn Johnson, a meteorologist with the service in Reno, Nev., said on Sunday that the agency had received reports of fire tornadoes in an area of Lassen County, Calif., about 25 miles northwest of Reno.

"It's not like a typical tornado where it happens, everything clears out and you safely go and investigate," Ms. Johnson said. "In this case, there's a massive wildfire burning in the same location, so the logistics are a lot more complicated."

Doppler radar showed at least five rotation signatures, but Ms. Johnson said she could not confirm that they would all be classified as fire tornadoes.
(16) PANDEMIC PROTECTION + SECOND AMENDMENT = ? "The Hero We Need Built a Gun That Shoots Masks Onto People's Faces" — Gizmodo introduces him to the world. The GIF at the top of the article is…I admit it, I laughed.
(17) VIDEO OF THE DAY. In "Mortal Kombat: Annihilation" on ScreenRant, Ryan George says this film has characters rolling around in hamster balls, and if you lean the wrong way you'll die!
[Thanks to John King Tarpinian, Olav Rokne, rcade, Mike Kennedy, Martin Morse Wooster, JJ, Clifford Samuels, Chip Hitchcock, John Hertz, Cat Eldridge, Michael Toman, and Andrew Porter for some of these stories. Title credit goes to File 770 contributing editor of the day Chris S.]