(1) EXCELSIOR! Cass R. Sunstein reviews Liel Liebovitz's biography Stan Lee: A Life in Comics at the LA Review of Books: "Marvelous Belief".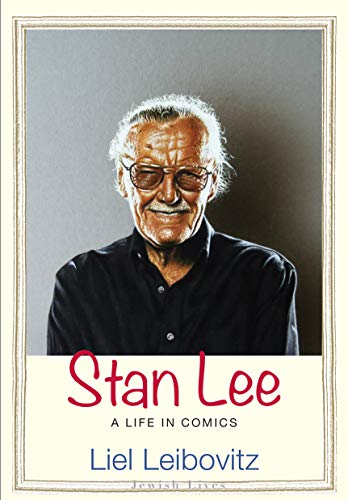 …DC was Dwight Eisenhower; Marvel was John F. Kennedy. DC was Bing Crosby; Marvel was the Rolling Stones. DC was Apollo; Marvel was Dionysus.

Marvel's guiding spirit, and its most important writer, was Stan Lee, who died in 2018 at the age of 95. Lee helped create many of the company's iconic figures — not only Spider-Man, the Fantastic Four, the Hulk, and the X-Men, but also the Black Panther, the Avengers, Thor, Daredevil (Daredevil!), Doctor Strange, the Silver Surfer, and Ant-Man. There were many others. Lee defined the Marvel brand. He gave readers a sense that they were in the cool kids' club — knowing, winking, rebellious, with their own private language: "Face Forward!" "Excelsior!" "'Nuff said!"

Aside from their superpowers, Lee's characters were vulnerable. One of them was blind; another was confined to a wheelchair. By creating superheroes who faced real-world problems (romantic and otherwise), Lee channeled the insecurities of his young readers. As he put it: "The idea I had, the underlying theme, was that just because somebody is different doesn't make them better." He gave that theme a political twist: "That seems to be the worst thing in human nature: We tend to dislike people who are different than we are." DC felt like the past, and Marvel felt like the future, above all because of Marvel's exuberance, sense of fun, and subversive energy….
(2) BALONEY! [Item by Martin Morse Wooster.] In the Washington Post, Abraham Riesman, author of a forthcoming biography of Stan Lee, offers five myths about him, including that "Lee created the Marvel Universe" ("there is actually zero evidence that Lee had any of the initial ideas" for the classic Marvel characters) and "Lee loved comics and superheroes" (he repeatedly pitched non-superhero ideas to publishers, and they were all rejected): "Five myths about Stan Lee".
…There is actually zero evidence that Lee had the initial ideas for any of these characters, other than his own claims. In his 2002 memoir, for instance, he said of Ditko: "I really think I'm being very generous in giving him 'co-creator' credit, because I'm the guy who dreamed up the title, the concept, and the characters." The world has generally accepted that Lee had the initial notions for the characters, only then passing them off to Kirby or Ditko. But over the course of legal cases, painstaking historical debate and my own archival research, nothing has ever been turned up that proves — or even suggests — that Lee was the driving creative force. No presentation boards, no contemporary notes, no diary entries, no supporting accounts from anyone other than his wife. Nothing.

Meanwhile, Kirby and his defenders have asserted that Kirby was the characters' sole creator, accurately pointing out that he had a far longer history of creating successful characters on his own. Same goes for Ditko. Because of the fly-by-night record-keeping practices of the mid-century comic-book industry, it's unlikely that we'll ever have a firm answer. But companies, journalists and historians can't say with any certainty that Lee created (or even co-created) Marvel's dramatis personae.
(3) KEN LIU STORY TO TV. "FilmNation Entertainment Acquires Ken Liu's Sci-Fi Story 'The Hidden Girl' for Series Adaptation" – Variety has the story.
Fresh off its first Emmy win for "I Know This Much Is True," FilmNation Entertainment is continuing to drive into the TV space. 

The company has acquired Ken Liu's sci-fi short story "The Hidden Girl," with the intention of adapting it into a series. Liu is attached to executive produce the project, which sources say is already in discussions with potential directors and showrunners.

News of the acquisition comes less than a month after Liu was announced as a consulting producer on David Benioff, D.B. Weiss, and Alexander Woo's buzzy Netflix adaptation of "The Three-Body Problem."

"The Hidden Girl" blends sci-fi and historical reality into a story set in a never-before-seen fantasy world derived from the cosmopolitan realities of Tang Dynasty China. In the story, a diverse group of women assassins travel through the fourth-dimension traversing space and time to kill their opponents, honor their professional code, and face down ethical dilemmas only too relevant for our conflict- and doubt-driven modern world.  
(4) IN CHARACTER. The Spectator's Daisy Dunn profiles "The gentle genius of Mervyn Peake".
To be a good illustrator, said Mervyn Peake, it is necessary to do two things. The first is to subordinate yourself entirely to the book. The second is 'to slide into another man's soul'.

In 1933, at the age of 22, Peake did precisely that. Relinquishing his studies at the Royal Academy Schools to move to Sark, in the Channel Islands, he co-founded an artists' colony and took to sketching fishermen and romantic, ripple-lapped coves. He put a gold hoop in his right ear, a red-lined cape over his shoulders, and grew his hair long, like Israel Hands or Long John Silver.

The incredible thing was that he had yet to receive his commission to illustrate Treasure Island. By the time the job came through, in the late 1940s, he had been sliding into more piratical souls for more than 20 years.

Peake, by all accounts a gentle man, is probably best known today as the creator of Titus Groan and the dastardly Steerpike in his brilliant Gormenghast trilogy. He was also, however, an adroit and often unsettling draughtsman, producing the most brooding and memorable illustrations for Treasure Island and Lewis Carroll's Alice books of the 20th century.
(5) MEDIA BIRTHDAY.
September 27, 2002 — Joss Whedon's Firefly premiered on Fox. Starring a cast of Nathan Fillion, Summer Glau, Gina Torres, Jewel Staite, Alan Tudyk, Morena Baccarin, Adam Baldwin, Sean Maher and Ron Glass, it would last but a single season of fourteen episodes (shown out of order the first time and with three episodes unaired as well ) and a film, Serenity. The pilot, "Serenity", would be nominated for a Hugo for Best Dramatic Presentation, Short Firm at Torcon 3 but would lose out decisively to Buffy the Vampire Slayer's "Conversations with Dead People". Both comic books and original novels have been released since the series ended.
(6) TODAY'S BIRTHDAYS.
[Compiled by Cat Eldridge and John Hertz.]
Born September 27, 1792 – George Cruikshank.  Brilliant harsh caricaturist.  His Tom and Jerry for Pierce Egan's Life in London were the eponyms of a Christmastime drink and a Hanna-Barbera cartoon series.  GC more kindly illustrated the first English ed'n of Grimms' Fairy Tales; The Brownies; Dickens.  (Died 1878) [JH] 
Born September 27, 1927 — Martin Caidin.  His best-known novel is Cyborg which was the basis for The Six Million Dollar Man franchise. He wrote two novels in the Indiana Jones franchise and one in the Buck Rogers one as well. He wrote myriad other sf novels as well. The Six Million Dollar Man film was a finalist for Best Dramatic Presentation at DisCon II which Woody Allen's Sleeper won. (Died 1997.) (CE)
Born September 27, 1932 — Roger Charles Carmel. The original Harcourt Fenton "Harry" Mudd as he appeared in two episodes of the original Star Trek, "Mudd's Women" and "I, Mudd"" and one episode of the animated series as well, "Mudd's Passion". I say original because Discovery has decided that they have a Harry Mudd too. He also had one-offs on I-Spy, Munsters, The Man from U.N.C.L.E., Voyage to the Bottom of the Sea and Batman. It is rumored but cannot be confirmed that he was going to reprise his role as Harry Mudd in a first-season episode of Next Gen but died before filming could start. (Died 1986.) (CE)
Born September 27, 1947 — Meat Loaf, 73. He has a tasty role as Eddie in The Rocky Horror Picture Show.  He also has film roles in Wishcraft (horror), Stage Fright (horror) and Urban Decay (yes, more horror). He's also in BloodRayne which is yes, horror. He's had one-offs on Tales from the Crypt, The Outer Limits, Monsters, Masters of Horror and was Doug Rennie, a main cast member of Ghost Wars. I think one of his songs, particularly the video version, "I'd Do Anything for Love (But I Won't Do That)" qualifies as genre. (CE) 
Born September 27, 1948 – Pauline Fisk.  Half a dozen novels.  I sometimes wonder who shall guard The Guardian (you may know Quis custodiet ipsos custodes? from this book), but here's what The Guardian said of her.  (Died 2015) [JH]
Born September 27, 1950 – Maggie Secara.  In the Queen's Court with me at the original Renaissance Pleasure Faire, she was superb.  Five novels for us, as many shorter stories.  Her Website is still here.  (Died 2019) [JH]
Born September 27, 1952 – Steven Schindler, 68.  Illustrator; children's books, many ours either explicitly or by treatment.  First book, The First Tulips in Holland.  Here is his cover for The Tower at the End of the World.  Here is Catwings.  Here is Spike and Ike Take a Hike.  Here is his Website.  [JH]
Born September 27, 1956 — Sheila Williams, 64. Editor, Asimov's Science Fiction for the past fifteen years. She won the Hugo Award for Best Short Form Editor in 2011 and 2012. With the late Gardner Dozois, she co-edited a bonnie bunch of anthologies such as Isaac Asimov's Robots, Isaac Asimov's Christmas and Isaac Asimov's Cyberdreams. She was also responsible for the Isaac Asimov Award for Undergraduate Excellence in Science Fiction and Fantasy writing being renamed the Dell Magazines Award for Undergraduate Excellence in Science Fiction and Fantasy Writing. (CE) 
Born September 27, 1959 – Mark Richards, 61.  Active fan and occasional Filer.  Diligent in Empiricons, Lunacons, HELIOspheres; Corflu 7; also Balticons, Boskones, Philcons, Worldcons.  Having known and worked with various Bowens, Hellingers, Richardses, I wish them all well here and hereafter.  [JH]
Born September 27, 1966 — David Bishop, 54. In the Nineties, he edited the UK Judge Dredd Megazine (1991–2002) and 2000 AD (1995–2000). He wrote a number of Dredd, Warhammer and Who novels including the Who novel Who Killed Kennedy which is a popular Third Doctor story.  He's written Big Finish stories in the Dredd, Sarah Jane and Who lines. Dredd audio dramas. (CE) 
Born September 27, 1969 – Tanja Kinkel, Ph.D., 51.  Dissertation on Lion Feuchtwanger; while in Los Angeles, founding member of the Int'l Feuchtwanger Society.  Founded "Bread and Books" toward educating children in Africa, India – and Germany.  Known for historical fiction e.g. Madness That Eats Up the Heart (1990; Byron), Manduchai (2014).  For us e.g. The King of Fools (Ende's Neverending Story), Grimms' Murders, The Problem Child(Perry Rhodan), in German. [JH]
Born September 27, 1970 — Tamara Taylor, 50. Best remembered I'd say as Camille Saroyan in Bones. Genre wise, she was in season seven of Marvel's Agents of S.H.I.E.L.D. as the primary antagonist, Sibyl. She also appeared in Lost, as the former girlfriend of Michael and mother of Walt, Susan Lloyd. And she has a brief appearance in the Serenity film just listed as Teacher. (CE) 
(7) COMICS SECTION.
(8) BATWOMAN NEWS. Javecia Leslie sent a photo of herself in her batsuit on Instagram.
(9) GET ON BOARD. Gameinformer promises these are "Seven Out-Of-This-World Sci-Fi Board Games". In the mix —
Dune
Publisher: Gale Force Nine

I can't resist the chance to resurface this awesome revival of Dune, which was also named in our Best Tabletop Games of 2019. The original game was one of the early classics in the thematic strategy board game scene when it released in 1979. The new version features lovely new art and some rule changes, but largely maintains the cutthroat and sometimes painfully crushing turnarounds that the original was known for. Not for the faint of heart, Dune's unfolding gameplay can see a single decision that completely changes the course of the game, echoing some of the same life-and-death dynamics present in the celebrated novel. With the Villeneuve-helmed movie adaptation about to arrive, it's fair to expect a surge in enthusiasm around this game. It can make for a brutal game night, but it's also a great time. Don't be scared away; fear is the mind-killer.  
(10) RUBE GOLDBERG CONTEST. CBS urges, "Rube Goldberg contraptions: Do try this at home!"
This year the annual Rube Goldberg Machine Contest offered families under coronavirus lockdown a way to make good use of their time, by building contraptions that are utterly useless, except to accomplish mundane tasks in the time-honored fashion of the legendary cartoonist. Correspondent Mo Rocca witnesses some of the craziest devices.
(11) BILL THE GERIATRIC HERO. "Star Trek Movies Deepfake Trailer Puts William Shatner, Leonard Nimoy Into the Reboot Series" – Comicbook.com admires the result.
Classic Star Trek stars William Shatner, Leonard Nimoy, and DeForest Kelley join the reboot movies in a new deepfake fan trailer. Fans have used deepfake technology to pull off some impressive Star Trek swaps in the past, but this trailer from Futuring Machine may be the most impressive yet. Presented as the trailer for a film titled Star Trek: The First Generation, it uses footage from the Star Trek: The Original Series movies to show James T. Kirk retelling a story from his youth. The video then deepfakes Shatner's Kirk onto Chris Pine's and Nimoy's Spock onto Zachary Quinto's to show the characters' younger years with scenes from Star Trek, Star Trek Into Darkness, and Star Trek Beyond. You can watch the fan trailer above.
[Thanks to John King Tarpinian, Mike Kennedy, Martin Morse Wooster, Cat Eldridge, JJ, John Hertz, Michael Toman, Nancy Sauer, and Andrew Porter for some of these stories. Title credit goes to File 770 contributing editor of the day Jack Lint.]