(1) B5. Variety reports J. Michael Straczynski is working on bringing back his keynote show: "'Babylon 5′ Reboot in Development at The CW From Original Creator".
… Original series creator J. Michael Straczynski is onboard to write the project. He will also executive producer under his Studio JMS banner. Warner Bros. Television, which produced the original series, will produce the reboot.

The new iteration of the sci-fi series is described as a "from-the-ground-up reboot." In the series, John Sheridan, an Earthforce officer with a mysterious background, is assigned to Babylon 5, a five-mile-long space station in neutral space, a port of call for travelers, smugglers, corporate explorers and alien diplomats at a time of uneasy peace and the constant threat of war. His arrival triggers a destiny beyond anything he could have imagined, as an exploratory Earth company accidentally triggers a conflict with a civilization a million years ahead of us, putting Sheridan and the rest of the B5 crew in the line of fire as the last, best hope for the survival of the human race.
Which all makes sense of Straczynski's cryptic tweet of two weeks ago.
(2) LDV NEWS. Today Straczynski also tweeted a brief update about the status of Last Dangerous Visions.
(3) TWO TO TANGO. James Davis Nicoll is there "When Authors Collide: Five SFF Works of Collaborative Fiction" at Tor.com.
The writing of prose is often depicted as a solitary activity, an occupation suited to hermits sealed into poorly lit garrets, sliding their manuscripts out under their front door, receiving flat food under the same door. Now this can be a perfectly functional approach to writing…but it is not the only one…..
(4) READERCON. The Readercon committee announced the next con will be in 2023. Rose Fox will be interim con chair leading their "year of renovation." Readercon 32 Moved to July 13–16, 2023.
There will be no Readercon in 2022. But don't panic! We're not going anywhere! We just need some time to recharge and get our house in order.

The last two years have been a doozy for everyone. We all need some rest. And Readercon as an organization needs an opportunity to revamp back-end processes, update and streamline old systems, and recruit new volunteers to fill key positions. Just as you can't fix your car's brakes while you're driving, we can't make all those changes at the same time as putting on a convention. So after much behind-the-scenes discussion, we're officially taking 2022 as a Renovation Year!…
(5) CORFLU. The convention for fanzine fans, Corflu 39 Pangloss, still aspires to run on its March 18-20, 2022 date – and toward that end has published Progress Report #1 with all the info about venue, membership, and who's on the committee.
We live in parlous times. There is great confusion under heaven, and the conditions are excellent. Which is to say, thanks to border closures, travel restrictions, economic wobbles, and ongoing pandemic uncertainty, much of what we can tell you about Corflu 39 is aspirational, provisional, or pending better data with the unfolding of future events. But we step out in hope, and choose to be optimistic that all our Corflu wishes will come true. Thus, Corflu Pangloss….
(6) CITY PICKS BUTLER BOOK. The city of South Pasadena (CA) has voted its One City One Story book for 2021 – Parable of the Sower by Octavia Butler. The South Pasadena Public Library will hold an in-person discussion on October 21 and a Zoom discussion on November 10 – register at the links.
One City One Story is the South Pasadena Public Library's Citywide Reading Program. Community voting took place for a title from September 1-10. The winning book, Parable of the Sower by Octavia E. Butler, was announced on September 27. We encourage South Pasadenans to read it to engage with this year's theme, "Navigating Nature". Dive even deeper with community discussions and themed programs.
(7) BANKS TV ADAPTATION PLANNED. Producer Matthew James Wilkinson (Yesterday) is teaming up with Poldark and Endeavour exec producer Tom Mullens on a TV adaptation of The Business by Iain Banks – Deadline has the story: "'Poldark' & 'Yesterday' Producers Team For Iain Banks Adaptation".
…The Business follows Kate Telman, a working-class Glaswegian who has risen through the ranks to become a senior executive in a secretive super-corporation, known only as The Business. Telman discovers that The Business is planning to buy a small country in order to secure a seat on the UN and that, despite the benevolent image and democratic structure it presents to the world, the company will stop at nothing to increase its influence. So begins a dangerous personal reckoning as Telman travels the globe from Scotland to the Swiss Alps, the American Midwest, Pakistan and the Himalayas, determined to uncover the conspiracy at the heart of the shady company she works for.

…Mullens and Wilkinson said: "We are thrilled to have the opportunity to adapt Iain Banks' wickedly satirical The Business for television. As relevant today as when it was first published, we look forward to honouring Iain's work with a powerful, entertaining thriller."
(8) THE EFFECTS THAT WON THE AWARDS. This ILM look at season 2 of The Mandalorian dropped last week: "The Emmy-Winning Special Visual Effects Of The Mandalorian: Season 2".
Join Visual Effects Supervisor, Richard Bluff, as he shares a peek behind the curtain of the effects of The Mandalorian: Season 2, winner of 7 Emmy® Awards including Special Visual Effects, Sound Mixing, Cinematography, Prosthetic Makeup, Stunt Coordination, Stunt Performance, and Music Composition. For its sophomore outing, Lucasfilm's hit Disney+ series built upon the groundbreaking technical and artistic achievements accomplished during season one, combining traditional methodologies, with ever-advancing new technologies. The team also increased the physical size of the ILM StageCraft LED Volume which would again be used for over half of all scenes. This season also marked the debut of ILM's state-of-the-art real-time cinema render engine called, Helios. The high-resolution, high-fidelity engine was used for all final pixel rendering displayed on the LED screens and offers unmatched performance for the types of complex scenes prevalent in today's episodic and feature film production. Practical creature effects have been a vital part of the aesthetic and charm of the Star Wars universe since 1977, and for season two, the effects team realized over 100 puppeteered creatures, droids, and animatronic masks, which included the beloved Tatooine Bantha, realized as a ten foot-high puppeteered rideable creature. Practical miniatures and motion control photography were used once again for scale model ships, as well as miniature set extensions built for use in ILM's StageCraft LED volume. Stop motion animation was also utilized for the Scrap Walker at the Karthon Chop Fields. The greater krayt dragon on Tatooine was realized as a six-hundred-foot computer-generated creature that would swim shark-like through the sand environment by way of a liquefaction effect, wherein the sand would behave like water.
(9) MEDIA BIRTHDAY.
1964 – Fifty-seven years ago this evening on CBS, My Living Doll, a SF comedy, first aired. Another production of the Desilu Studios, My Living Doll was rather unusual in that it was purchased by the network without any pilot at the request of CBS's president, due to the success of Chertok's previous series, My Favorite Martian. The series starred Bob Cummings as Dr. Bob McDonald, a psychiatrist who is given care of Rhoda Miller, an android who was played by Julie Newmar who would later be Catwoman on Batman. Unlike My Favorite Martian which ran three seasons and over a hundred episodes, it would last a single season of twenty six episodes. It is available on DVD but not on streaming services.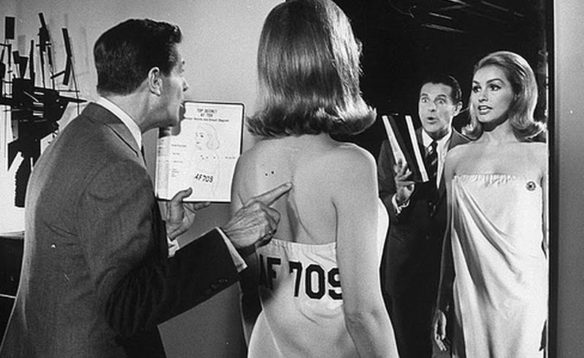 (10) TODAY'S BIRTHDAYS.
[Compiled by Cat Eldridge.]
Born September 27, 1927 — Martin Caidin. His best-known novel is Cyborg which was the basis for The Six Million Dollar Man franchise. He wrote two novels in the Indiana Jones franchise and one for the Buck Rogers franchise as well. He wrote myriad other sf novels. The Six Million Dollar Man film was nominated for a Hugo at Discon II which Woody Allen's Sleeper won, and Marooned was nominated at Heicon '70 when TV Coverage of Apollo XI was chosen for the Best Dramatic Presentation Hugo. (Died 1997.)
Born September 27, 1932 — Roger Charles Carmel. The original Harcourt Fenton "Harry" Mudd as he appeared in two episodes of the original Star Trek, "Mudd's Women" and "I, Mudd" and one episode of the animated series as well, "Mudd's Passion." I say original because Discovery has decided that they have a Harry Mudd too. He also had one-offs on I-Spy, Munsters, The Man from U.N.C.L.E., Voyage to the Bottom of the Sea and Batman. It is rumored but cannot be confirmed that he was going to reprise his role as Harry Mudd in a first-season episode of Next Gen but died before filming could start. (Died 1986.)
Born September 27, 1934 — Wilford Brimley. His first genre role was as Dr. Blair in John Carpenter's The Thing. He's Benjamin 'Ben' Luckett in the Cocoon films, and Agency Director Harold Smith in Remo Williams: The Adventure Begins. He made a rather splendid President Grover Cleveland in The Wild Wild West Revisted. And finally I note that he was Noa in Ewoks: The Battle for Endor. (Died 2020.)
Born September 27, 1947 — Meat Loaf, 74. He has a rather tasty role as Eddie in The Rocky Horror Picture Show.  He also has film roles in Wishcraft (horror), Stage Fright (horror) and Urban Decay (yes more horror). He's also in BloodRayne which is yes, horror. He's had one-offs on Tales from the Crypt, The Outer Limits, Monsters, Masters of Horror and was Doug Rennie, a main cast member of Ghost Wars. I think one of his songs, particularly the video version, "I'd Do Anything for Love (But I Won't Do That)" qualifies as genre. 
Born September 27, 1956 — Sheila Williams, 65. Editor, Asimov's Science Fiction, the past fifteen years. She won the Hugo Award for Best Short Form Editor at Renovation and Chicon 7. (She's nominated this year again.) With the late Gardner Dozois, she co-edited a bonnie bunch of anthologies such as Isaac Asimov's Robots, Isaac Asimov's Christmas and Isaac Asimov's Cyberdreams. She was also responsible for the Isaac Asimov Award for Undergraduate Excellence in Science Fiction and Fantasy writing being renamed the Dell Magazines Award for Undergraduate Excellence in Science Fiction and Fantasy Writing.
Born September 27, 1966 — David Bishop, 55. In Nineties, he edited the UK Judge Dredd Megazine (1991–2002) and 2000 AD (1995–2000). He wrote a number of Dredd, Warhammer and Who novels including the Who novel Who Killed Kennedy which is a popular Third Doctor story.  He's written Big Finish stories in the Dredd, Sarah Jane and Who lines. Dredd audio drams. Huh.
Born September 27, 1970 — Tamara Taylor, 51. Best remembered I'd say as Camille Saroyan in Bones which is at least genre adjacent being connect to Sleepy Hollow. Genre wise, she was in season seven of Marvel's Agents of S.H.I.E.L.D. as the primary antagonist, Sibyl. She also appeared in Lost, as the former girlfriend of Michael and mother of Walt, Susan Lloyd. And she has a brief appearance in the Serenity film just listed as Teacher.
(11) TONY AWARDS. The American Theater Wing presented its Tony Awards over the weekend. A Christmas Carol won five of them. "Tony Awards: The Full List Of Winners".
(12) DUCK! There's four days left to bid on the original "Duck with a Pearl Earring" by Omar Rayyan, offered by Last Week Tonight with John Oliver with all proceeds going to benefit U.S. Fish and Wildlife Service. Bidding was up to $16,351 last I looked.
This is an original oil on paper painting, commissioned by Last Week Tonight with John Oliver.

The painting was entered in the 2021 Federal Duck Stamp Art Contest, in which the winning entry is turned into a duck stamp and sold to raise funds for conserving the nation's wetlands and other wildlife habitats. It is a take on a classic painting, Girl with a Pearl Earring. But there is one significant difference between the two works of art: ours is good, because it is a duck.

Shockingly this masterpiece did not win, but you can still help conserve habitats for birds and other wildlife in our National Wildlife Refuge System by bidding on the painting here.
(13) START AGAIN. "New Limits Give Chinese Video Gamers Whiplash" reports the New York Times.
China's video game industry is booming. But it sure doesn't feel that way to Stone Shi, a game designer in China.

Mr. Shi, 27, got his first job in 2018, when Beijing temporarily suspended approval of new games. The next year, the government placed new limits on minors' playing time. A few weeks ago, the rules got stricter still. People under 18 can now play just three hours a week, during prescribed times on weekends.

"We never hear any good news about the gaming industry," Mr. Shi said. "We have this joke, 'Each time this happens, people say it's doomsday for the video game industry.' So we say, 'Every day is doomsday.'"

That's a bit of an exaggeration. Mr. Shi remains employed and hundreds of millions of Chinese continue to play games each day. Minors still find ways around government blocks. Chinese tech companies, like Tencent, are cornerstones of the global gaming industry. The country has also been quick to embrace competitive gaming, building e-sports stadiums and enabling college students to major in the topic.
(14) MUSH-A-BOOM. Jaya Saxena takes the opening of the Ratatouille ride at Walt Disney World on October 1 as the excuse for a culinary experiment: "Disney Made Me Do It: The Lightning Mushroom From 'Ratatouille'" at Eater.
…Remy is, of course, an animated talking rat, and this is a movie that presumes, among other things, that a human body is an elaborate marionette operated by hair. I know the lightning cheese mushroom is not realistic. But it looked so enticing, like a crunchy balloon, or like if Eleven Madison Park made a Cheeto. I would very much like to taste an exploded mushroom. So to that end, I nearly set my house on fire.

…There aren't many recipes for applying lightning to mushrooms, but some people have tried to approximate what this might taste like. My first attempt at distilling the flavor of a storm came from Disney itself, which published a recipe for "Lightning-y Mushrooms" adapted from Fiction-Food Café. Already I saw a problem, though: This recipe calls for fresh, spreadable chevre, which is whipped with herbs and honey and stuffed into mushroom caps. But in the film, Remy is enthralled to find not fresh chevre, but Tomme de Chevre, a semisoft cheese with a grey rind that's been aged for at least seven weeks. I opted to follow in Remy's footsteps, and ad-lib where I could.

…I decided I needed to employ some actual electricity. But short of sticking a mushroomed fork in a socket and hoping I didn't die, I had no idea what to do. So I called Chris Young, co-author of Modernist Cuisine, hoping he had come across something like this in his experiments.

Young explained what I was trying to do is called ohmic cooking, which is actually quite common, especially in the dairy industry. Picture how a power cord plugged into a wall tends to heat up. That's because it's a conductor for the electricity, and because a wire is not a perfect conductor, the resistance begins to generate heat. The same thing can happen with food when you essentially make the food the wire….
(15) ACRONYMS. Brought to you by Harvard.edu, "Dumb Or Overly Forced Astronomical Acronyms Site (or DOOFAAS)". This is the kind of thing we're talking about:
| | |
| --- | --- |
| SMIRFS | Sub Millimeter InfraRed Fiber-feed System (or something) |
| SMOG | Spitzer Mapping of the Outer Galaxy |
| SMUDGES | Systematic Multiwavelength Unbiased catalog of Dwarf Galaxies and Evolution of Structure |
(16) TRAILER TIME. Netflix dropped a trailer for its animated series Arcane.
From the creators of League of Legends comes a new animated series, Arcane. Set in the utopian region of Piltover and the oppressed underground of Zaun, the story follows the origins of two iconic League champions-and the power that will tear them apart.
And while I'm not that wowed by the trailer for Muppets Haunted Mansion people keep sending me the link, so what do I know?
[Thanks to Martin Morse Wooster, JJ, Cat Eldridge, Chris Barkley, Marc Criley, Michael J. Walsh, Daniel Dern, Jerry Kaufman, Bill Burns, Andrew Porter, John King Tarpinian, Michael Toman, and Mike Kennedy for some of these stories. Title credit goes to File 770 contributing editor of the day Andrew (not Werdna).]