(1) ALL'S WELLS THAT ENDS WELLES. This meeting between H.G. Wells and Orson Welles was broadcast on Radio KTSA San Antonio on October 28, 1940.
(2) DIFFERENCE DECIDERS. Rochelle Spencer assesses "A New Hope: Ebony Elizabeth Thomas's Vision for "The Dark Fantastic"" at LA Review of Books.
…Thomas's investigation leads to one of the most radiant and thought-provoking descriptions of the potentials of fantastic literature. In particular, what Thomas terms "the dark fantastic" — fantasy that includes but hinders or stereotypes people of color — is problematic. Still, if we're to write what Thomas terms "an emancipatory dark fantastic" — stories that break the cycle of the tragic, sacrificial Dark Girl, and instead, reveal her as complex, defiant, central, and vibrant — we may ultimately succeed in "decolonizing our fantasies and our dreams." And, as Thomas suggests, the ability to reconsider and reinterpret "the crisis of race in our storied imagination has the potential to make our world anew."

…Thomas wants us to consider difference as relative and circumscribed by power. Who has the power to label someone as different or monstrous?
(3) FINALLY RETURNING TO LONG FORM. Only her second, Susanna Clarke's next novel will be sff and appear next fall.
Bloomsbury nabbed world English rights to the sophomore novel by the author of the 2004 bestseller Jonathan Strange & Mr. Norrell. Susanna Clarke's Piranesiis slated for a global laydown in September 2020. A Bloomsbury spokesperson said the novel is set in "a richly imagined, very unusual world." The title character lives in a place called the House and is needed by his friend, the Other, to work on a scientific project. The publisher went on: "Piranesi records his findings in his journal. Then messages begin to appear; all is not what it seems. A terrible truth unravels as evidence emerges of another person and perhaps even another world outside the House's walls." Jonathan Strange & Mr. Norrell has, per Bloomsbury, sold more than four million copies worldwide. Clarke, who's won both a Hugo Award and a World Fantasy Award, was represented by Jonny Geller at Curtis Brown.
(4) FATHOM EVENTS. "'Twilight Zone' Anniversary Show Set for Nov. 14" – Variety has the story. The Fathom Events info is here.
Fathom Events and CBS Home Entertainment have scheduled a Nov. 14 showing for "The Twilight Zone: A 60th Anniversary Celebration" at more than 600 North American cinemas.

The shows will combine digitally restored versions of six episodes with an all-new documentary short titled "Remembering Rod Serling" about the life, imagination and creativity of the show's creator. It's the first time that original episodes of the series, which ran from 1959 to 1964, have been presented on the big screen.

Fathom Events CEO Ray Nutt said, "'The Twilight Zone' has inspired many filmmakers and storytellers, so it is a great honor to be able to bring these classic stories to the big screen, and to offer such an incisive look into the mind of the man who created them."
(5) 2020 ACCESSIBILITY. CoNZealand asks those coming to the 2020 Worldcon: "Let us know if you have accessible accommodation needs".
Do you have disability or accessibility requests for your accommodation in Wellington? We are busy confirming hotel information to share with our members later this year, and need to know your current accessibility requests as part of this planning by 15 October 2019.

If you have hotel accessibility needs, please email [email protected] with details of your hotel accessibility requests and an indication of the number of nights you think you will be staying as well.
(6) PRISING OFF THE LID. Alasdair Stuart previews this week's Full Lid (27th September 2019). It opens with —
— the UK strand of Netflix's new anthology show [Criminal UK] which is massively impressive and COLD in a way very little drama manages to be. Then it's a very welcome return for Warren Ellis, Jason Howard and co's Trees from Image Comics. The third series is a Strugatskian deep dive into one of the oddest places in the scarred and painfully human world of the series and it's off to a great start. Finally, I take a look at Ad Astra, equal parts towering spectacle, moments of surprising emotion and near total tonal misfire.
(7) NELSON OBIT. VentriloquistJimmy Nelson, Jimmy Nelson – known for his Farfel and Danny O'Day characters – died September 24 at age 90.
(8) TODAY IN HISTORY.
September 29, 1967 — Trek aired the "The Changeling" episode. When Star Trek: The Motion Picture premiered in 1979, many fans suggested that the plot was simply a remake of this episode. 
September 29, 1967 — Captain Scarlet and the Mysterons first premiered into Supermarionation. This process was used extensively in the puppet series of Gerry and Sylvia Anderson
(9) TODAY'S BIRTHDAYS.
[Compiled by Cat Eldridge.]
Born September 29, 1873 — Theodore Lorch. He might have the earliest birthdate in these Birthday Honors so far. He's the High Priest in 1936's Flash Gordon serial. He's also shows up (uncredited originally) as Kane's Council Member in the 1939 Buck Rogers serial as well. (Died 1947.)
Born September 29, 1930 — Naura Hayden. Her best-known film appearance is a starring role in The Angry Red Planet where she was Dr. Iris "Irish" Ryan. Yes, she was a redhead. Unless you can her uncredited appearance as a harem girl in Son of Sinbad, this is her only film or series genre role. Though in 1955, she joined a Canadian musical cast of Li'l Abner. This was made possible by Sidney W. Pink who wrote the script for The Angry Red Planet. (Died 2013.)
Born September 29, 1942 — Ian McShane, 77. Setting aside Deadwood, which is the favorite series of Emma Bull and Will Shetterly, where he's Al Swearengen, he portrays Mr. Wednesday in American Gods.and it turns out, although I don't remember it, he was Dr. Robert Bryson in Babylon 5: The River of Souls film. And he's Blackbeard in Pirates of the Caribbean: On Stranger Tides. Now you tell me what your favorite genre role is by him.
Born September 29, 1944 — Isla Blair, 75. Her first credited film appearance was in Dr. Terror's House of Horrors as an art gallery assistant. She was Isabella in The King's Demons, a Fifth Doctor story. She's in Indiana Jones and the Last Crusade as the wife of her real-life husband Julian Glover, and credited as Mrs. Glover.
Born September 29, 1952 — Lou Stathis. During the last four years of his life, he was an editor for Vertigo. He had a fascinating work history including collaborating with cartoonist Matt Howarth by co-writing the first few issues of Those Annoying Post Bros. (Kindle has them available.) He was also a columnist and editor for Heavy Metal and a columnist for Ted White's Fantastic magazine during the late Seventies through early Eighties. His fanwriting included the "Urban Blitz" column for OGH's Scientifriction (the first installment appearing in 1977, Issue 9, page 29). (Died 1997.)
Born September 29, 1959 — Scott MacDonald, 60. He's been on four Trek shows: Next Generation, Voyager, Deep Space Nine, and Enterprise. He's also up on Space Above and Beyond, Babylon 5, X-Files, Stargate: SG-1, Carnivale and Threshold. He was also in Jack Frost 2: Revenge of the Mutant Killer Snowman, a film which you can guess the rating at Rotten Tomatoes is.
Born September 29, 1961 — Nicholas Briggs, 58. A Whovian among Whoians. First off he's the voice of the Daleks and the Cybermen in the new series of shows. Second he's the Executive Producer of Big Finish Productions, the audioworks company that has produced more Doctor Who, Torchwood and other related works that you'd think possible. Third he's appeared as himself in The Five(ish) Doctors Reboot.
Born September 29, 1969 — Erika Eleniak, 50. Her film debut was a small part in E.T.: The Extra-Terrestrial as one of Elliott's classmates. Her first film role as an adult was as Vicki De Soto, a victim of the creature in the 1988 horror remake The Blob. She's Vice-Captain Aurora in Dracula 3000, a film that had to have a disclaimer that it wasn't a sequel to Dracula 2000.
Born September 29, 1981 — Shay Astar, 38. At age eleven, she portrayed Isabella, the imaginary friend of a young girl aboard the Enterprise in the Next Generation episode "Imaginary Friend". She's best known for her work as August Leffler, a recurring character on 3rd Rock from the Sun. Her only other genre role is as Mary Elroy in the "A Tale of Two Sweeties (February 25, 1958)" episode of Quantum Leap.
(10) FUR CHRONICLES. The late Fred Patten's nonfiction book Furry Tales: A Review of Essential Anthropomorphic Fiction is now available from McFarland.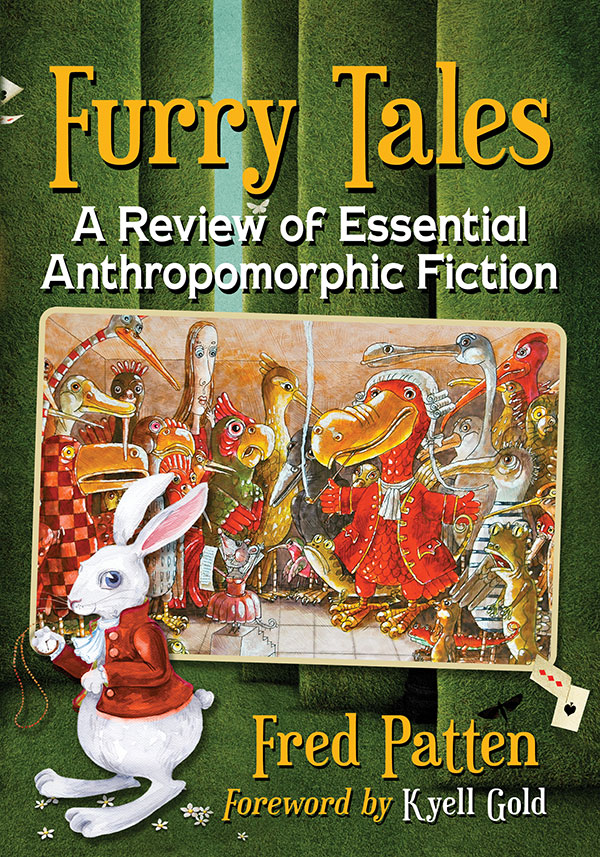 Tales featuring anthropomorphic animals have been around as long as there have been storytellers to spin them, from Aesop's Fables to Reynard the Fox to Alice in Wonderland. The genre really took off following the explosion of furry fandom in the 21st century, with talking animals featuring in everything from science fiction to fantasy to LGBTQ coming-out stories.

In his lifetime, Fred Patten (1940–2018)—one of the founders of furry fandom and a scholar of anthropomorphic animal literature—authored hundreds of book reviews that comprise a comprehensive critical survey of the genre. This selected compilation provides an overview from 1784 through the 2010s, covering such popular novels as Watership Down and Redwall, along with forgotten gems like The Stray Lamb and Where the Blue Begins, and science fiction works like Sundiver and Decision at Doona.
(11) EMSH EXHIBITION. "Dream Dance: The Art of Ed Emshwiller", the first major monographic exhibition of the artist's groundbreaking work in film, video, and visual art, will be presented at the Lightbox Film Center in Philadelphia from October 18-December 7. Full details and ticket information at the link. See Vimeo preview here.
With an immensely diverse body of creative work, Ed Emshwiller (1925-90) is perhaps one of the most significant yet under-recognized artists of the latter half of the 20th century.

Emshwiller's career spanned abstract expressionist painting, commercial illustration, film, video and computer art, and collaborations with dancers, choreographers, and composers. Dream Dance includes the preservation of two of Emshwiller's earliest films, Dance Chromatic (1959) and Lifelines (1960), which will be screened at Lightbox along with 19 of his other films—some of which have never been publicly presented in Philadelphia—as well as notable films by other filmmakers for which he served as cinematographer.

A concurrent exhibition at the Rosenwald-Wolf Gallery highlights Emshwiller's visual and fine art background, including video works, early paintings, notes, sketches, ephemera, and many early science fiction cover paintings. Dream Dance is a full scale investigation of the artist's legacy, presenting his multidisciplinary oeuvre to a new generation of audiences.
(12) VOYAGE TO THE INDIES. Cora Buhlert signs in with the highlights of "Indie Speculative Fiction of the Month for September 2019".
Once again, we have new releases covering the whole broad spectrum of speculative fiction. This month, we have epic fantasy, urban fantasy, military fantasy, dark fantasy, Arthurian fantasy, Asian fantasy, Wuxia, paranormal mystery, space opera, military science fiction, time travel romance, Steampunk, LitRPG, horror, ghosts, fae, pirates, space marines, conscientious objectors, traffickers, trailblazers, time travel, crime-busting witches, crime-busting werewolves, literary characters come to life, Arthur and Merlin, defiant empires and much more.
(13) THOSE DARN REPLICANTS. By the time you reach the end of this list — "Blade Runner: 10 Things That Make No Sense" — ScreenRant will have you thinking the whole movie makes no sense. (Maybe it doesn't?)
10 IDENTIFYING A REPLICANT

In the beginning of the film, it's established that in order to retire a replicant, they must be subject to a VK test to determine their empathy levels. When Holden is sent to give the test to Leon, why doesn't he recognize him? It's established that all replicants have dossiers, because we see their mugshots lined up later on in the film. This proves there's a unique database that exists of every replicant's face on record.

Also, if it comes to identifying replicants in the streets, why can't Deckard or other Blade Runners use an EMF reader to locate them? They have machine components under their synthetic flesh, so their electromagnetic impulses would assuredly register on such devices.
(14) STARSHIP NEWS. "SpaceX knows what a rocket should look like!" says John King Tarpinian, who sent in this photo. Meanwhie,BBC reports "Elon Musk upbeat on Starship test flights".
The American entrepreneur Elon Musk has given a further update on his Starship and Super Heavy rocket system.

He plans to use the new vehicles to send people to the Moon and Mars, and also to move them swiftly around the Earth.

The SpaceX CEO is in the process of building prototypes and plans to start flying them in the coming months.

…Both parts of the new rocket system, which together will stand 118m tall on the launch pad, are being designed to be fully reusable, making propulsive landings at the end of their mission.

Mr Musk is well known for his aggressive scheduling, which even has a name: "Elon time".

The scheduling often slips, but eventually he does tend to deliver.
(15) MARS SOCIETY. The organization has posted the "2019 Mars Society Convention Schedule Online".
The full itinerary for the 22nd Annual International Mars Society Convention is now available for viewing online. Please visit https://bit.ly/2kPIDqa to see the four-day conference schedule, running from October 17-20 at the University of Southern California (Los Angeles).

The Mars Society convention program includes a series of plenary talks, panel discussions and public debates on important issues related to planning for a human mission to the Red Planet and general space exploration.

Conference highlights will include an update about NASA's Curiosity rover with Ashwin Vasavada, a talk about SpaceX and its mission to Mars by Paul Wooster, a debate about NASA's proposed Lunar Gateway project, an update about the Mars InSight mission by Tom Hoffman, a review by Shannon Rupert of her experiences with Mars analog research, the finals of the Mars Colony Prize Contest involving student teams from around the world and, as always, an address by Mars Society President Robert Zubrin.
[Thanks to Michael Toman, Martin Morse Wooster, JJ, Chip Hitchcock, John King Tarpinian, Sherrill Patten, Mike Kennedy, Cat Eldridge, and Andrew Porter for some of these stories. Title credit goes to File 770 contributing editor of the day Daniel Dern.]