(1) SHINY. What's the latest at Young People Read Old SF? Curator James Davis Nicoll has assigned them Arthur C. Clarke's "Superiority".
I knew I would be offering my subjects a Clarke story at some point, not because he is an old favourite of mine, but because Clarke was name-checked in the Facebook post that inspired Young People Read Old SF.

nobody discovers a lifelong love of science fiction through Asimov, Clarke, and Heinlein anymore, and directing newbies toward the work of those masters is a destructive thing, because the spark won't happen.

But which Clarke? A White Hart anecdote? (No bar stories in this series … so far). A Meeting with Medusa? His creepy "A Walk in the Dark"? The puritanical "I Remember Babylon"? After considerable dithering, I selected 1951's "Superiority," because I thought pretty much everyone has had some worthy endeavour undermined by someone else's desire to embrace a new shiny, whether it's a committee member using email options they clearly have not mastered (1) or simply someone who discovers Windows 10 installing itself on their once useful computer. Or, in the case that inspired Clarke, the V2 rocket program that undermined the German war effort….
(2) THE QUESTION. The B&N Sci-Fi & Fantasy Blog couldn't be more right — "The Biggest Question in Sci-Fi & Fantasy: Series or Standalone?" Aidan Moher and Corrina Lawson take opposite sides in the debate.
… Aidan: Very interesting. I was definitely raised on series and trilogies as I first discovered science fiction and fantasy, and I totally agree that there's something exciting and comforting for a young reader to know that there are more books just like the one she's finished reading. As I've grown older, though, my tastes have changed quite a bit.

Honestly, I think that downfall you mention is a serious one for me. My time for reading is limited, even more so as I've grown older, established a career, and started a family, so I want to know that when I commit to a story, I'm guaranteed some measure of satisfaction by the time I finish it….

Corrina: It's the time commitment for a stand-alone that gets to me. I have to take that extra time to get used to the style of the book. I'm more likely to enjoy something that is fast-paced in that case, like Chuck Wendig's Invasive, which really reads more like a movie playing in my head….
(3) MACARTHUR FELLOWS. The 2016 MacArthur Fellows have been named, recipients of the "genius grants."
The MacArthur Fellowship is a $625,000, no-strings-attached grant for individuals who have shown exceptional creativity in their work and the promise to do more
Here are some of the fellows who are involved in the arts:
Branden Jacobs-Jenkins, New York, New York
Playwright using a range of theatrical genres in subversive, often unsettling works that engage frankly with the ways in which race, class, and history are negotiated in both private and public.
Josh Kun, University of Southern California, Los Angeles, California
Cultural Historian exploring the ways in which the arts and popular culture are conduits to cross-cultural exchange and bringing diverse communities in Los Angeles together around heretofore unnoticed cultural commonalities.
Maggie Nelson, California Institute of the Arts, Valencia, California
Writer rendering pressing issues of our time into portraits of day-to-day experience in works of nonfiction marked by dynamic interplay between personal experience and critical theory.
Claudia Rankine, Yale University, New Haven, Connecticut
Poet crafting critical texts for understanding American culture at the beginning of the twenty-first century in inventive, ever-evolving forms of poetic expression.
Lauren Redniss, Parsons, The New School for Design, New York, New York
Artist and Writer fusing artwork, written text, and design in a unique approach to visual nonfiction that enriches the ways in which stories can be conveyed, experienced, and understood.
Sarah Stillman, The New Yorker, New York, New York
Long-Form Journalist bringing to light the stories of people usually invisible to mainstream reporting and providing new and compelling perspectives on even well-covered social justice issues.
Gene Luen Yang, San Jose, California
Graphic Novelist bringing diverse people and cultures to children's and young adult literature and confirming comics' place as an important creative and imaginative force within literature, art, and education.
(4) GENRE REALITY. Ann Leckie takes a swing at defining "Real Science Fiction" by looking at a negative definition.
It is notoriously difficult to define "science fiction" but a common attempt to do so–to wall off stuff that isn't "really" science fiction from the proper stuff–is to assert that a real science fiction story wouldn't survive the removal of the science fictiony bits, where, I don't know, I guess "fake" science fiction is just Westerns with spaceships instead of horses or somesuch….

And I can't help noticing how often this particular criterion is used to delegitimize stories as "real" science fiction that by any other measure would more than qualify. It's not just that the critic doesn't really like this work, no, sadly the story is just not "really" science fiction, because if you take away the robots and the spaceships and the cloning and the black holes and the aliens and the interstellar civilizations and the fact that it's set way in the future, well, it's still a story about people wanting something and struggling to get it. Not really science fiction, see?
(5) SCHEINMAN OBIT. How "The Day the Earth Stood Still" became the impetus for the creation of assembly-line robots. From a New York Times obituary.
Victor Scheinman [1942-2016], who overcame his boyhood nightmares about a science-fiction movie humanoid to build the first successful electrically powered, computer-controlled industrial robot, died on Tuesday in Petrolia, Calif. He was 73.

His brother, Dr. Richard Scheinman, said the cause was complications of heart disease. He said he had been driving his brother to visit Dr. Scheinman's home in Northern California when he apparently had a heart attack. He lived in Woodside, near Palo Alto, Calif.

Mr. Scheinman was part of Stanford University's mechanical engineering department when, in 1969, he developed a programmable six-jointed robot that was named the Stanford Arm.

It was adapted by manufacturers to become the leading robot in assembling and spot-welding products, ranging from fuel pumps and windshield wipers for automobiles to inkjet cartridges for printers. Its ability to perform repeatable functions continuously equaled or surpassed that of human workers.
(6) TODAY'S BIRTHDAY GIRL
Born September 22, 1982 — Billie Piper. Order your Rose Tyler action figure now!
(7) TODAY'S BIRTHDAY BOYS
September 22 – Bilbo
September 22 — Frodo
(8) YOUR PATRONUS. "Now Pottermore Lets You Find Out Your Patronus (J.K. Rowling Got a Heron)" – io9 has the story.
The latest feature on Pottermore, the ever-expanding home of Harry Potter content, is a quiz designed by J.K. Rowling to tell you what your Patronus is.

In case you'd forgotten, a Patronus is a spell conjured by a happy memory and the incantation "Expecto patronum!" The Patronus takes the form of a silvery animal that protects against the soul-crushing depression caused by exposure to Dementors.

The test on Pottermore, like all Pottermore quizzes, is multiple choice. Only instead of answering a question, two or three words pop up and you have a short time to click one instinctively. No thoughts needed or wanted.
(9) KEN LIU TRANSLATIONS. Invisible Planets: Contemporary Chinese Science Fiction from editor/translator Ken Liu will be released November 1, 2016. Here's more information plus the Table of Contents.
Award-winning translator and author Ken Liu presents a collection of short speculative fiction from China.

Some stories have won awards; some have been included in various 'Year's Best' anthologies; some have been well reviewed by critics and readers; and some are simply Ken's personal favorites. Many of the authors collected here (with the obvious exception of Liu Cixin) belong to the younger generation of 'rising stars'.

In addition, three essays at the end of the book explore Chinese science fiction. Liu Cixin's essay, The Worst of All Possible Universes and The Best of All Possible Earths, gives a historical overview of SF in China and situates his own rise to prominence as the premier Chinese author within that context. Chen Qiufan's The Torn Generation gives the view of a younger generation of authors trying to come to terms with the tumultuous transformations around them. Finally, Xia Jia, who holds the first Ph.D. issued for the study of Chinese SF, asks What Makes Chinese Science Fiction Chinese?.
Full table of contents:
Introduction: Chinese Science Fiction in Translation
Chen Qiufan
The Year of the Rat
The Fish of Lijiang
The Flower of Shazui
Xia Jia
A Hundred Ghosts Parade Tonight
Tongtong's Summer
Night Journey of the Dragon-Horse (unpublished)
Ma Boyong
Hao Jingfang
Invisible Planets
Folding Beijing
Tang Fei
Cheng Jingbo
Liu Cixin
The Circle
Taking Care of God
Essays
The Worst of All Possible Universes and the Best of All Possible Earths: Three-Body and Chinese Science Fiction
The Torn Generation: Chinese Science Fiction in a Culture in Transition
What Makes Chinese Science Fiction Chinese?
(10) BANDERSNATCH. Diana Pavlac Glyer's book about the Inklings, Bandersnatch, was released in January 2016. Here was one of the ads from last year encouraging people to pre-order….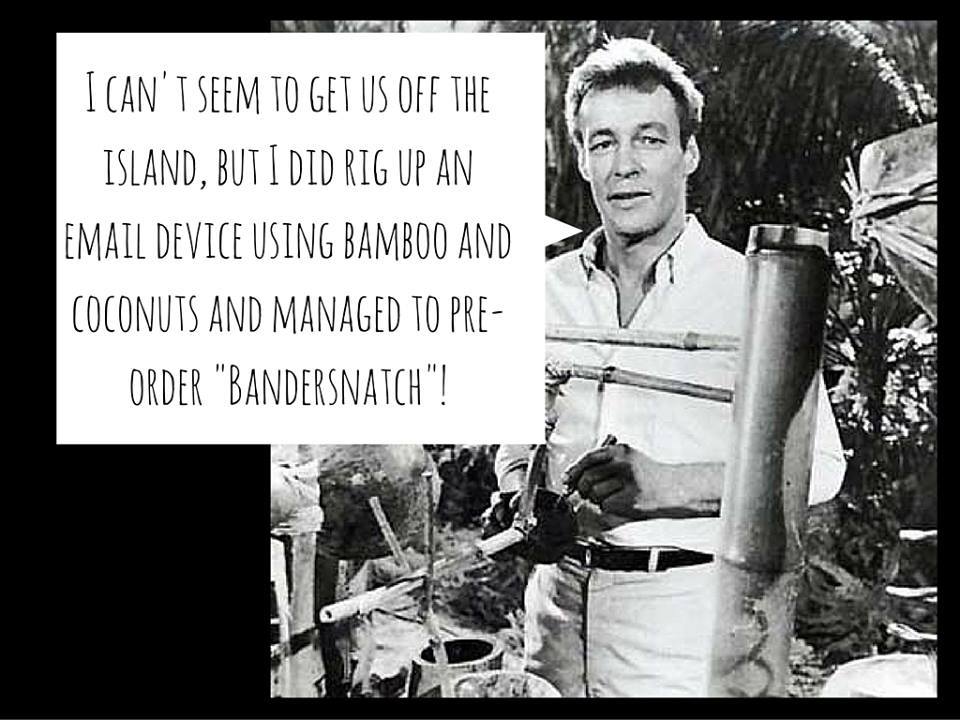 [Thanks to Carl Slaughter, Darrah Chavey, Dawn Incognito, Andrew Porter, and John King Tarpinian for some of these stores. Title credit belongs to File 770 contributing editor of the day Bruce Arthurs.]