(1) WOKING UNVEILS WELLS STATUE. H. G. Wells only lived in Woking for 18 months, but the city's theory is the time there had a big impact on his work, so they've put up a statue. This week saw the unveiling of unveiling of a seven-foot statue of the author, to honor his 150th birthday on September 21.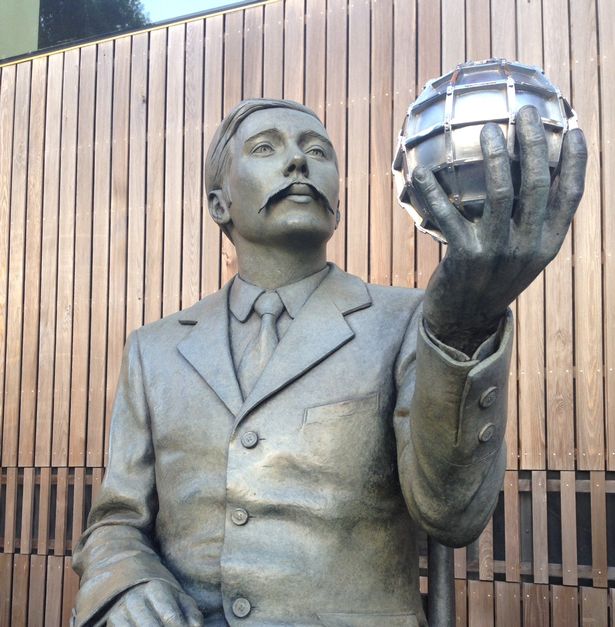 Stephen Baxter, president of the British Science Fiction Association and vice president of the HG Wells Society, said: "HG Wells was in this very small town for a very brief period but in that time he produced a novel that changed forever mankind's view of our infinite future in infinite space."
Woking was a landing site for the Martian invasion in *War of the Worlds*; some years ago, sculpture illustrating the novel appeared around town. One can see a Martian tripod, a crashed interplanetary cylinder, and [SPOILER ALERT] a bacillus.
In a video on the *Get Surrey* site, sculptor Wesley Harland explains notable features of the work.
On the back of Wells's chair is "802,701 AD," the year his narrator visits in *The Time Machine*. Beneath the chair, the red weed from Mars creeps across the ground, as in *War of the Worlds*. And in his hand he holds a model of Professor Cavor's spherical antigravity vessel, from *The First Men in the Moon*. Harland's sculpture is made of bronze and, presumably, Cavorite.
(2) COWS IN SPACE. I discovered this on the back of a lunch-sized milk carton – the Cows in Space ttp://www.dairypure.com/cows-in-space game.
(3) THERE'S A HOLE IN THE BOTTOM OF THE SEA. Mark Leeper had a little fun deconstructing the 1959 movie based on Jules Verne's novel Journey To The Center of the Earth.
Last week I wrote an evaluation of JOURNEY TO THE CENTER OF THE EARTH (1959), one of my favorite movies of the 1950s and what I consider one of the great adventure films of all times. I find what is wrong with the film forgivable. But I would not feel right about just ignoring the many problems I saw watching the film recently. This is effectively an appendix to that essay listing problems with the writing of JOURNEY TO THE CENTER OF THE EARTH.

Jules Verne's novel leaned rather heavily on lucky coincidence. He started with a note falling out of a book where just the right person could read it. But that is a small coincidence compared to those in the 1959 adaptation. Walter Reisch's and Charles Brackett's screenplay seems to consider this a carte blanche and ver and over has fortuitous accidents pushing the story forward. Consider Arne Saknussemm who, knowing he would not return from his expedition, scratched his message into a plumb bob. Somehow this tool made its way back up to the surface from near the center of the earth. Along the way somehow this tool was lightly coated in lava so it look much like another rock. It managed not to fall into the sea surrounding the volcano. Then someone found the rock and sold it individually to a shop in Edinburgh where a student volcanologist found it. What do you figure are the chances of all that happening? Later an explosion blows off the lava jacket and the plumb bob is left shiny and legible once the lava is removed.
(4) THE BIG BOOK OF BIG BOOKS. John Scalzi's latest piece for the LA Times takes off from Alan Moore's epic Jerusalem.
Writer Alan Moore, perhaps best known for the classic "Watchmen" graphic novel, has this month released a novel, "Jerusalem," to generally very positive reviews. There are many words to describe the novel ("epic," "Joycean," "vast," and "show-offingly brilliant" are some of them) but the one word I think that every reader and critic of the work can agree is accurate with regard to the book is "long." "Jerusalem" clocks in at over 600,000 words, a length that dwarfs such monster books as "Ulysses" (a mere 265,000 words), and exceeds  "Shogun," "Infinite Jest," "War and Peace" and either the Old or New Testament individually (but not together).

… When a single word encompasses such a wide range of objects, it has the effect of skewing people's expectations. I'm a fairly standard working novelist, in that I publish about a novel a year. In one decade, from 2006 to 2016, I wrote eight novels; Alan Moore wrote one. In terms of novel-sized objects, it appears that I have ­vastly outpaced Moore, by a ratio of 8 to 1. But my novels ranged in length from about 75,000 words to about 130,000 words, with an average of about 90,000 words. So across eight novels, I've written — or at least, had published — about 720,000 words in novel form. Moore, on the other hand, published more than 600,000.
(5) SELF-PUBLISHED PATRONUS. A lot of Filers were mildly grumpy about the patronus that Pottermore picked for them, but unlike most, RedWombat was ready to solve the problem herself…
I got Chestnut Mare which left me with questions–like how you know it's chestnut when it's SILVER!–and also I'm not that fond of horses, so I took it again with a different email, got completely different questions…

And got Bay Stallion.

Filled with burning rage, I drew my own.
(6) TRILOGY TRAILER. Tor/Forge has posted a trailer for Cixin Liu's Three Body Trilogy on YouTube. I watched it to find out why I should buy the books I've already bought. (Reminds me of that cabinet member in Dave justifying the budget to buy advertising that makes people feel better about the American autos they've already purchased.)
(7) ROCKET ARRIVAL. Nnedi Okorafor's Hugo arrived.
My spaceship has finally landed. :-). So shiny! #Hugoawards pic.twitter.com/9mVZckyrF2

— Nnedi Okorafor, PhD (@Nnedi) September 21, 2016
So maybe this is a good time for me to thank Elayne Pelz fo dropping off my Hugos this week. And I had John King Tarpinian shoot a photo:
(8) YOU CAN'T GET THERE FROM HERE. Atlas Obscura pays a nice graphical tribute to "Places You Can No Longer Go: Ray Bradbury's House", which includes one frame based on John King Tarpinian's iconic photo of the shattered garage published in news services in January 2015.
(9) LONG TIME FRIEND. Scoop hosts Maggie Thompson's tribute: "In Memoriam: David Kyle".
That's some of what a formal obituary would say, but I have to add that David was one of the fan friends I've always known: He and Ruth were friends of my mother and father and then of Don and mine, and their kids—Kerry and AC—grew up as friends of my daughter. In fact, our families even "traded daughters" some summers, and Valerie moved to New York City to room with Kerry the year she graduated from high school.

In recent years, David has been acting grandfather to Valerie's son—and every time I've seen David, he's been the same delightful friend I've known for years. His body grew weaker, but his wit continued to entertain friends and fans alike.
The post also tells some of the byplay between ultimate comics fan Thompson, and Kyle, who didn't care for comics.
(10) SF-THEMED CAT SHOW. The Cat/SF conspiracy continues. Mark-kitteh reports, "The UK's Supreme Cat Show (yes, this is a real thing) will have a SF-themed competition for Best Decorated Pen, and the theme continues with special guests appearing including Colin Baker, Paul Darrow, Michael Keating, John Leeson & Peter Purves."
There's so much going on here. pic.twitter.com/4C2fdezNzH

— Andrea Breau (@beeandie) September 23, 2016
[Thanks to Bill Higgins, Mark-kitteh, John King Tarpinian, and Andrew Porter for some of these stories. Title credit belongs to File 770 contributing editor of the day Jon Meltzer.]