(1) George R.R. Martin in "The First Emmys" on Not A Blog.
Andy Samberg's joke about my attending the first Emmy Awards ceremony made me curious about Emmy history. This year was the 67th Emmy Awards, and I turned 67 last Sunday, but until Andy appeared beside me I hadn't actually connected the two. Pretty amazing.

For a few hours I entertained the amusing thought that they were perhaps giving out those first Emmys even as I was being born. Alas, that was not actually the case. Emmy and I may both be 67, but I actually came into the world a few months before her. The first Emmy ceremony took place on January 25, 1949, to honor work telecast during 1948.

Interestingly, those first awards were strictly a local matter: a Los Angeles award, for shows broadcast in the LA media market. Not at all national. The first winner — for "Most Popular Television Program" — was a show called PANTOMIME QUIZ. A drama called THE NECKLACE won for "Best Film Made for Television," and Shirley Dinsdale won as "Most Outstanding Television Personality." She was a ventriloquist with a dummy named 'Judy Splinters.'
(2) Brad R. Torgersen, in "A matter of canon" at Mad Genius Club, has a good handle on the importance of canon to fans' relationships with successful franchises. He questions why Star Trek and Star Wars have sometimes gone astray.
See, respecting the canon isn't just a matter of preserving timelines or sequences of events; though this is a huge part of it. Respecting the canon also means respecting what it is that fuels the enthusiasm of the people who watch your TV show, go to see your movies, or pick up and read your books.

I remember in the mid-1990s when it was revealed that neither Paramount Pictures, nor Viacom (the parent of Paramount) considered any of the many Pocketbooks Star Trek novels to be canonical, in terms of the movies and TV shows. That was a rather serious blow to me, as a fan. I'd read several dozen of those very same Pocketbooks novels, and considered some of them to be among the finest works of science fiction I'd ever encountered — they were that good. Written by top-notch SF/F authors who were doing terrific storytelling within the Star Trek framework. Then, ruh-roh, the corporate powers behind the franchise revealed that the Pocketbooks novels didn't count. I was rather upset by this, as a fan. Both because of the time and money I'd invested, and because of the fact some of those Pocketbooks Star Trek novels were every bit as good as, if not better than, the movies and TV episodes of the time. Who were Paramount and Viacom to tell me, the fan, what was legit, or not?
(3) Greg Hullender's new post on Rocket Stack Rank analyzes which magazines have placed the most stories in the finals of the Hugo and Nebula Awards over the past fifteen years.
(4) Margaret Atwood discusses the enduring controversy over The Handmaid's Tale in the Guardian.
Some books haunt the reader. Others haunt the writer. The Handmaid's Tale has done both.

The Handmaid's Tale has not been out of print since it was first published, back in 1985. It has sold millions of copies worldwide and has appeared in a bewildering number of translations and editions. It has become a sort of tag for those writing about shifts towards policies aimed at controlling women, and especially women's bodies and reproductive functions: "Like something out of The Handmaid's Tale" and "Here comes The Handmaid's Tale" have become familiar phrases. It has been expelled from high schools, and has inspired odd website blogs discussing its descriptions of the repression of women as if they were recipes. People – not only women – have sent me photographs of their bodies with phrases from The Handmaid's Tale tattooed on them, "Nolite te bastardes carborundorum" and "Are there any questions?" being the most frequent. The book has had several dramatic incarnations, a film (with screenplay by Harold Pinter and direction by Volker Schlöndorff) and an opera (by Poul Ruders) among them. Revellers dress up as Handmaids on Hallowe'en and also for protest marches – these two uses of its costumes mirroring its doubleness. Is it entertainment or dire political prophecy? Can it be both? I did not anticipate any of this when I was writing the book.
(5) NPR reported about the devoted fans who crossed the country to Dodge City for the Gunsmoke reunion – even though all the leading characters are no longer with us.
WILSON: The show was nominated for a dozen Emmys and received critical acclaim for its unprecedented realism. It's set in Dodge City, the hub of frontier cattle drives, with a reputation as a lawless town. Many of the main characters are no longer alive. Dennis Weaver, who played Chester Goode, passed away in 2006. Amanda Blake, who played the beloved Ms. Kitty, died in 1989 and James Arness, whose towering frame and distinctive voice made the character Marshal Matt Dillon shine, passed away four years ago….
Curiously, two actors now famous in the science fiction genre played characters with rhyming names in bit parts on Gunsmoke (not in the same episodes).
WILSON: Bruce Boxleitner played the character Toby Hogue in 1975.

(SOUNDBITE OF ARCHIVED RECORDING)

BRUCE BOXLEITNER: It was totally character-driven, but it was about a character. It wasn't about the last sunset or the last cattle drive.
And Harrison Ford played "Hobey" in a 1973 episode.
(6) Kim Stanley Robinson answered questions about his new novel Aurora from readers at io9 earlier this week.
Among them was a question about some of the unexpected impact that encountering alien life out amongst the stars could have on a space colony—and how Robinson thought the meeting might play out:

[Robinson:] "I do think it might be possible than an alien life form could co-exist with Terran life and the two just kind of pass each other by. But mainly life tries to live by converting other things to energy, so other things can look like food to it. And Terran immune systems are very powerful. Allergic shock kills many people, and it seemed to me possible that an alien would have that effect on our immune systems, either correctly or incorrectly, in terms of diagnosing a threat.

"If that happened, some people would panic. It would become not just a medical question but a political question. Who do we trust, what do we trust? What's safest? People aren't rational in that situation, or, some are and some aren't, and they can fight.

"I think the scenario in the book is quite plausible. But I admit what you say, in other situations, the alien-Terran interaction need not be so bad."
(7) NASA's Lunar Reconnaissance Orbiter was scheduled to examine the moon's surface during the eclipse today.
Sunday's eclipse is special as it follows three other total lunar eclipses in the past 18 months (usually you don't get that many in a row) and the moon will be at its closest point in its orbit to Earth, making it slightly bigger in the sky than usual — an event popularly known as a "Supermoon."

The LRO has been observing Earth's satellite since 2009, and wasn't designed to operate during eclipses. The solar-powered spacecraft would switch off almost everything until sunlight returned again. But as controllers became experienced with the drops in power during LRO's time in shadow, they got comfortable enough to turn on one instrument: the Diviner.

More formally known as the Diviner Lunar Radiometer Experiment, the instrument looks at day-night changes in temperature on the moon. And it turns out that during an eclipse, the plunge in temperature is sudden — almost like leaving a hot tub for an icy pool, according to NASA. Click here to watch a NASA animation of what it looks like, from the surface of the moon, during a lunar eclipse.

"Ideally we want to measure the full range of temperature variation during the eclipse," Noah Petro, the deputy project scientist for LRO, told Discovery News. Petro is based at the NASA Goddard Space Flight Center in Maryland.
(8) Old Neckbiter is back on the big screen October 25 when Fathom Events delivers a Dracula Double Feature with a twist – the double bill is the 1931 English and Spanish language versions of Dracula. However, the Spanish version was filmed sequentially on the same sets, with a different cast, rather than dubbed, and is claimed by some to be the superior work. Also part of the event is a specially produced introduction from Turner Classic Movies that will give insight into both of these 1931 vampire-horror films.
Here is the trailer for the event.
(9) James Davis Nicoll would hate for you to miss his photo of the dinosaur joke on the Kitchener Library sign, which has now been shared on Facebook over 1100 times.
(10) Star Trek Continues Episode 5 "Divided We Stand" premiered this weekend at Salt Lake Comic Con. It's now available online.
Kirk and McCoy are trapped in time while an alien infestation threatens the Enterprise.
(11) The Palm Restaurant opened in New York in 1926, near the headquarters of the King Features Syndicate, and the place attracted a lot of cartoonists who drew their own creations on the walls in exchange for their meals. Now the property has changed hands and the art is gone.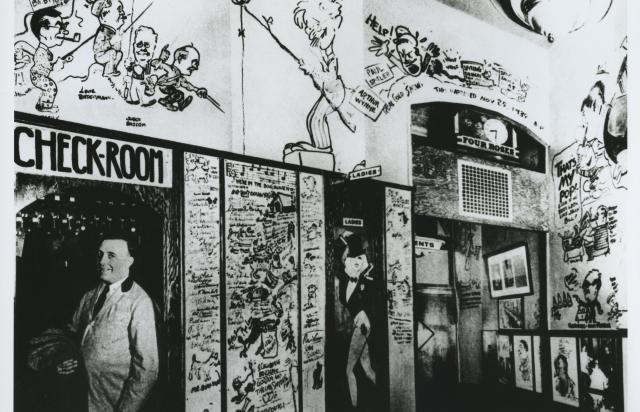 New York Eater has "before and after" photos in "Shock/Horror: The Murals Have Been Scrubbed From the Walls of The Palm".
Jeremiah Moss at Vanishing New York said it for everyone.
What the fuck is wrong with people? This was the original Palm restaurant, 90 years old, gorgeous, storied, beloved, its walls covered in caricatures hand-drawn by some of America's most celebrated cartoonists. This was a one-of-a-kind treasure, never to be reproduced. You can't buy this kind of uniqueness, it has to grow organically and mature over time–over a century of time. But we're living in a fucked up city where fucked up people do fucked up things like destroy art, culture, and history–all in one fell swoop if they can manage it–just to replace it with something banal and miserable from the monoculture of the day.
(12) Jessica Lachenal is not impressed with one dictionary's effort to update itself: "Some of These New Oxford Dictionary terms Make Me Feel Pretty Out of Touch" at The Mary Sue.
For starters: social justice warrior? Really? I mean, okay, sure, your definition is pretty ironic: (informal, derogatory) a person who expresses or promotes socially progressive views. "How dare they," I can hear you saying. That's fine. And I guess we can all agree that anyone who uses that term unironically is… well, you know.

Which brings me to the next term: fatberg. Fatberg?! Really? According to you, it's a "a very large mass of solid waste in a sewerage system, consisting especially of congealed fat and personal hygiene products that have been flushed down toilets." I get the wordplay–iceberg, fatberg–but… was there really a need for this? Do people run into fatbergs on a daily basis, so much so that they need a portmanteau to cover it? What are kids even doing these days? Oh, pro tip: don't image search that.

What's that, Collins? Yeah. Yeah, you have a good point. Awesomesauce is pretty old. Kids have been saying that for years now. Same goes for its buddy weak sauce.
[Thanks to Will R., Andrew Porter, JJ, Gerry Williams, Michael J. Walsh, Greg Hullender, and John King Tarpinian for some of these stories. Title credit goes to File 770 contributing editor of the day Anthony.]