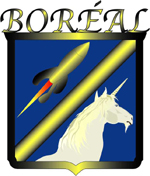 The Prix Aurora/Boréal winners were announced at Congrés Boréal 2016 held May 20-22 in Mont-Laurier, Quebec. These are awards for sf/f in the French language given by the Canadian Science Fiction and Fantasy Association.
Prix du meilleur roman (Best novel)
Le Jeu du Démiurge by Philippe-Aubert Côté
Prix de la meilleure nouvelle (Best short story)
Gader un phénix en cage by Jean-Louis Trudel (Solaris 195)
Prix du meilleur ouvrage connexe (Best related work)
Prix de la création artistique audiovisuelle (Best audiovisual artistic creation)
Grégory Fromenteau, for the covers of Le Jeu du Démiurge, Les Marches de la Lune Morte, etc.
Prix de la fanédition (Fan work)
 [Via Europa SF. Category titles courtesy of Google Translate, Europa SF, and inspired guesswork.]