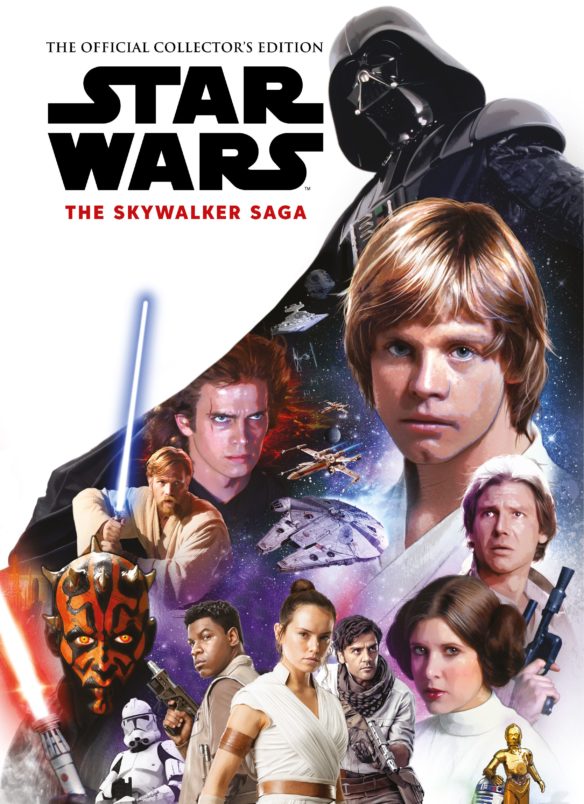 Star Wars: The Skywalker Saga — Titan Books $29.99
By James Bacon: This 176-page book is surprisingly nice and informative, given the incredible amount of literature available on Star Wars.
Each film gets an impressive double page photo spread, the bulk of the book are three columns of quotes, some quality film images, and loads of behind the scenes photos. Sometimes there is a bit of contextualization to these quotes, but there have been some seriously clever and judicious choices. While Mark Hamill, Harrison Ford and Carrie Fisher are much quoted, and I did yearn for more Alec Guinness, the actors speak considerably, we also get people involved in the production, we get Brian Muir who sculpted the Darth Vader costume, Ralph McQuarrie who was a concept artist, Joe Johnston who was effects illustration and design and Peter Hirsch the editor of Star Wars. Added with images of cast that were cut from the film, it really adds up to a surprisingly enjoyable book, with quite a bit to interest most fans.
There is a system, each film has around 18 pages, as well as an introductory double page spread, there is an image of a film poster and a page of trivia. The paper is very high quality and it is nicely packaged with what I think is an enhanced collage of images as the cover.
This is the perfect book for someone who does not have much literature on the films, but who wants more insight, especially into the production and views of the actors, but who is not ready for the likes of J.W. Rinzler 'Making of books' at 360 pages each or Craig Miller's wonderful Star Wars Memories: My Time In The (Death Star) Trenches with its 400 pages of sharp insight and unique perspective.
An interest in the making of the film is definitely being cultivated here, without being inundated with information, and the quotes are fun, the editors have found some quirky pieces, none are ever too long and it feels very well matched to the imagery.  I suspect some of it may have appeared in the lifetime of the Star Wars Insider magazine, but I'm not checking 200 magazines, so it's a suspicion. 
It's for the newer fan to Star Wars who wants something relevant, but also something that can be dipped in and out of quite easily.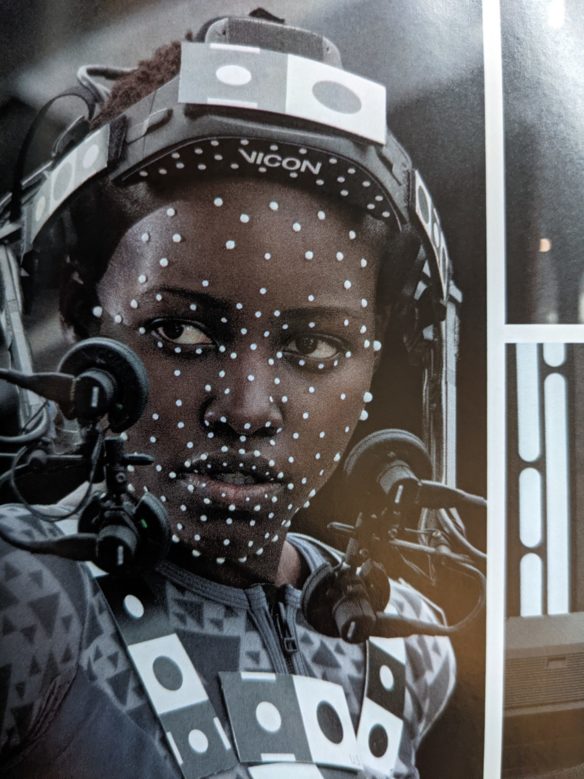 Without doubt I think the behind the scenes images, cut scenes and some of the more interesting quotes, really make this book, and I did love seeing Declan Mulholland as Jabba the Hutt and the guys at Torsche station that we never saw, and Lupita Nyong'o in motion capture suit who we saw as Maz Kanata.
With so many books on Star Wars, it is vital to know the reader who a book best suits, and it make me think of some newer fans, with the Lego, who have seen the films, but not many books on the shelves, sharing details and maybe piquing interest in the art and work that goes into making a film.
[Titan Comics says this can be ordered from Amazon: Star Wars: The Skywalker Saga The Official Collector's Edition Book Hardcover]
Sample page spreads follow the jump. Click for larger image.