(1) TIME 100. Time's 100 Most Influential People of 2020 includes a sff writer and two astronauts.
When someone told me about Tomi Adeyemi's Children of Blood and Bone, describing it as a cross between Harry Potter, the Chronicles of Narnia and Yoruba gods, I was shocked. It sounded like the best combination ever: How had I not heard of it? I read it, then I read it again, then I listened to the audiobook. I was being introduced to a world I couldn't have imagined before. The characters were larger than life but with very human problems and issues. And the novel spoke to my self-identity and culture as a Nigerian, in its social commentary and in its depiction of both magic and oppression.

It's so important to have representation within books like this. In school, I realized that only when my teacher considered my point of view did learning become easier. When my kids are growing up, they're going to have these new classic heroes from an environment they know….
In October 2019, Christina Koch and Jessica Meir exited the International Space Station and replaced a controller regulating the batteries that store the station's solar power. But the two astronauts accomplished much more than fixing the space station. They completed the first all-female spacewalk, shifting who we see as strong, brave, competent, and who's on the team pushing the boundaries of exploration.

Yes, as Koch and Meir said, they were just doing their jobs. All astronauts say that, because being in space is our job. Yet two women executing intellectually and physically demanding work in one of the most challenging circumstances in which humans operate – orbital altitude of 250 miles, velocity of 17,500 m.p.h. – is an important event. Not because these women proved what we, women, could do; that was never in doubt. Rather because the whole world saw it, including the gatekeepers (frequently men) who determine who has access to these opportunities….
(2) ALGORITHM AND BLUES. The latest Future Tense story is "The State Machine" by Yudhanjaya Wijeratne. Tagline: "A new short story imagines a government run entirely by machines."
The author says:
This is my attempt to explore the cracks and boundaries of AI governance that doesn't fall into the tired Skynet tropes, Machine-Priest dreamings or one-reclusive-programmer-creates-life nonsense. How might a benevolent system actually come to be?
S.B. Divya, "an expert on machine learning", has written a response essay "Under the Gaze of Big Mother".
The world of software has a long-held, pernicious myth that a system built from digital logic cannot have biases. A piece of code functions as an object of pure reason, devoid of emotion and all the messiness that entails. From this thesis flows an idea that has gained increasing traction in the worlds of both technology and science fiction: a perfectly rational system of governance built upon artificial intelligence. If software can't lie, and data can't inherently be wrong, then what could be more equitable and efficient than the rule of a machine-driven system?

In "The State Machine," Yudhanjaya Wijeratne explores a possible future where this concept has become reality. He takes the idea of A.I. government a step further by making it highly dynamic, with regular changes to the constitution and legal framework. Given how much of our lives are now in the hands of massive software applications – communications, banking, health care – I can see large swaths of humanity choosing to live under an A.I.-based government, rather than under human politicians, in hopes of more equitable treatment under the law and less overall corruption. It could happen incrementally, as it does in this story, so we go along with it, until one day a sizable portion of the world's population finds itself living this way. You have only to look at Facebook, which now has 2.7 billion monthly active users (more than one-third of the world!), for a very real example….
(3) PACKED INSIDE. Clarke Award judge Alasdair Stuart included praise for the 2020 winner in "The Full Lid 25th September 2020".
…And The Old Drift is the story of the stories that make up a country and a history, across the personal, national and societal levels. Comedy, romance, horror, crime, science fiction. It's almost a fire hose worth of concepts, conceits and glittering moments of invention and prose that approach overwhelming even as they impress.

But in Serpell's hands, each of these stories and genre shifts presents more like the progression of a elaborate, interwoven symphony. The tale starts with a simple melody: a Victorian photographer entranced in equal proportion by the brave new worlds of his profession and of his newly chosen home. He's cheery and unconcerned with the complexities of life in a way that's both profoundly familiar (David Copperfield as science fiction Chosen One) and deeply unsettling and annoying. This isn't his land, even though as time goes by he treats it like exactly that. That subtlest of cuts, that differentiation between character and reader is what Serpell uses to expand the novel out into a swelling crescendo across decades and genres….
(4) TENTACLE TIME. The Kitschies Award team announced they are taking submissions until January 8, 2021.
The Kitschies, literature's most tentacular prize, are pleased to announce that they are open to submissions for books published in the UK in 2020.

The Kitschies rewards the year's most progressive, intelligent and entertaining books that contain elements of the speculative and fantastic. Winners receive a total of £2,500 in prize money, as well as one of the prize's iconic hand-crafted Tentacle trophies.

The judges for the Red and Golden Tentacles are M.R. Carey, Mahvesh Murad, Daphne Lao Tonge and Kaiya Shang. Inky Tentacle judges are Fleur Clarke, James Spackman, Emily McGovern and Clare Richardson.
(5) MEDIA ANNIVERSARY.
Twenty years ago, Tamsin by Peter S. Beagle won the Mythopoeic Fantasy Award for Adult Literature. Published by Roc, Tamsin is the story of ghosts and cats set on an English country estate. It never had a British edition though it had a German one. The last print edition was on Firebird Books, the imprint edited by Sharyn November, fourteen years ago. There was a cassette only release of Peter narrating the novel though I don't see it available currently. It is available from the usual digital suspects. (CE)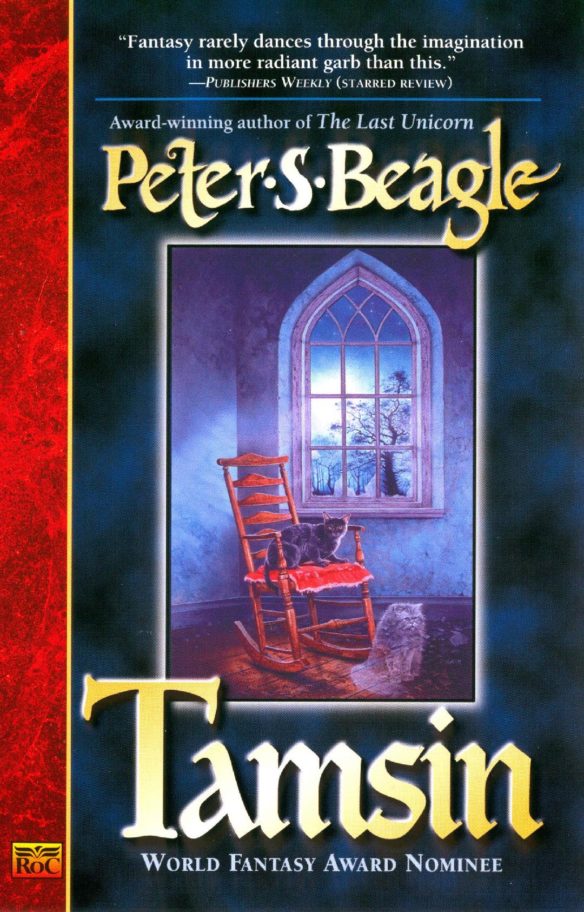 (6) TODAY'S BIRTHDAYS.
[Compiled by Cat Eldridge and John Hertz.]
(7) COMICS SECTION.
(8) BOOK HEAVEN. A photo of the original site of Toronto's Bakka bookstore was tweeted by Retrontario. That's where it was when I visited in 1973.
(9) CASTING TINKERBELL. "Yara Shahidi will be 1st Black woman to play Tinkerbell in new 'Peter Pan' movie" – Yahoo! News has the story.
Yara Shahidi is getting her wings.

The actor is set to play Tinkerbell in Disney's "Peter Pan and Wendy," the studio's latest live-action adaptation. Shahidi joins a cast that features Jude Law as Captain Hook, with Alexander Molony as Peter Pan and newcomer Ever Anderson as Wendy.
(10) WORKING AWAY FROM HOME. NPR tells how a "NASA Astronaut Will Vote From Space". I hope that ballot doesn't burn up on re-entry! Oh – never mind.
On Election Day, NASA astronaut Kate Rubins will be more than 200 miles above her nearest polling place. But she's still planning to vote – from space.

"It's critical to participate in our democracy," Rubins told The Associated Press. "We consider it an honor to be able to vote from space."

Rubins, who has a doctorate in cancer biology from Stanford and was the first person to sequence DNA in space, is currently training for her upcoming six-month mission on the International Space Station.

Voting from the space station is similar to voting absentee from anyplace on the planet – except instead of relying on the U.S. Postal Service to deliver the ballot, Rubins will get hers forwarded electronically from Mission Control in Houston.
(11) STORY REVIEWS. Adri Joy goes "Questing in Shorts: September 2020" at Nerds of a Feather.
… I'm behind with my Uncanny reading – in fact, it's possible my subscription has lapsed without me noticing, because those are the kind of times we live in now, folks – and some of the stories in this next-most-recent (I think?) issue worked better for me than others. Firmly on the "yay" side of that equation was "The Inaccessibility of Heaven" by Aliette de Bodard, a story of fallen angels and the humans who live alongside them (I'm not sure if this is in the same universe as The Dominion of the Fallen, though it definitely doesn't feel the same or contain any characters I recognise). It's a tight, intriguing murder mystery that puts its human protagonist in the centre of magical happenings which the Fallen in their life would prefer they stayed out of. …
(12) A FASHION SHOW FOR 2020. "From Jeremy Scott at Moschino, a Celebration of the Magic, Whimsy, and Fantasy of Fashion in 40 Puppet-Sized Looks" – Vogue sets the frame.
The vigilant spectator would watch the elaborate puppet show Jeremy Scott created for Moschino this season and wonder: Was this the designer painting a picture of our turbulent times through metaphors of political puppeteering, 'strings attached,' and questions of real vs. fake? Were his designs – couture-level garments that revealed their own construction – an image of much-needed truth in the public forum? "You're totally reading into it," he said on a video call from his home in Los Angeles as we both burst out in laughter. "The best thing I could do for everyone who's stressed about the election, the pandemic, social unrest, and the future was to give the gift of fantasy and take us away from all of it for a few minutes; let us enjoy this little fashion world of ours."
(13) RELUCTANT CRITIC. Andrew Mather at The Quill To Live says don't make him review this book! "The Trouble With Peace – A Delicious Dark Book For A Troubled Year".
I didn't really want to review The Trouble With Peace by Joe Abercrombie, because I don't want to draw your attention to it. As I have said before, Abercrombie is best enjoyed with no expectations and as little knowledge as possible. If you have read him, you likely are going to read this book. If you haven't heard of him, and want a really intense fantasy series, go check out his first book in this world: The Blade Itself. So if I can't really talk about the book, and I don't want to talk about the book, and no one really needs to hear about the book, why am I writing a review of it you ask? Well, because The Trouble With Peace is a contender for my best book of the year and it would feel unprofessional to say nothing about it.

The thing that makes The Trouble With Peace, and all Abercrombie books, great is the characters….
(14) MAKING DEMANDS. [Item by Mike Kennedy.] A researcher hacked a smart coffee maker. He not only gained full control of the functions (which he could misuse in devious ways like beeping incessantly & spewing hot water) but also flashed a ransom message on the display. "When coffee makers are demanding a ransom, you know IoT is screwed" at Ars Technica.
With the name Smarter, you might expect a network-connected kitchen appliance maker to be, well, smarter than companies selling conventional appliances. But in the case of the Smarter's Internet-of-things coffee maker, you'd be wrong.

As a thought experiment, Martin Hron, a researcher at security company Avast, reverse engineered one of the $250 devices to see what kinds of hacks he could do. After just a week of effort, the unqualified answer was: quite a lot…

… The next step was to create modified firmware that did something less innocuous.

"Originally, we wanted to prove the fact that this device could mine cryptocurrency," Hron wrote. "Considering the CPU and architecture, it is certainly doable, but at a speed of 8MHz, it doesn't make any sense as the produced value of such a miner would be negligible."…
(15) ALL YOU NEED TO KNOW. Paul Weimer's "Microreview: In the Black by Patrick Tomlinson" at Nerds of a Feather doesn't seem too micro at all!
…. But it is the nuts and bolts of the Military SF that the novel really focuses on, and where for the most part it shines brilliantly. The FTL is the Alcubierre drive, frame dragging FTL with interesting limitations and restrictions. There is no Ansible (which means that the transmission of information between solar systems has to be by ship, which proves to be something that parts of the plot turns on) There is a definite sense of a cold war arms building up and testing on both sides. Like the 1970's and 1980s as America and the USSR developed better weapon systems of various kinds, a Balance of Terror, there is a corporate cast to the weapons development, making profit motives an interesting tweak to how the Military tech development and execution proceed. There is plenty of space action as the opposite sides square off, and Tomlinson delivers what Mil-SF readers are looking for in terms of well described action and adventure.
[Thanks to N., James Davis Nicoll, Martin Morse Wooster, JJ. Michael Toman, John Hertz, Cat Eldridge, Mike Kennedy, John King Tarpinian, Lise Andreasen, and Andrew Porter for some of these stories. Title credit goes to File 770 contributing editor of the day PJ Evans.]