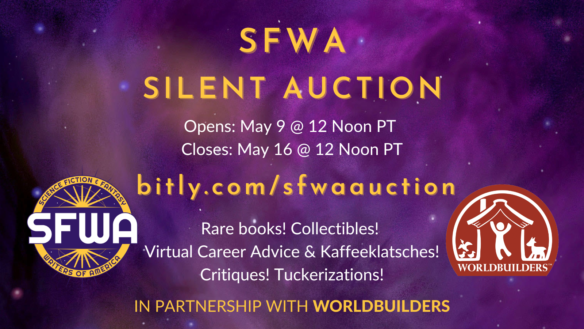 The SFWA Silent Auction closes in less than 24 hours. If last year was any indication, this is when bidding starts to go wild. What's also wild is how many amazing deals can still be had, particularly ones of special interest to SFF creators. Find all the items at the SFWA Auction at http://bitly.com/sfwaauction, and place your bids by Monday, May 16, 12 Noon Pacific Time. Here are just a few to check out:
Virtual Career Advising Sessions
These auction items are 30-minute long, one-on-one Zoom-based meetings with an SFF professional who can offer you advice from their experience on the next steps in your career. Each is scheduled for a specific day, so check that time when you check them out. Several have leading bids for as low as $25!
Anya Joseph's short fiction can be found in Fantasy Magazine, Andromeda Spaceways Magazine, and Mythaxis, among many others. Their debut novel, Queen of All, is an inclusive adventure fantasy for young adults. Bid here.
Bryan Young's work as a writer and producer has been called "filmmaking gold" by The New York Times. He's also published comic books with Slave Labor Graphics and Image Comics; been a regular contributor for the Huffington Post, StarWars.com, SYFY, & more; wrote the critically acclaimed history book, A Children's Illustrated History of Presidential Assassination; co-authored Robotech: The Macross Saga RPG and wrote a novel in the BattleTech Universe called Honor's Gauntlet. He teaches writing for Writer's Digest, Script Magazine, and at the University of Utah. Bid here.
Sam J. Miller's books have been called "must reads" and "bests of the year" by USA Today, Entertainment Weekly, NPR, and O: The Oprah Magazine, among others. He is the Nebula and Astounding Award-winning author of Blackfish City, which has been translated into six languages. Miller's short stories have won a Shirley Jackson Award and been nominated for the World Fantasy, Theodore Sturgeon, and Locus Awards, and have been reprinted in dozens of anthologies. Bid here.
Additional virtual career sessions are available from Justina Ireland, SFWA CFO Nathan Lowell, Lou Aronica, Nebula finalist Premee Mohamed, Marisca Pichette, former SFWA presidents Mary Robinette Kowal and Cat Rambo, C. L. Polk, Jennifer Brozek, Dan Kobodlt, Chelsea Mueller, Cecilia Tan, and Ajit George! Find them all here.
Kaffeeklatsches
Kaffeeklatsches are a mainstay of SFF con culture! They're essentially informal hangouts with your favorite creators. Each of these 1-hour-long virtual kaffeeklatsches has four seats up for bidding, and is set for a specific time and date. The winning bidders will all join the creator in the same Zoom room for their session. Seats for many featured storytellers are beginning at $20!
Jennifer Brozek's A Secret Guide to Fighting Elder Gods, Never Let Me Sleep, and The Last Days of Salton Academy were finalists for the Bram Stoker Award. She was awarded the Scribe Award for best tie-in Young Adult novel for BattleTech: The Nellus Academy Incident. Grants Pass won an Australian Shadows Award for best edited publication. A Hugo finalist for Short Form Editor and a finalist for the British Fantasy Award, Jennifer is an active member of SFWA, HWA, and IAMTW. Bid here.
Alma Alexander is a fantasy writer whose novels include the Worldweavers young adult series. Alexander's life so far has prepared her very well for her chosen career. She was born in a country which no longer exists on the maps, has lived and worked in seven countries on four continents (and in cyberspace!), has climbed mountains, dived in coral reefs, flown small planes, swum with dolphins, touched two-thousand-year-old tiles in a gate out of Babylon. She is a novelist, anthologist and short story writer. Bid here.
Carlos Hernandez, the author of Andre Norton Nebula finalist Sal and Gabi Break the Universe, won a Pura Belpré Author Award from the American Library Association. Hernandez is also the author of Sal and Gabi Fix the Universe, and The Assimilated Cuban's Guide to Quantum Santeria, along with numerous stories and poems, mostly in the speculative mode. He is an English professor at City University of New York, and he loves to both play games and design them. Bid here.
Kaffeeklatsch seats are also available for Carrie Jones, former SFWA presidents Cat Rambo and Mary Robinette Kowal, Chuck Wendig, C. L. Polk, David Brin, former SFWA Secretary Deborah J. Ross, current SFWA President Jeffe Kennedy, incoming SFWA Director-At-Large Jordan Kurella, Julie E. Czerneda, Justina Ireland, Marie Brennan, Natalia Theodoridou, Nisi Shawl, Nebula finalist Premee Mohamed, Nebula finalist Sam J Miller, Nebula winner and finalist Sarah Pinsker, Tim Waggoner, Wole Talabi, and game author Jonathan Cassie. Find them all here.
There are also written and virtual manuscript critiques available from many great authors for a steal of only $30, and of course, tuckerizations, signed books and book collections, rare books, collectibles, signed game guides, and more!
Since the auction opened, they've also added three sets of Munchkins charity postcards signed by illustrator John Kovalic, AND this one-of-a-kind Munchkin card, hand-drawn and autographed by him.
Why yes, you did read that correctly: The bearer of the card, if a SFWA member, gets two extra levels when played!
Bidding will be fierce for that card, and for many of the rare books and collectibles we have an offer. But if you're lucky, you can take advantage of the virtual sessions we highlighted above and hopefully win at a great price, while leveling up your career knowledge.
May Lady Luck smile upon you, and may you share these opportunities far and wide, so Lady Luck smiles on SFWA with the final total! The money raised will benefit a number of SFWA programs, including providing support for the organization's expanding membership and their advocacy for all SFF writers.
[Based on a press release.]