(1) TIME IS FLEETING. The SFWA Silent Auction ends tomorrow at noon. Organizer Jason Sanford says, "In particular you and your File 770 readers might get a kick out of seeing the original Munchkin card in the auction, which I think is amazing and is shown in the press release. Also, the auction has up for bid original, first edition hardback copies of Green Hills of Earth and Revolt in 2100 by Robert A. Heinlein from the early 1950s — both of which are signed by Heinlein! I'm a little frustrated that more people haven't noticed these two rare, signed copies of his books from the Golden Age of SF."
Specifically, these are the links to the two books Jason pointed out: Green Hills of Earth by Robert A. Heinlein, an autographed Shasta hardcover first edition (1951; no jacket); and Revolt in 2100 by Robert A. Heinlein an autographed Shasta hardcover first edition (1953; no jacket). Both books include a chart of Heinlein's Future History on a flyleaf.
(2) BRITISH FANTASY AWARDS SEEK NOMINATIONS. The British Fantasy Society is taking nominations for the British Fantasy Awards 2022. You can vote in the BFAs if you are any of the following: A member of the British Fantasy Society; An attendee at FantasyCon 2021; or A ticket-holder for FantasyCon 2022. The voting form is here. Voting will remain open until Sunday May 29, 2022.
Voters may list up to three titles in each category. A crowdsourced list of suggestions has been created here. You may vote for titles not on the suggestions list. Further guidance on the eligibility criteria for each category can be found here.

The four titles or names with the highest number of recommendations in each category will make the shortlist.

(3) ALERT THE MEDIA. "David Tennant and Catherine Tate returning to Doctor Who in 2023" reports Radio Times.
After plenty of rumours and red herrings, the BBC has confirmed the shock news that former Doctor Who stars David Tennant and Catherine Tate are returning to the long-running sci-fi drama, over 12 years after they originally handed in their TARDIS keys and just a week after Sex Education's Ncuti Gatwa was announced as the new star of the series (taking over from current Doctor Jodie Whittaker).

As the time-travelling Tenth Doctor and Donna Noble, the pair presided over a popular and critically-acclaimed era for Doctor Who still fondly remembered by fans. And now, according to the BBC, they are set to reunite with screenwriter Russell T Davies to film new "scenes that are due to air in 2023", coinciding with Doctor Who's 60th anniversary celebrations.

…It could be that these scenes are little more than a cameo, or they could be a major comeback. For now, they're keeping it all a bit mysterious….
(4) NEXT, THE GOOD NEWS. Yesterday's Scroll ran an item about what was getting axed at CW. Today Variety has published "UPFRONTS 2022: The Full List of New Broadcast Series Orders", which it will continually update. Here are examples of what different companies are planning to air next season.
KRAPOPOLIS (Fox Entertainment)

Logline: Animated comedy set in mythical ancient Greece, the series centers on a flawed family of humans, gods and monsters that tries to run one of the world's first cities without killing each other.

QUANTUM LEAP (Universal Television)

A sequel to the original 1989-1993 time-traveling NBC fantasy drama picks up 30 years after Dr. Sam Beckett stepped into the Quantum Leap accelerator and vanished. Now a new team has been assembled to restart the project in the hopes of understanding the mysteries behind the machine and the man who created it.

GOTHAM KNIGHTS (Warner Bros. Television)

Logline: In the wake of Bruce Wayne's murder, his rebellious adopted son forges an unlikely alliance with the children of Batman's enemies when they are all framed for killing the Caped Crusader.

THE WINCHESTERS (Warner Bros. Television/CBS Studios)

Logline: This prequel to "Supernatural" tells the untold love story of how John and Mary Winchester met and put it all on the line to not only save their love, but the entire world.
(5) ANOTHER INTERPRETATION. [Item by Martin Morse Wooster.] In the Financial Times behind a paywall, Nilanjana Roy discusses feminist retellings of classic myths.
In her debut novel Kaikeyi published this month, Chicago-based writer Vaishnavi Patel dramatically reframes a story from the great Hindu epic The Ramayana, of Queen Kaikeyo who demands that her husband King Dashrath exile her stepson, the young man-god Rama. 'I wanted to discover what might have caused a celebrated warrior and beloved queen to tear her family apart,' Patel writes in her introduction.

Like Patel, many are interested in questioning the framing of mythical women as both villains and heroes. Korean-American writer Axie Oh writes a less submissive protagonist into the legend of Shim Cheong in her young-adult book, The Girl Who Fell Beneath The Sea. In Oh's version Mina, a village girl, takes the place of Shim Cheong, the dutiful daughter in the legend who sacrifices herself to the sea gods–but her role in the story is a more active one. 'My fate is not yours to decide,' she says. 'My fate belongs to me.'
(6) GENRE STAR GILLAN WEDS. "Karen Gillan marries American boyfriend in closely guarded ceremony at castle in Argyll" – the Daily Record has the story.
Avengers star Karen Gillan has wed her American boyfriend in a closely guarded ceremony at a castle in Argyll.

The Inverness-born star tied the knot this afternoon with American comedian Nick Kocher, 36, after jetting back to Scotland for her nuptials.

Some of the A-list guests at the wedding in Castle Toward in Dunoon included fellow action star Robert Downey Jnr and Pretty Woman star Julia Roberts, who were spotted in the town earlier today.

Steven Moffat, who was executive producer of Doctor Who when Karen was Matt Smith's Tardis companion, was also a guest for her big day.

The 34-year-old, who had kept her engagement to the Saturday Night Live scriptwriter a secret, had chartered a yacht, The Spirit of Fortitude, to take family and friends to the 3.30pm ceremony….
(7) SFF FILLS THE 1953 MAGAZINE STANDS. [Item by Mlex.] James Wallace Harris of the Auxiliary Memory blog & SF Signal, posted a bibliographic essay on the year 1953 for science fiction short stories. "The 1953 SF&F Magazine Boom" at Classics of Science Fiction.
Science fiction in 1953 spoke to a generation and it's fascinating to think about why. The number of science fiction readers before WWII was so small that it didn't register in pop culture. The war brought rockets, atomic bombs, computers, and nuclear power. The late 1940s brought UFOs – the flying saucer craze. The 1950s began with science fiction movies and television shows. By 1953, science fiction was a fad bigger than the hula-hoop would ever be, we just never thought of it that way. I do wonder if the fad will ever collapse, but I see no sign it will.
He also posted a related cover gallery of magazine issues from that year at the Internet Archive: "1953 SFF Magazine Covers".
(8) READING ALOUD. Space Cowboy Books presents the 51st episode of the Simultaneous Times podcast. Stories featured in this episode:
"The Jellyfish from Nullarbor" by Eric Farrell; music by RedBlueBlackSilver; read by Jean-Paul Garnier

"Apotheosis" by Joshua Green; music by Phog Masheeen; read by Jean-Paul Garnier

Theme music by Dain Luscombe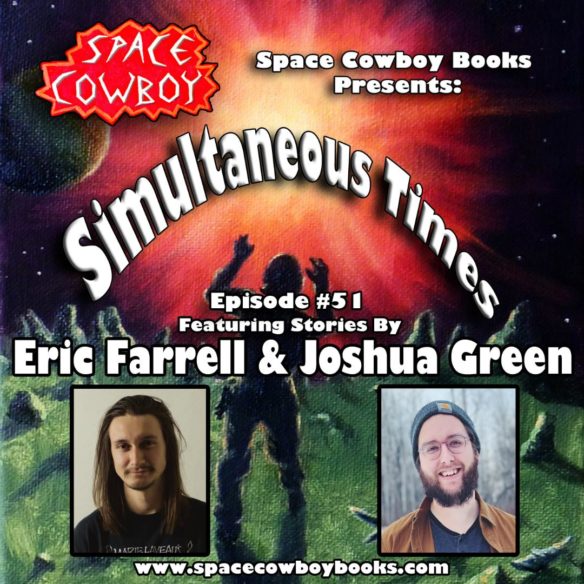 (9) MEDIA BIRTHDAY.
2006 – [By Cat Eldridge.] Sixteen years on this date, one of the most unusual strips to come into existence did so in the form of Mark Tatulli's Liō. It was very easy to market globally as it had almost no dialogue except that spoken by other people in the parodies that I'll mention in a minute as Liō and the other characters don't speak at all, and there were no balloons or captions at all again giving it a global appeal.
Liō, who lives with his father and various monsters, i.e. Ishmael a giant squid and Fido a spider, various animals like Cybil a white cat (of course there's a cat here, a very pushy feline indeed), aliens, lab creations, and even Liō's hunchbacked assistant. Why there's even Archie, Liō's psychopathic ventriloquist's dummy. Liō's mother is deceased. Though why she's deceased is never stated. Definitely not your nuclear family here.
An important aspect of the strip is that will riff off other strips, and lots of them: Blondie, Bloom County, Calvin and Hobbes, Cathy, Garfield, Opus, Peanuts, even Pearls Before Swine (not one of my favorite strips I will readily admit) will become fodder for parody by this strip. That's where the only dialogue is spoken.
Currently the strip which runs daily globally in more than two hundred and fifty papers.
Tatulli on the Mr. Media podcast back a decade or so said "It's really a basic concept. It's just Liō who lives with his father, and that's basically it, and whatever I come up with. I set no parameters because I didn't want to lock myself in. I mean, having no dialogue means that there is going to be no dialogue-driven gags, so I have to leave myself as open as possible to any kind of thing, so anything basically can happen."
There a transcript of that podcast here as the audio quality of that interview is, as the interviewer admits, rather awful. He got better after that first interview by him.
In multiple interviews, Tatulli has said the two major contemporary influences on his style are Gahan Wilson and Charles Addams.
And yes, it's still in existence and offending people as this strip from late last year will demonstrate.
(10) TODAY'S BIRTHDAYS.
[Compiled by Cat Eldridge.]
Born May 15, 1856 — L. Frank Baum. I adore The Wizard of Oz film and I'm betting you know that it only covers about half of the novel which is a very splendid read indeed. I'll confess that I never read the numerous latter volumes in the Oz franchise, nor have I read anything else by him. Nor have I seen any of the later adaptations of the Oz fiction. What's the rest of his fiction like?  There is, by the way, an amazing amount of fanfic out here involving Oz and some of it is slash which is a really, really scary idea. (Died 1919.)
Born May 15, 1877 — William Bowen. His most notable work was The Old Tobacco Shop, a fantasy novel that was one runner-up for the inaugural Newbery Medal in 1922. He also had a long running children's series with a young girl named Merrimeg whom a narrator told her adventures with all sorts of folkloric beings. (Died 1937.)
Born May 15, 1926 — Anthony Shaffer. His genre screenplays were Alfred Hitchcock's Frenzy and Robin Hardy's The Wicker Man. Though definitely not genre, he wrote the screenplays for a number of most excellent mysteries including the Agatha Christie-based  Evil Under the Sun,Death on the Nile, and Murder on the Orient Express. (Died 2001.)
Born May 15, 1948 — Brian Eno, 74. Worth noting if only for A Multimedia Album Based on the Complete Text of Robert Sheckley's In a Land of Clear Colors, though all of his albums have a vague SF feeling  to them such as Music for Civic Recovery Centre, January 07003: Bell Studies for the Clock of  The Long Now and Everything That Happens Will Happen Today which could be the name of Culture mind ships. Huh. I wonder if his music will show up in the proposed Culture series?
Born May 15, 1955 — Lee Horsley, 67. A performer who's spent a lot of his career in genre undertakings starting with The Sword and the Sorcerer (and its 2010 sequel Tales of an Ancient Empire), horror films Nightmare Man, The Corpse Had a Familiar Face and Dismembered and even a bit of SF in Showdown at Area 51. Not sure where The Face of Fear falls as it has a cop with psychic powers and a serial killer.
Born May 15, 1960 — Rob Bowman, 62. Producer of such series as Alien Nation, M.A.N.T.I.S., Quantum Leap, Next Generation, and The X-Files. He has directed these films: The X-Files, Reign of Fire and Elektra. He directed one or several episodes of far too many genres series to list here.  
Born May 15, 1966 — Greg Wise, 56. I'm including him solely for being in Tristram Shandy: A Cock and Bull Story. It is a film-within-a-film, featuring Steve Coogan and Rob Brydon playing themselves as egotistical actors during the making of a screen adaptation of Laurence Sterne's 18th century metafictional novel Tristram Shandy. Not genre (maybe) but damn fun. 
Born May 15, 1971 — Samantha Hunt, 51. If you read nothing else by her, do read The Invention of Everything,  a might be look at the last days in the life of Nikola Tesla. It's mostly set within the New Yorker Hotel, a great concept. I'm avoiding spoilers naturally. She's written two other genre novels, Mr. Splitfoot and The Seas, plus a handful of stories. 
(11) BUILDING THE GENRE BRICK BY BRICK. "Lego's next batch of official unofficial sets go on sale May 17th, and you'll want to be quick" The Verge tells collectors. (This is the link to the sale: Designer Program 2021 Invitational at BrickLink.) The quotes below were written by the designers.
…A from-the-ground-up rebuild of the original "Bulwark" gunship design of the Space Troopers project, the spaceship you see here is chock full of the developments of a decade's worth of building, yet remains sturdy and with a chunky simplicity that reminds me of what I'd have loved to play with as a boy. From the rear's double cargo doors ready to discharge rovers, troops, or scientists on an expedition, to the inner hatch and gunner's console with its cramped ladder allowing access to the cockpit, the hold is packed with scenes ripe for customization and exploration. Crew bunks and a tiny galley round out the hull, and the off-center cockpit rises up between a sensor array and two massive engines that can rotate up or down for flight.

The sliding cargo doors aren't just there for show; a sturdy mechanism just behind the wings allows you to attach the two included modules or design your own, dropping them off on some distant planet or opening the doors to allow for use in-flight. Two crimson hardsuits in the classic Space Troopers red are more than just my concession to the strictures of the brick—they're my homage to the classic sci-fi writers whose tales of adventure on far-off planets and dropships swooping from the sky have shaped my life. Deploying on two rails from a module that locks into place in the dropship's rear, the suits are chunky, bedecked with pistons and thrusters, and, most importantly, fit a minifigure snugly inside to allow for armored adventures….
…I think around this time I also watched some The Big Bang Theory episodes. During one of these nights I "designed" an observatory made from LEGO bricks in my mind. I really love science and space, and I have never seen an observatory as an official LEGO set. That's when I thought about building an observatory in real bricks. But I didn't want to use an IP because that would only be interesting for people who has a connection to the place. I wanted to create a playable observatory that has a unique design. I imagined a building on the top of a mountain and what it would look like. And that's why I called it "Mountain View."…
…The Steam Powered Science (previously known as the Exploratorium) is a Steam-Punk themed research facility whose mission is to delve into the mysteries of the universe. One half of the facility is dedicated to researching celestial motion while the other is dedicated to traversing the ocean's depths. The set was designed as part of the Flight Works Series, a group of Steam-Punk themed submissions on LEGO Ideas….
(12) CHARGE IT! Are Colin Kuskie and Phil Nichols really going to advocate for that most controversial of critics' notions? To find out you will need to listen to episode 17 of Science Fiction 101, "Canon to the left of me, canon to the right".
Colin and Phil return, buoyed by the news that Science Fiction 101 has risen to number 6 in Feedspot's league table of Best UK Sci-Fi Podcasts!

Our main discussion topic the contentious issue of the "canon" of science fiction, triggered by a blog post by Dr Shaun Duke. We also have a movie quiz, and the usual round-up of past/present/future SF.
(13) STRANGE NEW TREK PARAPHERNALIA. TrekCore is pleased to report that after a long wait "QMx Finally Beams Down USS ENTERPRISE Delta Badges".
More than three years after their initial announcement, QMx has finally brought their Star Trek: Discovery-era USS Enterprise Starfleet delta badges into Earth orbit — just in time for the debut of Captain Pike's own series, Star Trek: Strange New Worlds.

Originally announced all the way back in February 2019, the metal Starfleet badges were showcased at that year's Toy Fair expo in New York City… only to shuffle off the horizon, as they'd gone "on hold" by the early part of the next year (as a QMx representative told us at Toy Fair 2020), likely waiting for the then-in-the-works Captain Pike series to be announced to the public….
(14) INGENUITY BEGINNING TO AGE OUT. [Item by Mike Kennedy.] NASA's Ingenuity helicopter on Mars showed its first sign of approaching old age when it failed to wake on time to "phone home." After far outlasting its planned life, the approach of winter with shorter days and more dust in the air is beginning to play havoc with its ability to keep a charge on its batteries overnight. "Ingenuity Mars Helicopter Went Silent, Leaving Anxious NASA Team in the Dark" at Gizmodo.
Late last week, NASA's Ingenuity helicopter managed to reestablish its connection with the Perseverance rover following a brief communications disruption. The space agency says the looming winter is likely responsible and is making adjustments as a result.

On Thursday, Ingenuity—mercifully—sent a signal to Perseverance after the intrepid helicopter missed a scheduled communications session. It marked the first time since the pair landed together on Mars in February 2021 that Ingenuity has missed an appointment, according to NASA.

The team behind the mission believes that Ingenuity had entered into a low-power state to conserve energy, and it did so in response to the charge of its six lithium-ion batteries dropping below a critical threshold. This was likely due to the approaching winter, when more dust appears in the Martian atmosphere and the temperatures get colder. The dust blocks the amount of sunlight that reaches the helicopter's solar array, which charges its batteries….
(15) BABY TALK. [Item by Martin Morse Wooster.] Baby Yoda showed up on Saturday Night Live's "Weekend Update" to promote Obi-Wan Kenobi and discuss his questionable new friends. But don't ask him about Baby Groot or he'll get really angry! "Baby Yoda on His Spiritual Awakening".
[Thanks to Michael Toman, Cat Eldridge, Mike Kennedy, Mlex, Martin Morse Wooster, JJ, John King Tarpinian, Chris Barkley, and Andrew Porter for some of these stories. Title credit belongs to File 770 contributing editor of the day Bill.]