XKCD creator Randall Munroe, on tour to promote his book What If? Serious Scientific Answers to Absurd Hypothetical Questions, is in Berkeley tonight and speaks at the Aero in Santa Monica on Sunday, September 14.
In between, he'll make a virtual appearance on the Google+ Hangout On Air, moderated by Hank Green, that can be viewed live on YouTube beginning Friday, September 12 at 3:30 p.m. PT.
Munroe's book blends the "serious science" of Bob Shaw with the inquisitive curiosity of Dave Feldman (Why Do Clocks Run Clockwise?). You can read the first chapter on io9. It begins with this question:
Q. What would happen if
the Earth and all terrestrial
objects suddenly stopped
spinning, but the atmosphere
retained its velocity?
— Andrew Brown

A. NEARLY EVERYONE WOULD DIE. Then things would get interesting.
When Crystal Huff read the chapter one item pleased her very much. "Munroe states that waiting it out in Helsinki might be a good course of action, and even includes a comic partially in Finnish." Crystal promises Worldcon voters, "Clearly, the Helsinki in 2017 team is prepared for all sorts of possible disasters!  😉 "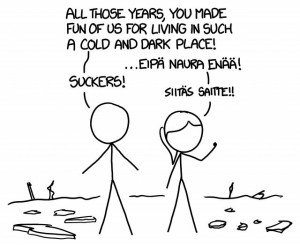 Munroe's collection of essays features both material from the blog and unpublished work. You can hear more about the author and his book in an NPR interview here.