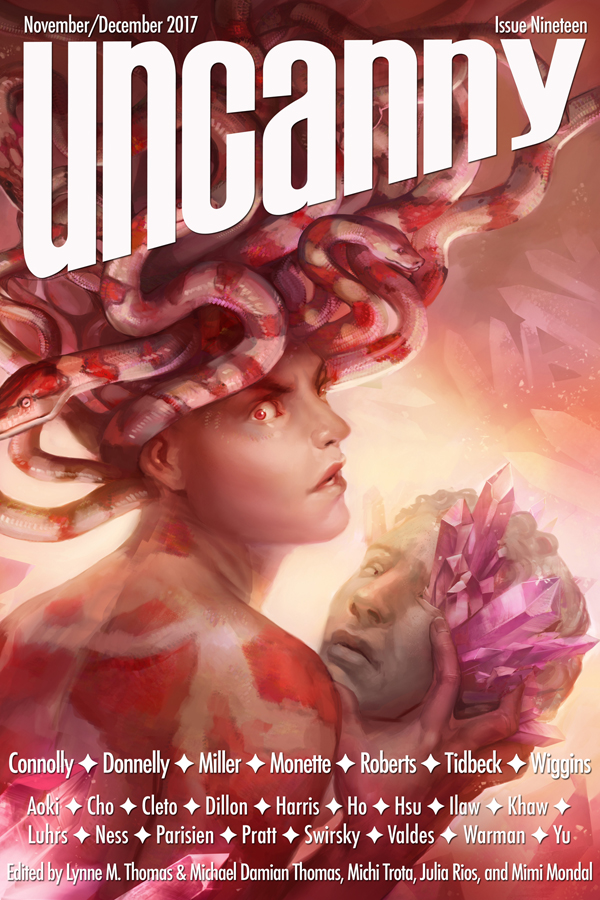 The nineteenth issue of the 2016 and 2017 Hugo Award-winning Uncanny Magazine will be available on November 7.
Hugo Award-winning Publishers/Editors-in-Chief Lynne M. Thomas and Michael Damian Thomas are proud to present the nineteenth issue of their 2016 and 2017 Hugo Award-winning online science fiction and fantasy magazine, featuring passionate SF/F fiction and poetry, gorgeous prose, provocative nonfiction, and a deep investment in the diverse SF/F culture, along with a Parsec Award-winning monthly podcast featuring a story, poem, and interview from that issue. Stories from Uncanny Magazine have been finalists or winners of Hugo, Nebula, Locus, and World Fantasy Awards.
The entire contents can be purchased in the eBook version on the day of release from Weightless Books, Amazon, Barnes & Noble, Google Play, and Kobo.
Uncanny's free online content will be released in two stages, half on the day of release, November 7, and half on December 5.
EBook subscriptions are available from Weightless Books and Amazon. They also take support on Patreon. For more information, please check out uncannymagazine.com or follow Uncanny at https://twitter.com/UncannyMagazine or https://www.facebook.com/uncannymagazine.
This issue begins the fourth year of Uncanny Magazine, which recently completed its fourth Kickstarter, funding Uncanny Magazine Issues 19-24.
STAFF CHANGES. Uncanny Magazine Issue 19 is the last with Julia Rios acting as Poetry Editor. Editor-in-Chief Michael Damian Thomas says:
Julia is simply a most excellent human being, and one of the best editors in the industry. (Watch what she does as Fiction Editor at Fireside Magazine!). We greatly miss her already.
As previously announced, this is the first issue for new Reprint Editor, Mimi Mondal (Mimi takes over as Poetry Editor next issue) and new interviewer Shana DuBois. Stephanie Malia Morris is also joining Uncanny Magazine as a regular reader for the Uncanny Magazine Podcast.
Uncanny Magazine Issue 19 Table of Contents
Cover
Editorial
"The Uncanny Valley" by Lynne M. Thomas & Michael Damian Thomas (11/7)
"Signing Off the Glittercom" by Julia Rios (11/7)
Fiction
"Making Us Monsters" by Sam J. Miller & Lara Elena Donnelly (11/7)
"The Bone Plain" by Karin Tidbeck (11/7)
"Learning to See Dragons" by Sarah Monette (12/5)
"Pipecleaner Sculptures and Other Necessary Work" by Tina Connolly (12/5)
"Sorrow and Joy, Sunshine and Rain" by Troy L. Wiggins (12/5)
"How to Survive an Epic Journey" by Tansy Rayner Roberts (12/5)
Reprint Fiction
"The First Witch of Damansara" by Zen Cho (11/7)
"Elemental Love" by Rachel Swirsky (11/7)
Nonfiction
"The Shape of the Darkness As It Overtakes Us" by Dimas Ilaw (11/7)
"Would I Lie to You? Creating Alien Cultures" by Tim Pratt (11/7)
"Counting the Stars on One Hand" by Mallory Yu (12/5)
"The Secret of NIMH" by Mari Ness (12/5)
"Monitoring My Mind: MST3K and Me" (12/5)
Poetry
"Spice Islands" by Nin Harris (11/7)
"For All My Missing Jiejies and Ayis" by Sharon Hsu (11/7)
"An Announcement" by Sara Cleto & Brittany Warman (11/7)
"The old woman who hands you an apple" by Betsy Aoki (11/7)
"Apathetic Goblin Nightmare Woman" by Cassandra Khaw (12/5)
"Keening" by Valerie Valdes (12/5)
"The Designs of Designer Baby" by Millie Ho (12/5)
"Afternoon with Grandparents" by Dominik Parisien (12/5)
Interviews
Sam J. Miller & Lara Elena Donnelly interviewed by Shana DuBois (11/7)
Tansy Rayner Roberts interviewed by Shana DuBois (12/5)
Podcasts
19A (11/7)
"The Bone Plain" by Karin Tidbeck, as read by Stephanie Malia Morris
"An Announcement" by Sara Cleto and Brittany Warman, as read by Erika Ensign
Shana DuBois Interviews Karin Tidbeck
19B (12/5)
"Pipecleaner Sculptures and Other Necessary Work" by Tina Connolly, as read by Stephanie Malia Morris
"How To Survive An Epic Journey" by Tansy Rayner Roberts, as read by Erika Ensign
"Apathetic Goblin Nightmare Woman" by Cassandra Khaw, as read by Stephanie Malia Morris
Shana DuBois Interviews Tina Connolly