By Carl Slaughter: Roaming publisher and agency catalogs in search of interesting/impressive books/series to feature or authors to interview/profile, I estimate I've seen the cover art for 5,000 science fiction, fantasy, and horror books. Few have caught my attention. Fewer still have compelled me to study them in detail. Take, for example, Todd Lockwood's cover for Visitor, by Hugo winning author C.J. Cherryh, the latest in her long-running Foreigner universe series.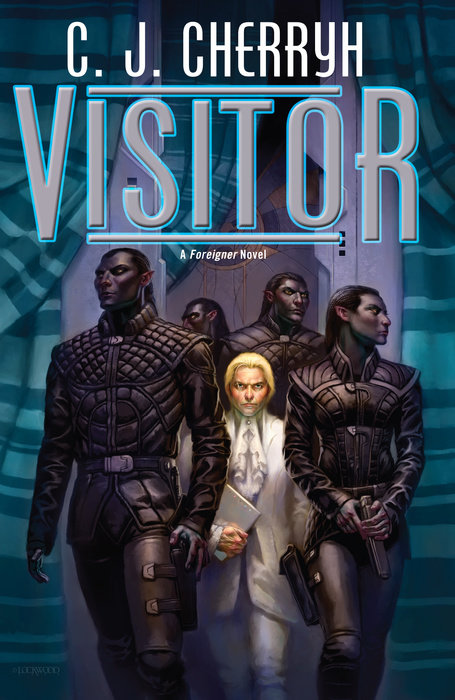 The aliens are considerably taller than the visitor.
The aliens have dark skin, the visitor has light skin.
The aliens have dark hair, the visitor has blond hair.
The aliens are muscular, the visitor has a smallish, plain physique.
The aliens are wearing soldier uniforms and armor, the visitor is wearing a diplomacy/business suit.
The aliens are dressed in solid black, the visitor is dressed in solid white.
The aliens are carrying weapons, the visitor is carrying a book (folder? laptop?).
The aliens are looking left and right, as if they are wary of their surroundings (are they in enemy territory, are they bodyguards for the visitor?), the visitor's attention is fixed straight ahead, as if focused on the task he will accomplish when he reaches his destination (or is he departing the building in the background and thinking about the meeting he just attended?).
There are 4 aliens, one visitor.
The visitor is enclaved within the aliens. Again, are they guarding him? Who is he negotiating with/for? Which side wants to assassinate him?
What caught my attention about the cover art for Visitor is that it's so vivid, making the vast majority of its competition look crude by comparison. Something about the other covers in the Foreigner series caught my attention and I didn't realize what until I studied them: They have distant shots of multiple characters. Most speculative covers have closeups of one or two characters. Half the covers of the Foreigner series don't have the characters in a battle-ready pose. The typical speculative cover has a character clutching a gun/sword ready to slay the nearest dragon, zombie, or imperial trooper.
Another example of a cover that grabbed my attention and intrigued me is Daniel Dos Santos' cover for Misfortune Cookie, one of Laura Resnick's Esther Diamond paranormal mystery novels. Rather than a scene, there are numerous items depicting various elements of the plot. I count at least 4 hands sticking out of that giant fortune cookie. Esther is a striking pose and portrayed as being perpetually on the move as she solves the case. The other art in the Esther Diamond series is almost as good.
What about you? What cover art has caught your attention and why?