(1) CHENGDU WORLDCON ROUNDUP. [Item by Ersatz Culture.]
Setup for Worldcon
Here's a photo gallery showing some of the décor created for the Worldcon inside the Chengdu Science Fiction Museum. More at the link: http://xhslink.com/0yicuv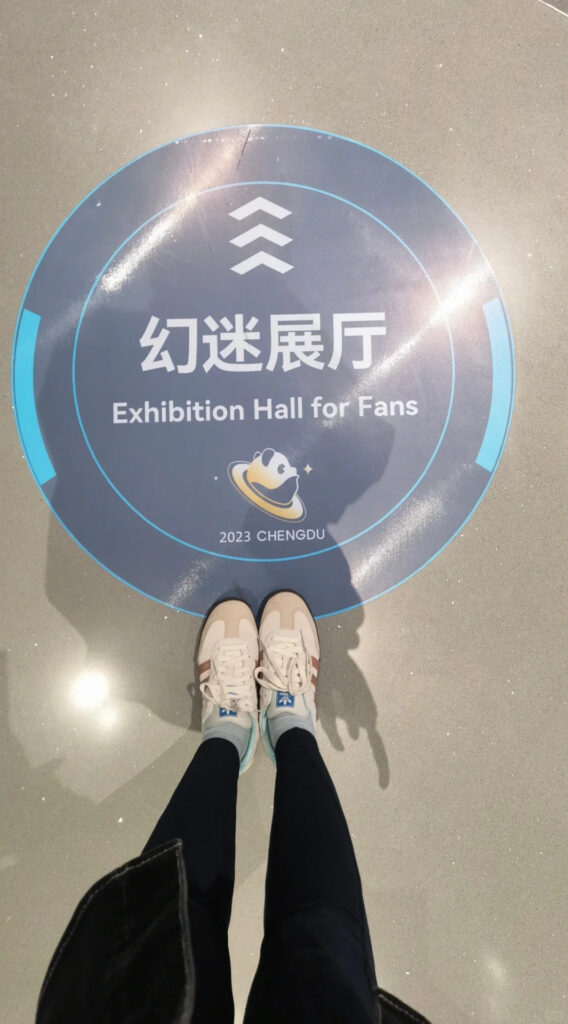 (2) MORE BAD NEWS FROM INTERZONE. Interzone publisher and editor Gareth Jelley has elaborated on the magazine's switch to a solely electronic format, which was announced to subscribers the other day.
…It has been a hard call to make, but due to a very significant drop in subscriber numbers over the last three years, and the volatility of the paper market, I have decided that Interzone will be switching to electronic publication — from Interzone #296 onwards, issues of the magazine will be released as ebooks and no print edition will be produced.

When I took Interzone over from Andy Cox, I was determined to get Interzone back onto a bimonthly schedule and I also wanted to keep Interzone going as a print publication. I believed this was possible, and I did everything I could, day in, day out, to keep the print incarnation of IZ alive. Many IZ readers and fans also went above and beyond when I asked for help getting #295 into print.

The reality now is that Interzone subscriber numbers have fallen too far, too quickly, and are not where they need to be to keep Interzone in print and simultaneously back onto a regular, bimonthly publication schedule; and for a zine like IZ, once it is a choice between print and frequency, it is a no-brainer. Anything else is unfair to contributors and frustrating for readers.

Interzone is still not completely out of the woods, financially. I have drained my resources getting Interzone #295 published and it will take a little time to get Interzone #296, in its new electronic form, ready for publication. I am hoping it will not be too long, maybe even before the end of the year. and I will let you know as soon as I can….
(3) NEW YORK REVIEW OF SCIENCE FICTION READINGS. Jane Fancher and C.J. Cherryh make their NYRSF Readings debut on Wednesday, October 18 at 7:00 p.m. Eastern. Defiance, their latest novel in the Foreigner series, is being released that week
NYRSF can be watched LIVE at https://.facebook.com/groups/NYRSF.Readings or at https://youtube.com/streams.
The host will be Nebula finalist Barbara Krasnoff.
(4) OFFICIAL BLOCH WEBSITE. [Item by Rich Lynch.] The Robert Bloch Official Website now features "Bloch's Acceptance Speech"" from the 1975 First World Fantasy Convention.
…About two months ago in London at Coyle's Bookshop, they gave one of their monthly luncheons. This one was in honor of a gentleman I don't think you are aware of—a music hall performer named Arthur Askey. It was the occasion of his seventy-fifth birthday and the publication of his book. Arthur said something which I find strangely apropos at this moment. He looked around the table and said, "This luncheon is not a work of fiction, because everybody at this table is either living or dead." I have much the same feeling.

This is of course formerly the Arkham Hilton, and probably Mr. Lovecraft did spend a night or two here. I know that last night the sounds I heard could have been the inspiration for "The Rats in the Walls." I knew I was in the right place when I came here. I walked into the bar and I heard somebody ordering a gin and Miskatonic…
(5) LOVE OF TREK. [Item by Nancy Sauer.] NPR has a brief essay (and love letter) by someone who was deeply influenced by Star Trek. Heartfelt and interesting. "How Star Trek helped me find my own way".
… I honestly don't remember a time when I didn't love Star Trek. I do remember when I started to realize that this show, and my father who introduced me to it, built the foundation for my sense of social justice as an astrophysicist of color. The show helped me, and my father, find a place within our culture….

… What I really related to — the show that I anticipated each week and bawled when it ended — was Star Trek: The Next Generation. This was a sequel to the original series that aired in the '60s, a show that Martin Luther King Jr. loved!

The Next Generation had the young LeVar Burton as the chief engineer Geordi La Forge. He was famous as the lead in the TV cultural phenomena Roots and would later make everyone smile with Reading Rainbow. This new version of Star Trek also had the Shakespearean-trained actor Patrick Stewart playing Captain Jean-Luc Picard, which was the antithesis of the original Captain James T. Kirk. This new crew was more interested in science and tackled issues related to race more head-on! The technical jargon I heard coming from Geordi and others on the ship fueled my love for science….
(6) GO EAST YOUNG MAN. David Gerrold and his son's family have moved to Vermont. Details on Facebook.
(7) LITERARY HISTORY SITE NEEDS TO BE SAVED. "Reader, they lived there: campaign to save Brontës' Bradford birthplace as it goes on sale" in the Guardian.
Around a million visitors a year beat a path to Haworth, the small West Yorkshire town nestling in the windy moors of the Worth Valley – mainly to see the home of the Brontë sisters.

The house that writers Charlotte, Anne and Emily shared with their father, church minister Patrick, and their wayward brother Branwell is a major tourist attraction. Visitors wander around the parsonage and surrounding cobbled streets to soak up the atmosphere of just how the Brontës lived two centuries ago.

But there is a site that is equally important to the story of perhaps Britain's greatest literary family, around six miles or so away in the village of Thornton, on the western edge of the Bradford district: the birthplace of the three sisters.

The premises that takes up 72-74 Market Street has had various uses, from an apartment block to a cafe, but a campaign has been launched to turn it into an attraction that would complement Haworth's enduring appeal.

It is estimated it will cost about £600,000 to buy the property, which is in a state of disrepair and neglect, and sympathetically renovate the Grade II* listed building into a tourist attraction comprising a cultural and educational centre, a cafe and holiday accommodation….
(8) PIPER LAURIE (1932-2023). Actress Piper Laurie, a three-time Oscar and nine-time Emmy nominee died October 14 at the age of 91. This excerpt from Variety's obituary covers some of her major genre performances.
…Though she informally retired to raise a family for more than a decade, she returned to film and television in the mid-'70s and racked up an impressive roster of characterizations, including Oscar-nominated turns in "Carrie" and in "Children of a Lesser God," in which she played Marlee Matlin's icy mother. Laurie was truly chilling in "Carrie," as the mother of the shy telekinetic girl of the title who has, in the words of Roger Ebert, "translated her own psychotic fear of sexuality into a twisted personal religion."

Her performance as the plotting, power-hungry Catherine Martell in David Lynch's landmark TV series "Twin Peaks" brought her two of her nine Emmy nominations. The actress won her only Emmy for her role in the powerful 1986 "Hallmark Hall of Fame" entry "Promises," in which James Wood starred as a schizophrenic and James Garner as his brother, with Laurie's character offering help to the pair.

She scored her last Emmy nomination in 1999 for a guest role on sitcom "Frasier" in which she played the mother of a radio psychologist played by Christine Baranski and clearly modeled after Dr. Laura Schlessinger….
(9) MARK GODDARD (1936-2023). Actor Mark Goddard, who gained fame as Maj. Don West on CBS' Lost in Space series from 1965 to 1968, died October 10. He was 87. The New York Times obituary notes:
…Don was always the character most annoyed by Dr. Smith, and least sympathetic to him. He could be both hot-tempered and coldhearted, but he dutifully took a spacewalk, against his better judgment, to rescue Smith from the clutches of a seductive alien creature. If it had been up to him alone, he admitted, he would have let Dr. Smith drift through space for eternity.

Major West was a role Mr. Goddard had taken reluctantly, not being a fan of science fiction. In his 2008 memoir, "To Space and Back," he referred to his space uniform, his wardrobe for the show, as "silver lamé pajamas and my pretty silver ski boots."…
But he came back in a cameo role for the Lost in Space movie (1998).
(10) TODAY'S BIRTHDAYS.
[Compiled by Cat Eldridge.]
Born October 14, 1927 — Roger Moore. Bond in seven films 1973 to 1985, a long run indeed. And he played Simon Templar in The Saint for most of the Sixties, an amazing one hundred eighteen episodes. Let's not forget that he was in the Curse of the Pink Panther as Chief Insp. Jacques Clouseau! He even got to play Sherlock Holmes in Sherlock Holmes in New York. He wasn't a bad Sherlock either. (Died 2017.)
Born October 14, 1946 — Katy Manning, 77. She was Jo Grant, companion to the Third Doctor. She also appeared in that role with the Eleventh Doctor on the Sarah Jane Adventures in a two-part story entitled "Death of the Doctor". She appears as herself in the The Five(ish) Doctors Reboot.
Born October 14, 1949 — Crispin Burnham, 74. And then there are those who just disappear. He was the founder, writer and publisher of Dark Messenger Reader / Eldritch Tales from 1975 to 1995 as the publisher Yith Press. He was also a prolific essayist from 1973 to 1995, his final essay being a reflection on the life and career of Robert Bloch. There's nothing to show him active after 1998 when the final part of his "People of The Monolith" was published in Cthulhu Cultus #13. Then he vanishes without a trace.
Born October 14, 1953 — Greg Evigan, 70. TekWar, one of Shatner's better ideas, starred him as Jake Cardigan. I really liked it. Yes, Shatner was in it. And the role he had actually worked fine for him. He also shows up in DeepStar Six as Kevin McBride, as Will South in the horror film Spectre aka The House of The Damned, as Marcus Cutter in Cerberus: The Guardian of Hell, and on the Alfred Hitchcock Presents as David Whitmore in "In the Driver's Seat".
Born October 14, 1953 — Richard Christian Matheson, 70. Son of the Richard Matheson that you're thinking of. A very prolific horror writer, mostly of short stories, he's also no slouch at script writing as he's written for Amazing Stories, Masters of Horror, The Powers of Matthew Star, Splatter, Tales from the Crypt, Knight Rider (the original series) and The Incredible Hulk.
Born October 14, 1956 — Arleen Sorkin. She served as the real-life inspiration and voice for Harley Quinn, co-created by her friend Paul Dini on Batman: The Animated Series. Harley was supposed to be a one-off in "Joker's Wild" but she was so popular that they kept her in the series. The character would appear in the New Batman Adventures, Static Shock, Justice League, Gotham Girls, and in Batman Beyond: Return of the Joker. She would die at 66 of pneumonia and complications from multiple sclerosis. (Died 2023.)
Born October 14, 1963 — Lori Petty, 60. Rebecca Buck – "Tank Girl" in that film. She was also Dr. Lean Carli in Cryptic, and Dr. Sykes in Dead Awake. She had one-offs in The Hunger, Twilight Zone, Star Trek: Voyager, Brimstone, Freddy's Nightmares and Alien Nation, and voiced quite well Livewire in the DCU animated shows.
(11) COMICS SECTION.
(12) MARVEL'S VAMPIRIC CROSSOVER. At New York Comic Con 2023 Marvel revealed "'Blood Hunt,' Marvel Comics' Next Crossover Event".
…Vampires have always walked amongst the shadows of the Marvel Universe, but in Spring 2024, the long night arrives and these bloodsucking terrors will endure the spotlight like never before. The main event series will be brought to life by an A-team of Marvel talent: current Avengers scribe Jed MacKay and acclaimed X-Men artists Pepe Larraz and Marte Gracia. In classic Marvel fashion, BLOOD HUNT will also spill out into a host of tie-in issues in Marvel's hottest current series and see the launch of all-new limited series, one-shots, and redefining status quos.

Brimming with unsurmountable stakes, this startling saga will drag the world into darkness as your favorite heroes struggle to ward off the vampire race's cursed crusade of terror! Fans will have to wait with bated breath for more story details and information. In the meantime, sink your teeth into a special BLOOD HUNT trailer and a viciously visceral promotional image by Leinil Francis Yu and Sunny Gho!

"We have vampires in our books all the time, there's some bad blood there," MacKay said. "What happens if the shoe was on the other foot? We've got the Avengers, Moon Knight's Midnight Mission, Doctor Strange, Miles Morales, and of course, Blade, and there's going to be more vampires you can shake a stick at."…
(13) HEAR FROM MICHAEL CHABON. Listen to an installment of World Book Club where Michael Chabon discusses The Amazing Adventures of Kavalier and Clay ay BBC Sounds.
American writer Michael Chabon talks about his 2001 Pulitzer Prize-winning novel The Amazing Adventures of Kavalier and Clay.

From Jewish mysticism to Houdini to the Golden Age of Comic Books and WWII, Chabon's immersive novel deals with escape and transformation through the lives of two Jewish boys in New York. Josef Kavalier makes an impossible escape from Prague in 1939, leaving his whole family behind but convinced he's going to find a way to get them out too. He arrives in New York to stay with his cousin Sammy Klayman, and together the boys cook up a superhero to rival Superman – both banking on their comic book creation, The Escapist, to transform their lives and those around them, which in part he does. Their first cover depicts The Escapist punching Hitler in the face, and they wage war on him in their pages, but the personal impact of WWII is painfully inevitable.

The novel touches on the personal scars left by vast political upheaval, and the damaging constraints of being unable to love freely and live a true and authentic life. Chabon's prose is perfectly crafted – sometimes lyrical, sometimes intensely witty, and occasionally painfully heartbreaking.
(14) BLOCK THAT CLICK! "BBC Will Block ChatGPT AI From Scraping Its Content" reports Deadline.
The BBC has blocked the artificial intelligence software behind ChatGPT from accessing or using its content.

The move aligns the BBC with Reuters, Getty Images and other content providers that have taken similar steps over copyright and privacy concerns. Artificial intelligence can repurpose content, creating new text, images and more from the data.

Rhodri Talfan Davies, director of nations at the BBC said the BBC was "taking steps to safeguard the interests of licence fee payers as this new technology evolves….
(15) DAVID MCCALLUM ANNIVERSARY. Did you know?
(16) ANOTHER ANNIVERSARY. "'The Halloween Tree' at 30 – An Essential Celebration of the Holiday" is a BloodyDisgusting editorial.
…Halloween is the day that we face that chilling finality. Commune with it. Drape our world in its trappings. Halloween is the day that death becomes the tapestry of our joy. We accept it. We embrace it. Maybe we even learn from it. And few Halloween based books, movies, stories or otherwise capture this idea more absolutely than Ray Bradbury's The Halloween Tree. Perfectly in line with its multi-layered historical trappings, it's a tale that went through several iterations on its journey to the hallowed halls of Halloween history and one that seemed destined to become the essential animated classic that it has in the three decades since its release.

Almost 30 years before The Halloween Tree (1993) first aired on ABC, Ray Bradbury sat down to watch It's the Great Pumpkin, Charlie Brown one October evening in 1966. Despite the acclaimed author's excitement and unabashed love for all things Halloween, he stood up and kicked his television set as the special's credits rolled. While he had hoped for the equivalent of Halloween's Santa Claus in the Great Pumpkin, the promised deity never arrived, denying the holiday its mystical spirit and breaking the vow that its title professed….
(17) MELTING! Nature says someone has figured out "How to build Moon roads using focused beams of sunlight". First, build a couple of 2m lenses:
…A beam of concentrated sunlight could be used to build paved roads on the Moon by melting lunar dust, according to proof-of-concept experiments involving lasers and a substance resembling Moon dust.

Such roads could be useful infrastructure for future lunar missions, say engineer Juan-Carlos Ginés-Palomares and his colleagues, because they could provide areas for spacecraft to land or move around without churning up fine dust that can damage on-board scientific instruments and other equipment.

The Moon will be an important jumping-off point should humans ever want to explore further reaches of the Solar System. But its low gravity means dust doesn't settle. Paving the lunar surface by melting the regolith — loose rock and dust — could help to address this problem….
(18) NEVER TOO LATE. [Item by SF Concatenation's Jonathan Cowie.] With the Chengdu Worldcon coming up, arguably time to — if you haven't already — check out Cixin Liu's The Three Body Problem. Over on YouTube @Bookpilled (part of the YouTube Science Fiction Alliance) recently did so. "This Book Has Sold 8 Million Copies – Is It Good?".
[Thanks to Cat Eldridge, SF Concatenation's Jonathan Cowie, Mike Kennedy, Nancy Sauer, Steven French, Lise Andreasen, Rich Lynch, Andrew Porter, Ersatz Culture, John King Tarpinian, and Chris Barkley for some of these stories. Title credit belongs to File 770 contributing editor of the day Daniel Dern.]