(1) CALL FOR ATTITUDE CHANGE. Robert Zubrin and two associates discuss the search for life on Mars in the New Atlantis. "How to Search for Life on Mars" – "First, stop refusing to look."
… The search for life ought to be the great passion animating Mars exploration. But it has not been a goal for NASA. In fact, NASA's public relations department frequently claims that the agency's Mars exploration program is meant to "seek signs of life." They say this because they know that it is what the public is — rightly — interested in. Unfortunately, the claim just isn't true. NASA's Mars robotic exploration program is actually focused on geological research, while its planned human Mars exploration program — inasmuch as it exists at all — is not being designed to properly support scientific exploration of any kind.

The last time our space agency conducted experiments to identify signs of living microbes on the planet was in 1976. The 2012 Curiosity rover was meant only to find out "if Mars was ever able to support microbial life," and the 2021 Perseverance mission was to collect geological samples for later retrieval and perhaps find signs of ancient life — neither aimed at finding living things on the planet today….
(2) DREAMHAVEN MURAL. A bit of criminal activity almost stalled today's plans to keep painting the DreamHaven Books mural. First they announced.
Things were going so well with the mural but now someone came in the middle of the night and stole the scaffolding.
However, later they had good news:
UN-FUCK! We found the scaffolding. Some asshole wheeled it off behind a nearby building. A neighbor saw it happen and knew vaguely where it had been taken. We already had new scaffolding being delivered and I was planning to spend the night to ensure it stayed in place. I'm still staying tonight. Mark is doing Cheech Wizard right now and Little Nemo and backgrounds tomorrow.
(3) BARS TO PUBLISHING. Pamela Paul says "There's More Than One Way to Ban a Book" in an opinion piece for the New York Times.
…Though the publishing industry would never condone book banning, a subtler form of repression is taking place in the literary world, restricting intellectual and artistic expression from behind closed doors, and often defending these restrictions with thoughtful-sounding rationales. As many top editors and publishing executives admit off the record, a real strain of self-censorship has emerged that many otherwise liberal-minded editors, agents and authors feel compelled to take part in.

Over the course of his long career, John Sargent, who was chief executive of Macmillan until last year and is widely respected in the industry for his staunch defense of freedom of expression, witnessed the growing forces of censorship — outside the industry, with overt book-banning efforts on the political right, but also within the industry, through self-censorship and fear of public outcry from those on the far left.

"It's happening on both sides," Sargent told me recently. "It's just a different mechanism. On the right, it's going through institutions and school boards, and on the left, it's using social media as a tool of activism. It's aggressively protesting to increase the pain threshold, until there's censorship going the other way."

In the face of those pressures, publishers have adopted a defensive crouch, taking pre-emptive measures to avoid controversy and criticism. Now, many books the left might object to never make it to bookshelves because a softer form of banishment happens earlier in the publishing process: scuttling a project for ideological reasons before a deal is signed, or defusing or eliminating "sensitive" material in the course of editing….
(4) A WINK IS AS GOOD AS A NOD. Hunter Liguore tells SFWA Blog readers about "Writing Eyebrows: How to Orchestrate Emotion in Your Story".
…What is often missed in the early drafting of characters is the up-close observation necessary to fully render their emotional expression, which in turn accentuates their uniqueness. One way we can develop our characters is to consider the individuality and expression of a character's eyebrows. 

Eyebrows can be an important window into a character's interior world. When we scrutinize with words the detail of movement and expression individual to each person, we create an orchestration, a living symphony of movement and energy, indicative of a living world. To do this takes attention, rumination, and concentrated focus on the people we're writing….
(5) IN THE PIPELINE. Andrew Porter shared this list of titles from the late Eric Flint that have already been delivered and are on the schedule for Baen, which he received from Toni Weisskopf.
July 2022
1812: The Rivers of War-first Baen publication, trade pb

August 2022
The Crossing by Kevin Ikenberry-hardcover (not by Eric, but an Assiti Shards novel)

September 2022
To End in Fire by David Weber & Eric Flint-mass market reprint
1637: Dr. Gribbleflotz and the Soul of Stoner by Kerryn Offord & Rick Boatwright-mass market reprint

November 2022
1637: The Transylvanian Decision by Eric Flint & Robert Waters-hardcover

January 2023
Grantville Gazette IX-mass market reprint

April 2023
1637: The Coast of Chaos by Eric Flint et al.-mass market reprint

September 2023
1638: The Siberian Enterprise by Eric Flint, Paula Goodlett & Gorg Huff-hardcover
(6) FLORIDA MAN. "Man breaks into Space Force base to warn of alien-dragon war" reports Task & Purpose.
Since the Space Force was established in 2019, there has been the lingering question of what, exactly, it does. 

One would certainly hope that the branch would be heavily involved in a theoretical battle between aliens and dragons in space. The occurrence of which, apparently, one helpful citizen was trying to warn the Space Force about last week. 

At Patrick Space Force Base, Corey Johnson, 29, was arrested for trying to enter the installation. The reason? According to what he told arresting officers, he was there on behalf of the President to alert the Space Force that there were "US aliens fighting with Chinese dragons."…
(7) THE ULTIMATE SPACE RACE. [Item by Martin Morse Wooster.] The space battle between the U.S. and the USSR is explained by Ambient Press in less than three minutes!
(8) MEDIA BIRTHDAY.
2022 – [By Cat Eldridge.] Green Lantern: Beware My Power (2022). I forgot that had preordered this animated DC film some months ago until I got an email a few hours ago that it was available for download. I'm a big fan of Green Lantern and very much enjoyed the animated series and abhorred the live film (I made maybe twenty minutes into it before giving up), so I figured that I'd like it based on the trailer that I watched on iTunes.
So I downloaded it to my iPad and started watching it. It's the forty eighth film in the DC Animated Movie Universe influenced predominantly by The New 52 which rebooted the DC Universe. No, I've seen all of them by any means!
The animation style is a clean, adult style affair and the language is too with an occasional "shit" allowed. It's a strong PG-13 and you can see the trailer trail here.
John Stewart is a black marine sniper, voiced here by Aldis Hodge (playing Hawkman in Black Adam) who is given a Lantern Ring by a dying member of the Lantern Corps. He's not at all happy about that as he's forsworn violence, and doesn't have a clue what the Lanterns are. Furthermore the mission here isn't really explained at all, and I've avoiding spoilers, so he and Green Arrow plus Hawkgirl figure out things as they go along.
It was directed by Wamester from a stellar screenplay by E. J. Altbacker and John Semper. The former was involved with the Green Lantern: The Animated Series; the latter wrote for a Cyborg series.
I highly recommend it.
(9) TODAY'S BIRTHDAYS.
[Compiled by Cat Eldridge.]
Born July 26, 1894 — Aldous Huxley. Brave New World is fascinating. I knew I had it assigned and sort of discussed in a High School class and at least one Uni class a very long time ago. So what else is genre by him and worth reading? I see his Time Must Have a Stop novel was on the longlist at CoNZealand. (Died 1963.)
Born July 26, 1928 — Stanley Kubrick. I'm reasonably sure 2001: A Space Odyssey was the first film I saw by him but Dr. Strangelove or: How I Learned to Stop Worrying and Love the Bomb was the one that impressed me the most. A Clockwork Orange was just too damn depressing. And I'm not a horror fan as such so I never saw The Shining. Barry Lyndon is great but it's not genre by any means. (Died 1999.)
Born July 26, 1945 — Helen Mirren, 77. She first graces our presences as Hermia in A Midsummer Night's Dream. She next shows up in a genre role as Alice Rage in The Fiendish Plot of Dr. Fu Manchu, Peter Sellars's last film. She's an ever so delicious Morgana in Excalibur and then leaps into the future as Tanya Kirbuk in 2010: The Year We Make Contact. She voices the evil lead role in The Snow Queen, and likewise is Deep Thought in The Hitchhiker's Guide to the Galaxy. 
Born July 26, 1945 — M. John Harrison, 77. Winner of the Otherwise Award. TheViriconium sequence, I hesitate to call it a series, starting with The Pastel City, is some of the most elegant fantasy I've read. And I see he's a SJW as he's written the Tag, the Cat series which I need to take a look at again. He's also been a major critic for the past thirty years reviewing fiction and nonfiction for The Guardian, The Daily Telegraph, the Times Literary Supplement and The New York Times. He's lightly stocked at the usual suspects though TheViriconium sequence is there at a very reasonable price.  And his short stories are excellent, so may I recommend Settling the World: Selected Stories 1970-2020?
Born July 26, 1954 — Lawrence Watt-Evans, 68. Ok I'll admit as I've said before that I've not read "Why I Left Harry's All-Night Hamburgers" which won him a short fiction Hugo at Conspiracy '87. It also was nominated for a Nebula and won an Asimov's Reader's Poll that year. It'd be his only Hugo. So I'm curious what Hugo voters saw in it. Yes, I've read him — his War Surplus series is quite excellent.
Born July 26, 1978 — Eve Myles, 44. She's a a Welsh actress from Ystradgynlais, convenient as she played Gwen Cooper on Torchwood which was set in and shot in Cardiff. She previously played the servant girl Gwyneth in the Doctor Who episode "The Unquiet Dead" during the Ninth Doctor's time. 
(10) BOOK TRAILER. Giant Island by World Fantasy Award Lifetime Achievement winner Jane Yolen and award-winning fantasy illustrator Doug Keith will be released in August.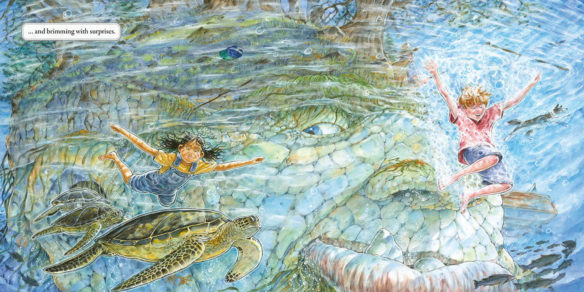 Two children explore the caves and coves of the tiny and oddly-named Giant Island. Under Grandpa's watchful eye, Ava, Mason, and dog Cooper finally fathom that the island is much more than it seems: the craggy rocks, windswept trees, and unusual grotto are all parts of a submerged giant. Yolen's text charms with hints of age-old magic and pays tribute to mystery, curiosity, and friendship. Keith's wondrous watercolor paintings invite young readers to pore over the pages to discover the clues to this "huge" secret. Giant Island is a delightful, intergenerational and interspecies adventure for all ages.
(11) YOU CAN'T HANDLE THE TRUTH. Arturo Serrano's "Microreview: Drunk on All Your Strange New Words by Eddie Robson" discusses a "thriller set mostly inside the mind" at Nerds of a Feather.
In the near future, Earth has established diplomatic relations with aliens known as Logi, sort-of-but-not-quite humanoids who cannot speak in sound and use telepathy instead. To facilitate the daily business of politics, some humans are trained in specialized schools to understand Logi telepathy and translate into human speech. Each Logi visitor is thus paired with a human interpreter who accompanies them at their official appearances and handles their routine communication with Earth governments.

The catch? The Logi language does funny things to the human brain. After a few minutes of hosting alien thoughts in your head, you start feeling drunk. Too much talking in one day, and you might pass out.

So when our protagonist Lydia, the interpreter assigned to the Logi cultural attaché, wakes up from a massive blackout to find her boss murdered on his sofa, she has to quickly decide whom to trust and whom to suspect, because this is a future where impressions are everything, and the wording of a message can have rippling effects on public opinion.
(12) GAMING FOR THE HIGHEST STAKES. SPARK stands for Solar Prime Augmented Reality Park, a destination for gamers in Pat Daily's debut novel.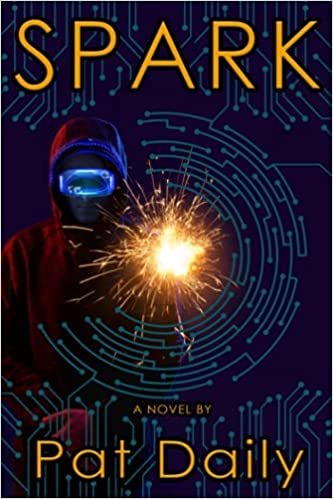 In his mother's last letter, she wrote, "Find me. Save me." And Will Kwan had heard those words before. He'd heard them in a video game. Solar Prime Augmented Reality Park, or SPARK, is a theme park for gamers: a sprawling virtual reality complex with quests and games that appeal to all ages. But beneath the surface, SPARK harbors many a secret. When sixteen-year-old Will has to escape the foster system, SPARK is his destination. "Find me. Save me." What had his mother meant? At SPARK, he runs headlong into the force of nature known as Feral Daughter, another runaway who has chosen to make SPARK her home and her life. As their friendship grows, Will begins to walk a path that will unveil not only the secrets of SPARK, but also a whole new perception of his world. So when terrorists threaten his new home and new friend, Will cannot stand idly by. Can Will finally get his closure? Or will SPARK be destroyed, along with the new life he has built?
Pat Daily is an engineer and former Air Force test pilot who worked at NASA's Johnson Space Center on both the Space Shuttle and International Space Station programs. When not writing or trying to bring new airplane designs to life, Pat can be found gaming online. He is a fan of role-playing games – particularly open worlds with engaging storylines where actions have consequences.
Available on Amazon.com and Amazon.ca.
(13) DIVIDE WITHOUT CONQUERING. The New York Times explains why "Splitting T. Rex Into 3 Species Becomes a Dinosaur Royal Rumble".
The world's most iconic dinosaur is undergoing an identity crisis.

In February, a team of scientists posited that Tyrannosaurus rex was actually three distinct species. Instead of there being only one sovereign "tyrant lizard king," their paper made the case for a royal family of supersized predators. Joining the king in the genus Tyrannosaurus would be the bulkier and older emperor, T. imperator, and the slimmer queen, T. regina.

The proposed T. rex reclassification struck the paleontology community like an asteroid, igniting passionate debates. On Monday, another team of paleontologists published the first peer-reviewed counterattack.

"The evidence was not convincing and had to be responded to because T. rex research goes well beyond science and into the public sphere," said Thomas Carr, a paleontologist at Carthage College in Wisconsin and an author of the new rebuttal. "It would have been unreasonable to leave the public thinking that the multiple species hypothesis was fact."

The earlier team of researchers have anticipated the rebuttal, which was published in the journal Evolutionary Biology. Gregory Paul, one of the authors of the original study, is working on another paper and says many of the rebuttal's claims are outlandish…..
(14) THE NOIVE. "Polish Institute Classifies Cats as Alien Invasive Species" says Slashdot.
A respected Polish scientific institute has classified domestic cats as an "invasive alien species," citing the damage they cause to birds and other wildlife…
(15) ONCE AGAIN, WHERE DOES IT RAIN? [Item by Danny Sichel.] Last month, psycholinguist Anne Cutler died, and renewed attention was given to her 1994 paper The perception of rhythm in language, which at two and a half pages long is the greatest scientific paper ever written.
Read it, and see how long it takes you to understand why it's so great: "The perception of rhythm in language".
(16) STONE AGE INTERNET. Open Culture invites you to "Watch the First Movie Ever Streamed on the Net: Wax or the Discovery of Television Among the Bees (1991)".
When the World Wide Web made its public debut in the early nineteen-nineties, it fascinated many and struck some as revolutionary, but the idea of watching a film online would still have sounded like sheer fantasy. Yet on May 23rd, 1993, reported the New York Times' John Markoff, "a small audience scattered among a few dozen computer laboratories gathered" to "watch the first movie to be transmitted on the Internet — the global computer network that connects millions of scientists and academic researchers and hitherto has been a medium for swapping research notes and an occasional still image."

That explanation speaks volumes about how life online was perceived by the average New York Times reader three decades ago. But it was hardly the average New York Times reader who tuned into the internet's very first film screening, whose feature presentation was Wax or the Discovery of Television Among the Bees. Completed in 1991 by artist David Blair, this hybrid fiction and essay-film offered to its viewers what Times critic Stephen Holden called "a multi-generational family saga as it might be imagined by a cyberpunk novelist…
(17) VIDEO OF THE DAY. [Item by Martin Morse Wooster.] In "Honest Trailers: Ms. Marvel," the Screen Junkies say that Ms. Marvel is not only the first Pakistani superhero in the MCU, but also the first MCU superhero from New Jersey. But while she faces "yet another poorly developed Marvel villain and two hunky guys competing for her attention, she is also the first mutant in the MCU since they re-acquired the X-Men, "Come for the origin of the X-Men–stay for the origin of Pakistan!"
[Thanks to Chris Barkley, Michael Toman, Cat Eldridge, Danny Sichel, Francis Hamit, Daniel Dern, Mike Kennedy, Martin Morse Wooster, JJ, John King Tarpinian, and Andrew Porter for some of these stories. Title credit belongs to File 770 contributing editor of the day Steve Davidson.]