(1) WORLDCON AMBITIONS. Tammy Coxen wants to remedy the problem of groups bidding for Worldcons without having any knowledge of the norms and customs of the convention they want to run. With input from many others, she has created an introduction — "So You Want to Bid for a Worldcon".
Have you ever thought about running a Worldcon? Because Worldcon has been going on for so long (over 80 years!) there are a lot of expectations, traditions, norms and customes about how to do that, and if you don't know about them, it's really hard to win your bid! We haven't necessarily done a great job of communicating that to people, so (with a lot of help from friends) I put together this intro guide. This is not a how-to document with details – this is more big picture. I think it's useful to all bidders, but it should be especially useful to people who are new(er) to Worldcons. Please feel free to share.
(2) AURORA AWARDS NEWS. The Canadian Science Fiction & Fantasy Association reminded people today that the Aurora Awards Eligibility lists close February 29, 2020. And the announcement comes with a warning —
This means that if there are any works you wish to nominate for an award which are not found on the public eligibility lists you will need to submit them before 11:59PM EST February 29, 2020.

Nominations will open March 1, 2020.  

Unlike in previous years, works that are not on the Eligibility lists prior to the opening of Nominations will NOT be able to be added.  
(3) BENFORD Q&A. At Buzzy Mag, Jean Marie Ward conducts the "Gregory Benford Interview – The future is all we have left".
Jean: We're so glad to have you. Your most recent published books are both alternate history. "The Berlin Project" looks at the world that might have been if the U.S. had the A bomb before D-day. "Rewrite" offers a sequel to your classic timescape with a Groundhog Day twist. What occasioned this desire to remake recent history?

Gregory: Because it's so tempting. There are so many pivot points, particularly in World War II and I as a physicist was very close to the issue of, how do you get the Uranium-235 to make bombs? You have to separate it out from the heavier 238 isotope. And the decision of how to do that, I had two choices and General Groves was forced to make the choice because the scientists were divided and he chose the wrong one and it cost us a year in the Second World War. It's generally agreed by historians that had we suggested or made happen centrifically a separation, spinning cylinders, we would have chopped a year off the gaseous diffusion that Oak Ridge used and spent $1 billion doing. So, how would that change the war? You would have the bomb at D-day, well, how would you use it? And I use this title, "The Berlin Project" because that's what the scientists in the project called it the first few years because the target was Berlin. Groves said that was too obvious.

So he called it the Manhattan Project and opened an office in Manhattan to give the excuse of, well, of course it was near Columbia University where all his work was done, but still they were always focused on Berlin. So, that was just too tempting because I was a postdoc for Edward Teller at Livermore for two years and then a staff member. He offered me a staff position which I took before I went to UC Irvine. And Teller told me all these delicious stories about the Manhattan Project. And I knew so many of them. The woman who helped me to do physics at UC San Diego, Maria Kepert Mayor, when I was working on problems with her and did a bunch of nuclear physics, again for my thesis, she won the Nobel Prize. And she told me all kinds of delicious stories about the Manhattan Project….
(4) GIBSON BAFFLED. [Item by Martin Morse Wooster.] Behind a paywall in the February 15 Financial Times, John Thornhill interviews William Gibson.
Gibson knew the late (John Perry) Barlow well, but he says he is 'absolutely baffled by the naive utopianism of the early Internet pioneers, who enthused about disruption.  Barlow professed to love Neuromancer — according to Gibson — but appeared to have missed the central idea that cyberspace also had its downsides.  Even today Gibson says he is puzzled by older readers who approach him at book signings to thank him for inspiring them to pursue a career in tech.

"They'd read a book in which there didn't appear to be any middle class left and in which no characters had employment.  They were all criminal freelancers of one sort or another. So, it was always quite mysterious to me."
(5) BRINGING DIVERSITY TO SPACE. "Black in Space: Breaking the Color Barrier" is airing this week on the Smithsonian Channel. It also can be viewed on YouTube.
America's experiences during the Civil Rights Movement and the Space Race are well documented. However, few know about the moment these two worlds collided, when the White House and NASA scrambled to put the first black astronaut into orbit. This is the untold story of the decades-long battle between the U.S. and the Soviet Union to be the first superpower to bring diversity to the skies, told by the black astronauts and their families, who were part of this little known chapter of the Cold War.

…On Aug. 30, 1983, the astronaut Guion Bluford embarked as a crew member of the Space Shuttle Challenger, making him the first African-American in space. This documentary features him alongside Edward Dwight, an Air Force pilot edged out of a position with NASA, and Frederick Gregory, the first African-American to command a NASA mission, to examine the complications of sending a black man into space during the Cold War. 

Also included are Arnaldo Tamayo Méndez, the first Cuban astronaut sent into space by the Soviet Union, and Ronald McNair, an African-American pilot who died in the Challenger disaster in 1986.
(6) JOHNSON OBIT. Fame came late in Katherine Johnson's life for her contributions to the early space program. "Smithsonian Curators Remember Katherine Johnson, NASA Mathematician Highlighted in 'Hidden Figures,' Who Died at 101".
…Striking out during "a time when computers wore skirts," she once said, Johnson quickly proved her incomparable worth. So trusted were her calculations that astronaut John Glenn, the first American to orbit the Earth, considered them an integral part of his preflight checklist—even after the equations had been transferred over to modern electronic machines. "When he got ready to go," Johnson said of Glenn, "he said, 'Call her. And if she says the computer is right, I'll take it."

Her work fueled innumerable feats of aeronautics, several of which were outlined in the 26 research papers Johnson published over her decades-long career. The earliest of these publications made Johnson one of the first women at NASA to become a named author or co-author on an agency report, according to Margalit Fox at the New York Times.

…Though Johnson's landmark contributions went mostly unheralded by mainstream media throughout her tenure at Langley, the 2010s finally brought her name into the public eye. In 2015, she was awarded the Presidential Medal of Freedom by Barack Obama, who described Johnson as "a pioneer who broke the barriers of race and gender, showing generations of young people that everyone can excel in math and science, and reach for the stars," reports Russell Lewis for NPR. The next year, Margot Lee Shetterly's book Hidden Figures, as well as a movie adaptation by the same name, highlighted the accomplishments of Johnson and her colleagues.

The film was nominated for three Oscars. When Johnson took the stage at the 2017 Academy Awards ceremony, the mathematician—then 98 years old and the only one of the movie's central characters still alive at the time of its release—received a thunderous standing ovation. That fall, NASA dedicated a new Langley building in her honor, the Katherine G. Johnson Computational Research Facility….
The Washington Post obituary also includes many details of her personal life and early career at NACA and its successor, NASA.
…Mrs. Johnson had a bachelor's degree in mathematics and spent her early career studying data from plane crashes, helping devise air safety standards at a time when the agency's central concern was aviation….
Chris Garcia wrote her bio when the Bay Area's Computer History Museum made her a Fellow last year:
… NACA was renamed National Aeronautics and Space Agency (NASA) in 1958, and Johnson became an aerospace technologist within NASA's Spacecraft Controls branch. In 1960 she coauthored Determination of Azimuth Angle at Burnout for Placing a Satellite Over a Selected Earth Position, an important report that laid out the equations for determining landing position for orbital spaceflight. In 1961 she calculated the trajectory for Alan Shepard's Freedom 7 Earth orbital mission….
(7) MORE ABOUT BARBARA REMINGTON, In "Blast from ye past", DB follows this intro with some intriguing comments and insights about the late artist:
Barbara Remington has died, at 90. Really old-time Tolkienists will remember her name as that of the artist who created the covers for the first issue of the Ballantine paperbacks of The Lord of the Rings, which may be seen pictured in her obituary here. (Note they're all actually one painting split into three parts, which was also issued as a single poster without overprinting.)

Ballantine's goal was to get the books in the shops quickly, to compete with the unauthorized Ace paperbacks, so they gave Remington very little time to work….
(8) TODAY IN HISTORY.
February 24, 1952 — Aladdin And His Lamp premiered. It was directed by Lew Landers, and starred Johnny Sands and Patricia Medina. Filming was finished in less than a week. It was originally produced for a television audience, then Allied Artists picked up the film and added additional footage for a theatrical release. You can see this short film here.
February 24, 1960 — The Amazing Transparent Man premiered. It was directed by Edgar G. Ulmer, and starred Marguerite Chapman and Douglas Kennedy. It and Beyond the Time Barrier were film in Dallas in two weeks. Critics in general liked it, but the audience rating at Rotten Tomatoes is a lousy 16%. You can see the film here.
(9) TODAY'S BIRTHDAYS.
[Compiled by Cat Eldridge.]
Born February 24, 1909 — August Derleth. He's best known as the first book publisher of H. P. Lovecraft, and for his own fictional contributions to the Cthulhu Mythos (a term that S. T. Joshi does not like). Let not to overlook him being the founder of Arkham House which alas is now defunct. I'm rather fond of his detective fiction with Solar Pons of Praed Street being a rather inspired riff off the Great Detective. (Died 1971.)
Born February 24, 1933 — Verlyn Flieger, 87. Well-known Tolkien specialist. Her best-known books are Splintered Light: Logos and Language in Tolkien's World, A Question of Time: J. R. R. Tolkien's Road to Faerie, which won a Mythopoeic Award, Tolkien's Legendarium: Essays on The History of Middle-earth (her second Mythopoeic Award) and Green Suns and Faërie: Essays on J.R.R. Tolkien (her third Mythopoeic Award). She has written a YA fantasy, Pig Tale, and some short stories.
Born February 24, 1945 — Barry Bostwick, 75. Best remembered for being Brad Majors in The Rocky Horror Picture Show. His first genre undertaking was the English language narration of Fantastic Planet. He voices the Mayor in The Incredibles 2. 
Born February 24, 1947 — Edward James Olmos, 73. Reasonably sure the first thing I saw him in was as Detective Gaff in Blade Runner, but I see he was Eddie Holt in Wolfen a year earlier which was his genre debut. Though I didn't realize it as I skipped watching the entire film, he was in The Green Hornet as Michael Axford. (I did try watching it, I gave up after maybe fifteen minutes. Shudder.) He has a cameo as Gaff in the new Blade Runner film. And he's William Adama on the rebooted  Battlestar Galactica. He made appearances on Agents of S.H.I.E.L.D. and Eureka. 
Born February 24, 1951 — Helen Shaver, 69. Her SFF debut was as Betsy Duncan in Starship Invasions aka Project Genocide in the U.K. though you've likely not heard of her there, you might have seen her as Carolyn in The Amityville Horror.  She's Littlefoot's mother in The Land Before Time, and Kate 'White' Reilly in the second Tremors film. She's got one-offs in The Outer Limits, Amazing Stories, Ray Bradbury Theater and Outer Limits to name but a few. And she was Dr. Rachel Corrigan in Poltergeist: The Legacy, a super series indeed.
Born February 24, 1966 — Billy Zane, 54. His genre roles include Match in Back to the Future and Back to the Future Part II, Hughie Warriner in Dead Calm, John Justice Wheeler in Twin Peaks, The Collector in Tales from the Crypt presents Demon Knight and the title role in The Phantom.
Born February 24, 1966 — Ben Miller, 54. He first shows up in our corner of things on The Adventures of Young Indiana Jones in the "Daredevils of the Desert" episode as an unnamed French Officer. His main genre role was on Primeval, a series I highly recommend as a lot of fun, as James Lester.  He later shows up as the Sheriff of Nottingham in a Twelfth Doctor episode entitled "Robot of Sherwood". 
Born February 24, 1968 — Martin Day, 52. I don't usually deal with writers of licensed works but he's a good reminder that shows such as Doctor Who spawn vast secondary fiction universes. He's been writing such novels first for Virgin Books and now for BBC Books for over twenty years. The Hollow Men, a Seven Doctor novel he co-wrote wrote with Keith Topping, is quite excellent. In addition, he's doing Doctor Who audiobooks for Big Finish Productions and other companies as well. He's also written several unofficial books to television series such as the X Files, the Next Generation and the Avengers. 
(10) COMICS SECTION.
Today's Bizarro is a look-twice.
The Argyle Sweater has a silly twist on a common parents-with-a-teenager line.
And the brilliant Tom Gauld again –
(11) MARTIAN HOPS. "Hunting for 'marsquakes,' NASA lander finds a surprisingly active red planet" reports the LA Times.
…The lander, which touched down on the red planet 15 months ago, has detected plenty of seismic activity, an unexpectedly strong local magnetic field and around 10,000 whirlwinds passing over the Martian surface.

The findings, published Monday in a suite of six papers in the journals Nature Geoscience and Nature Communications, will help scientists unlock the secrets of Mars' interior and understand why it looks so different from Earth.

"What these results really are showing us is that Mars is an active planet today," said Bruce Banerdt, the mission's principal investigator, based at NASA's Jet Propulsion Laboratory in La Cañada-Flintridge, and a co-author of the new studies.

InSight is situated in a roughly 27-yard-wide impact crater in western Elysium Planitia, a volcanic plain whose surface material ranges in age from 3.7 billion to just 2.5 million years old. About 1,000 miles away lies Cerberus Fossae, a volcanic region full of faults, evidence of old lava flows and signs that liquid water once ran on the surface.
(12) HITCH YOUR WAGON TO A STAR. In the Washington Post, Homer Hickam argues that it's time for a "moon rush" and "once electricians, plumbers, miners, and construction workers start going to the moon, and the middle class starts using products made with materials from Luna, the United States will turn into a true spacefaring nation." "Let the moon rush begin".
As these efforts get going, however, it's important to avoid the thinking of a half-century ago and look at the moon in a different way. This is, after all, not your grandfather's moon. After the Apollo moon-landing program of the 1960s and '70s, a series of robotic missions discovered that Luna was a lot more interesting than many had previously thought. It has abundant water and oxygen, as well as helium, platinum, thorium, rare earth metals and other minerals that may well be worth digging up and transporting back for use in thousands of products. Last year, a gigantic blob of metal, as yet unidentified but significantly larger than the Big Island of Hawaii, was discovered beneath the lunar south pole. Whatever it is, it has value. The quiet far side of the moon could also provide a location for interstellar observatories, and tourists who would pay a lot to have a lunar vacation are inevitable. In other words, a real business case can be made for the moon, a case that could not only put dollars back into the pockets of taxpayers but also open up jobs for skilled workers on the lunar surface.
(13) FEEL THE HEAT. Own the "Darth Vader Helmet BBQ Grill" for a mere $724.97! Yahoo! Lifestyle adds:
In addition to the Darth Vader version, Burned by Design LTD makes a R2D2 fire pit, a Storm Trooper fire pit, a Death Star fire pit, and a Boba Fett fire pit. So find your favorite character and enjoy one of those long, outdoor summer nights.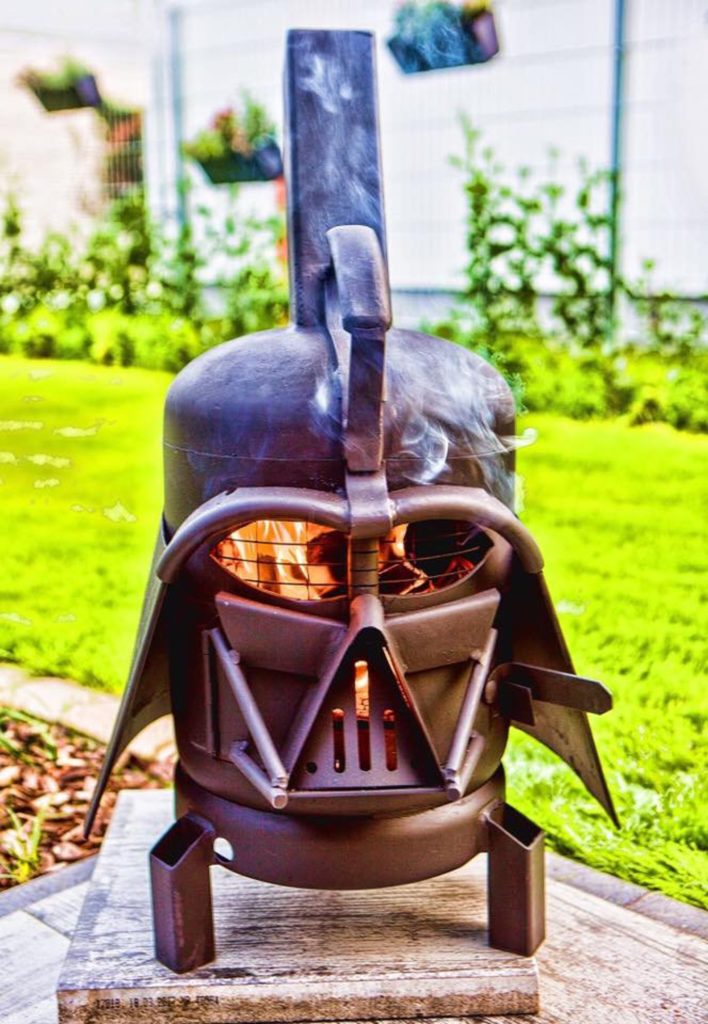 (14) FEEL THE BEAT. "Earth Harp: The man behind the unique instruments 'epic' sound" – BBC video.
William Close is the inventor behind the Earth Harp – the world's longest string instrument which uses architecture and landscapes to create a unique sound.

Mr Close, who has performed the giant harp all over the world, says the audiences are often left feeling like they are "inside the instrument" during his performances.
(15) SET AN EXAMPLE. "Marvel's Black Panther film costumes to star in new Ipswich exhibition".
Costumes from Marvel's Black Panther film will feature in an exhibition designed to help "young black people shape their sense of identity".

Three costumes from the big-screen hit will be on show at Unmasked: The Power of Stories in Ipswich.

Organisers were inspired by the film's message about the capacity of storytelling to unite or divide people.

Contributor Phanuel Mutumburi said the exhibition would provide opportunities for people to join in.

Ipswich's communities were "at the heart" of the exhibition, which would highlight important issues for different communities within the Suffolk town, said organisers.
(16) MAKING DEW. BBC traces "The ethereal art of fog-catching".
In chronically dry regions around the world, communities are finding ways to live from the water suspended in the air – creating valuable drinking water from mist.

When Abel Cruz was just a boy, near the Peruvian region of Cusco, he had to walk for more than an hour every day to collect water from the nearest source and take it back home. Then he realised that, during the rainy season, drops accumulated in the banana leaves.

"When we saw that, my father and I built natural canals with the leaves to collect the water," he says. "The first drops were a bit dirty and dusty, yet it was useful to wash dishes."

The leaves, however, only lasted for around two weeks. "So we cut bamboo in half and we replaced the canal pipes with them, which lasted a lot longer," explains Cruz. "That is how I got involved with collecting water."

Today Cruz is collecting water in a very different way – he catches fog.

With large sheets of mesh strung up on hillsides, it is possible to harvest the thick mists that drift across the arid Peruvian landscape. Tiny droplets condense on the netting and dribble down into pipes that carry the water into containers where it can be used to irrigate crops or even as drinking water.

Each net can capture between 200-400 litres of fresh water every day, providing a new source of water for communities that have had no easy access to regular supplies. Cruz has helped to install more than 2,000 of these fog catching nets in eight rural communities across Peru as well as in Bolivia, Colombia and Mexico. The impact has been dramatic.
(17) VIDEO OF THE DAY. Mitigation of Shock from Superflux on Vimeo is about an installation by Superflux displaying the gloomy world of 2050 after climate change and economic collapse.
[Thanks to JJ, John King Tarpinian, Martin Morse Wooster, Tammy Coxen, Chip Hitchcock, Cat Eldridge, Mike Kennedy, and Andrew Porter for some of these stories. Title credit goes to File 770 contributing editor of the day Camestros Felapton.]