(1) FOR WANT OF A NAIL. A Miss Manners column linked here earlier in the month has now made its appearance in the Washington Post — "Miss Manners: 'Losers' party' goes from bad to worse". The comments have led a few hundred people to File 770's post "GRRM on the Hugo Losers Party".
Dear Miss Manners: I was nominated for an award, which I did not win — and that's fine!

Before the awards ceremony, all nominees were given an invitation to the "losers' party" after the ceremony. The party was off-site, and we (losing nominees and our plus-ones) were taken there in buses.

I was on the second bus, and when we arrived, we found out that entry into the party venue had been cut off due to capacity concerns. Our bus driver refused to take us back to the original venue, and we were all left standing in the street on a chilly evening, wearing our nice clothes — "we" being at least 50 people….
(2) BACK TO BACK. Nerdbot points out another remarkable example of what you cn do with tech today: "Here's RDJ & Tom Holland As Doc And Marty In Back To The Future".
Deepfake videos never cease to amaze me. They do such an amazing job that it's hard to imagine that they aren't really performing the part. Now EZRyderX47 on YouTube has created a mash up of Back to the Future with none other than our favorite Marvel dynamic, Robert Downey Jr. and Tom Holland. Check out the film down below.
(3) SWEAR IN THE PANEL. [Item by Daniel Dern.] "Anti-solar panel can generate electricity at night, researchers say" – Inverse has the story.
Researchers from the University of California, Davis explain in a new paper that was just published in the journal ACS Photonics that if you want to create a solar panel that generates electricity at night, then you just have to create one that operates the exact opposite way solar panels work during the day. It's being referred to as the "anti-solar panel."

Solar panels are cold compared to the Sun, so they absorb the Sun's light and turn it into energy. Space is very cold, so if you point a panel on Earth that is comparatively warm toward it, it will radiate heat as invisible infrared light. This allows you to generate electricity by capturing that power. The paper claims such a device could generate about a quarter of the electricity at night that a normal solar panel generates during the day.

Jeremy Munday, a professor in the Department of Electrical and Computer Engineering at UC Davis who is an author of the paper, tells Inverse that whether it's a solar panel or this anti-solar panel, these things are essentially just "heat engines."
(Music to cue up: Flanders and Swann, "…heat can't pass from the cooler to the hotter" from their "First & Second Law" (of thermodynamics, not robotics.)
And here's a dramatic (and dramatized) (not sung) version: "First and Second Laws of Thermodynamics"
Finally, here's a charming version via Oberlin! "First and Second Laws — Scofield, Lemberger, and Owen"
Oberlin College Physics Professors John H. Scofield and Rob Owen along with OC senior physics major Ben Lemberger (piano) perform Flanders and Swann's "First and Second Laws" for intro physics class on May 7, 2014.
(4) FOLLOWED BY A SECRET PANEL. "13 things you didn't know about Ray Bradbury" from RayBradbury.com.
2

The Secret Panel

Not only did Bradbury create fantastical worlds with pen and paper, he also lived in a surreal world of his own creation. His Beverly Hills office (just like his home basement office) was filled with items that tickled his imagination: cartoons, figurines, stuffed animals, masks, and magic. In fact, Bradbury was so often lost in his own imaginary world that he would forget the demands of reality. He regularly forgot the keys to his office, but he solved this minor inconvenience by using a secret sliding panel.
(5) SFF AT BOOKEXPO 2020. Machado and Roanhorse will be there: "Reedpop Announces Annual Adult Book & Author Breakfast Lineup at BookExpo 2020".
The lineup for BookExpo's Adult Book & Author Breakfast, scheduled for Thursday, May 28, has been announced. Zerlina Maxwell, radio host and MSNBC political analyst, will host and discuss her new book The End of White Politics: How to Heal Our Liberal Divide (Hachette Books), which will hit stores just a few days earlier, on May 26.

Joining Maxwell will be United States Poet Laureate Joy Harjo, there to present When the Light of the World was Subdued, Our Songs Came Through, a Norton Anthology of Native Nations Poetry featuring the work of more than 160 poets from nearly 100 indigenous nations; bestselling author Carmen Maria Machado, who will discuss her upcoming comic book debut, The Low, Low Woods, a new horror comic from Joe Hill's imprint at DC; U.S. Representative Ilhan Omar (D.-Minn.), onstage to showcase her forthcoming memoir, This Is What America Looks Like, arriving from HarperCollins on May 26; and fantasy author Rebecca Roanhorse, there to discuss her novel Black Sun, the first book in a new epic fantasy trilogy about four warring matriarchies vying for power, to be published by Gallery/Saga Press.
(6) REMINGTON OBIT. Artist Barbara Remington, whose work included iconic covers of paperback editions of The Lord of the Rings and The Hobbit, has died at the age of 90 reports Comicbook.com.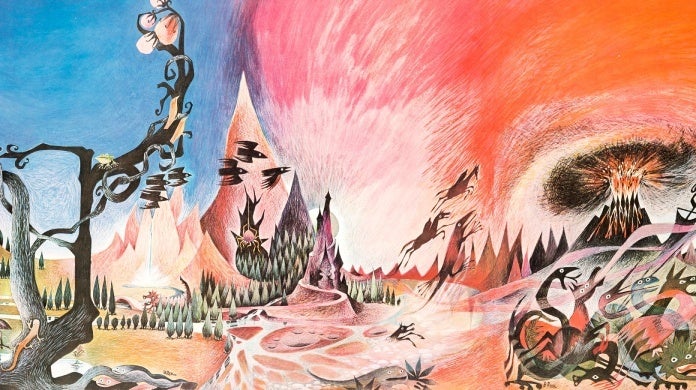 …Remington is best known for illustrating Ballantine Books' paperback editions of Tolkien's fantasy novels, which began to be published in 1965 and quickly gained a cult status amongst readers. According to The New York Times, Remington died on January 23rd in Susquehanna, Pennsylvania, with her longtime friend John Bromberg citing breast cancer as the cause of death.

As Remington revealed in an interview with Andwerve, her work on the Lord of the Rings and Hobbit covers came about on a very tight deadline.

"Ballantine was in a hurry to get these books out right away," Remington revealed. "When they commissioned me to do the artwork, I didn't have the chance to see either book, though I tried to get a copy through my friends. So I didn't know what they were about. I tried finding people that had read them, but the books were not readily available in the states, and so I had sketchy information at best."

"When Tolkien saw the fruit tree, he asked, 'What are pumpkins doing in a tree?' Of course they weren't pumpkins, but he wasn't sure what they were," Remington added. "He was especially perplexed about the lion on the cover because there are no lions in the story. He requested that Ballantine remove the lions from the cover, so they painted them over for later books."
(7) TODAY'S BIRTHDAYS.
[Compiled by Cat Eldridge.]
Born February 16, 1939 — Chuck Crayne. An important conrunner who died before his time. (I'm quoting Mike there, so please don't complain.) He was a LASFS member who was most active during the Sixties and Seventies. You can read Mike's full post on him here. (Died 2009.)
Born February 16, 1951 — William Katt, 69. Ralph Hinkley, the lead of The Greatest American Hero. A series I know I watched and loved at the time.  In December 1975, he auditioned for the part of Luke Skywalker But didn't get the role obviously. 
Born February 16, 1953 — Mike Glyer, 67. Let's praise the man who's created the finest online community for SFF fandom that one could possibly hope for. One that entertains and educates us. It's no wonder that he has won the Best Fan Writer Hugo four times and File 770 Itself has won the Best Fanzine Hugo seven times. Happy Birthday Mike!
Born February 16, 1954 — Iain M. Banks. I'm certain I've read the entire Culture series even though I certainly didn't read them in the order they were written. My favorites? The Hydrogen Sonata was bittersweet for being the last ever, Use of Weapons and the very first, Consider Phlebas, are also my favs. And though not genre, I'm still going to make a plug for Raw Spirit: In Search of the Perfect Dram. It's about whisky, good food and his love of sports cars. (Died 2013.)
Born February 16, 1957 — Ardwight Chamberlain, 63. The voice of Kosh on Babylon 5. And that tickles me, as I don't think they credited it during the series, did they? Most of his other voice work English dubbing versions of Japanese anime including Digimon: Digital Monsters and The Swiss Family Robinson: Flone of the Mysterious Island.
Born February 16, 1964 — Christopher Eccleston, 56. The Ninth Doctor who's my third favorite among the new ones. Other genre work includes 28 Days Later, The Seeker, G.I. Joe: The Rise of Cobra, Thor: The Dark World, The Leftovers, The Second Coming and The Borrowers. He also played Macbeth at the Royal Shakespeare Theatre and the Barbican Theatre. 
Born February 16, 1968 — Warren  Ellis, 52. I think Planetary is bloody brilliant as is Global Frequency and Transmetropolitan. His work on The Authority is not to be sniffed at either, nor should we overlook Iron Man: Extremis. He's got two rather superb novels, Crooked Little Vein and Gun Machine, that are not genre but which if if you like hard-boiled detective fiction, I'll strongly recommend both.
(8) COMICS SECTION.
(9) WHAT'S THE MATTER WITH KIDS TODAY? Grayson Quay reminds readers about "The Time C.S. Lewis Went Full 'Get Off My Lawn'" at The American Conservative.
…That essay, "Delinquents in the Snow" [1957] from the collection God in the Dock, begins with Lewis griping about neighborhood kids who constantly bother him by singing terrible renditions of Christmas carols at his door and expecting money in return. Then, with increasing crankiness, he tells the reader that these are probably the same kids who broke into his shed and stole some stuff recently. Other than Lewis's intuition, there's no connection between the carolers and the discourse on criminal justice that follows. Like I said, it's a weird essay.

Basically, Lewis is angry that the kids who robbed his shed were let off easy by the court and will therefore likely grow up to commit "burglary, arson, rape, and murder." Without any additional evidence, he extrapolates this single event into a nationwide trend and predicts that unless something is done about it, the result will be either an outbreak of vigilante violence or a full-scale revolution.

"Delinquents in the Snow" is full of cringe-inducing moments. Lewis insists on referring to the female judge who gave the delinquents a mere slap on the wrist as "the Elderly Lady," suggesting a lack of respect for women in positions of authority. He also writes that "when the State ceases to protect me from hooligans I might reasonably, if I could, catch and trash them myself." The mental image of a 59-year-old university don beating up children would be funny if I weren't afraid he actually meant it. There's even a hint of Atlas Shrugged in there when he says that by failing to adequately punish crime, society risks pushing middle-class "bearers of what little moral, intellectual, or economic vitality remains" to the point at which "they will snap."
(10) CZECH THAT OUT. Glenn Erickson remembers "Three Fantastic Journeys by Karel Zeman" at Trailers from Hell
…t first it seemed too good to be true, a movie all about the 'fabulous' aventures of one of the two authors I'd read at age nine, Jules Verne. I was visiting my Aunt Virginia (yes, for real) and she dropped me off alone at the theater in Las Vegas. First, I had to sit through a dumb circus movie called Jumbo, probably Bimbo the Great. But then came a movie that looked like a cartoon, but not really. At first I was really disappointed, as were some of the kids in the theater with me. But after just a couple of minutes we were entranced. It wasn't what we expected from a cartoon, or a movie. It was like vintage book illustrations come to life. Every new scene was a wonderment that went beyond the question, 'how'd they do that?'   We were transported to the other side of movie reality, into something like a moving dream. Who knew that this movie and the brilliant sci-fi picture Voyage to the End of the Universe came from a Communist country?  All the names were Anglicized. I had heard of Czechoslovakia in 1962 only because somebody said it had been invaded in a war newsreel.
(11) GREEN LANTERN. DC press release: "Green Lantern 80th Anniversary 100-Page Super Spectacular #1 Arrives May 20, 2020". Tagline: "Comics' Brightest Celebrate Eighty Years of Galactic Peacekeeping."
"In brightest day, in blackest night,
No evil shall escape my sight.
Let those who worship evil's might,
Beware my power, Green Lantern's light."

Since the first Green Lantern was introduced in All-American Comics #16 in May 1940 by artist Martin Nodell and writer Bill Finger, the Green Lanterns have been fan-favorite characters with millions of comic book fans….

To commemorate the 80th anniversary of the original Green Lantern, Alan Scott, DC will be publishing Green Lantern 80th Anniversary 100-Page Super Spectacular #1 on May 20, 2020. Join us to see tales of all of the universe's most legendary Green Lanterns: Alan Scott, Hal Jordan, John Stewart, Guy Gardner, Kyle Rayner, Jessica Cruz and Simon Baz, plus appearances from other cosmic favorites!

In addition to a dynamic cover by Liam Sharp, fans and collectors can also look forward to eight variant covers spotlighting Lanterns throughout the decades, drawn by some of comics' premier artists….
(12) HIGHLANDS AND OUTLANDS. In the Washington Post, Erika Mailman says that many fans of Outlander enjoy visiting the 42 sites in Scotland where filming took place during the first four seasons of the show and gives a guide to where the show films and what fans can see when they visit. "The Outlander Effect: The popular book and TV series is increasing travel to these Scottish sites".
Best-selling author Diana Gabaldon hadn't even set foot in Scotland when she began the book that launched the popular Outlander series. But she's made the country so attractive to readers — and to watchers of the Starz television program, which resumes with Season 5 on Sunday — that the Scottish government's tourism agency gave her an honorary Thistle Award for generating a flood of visitors to the fens, glens, jagged mountains and soft jade landscapes she so alluringly describes. According to numbers from VisitScotland, Outlander has increased tourism by an average of 67 percent at the sites mentioned in the books or used in filming.
(13) ALL ABOARD. Food & Wine says "'Harry Potter' Fans Will Love the Napa Valley Wine Train's New Murder Mystery Experience".
…The "Witches and Wizards" theme will take place on Saturday, October 24, and guests are encouraged to wear witch hats and wizard robes. (If you have a wand, you might as well bring that too.) Like the rest of the murder mystery experiences on the train, it includes a ride on the train, "murder mystery dinner theatre," and a multi-course gourmet meal, which is prepared by executive chef Donald Young…
(14) AN ANTI-SMARTWATCH? That's one description — "Activate This 'Bracelet of Silence,' and Alexa Can't Eavesdrop" in the New York Times.
Last year, Ben Zhao decided to buy an Alexa-enabled Echo speaker for his Chicago home. Mr. Zhao just wanted a digital assistant to play music, but his wife, Heather Zheng, was not enthused. "She freaked out," he said.

Ms. Zheng characterized her reaction differently. First she objected to having the device in their house, she said. Then, when Mr. Zhao put the Echo in a work space they shared, she made her position perfectly clear:"I said, 'I don't want that in the office. Please unplug it. I know the microphone is constantly on.'"

Mr. Zhao and Ms. Zheng are computer science professors at the University of Chicago, and they decided to channel their disagreement into something productive. With the help of an assistant professor, Pedro Lopes, they designed a piece of digital armor: a "bracelet of silence" that will jam the Echo or any other microphones in the vicinity from listening in on the wearer's conversations.

The bracelet is like an anti-smartwatch, both in its cyberpunk aesthetic and in its purpose of defeating technology. A large, somewhat ungainly white cuff with spiky transducers, the bracelet has 24 speakers that emit ultrasonic signals when the wearer turns it on. The sound is imperceptible to most ears, with the possible exception of young people and dogs, but nearby microphones will detect the high-frequency sound instead of other noises.
(15) APRIL SHOWERS BRING MAYFLOWERS. "Mudlarks Scour the Thames to Uncover 2,000 Years of Secrets" in the New York Times.
From ribald tokens from London's Roman past to hints of the Mayflower's fate, mudlarks discover the story of a constantly changing London — but only at low tide….

"What you are looking for are straight lines and perfect circles," she said, her eyes scanning the surface of the mud for man-made artifacts. "They sort of stand out from the natural shapes."

Within minutes she had spotted fragments of a 17th-century jug, the half-face of a bearded man visible in the clay.

The name — mudlark — was first given to the Victorian-era poor who scrounged for items in the river to sell, pulling copper scraps, rope and other valuables from the shore. But more recently the label has stuck to London's hobbyists, history buffs and treasure hunters who scour the river edge searching for objects from the city's past.

Mudlarking's popularity has grown steadily in recent years, driven in part by social media communities where enthusiasts share their finds, and tour groups that offer a trudge through the shards of history's castoffs.

…"I like just to collect what the river decides it's going to leave on that day," Ms. Maiklem said. "It's that element of luck."

But sometimes there are more significant finds, like the first "spintria" found in Britain. Spintriae are Roman bronze tokens, with depictions of sexual acts on one face and a Roman numeral on the other, whose purpose remains uncertain.

And every tide reveals some of the city's varied story: Roman coins, medieval badges worn by religious pilgrims, an elaborate 17th-century watch.

The Thames, the very reason people began settling in the city over 2,000 years ago, is one of the best preservers of London's history. The river has been used many ways over the millenniums — as a highway, a source of food and, most important to mudlarks, as a dump.
(16) OLD VIDEO OF THE DAY. Kirk Douglas drinks coffee with Ray Bradbury, John Barry and John Frankenheimer in Japanese commercials
[Thanks to Dan Bloch, John King Tarpinian, JJ, N., Cat Eldridge, Mike Kennedy, Martin Morse Wooster, Andrew Porter, Patrick Nielsen Hayden, Michael Toman, and Chip Hitchcock for some of these stories. Title credit goes to File 770 contributing editor of the day Jamoche.]