(1) THE TIMES THEY ARE A'CHANGIN'. Gabino Iglesias is the new horror columnist for the New York Times. He told told readers on X.com, "It's a dream come true. Can't wait to bring you all the horror goodness starting in January. Long live horror."
(2) LUKYANENKO EVENT AT WORLDCON VENUE. [Item by Ersatz Culture.] Sergey Lukyanenko will appear December 1 in an event at the Worldcon venue.
In the Friday 24th Scroll, it was mentioned that Sergey Lukyanenko would be making four appearances in Chengdu between December 1st and 4th. Today (November 30th) I saw a Weibo announcement indicating there will be an additional event on December 1st; notably, this one takes place at the SF Museum that was the venue for the Worldcon. I think this may be the first time that the museum has been used or open to the public since the con?
There was also a new Weixin/WeChat blog post from his publisher yesterday (Wednesday 29th); curiously this does not mention the event at the SF Museum.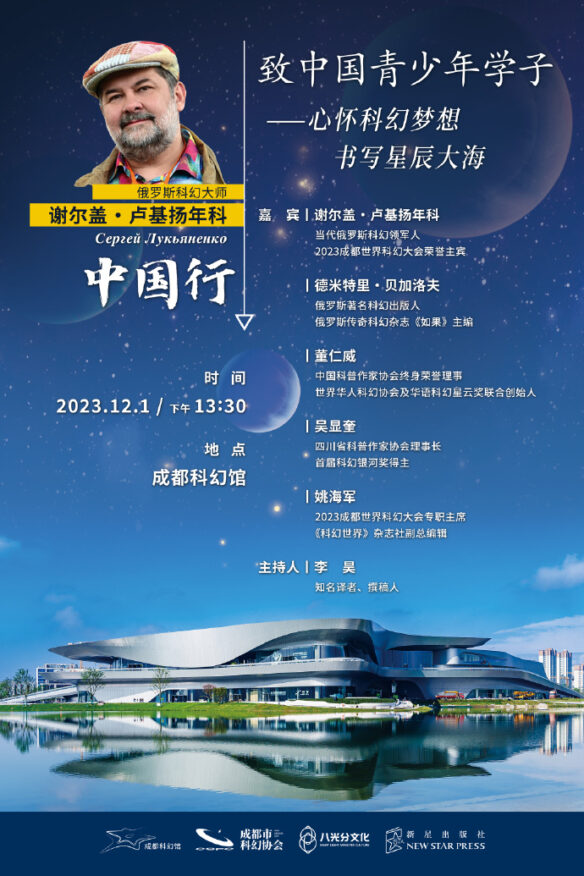 (3) GOLDMAN FUND UPDATE. Dream Foundry reports that they were able to fully fund everyone who applied within the preferred window for the Con or Bust initiative to assist Palestinian creators and fans of speculative fiction in attending the 2024 World Science Fiction Convention.
They still have funds remaining for 2024 and will continue taking applications on a rolling basis. They say –
Don't self reject! Anyone who is a citizen of Palestine or a member of the Palestinian diaspora qualifies and is encouraged to apply.

Applications for the 2025 Worldcon will open in summer of 2024.
(4) FURIOSA TRAILER. The first official trailer has dropped for Furiosa : A Mad Max Saga.
Anya Taylor-Joy and Chris Hemsworth star in Academy Award-winning mastermind George Miller's "Furiosa: A Mad Max Saga," the much-anticipated return to the iconic dystopian world he created more than 30 years ago with the seminal "Mad Max" films. Miller now turns the page again with an all-new original, standalone action adventure that will reveal the origins of the powerhouse character from the multiple Oscar-winning global smash "Mad Max: Fury Road." The new feature from Warner Bros. Pictures and Village Roadshow Pictures is produced by Miller and his longtime partner, Oscar-nominated producer Doug Mitchell ("Mad Max: Fury Road," "Babe"), under their Australian-based Kennedy Miller Mitchell banner. As the world fell, young Furiosa is snatched from the Green Place of Many Mothers and falls into the hands of a great Biker Horde led by the Warlord Dementus. Sweeping through the Wasteland, they come across the Citadel presided over by The Immortan Joe. While the two Tyrants war for dominance, Furiosa must survive many trials as she puts together the means to find her way home.
(5) A GOOD TONGUELASHING. "Adam Sandler's 'Leo': A Crotchety Old Lizard Helping Kids Be Kids" at Animation World Network.
Hitting Netflix [on November 21] is Leo, a clever and charming coming-of-age animated musical comedy starring noted actor and comedian Adam Sandler as a curmudgeonly 74-year-old iguana, stuck living for decades in an elementary school class terrarium, who plots his escape – complete with an odd bucket list – after learning he only has one year to live. At the same time, he can't help but offer friendly advice to a bunch of kids who each must take him home for a weekend, only to discover – and swear to keep secret – that he can talk…

… The idea for the film gestated with Sandler for eight years. "Basically, I had the idea of looking at an elementary school graduation, almost like in Grease, the kids' last year of elementary school, and how you're moving on to the big leagues after that," he shares. "And me and my friend, Paul Sado, were working on that idea. And then I told Robert Smigel about it, and he said, 'What about if you do it that year, but through the eyes of a class pet that's been involved in that grade forever?' And we got excited, and that's when everything got flowing."…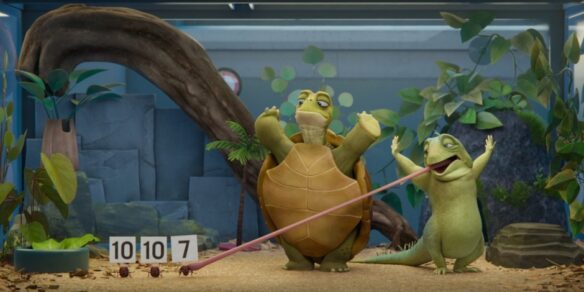 (6) PAGE-TURNER. Jay of Tar Vol On posted an extra-large magazine review this month, with thoughts on 35 different works of short SFF and a little bit of related non-fiction. "Tar Vol Reads a Magazine: November 2023".
… the piece that inspired me to pick up this issue [of Asimov's] in the first place: "Berb by Berb" by Ray Nayler. This story is connected to some of his other work that I haven't yet read, but it makes an acceptable standalone, delivering a heartfelt tale of one person trying to do the best they can in a world that has gone to pieces around them. It's a theme Nayler returns to often, and it makes for a good read every time. ..
(7) HOME IS THE SPACEMAN. Neil Clarke tells about his adventures at the Chengdu Worldcon in his Clarkesworld editorial, "This Would Have Been Longer". He was impressed by how many children were at the con, and participated in the Hugo ceremony.
…Oh! That's me up there with "little astronaut" after unexpectedly winning the Hugo Award for Best Editor Short Form. Those are two of the hosts of the event on the left and the gentleman on the right is convention Co-Chair Chen Shi, who presented the category. I actually had a speech written this time, but in the moment, I opted to abandon it and try to speak from what I was feeling instead. Probably not the brightest thing to do, but I wanted to say something to the kids watching now or later. I let them know that I was once like them and never believed that I would someday be up on this stage accepting an award I considered the domain of my childhood heroes. I told them that I hoped to be in the audience and watch them win one someday. I encouraged them to try, told them it wasn't easy and that people might tell them it wasn't possible . . . but it is.

After the ceremony, I was whisked off to do interviews. They had maybe two dozen reporters from a variety of outlets present and asking questions. It kept me from enjoying part of the after party with friends, but how often does a Hugo winner get that kind of attention? I understood and appreciated the novelty of it, and besides, they weren't asking me about AI, so that's progress, right?…
(8) YOU'VE HEARD HER WORK. [Item by Steven French.] "Jane Horrocks: 'I'd love to be a baddie in a Tarantino movie'", so she told the Guardian. Horrocks voices Babs, one of the chickens in Chicken Run and also starred with Anjelica Huston in Jim Henson's film of Roald Dahl's The Witches.
When did you discover you had an amazing voice? chargehand
From starting impersonations, really. My first impersonation was Julie Andrews when I got The Sound of Music album when I was nine. I fell in love with sounding like Julie. My mum and dad were massively into Shirley Bassey and I found I could impersonate her and Barbra Streisand. That's when I started to realise that utilising my voice was going to be a good thing for me. It's brought me a lot of pleasure, and I've made people laugh, which is great.
(9) NEW TO U.N.I.T. A disabled character is featured in the latest episode of Doctor Who. The actress discusses her role with Radio Times. Beware spoilers, maybe; I'm not sure.
"She is just so fun and feisty and ballsy – she's just so much fun to play," Doctor Who star Ruth Madeley says of her character Shirley Anne Bingham. "I'd love to be more like Shirley in my real life, I have got nowhere near that much cool in me!"

Madeley made her spectacular on-screen Doctor Who debut in The Star Beast as UNIT's 56th scientific advisor. In the space of the 57-minute special, she got David Tennant's Doctor out of some very sticky situations – and took absolutely none of his nonsense.

"Overall she is not overly impressed by anyone or anything, which I love about her because I am the complete opposite. That's really fun to play," Madeley tells RadioTimes.com….
(10) WHO PREVIEW. "Doctor Who debuts new scene from next episode Wild Blue Yonder" at Radio Times.
The veil of secrecy surrounding the next episode of Doctor Who, Wild Blue Yonder, is slowing beginning to lift, with the BBC dropping a first-look clip….

… In the new clip, Donna is left panicked when the TARDIS disappears, with the Doctor promising to return her home to her daughter Rose. But it appears someone – or something – is watching them……
(11) TODAY'S BIRTHDAY.
[Written by Cat Eldridge.]
Born November 30, 1906 — John Dickson Carr. (Died 1977.) As you know, we don't do just sff genre Birthdays here and so it is that we have here one of my favorite mystery writers, John Dickson Carr. Indeed I'm listening to The Hollow Man, one of his Gideon Fell mysteries.
He who wrote some of the best British mysteries ever done was himself not British being American. Oh the horror. He did live there for much of the Thirties and Forties, marrying a British woman.
Dr. Fell, an Englishman, lived in the London suburbs. Carr wrote twenty-seven novels with him as the detective. I'm listening to The Hollow Man because it's considered one of the best locked room mysteries ever done. Indeed, Dr. Fell's discourse on locked room mysteries in chapter reprinted as a stand-alone essay in its own right.
All of the Fell novels are wonderful mysteries. The detective himself? Think a beer drinking Nero Wolfe who's a lot more outgoing. Almost all of the novels concern his unraveling of locked room mysteries or what he calls impossible crimes. Of these novels, I've read quite a number and they're all excellent.
Now let's talk about Sir Henry Merrivale who created by Carter Dickson, a pen name of John Dickson Carr. (Not sure why he bothered with such a thinly-veiled pen name though.) Merrivale was like Fell an amateur detective who started who being serious but, and I'm not fond of the later novels for this, become terribly comic in the later novels. Let me note that Carr was really prolific as there were twenty-two novels with him starting in the Thirties over a thirty-year period. One of the finest is The White Priory Murders which was a Wodehousian country weekend with yet another locked room mystery in it. 
He also, as did other writers of British mysteries, created a French detective, one by the name of Henri Bencolin, a magistrate in the Paris judicial system. (Though I've not mentioned it, all of his mysteries are set in the Twenties onward.) Carr interestingly has an American writer Jeff Marle narrating the stories here and he describes Bencolin as looking and feeling Satanic. His methods are certainly not those of the other two detectives as he's quite rough when need be to get a case solved.
There are but four short stories and five novels of which I think The Last Gallows is the best.
With Adrian Conan Doyle, the youngest son of Arthur Conan Doyle, Carr wrote some Sherlock Holmes stories that were published in The Exploits of Sherlock Holmes collection. Not in-print but used copies available reasonably from the usual suspects.
He was also chosen by the estate of Sir Arthur Conan Doyle in 1949 to write the biography of the writer. That work, The Life of Sir Arthur Conan Doyle, is in-print in a trade paper edition.
(12) COMICS SECTION.
(13) ARTILLERY AND JOSEPHINE. Haley Zapal is the first reviewer I've seen who is genuinely enthusiastic about Ridley Scott's Napoleon. Find out why in "Review: Napoleon" at Nerds of a Feather.
…The scenes where men and horses fall into the water are brilliant and artistic. There are things in Napoleon that I definitely have never seen before, and that's wild considering director Scott is nearing 90. There is also absolutely brutal gore that makes Saving Private Ryan seem like Hogan's Heroes….
(14) IT'S WASHED. Applause to Arturo Serrano for being one of the rare folk reviewing The Marvels who talks about the movie instead of its box office. But he's no fan of the movie either: he rates "On the woes of 'The Marvels'" only 5on a scale of 10 at Nerds of a Feather.
Someone at Marvel Studios should have pointed out that being simultaneously a sequel to WandaVision, Captain Marvel, Ms. Marvel and Secret Invasion and providing two sequel teases was too much weight to load onto the shoulders of one movie. But we've played this tune before: Marvel movies are doomed to be mere links in a neverending chain, each forgettable villain is just there to get the pieces in position for the next entry, what you see isn't most of what the director intended, and so on. To keep going to theaters for a Marvel movie is by now a thoughtless habit, like grabbing one more potato chip when you know you're full….
(15) IT'S COLD OUTSIDE. The New York Times covers "A Video Game That Doubles as a World War I History Lesson". "Last Train Home tells an overlooked story of the Czechoslovak Legion's evacuation across Russia in the embers of the Great War."
… Foregrounding historical accuracy was a priority for Ashborne's first original game, Last Train Home, which retells the Legion's rolling evacuation eastward across Russia in the embers of the war. Its journey for homebound ships at the port of Vladivostok was tangled in Russia's internal conflict between Bolshevik and anti-Bolshevik armies….

…Jos Hoebe, the founder of BlackMill Games and a longtime producer of World War I shooters, said video game developers had a responsibility to get details correct, especially when a particular battle or event has few depictions in popular culture. For his games, Hoebe digests historical documents in an attempt to understand the average soldier and shed light on overlooked aspects of combat.

"It feels like we're responsible for creating the image that people have of this theater of war," Hoebe said.

Last Train Home is a real-time strategy game in which the player orders specialized squads around rural battlefields. Scouts clear the fog of war, riflemen charge at enemies — usually the Bolshevik Red Army — and medics heal wounds. Another significant portion of the game is managing the armored train and exhausted infantry while fighting disease, starvation and the cruel Siberian cold…..
(16) THE DOOR INTO WINTER. Here's an interesting artifact at Fullerton Arms Ballintoy: Giant's Causeway North Coast Guesthouse and Restaurant in Ireland.
In 2016, Storm Gertrude ripped up some centuries-old beeches from the avenue known as Dark Hedges, (familiar to Game of Thrones fans as the Kingsroad). Ten doors, fashioned from the fallen trees, were carved with scenes from the cult TV show and placed in 10 pubs with Thrones connections in Northern Ireland. A fierce dragon embellishes the deep-brown polished door in Ballintoy's Fullerton Arms. From the pub, it's 20 minutes' walk down a dramatic winding road to the cliff-ringed harbour, used to film scenes involving Theon Greyjoy in the Iron Islands. The steep climb back up will help build an appetite for the pub's rope-grown mussels or seafood chowder, and Northern Irish specialities such as champ (mash with spring onions).
Doubles from £60 B&B
(17) NONE DARE CALL IT "LIP-SYNCHING". A ventriloquist and his dummy sing "'Time Warp' from The Rocky Horror Picture Show".
"Time Warp" from The Rocky Horror Picture Show, a song by Nell Campbell, Patricia Quinn, and Richard O'Brien as sung by Terry Fator and Walter In this video Terry is singing live without moving his lips, 100% guaranteed!
[Thanks to SF Concatenation's Jonathan Cowie, Mike Kennedy, Andrew Porter, Steven French, John King Tarpinian Chris Barkley, and Cat Eldridge for some of these stories. Title credit belongs to File 770 contributing editor of the day Hampus Eckerman.]