(1) HERE COMES THE SUN (STAMPS). On June 16 the United States Postal Service will release a series of stamps highlighting images of the Sun captured by NASA's Solar Dynamics Observatory. Order them online here.
…The 20-stamp set features ten images that celebrate the science behind NASA's ongoing exploration of our nearest star. The images display common events on the Sun, such as solar flares, sunspots and coronal loops. SDO has kept a constant eye on the Sun for over a decade. Outfitted with equipment to capture images of the Sun in multiple wavelengths of visible, ultraviolet, and extreme ultraviolet light, SDO has gathered hundreds of millions of images during its tenure to help scientists learn about how our star works and how its constantly churning magnetic fields create the solar activity we see.
"Just don't stare at them directly," says Daniel Dern.
(2) DAS Q&A. "Interview: Indra Das, author, science fiction and fantasy novels" in the Hindustan Times.
How did the idea of The Devourers, your last novel, take shape?During my undergraduate years, I attended a baul mela in Kolkata, and, while intoxicated, had a vision (not quite literally, but almost) while protecting a kitten in the mela ground from a circling pack of dogs, of being in the same spot hundreds of years earlier, listening to minstrels around a campfire in the dark wilderness, while monsters hunted us. When I returned from winter break to college, I turned that into a short story in a Creative Writing class, which eventually turned into the first chapter of The Devourers a while later, when I was in grad school.
(3) ALL THE KING'S PUBLICISTS. Stephen King wrote the adaptation of his book Lisey's Story that's coming to Apple TV+, and is getting a lot of coverage about it. The New York Times interviewed him: "Stephen King on Why 'Lisey's Story' Was One He Had to Adapt Himself".
… Alone, but not: It's a theme that courses through King's sweeping body of work, and it returns for several characters across layers of time and space in "Lisey's Story," which begins Friday on Apple TV+. Julianne Moore stars as Lisey Landon, the widow of Scott Landon, a famous novelist (played by Clive Owen) whose childhood traumas drove him to forge a connection to a transdimensional world called Boo'ya Moon.

As vividly depicted in the show, Boo'ya Moon is a place of tranquil beauty, like a Pre-Raphaelite wonderland. But it's also menacing terrain, where cloaked figures sit silently inside a massive amphitheater awaiting resolutions to earthly traumas…
SYFY Wire talked to the producer: "J.J. Abrams on Lisey's Story and why Stephen King adaptations are booming right now".
… Even among the many other King adaptations that have recently emerged or are set to arrive in the near future, the Apple TV+ series based on King's 2006 novel feels especially important, because King himself has said so. He counts Lisey's Story among his personal favorite works, and holds it so dear that he took it upon himself to script all eight episodes of the miniseries for director Pablo Larrain (Jackie)….
Hear King himself speak about it on today's CBS Sunday Morning.
(4) LIFE IN THE UNIVERSE. Hear author of Light of the Stars Adam Frank in a free webinar co-sponsored by the Arthur C. Clarke Center for Human Imagination – register and maybe win a book: Adam Frank Webinar & Giveaway.
The search for life in the Universe is undergoing a profound renewal. Thanks to the discovery of thousands of planets orbiting other stars, the introduction of new observing technologies, and increased support from both public and private sectors, a new science of searching for "techno-signatures" is emerging.

In this talk Dr. Frank will unpack this frontier area, discussing what counts as a techno-signature; how to be systematic in thinking about exo-civilizations and their evolution; what techno-signatures can tell us about our own future. He believes that within the next few decades we will likely have actual data relevant to the question life, perhaps even the intelligent kind, in the Universe.

Dr. Adam Frank is a leading expert on the final stages in the evolution for stars like the Sun, but his current work also focuses on life in the universe. His research group at the University of Rochester has developed advanced supercomputer tools for studying how stars form and how planets evolve. His most recent book is Light of the Stars: Alien Worlds and the Fate of the Earth, which won the 2019 Phi Beta Kappa Award for Science. He has written two other books, The Constant Fire: Beyond the Religion and Science Debate, and About Time: Cosmology and Culture at the Twilight of the Big Bang. He is the co-founder of the blog 13.8 on BigThink.com and an on-air commentator for NPR's All Things Considered.
(5) ON THE AIR. A half hour segment of The Martian Chronicles is part of the WAMU's "The Big Broadcast: June 13, 2021".
We're celebrating 5 years tonight of Murray Horwitz as host of The Big Broadcast! Join us for some of our favorites, including Orson Welles, Fred Allen, Lucille Ball and The Whistler — as well as our usual Dragnet, Yours Truly Johnny Dollar and Gunsmoke….

7:30 p.m. Dimension X "Martian Chronicles" (Original air date August 18, 1950. NBC network.) (Running time 30:19)
(6) SFF AND THE BIG QUESTIONS. "Exploring Tomorrow: Meaningful Science Fiction and Life's Big Questions" is Mikel J. Wisler's podcast:
Can science fiction save the world? Author and filmmaker, Mikel J. Wisler, explores the themes and ideas presented in a wide range of sci-fi movies and books from various time periods. Convinced that sci-fi is the most naturally philosophical genre, Wisler invites everyone from die-hard fans to casual observers to dive into meaningful conversations about how sci-fi helps us think about our future, brings up challenging scenarios, and forces us to ask big questions.
Astounding author Alec Nevala-Lee is interviewed in Episode 25.
(7) NED BEATTY (1937-2021). Actor Ned Beatty died June 13 at the age of 83. Best known for his work in Deliverance and Network, his genre roles included Lex Luthor's (Gene Hackman) bumbling sidekick Otis in Superman (1978) and its 1980 sequel. He was in Exorcist II: The Heretic (1977). He voiced Lotso in Toy Story 3 (2010) and The Mayor in Rango (2011). And he has another two dozen lesser genre credits.
(8) MEDIA BIRTHDAY.
June 13, 1980 — On this date in 1980, The Girl, the Gold Watch & Everything premiered in syndication as distributed by Paramount Television. Based on the John D. MacDonald novel of the same name, it was written by George Zateslo and directed by William Wiard. Myrl A. Schreibman Was the producer. It starred Robert Hays, Pam Dawber, Zohra Lampert, Jill Ireland, Ed Nelson and Maurice Evans.
(9) TODAY'S BIRTHDAYS.
[Compiled by Cat Eldridge.]
Born June 13, 1892 — Basil Rathbone. He's best remembered for being Sherlock Holmes in fourteen films made between 1939 and 1946 and in a radio series of the same period. For films other than these, I'll single out The Adventures of Robin Hood (all Robin Hood is fantasy), Son of Frankenstein and Voyage to the Prehistoric Planet. (Died 1967.)
Born June 13, 1893 — Dorothy Sayers. ISFDB often surprises me, and having her listed as writing four stories in the genre did it again. All of them were written in the Thirties and here they are: "The Cyprian Cat", "The Cave of Ali Baba", "Bitter Almonds" and "The Leopard Lady". So, who here has read them and can comment on them being genre or not? (Died 1957.)
Born June 13, 1903 — Frederick Stephani. Screenwriter and film director who is best remembered for co-writing and directing the 13-chapter Flash Gordon serial in 1936. He directed Johnny Weissmuller's Tarzan's New York Adventure (aka Tarzan Against the World). He was also an uncredited writer on 1932's Dracula. (Died 1962.)
Born June 13, 1943 — Malcolm McDowell, 78. My favourite role for him was Mr. Roarke on the rebooted Fantasy Island. Of course his most infamous role was Alex in A Clockwork Orange. Scary film that. His characterization of H. G. Wells in Time After Time was I thought rather spot on. And I'd like to single out his voicing Arcady Duvall in the "Showdown" episode of Batman: The Animated Series.
Born June 13, 1949 — Simon Callow, 72. English actor, musician, writer, and theatre director. So what's he doing here? Well he got to be Charles Dickens twice on Doctor Who, the first being in "The Unquiet Dead" during the time of the Ninth Doctor and then later during "The Wedding of River Song", an Eleventh Doctor story. He'd also appear, though not as Dickens, on The Sarah Jane Adventures as the voice of Tree Blathereen in "The Gift" episode. I've not watched the series. How is this series? He was also The Duke of Sandringham in the first season of Outlander.
Born June 13, 1953 — Tim Allen, 68. Jason Nesmith in the much beloved Galaxy Quest. (Which of course won a much deserved Hugo Award for Best Dramatic Presentation at Chicon 2000.) He actually had a big hit several years previously voicing Buzz Lightyear in Toy Story which would be the first in what would become a long-running film franchise.
Born June 13, 1963 — Audrey Niffenegger, 58. Her first novel was The Time Traveler's Wife. She has stated in interviews that she will not see the film as only the characters in the novels are hers. Good for her. Raven Girl, her third novel about a couple whose child is a raven trapped in a human body, was turned into performed at the Royal Opera House.
Born June 13, 1969 — Cayetana Guillén Cuervo, 52. She's got the role of Irene Larra in El Ministerio del Tiempo (The Ministry of Time), a Spanish SF series which sounds fascinating but which I've not seen. Anyone here seen it? Not fond of captioning, but I'd put up with it to see this.
(10) COMICS SECTION.
(11) JEMISIN & COMPANY. DC Comics tells what makes its latest Green Lantern exceptional: "Jo Mullein and Far Sector Are Out of This World".
…Sojourner "Jo" Mullein's impact is not defined by the fact that she's the first Black, queer woman to ever hold the mantle of Green Lantern. Or by the fact that N.K. Jemisin, Jamal Campbell and Deron Bennett are one of the first all-Black creative teams to helm a Green Lantern title. Those are huge factors in just what makes the book special, of course, but what truly makes Far Sector and its hero feel so groundbreaking is the imaginative exploration of what it means to be a Green Lantern and the innate understanding of how that very imagination is at the core of what makes the hero great. Where some Green Lantern stories feel stymied by a lack of the thing that gives the Power Ring its magic, Far Sector pulses with imagination on every page….
(12) NEW HANDS AT THE HELM. "'The Lord Of The Rings' Goes On: Anime Film 'The War Of The Rohirrim' In Works At New Line" – Deadline has the story.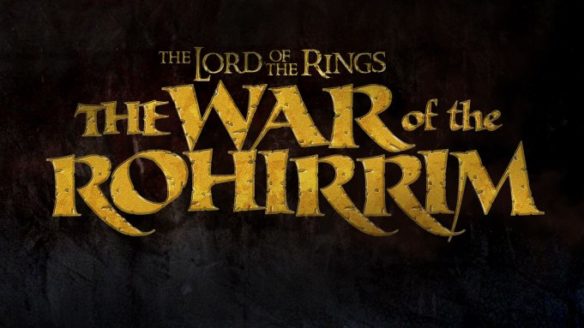 The J.R.R. Tolkien franchise is heading back to the big screen in a fresh New Line and Warner Animation anime title The Lord of the Rings: The War of the Rohirrim. I'm told that the Oscar-winning feature architects Peter Jackson and Fran Walsh are not involved with the project as we speak, but that will be determined down the road. Oscar-winning Lord of the Rings: Return of the King scribe Philippa Boyens will be a consultant on the new project directed by Kenji Kamiyama. The pic is being fast-tracked with animation work done by Sola Entertainment. Voice casting is currently underway. Pic will be distributed around the globe by Warner Bros. Pictures.

The War of the Rohirrim focuses on a character from the book's appendix, the mighty King of Rohan, Helm Hammerhand, and a legendary battle which helped shaped Middle-earth heading into LOTR. The anime pic will expand the untold story behind the fortress of Helm's Deep, delving into the life and bloodsoaked times of Hammerhand. Overall, the movie is a companion piece to New Line's LOTR trilogy and is set roughly 250 years before that movie during the third age (Note Amazon's upcoming Lord of the Rings mini-series is set during the second age).

Kamiyama has been behind such anime projects as Blade Runner: Black Lotus and the TV series Ghost in the Shell: Stand Alone Complex. Joseph Chou (Blade Runner: Black Lotus) will produce. Jeffrey Addiss and Will Matthews (The Dark Crystal: Age of Resistance) are writing….

"This will be yet another epic portrayal of J.R.R. Tolkien's world that has never been told before. We're honored to partner with much of the incredible talent behind both film trilogies, along with new creative luminaries to tell this story," said Sam Register, President of Warner Bros. Animation. "And so it begins."
(13) TOURISTS, ASSEMBLE! See a replay of the Avengers Campus Opening Ceremony from Disney California Adventure park.
[Thanks to JJ, Michael Toman, John King Tarpinian, Daniel Dern, Rich Lynch, Darrah Chavey, Cat Eldridge, Mike Kennedy, Andrew Porter, and Martin Morse Wooster for some of these stories. Title credit belongs to contributing editor of the day Daniel Dern.]