(1) SPEAK FRIEND. Guy Gavriel Kay will deliver the 2021 J.R.R. Tolkien Lecture on Fantasy Literature, an annual lecture on fantasy literature held at Pembroke College, Oxford. The digital lecture will take place on Tuesday, May 11th, 6 PM BST (1 PM ET).
Kay has published fourteen novels which have been translated into 30 languages and have appeared on bestseller lists around the world. He is also the author of the poetry collection, Beyond This Dark House. His most recent work is A Brightness Long Ago.

Before beginning his career as a novelist, Kay was retained by the Estate of J.R.R. Tolkien to assist in the editorial construction of The Silmarillion, the first and best-known of the posthumously published Tolkien works. Called to the Bar of Ontario in 1980, he has also been principal writer and associate producer for the CBC's award-winning crime-drama series, The Scales of Justice.
Register to attend on Zoom, or watch the livestream on their YouTube channel. Zoom capacity will be limited but YouTube capacity is not. Both Zoom and YouTube will broadcast at the same time.
(2) WHEN EVERYONE GOES BLISSFULLY ASTRAY. Yahoo! reports two LOTR actors are starting a podcast in May. "'The Lord Of The Rings': Dominic Monaghan & Billy Boyd Launch Podcast".
The pair, who played hobbits Merry and Pippin in The Lord of the Rings, are launching a podcast about the hit film franchise.

The duo are launching The Friendship Onion with podcast producer Kast Media and the series will premiere on May 18. They will bring banter, stories and comedy to the podcasting space, each week digging into the latest in pop culture, put fans' Lord of the Rings knowledge to the test, reveal exclusive stories from filming and maybe even welcome surprise drop-ins from famous faces.

Monaghan, who is also known for his role on Lost, played Meriadoc 'Merry' Brandybuck in the films, close friend to Frodo Baggins, and along with Peregrin 'Pippin' Took, played by Boyd members of the Fellowship of the Ring.

The Friendship Onion will be available weekly on Spotify and across all podcast platforms, including video simulcast episodes on YouTube….
(3) STRANGE AT ECBATAN THE QUIZ. Rich Horton has challenged readers with a 17-question quiz: "Quiz: Images of Aliens in SF".
Following is a quiz I wrote for an online trivia league I am in. The subject matter is aliens in SF books, movies, TV, or comic books. Each question is accompanied by an image of the alien. The quiz ran over the weekend. Some of you may know the winner, David Goldfarb, who was prominent on the great Usenet newsgroup rec.arts.sf.written back in its glory days. Tom Galloway, another prominent fan known for his trivia knowledge, also did very well.

I need to thank Steven Silver and John O'Neill (as well as several members of the trivia league) for helping me improve the question set, including some excellent proposed questions.

I will post the answers in a day or two. If you want, you can post your guesses in the comments.

1. There are many aliens depicted in the Marvel Cinematic Universe. This alien race may be hard to depict definitively, as they are shapeshifters, but they do have a typical form. They appeared in Captain Marvel in the MCU, and in the comics as early as an issue of Fantastic Four in 1962. What is the name of this alien race? Click here

2. What's the common name for this cowardly species featured in many of Larry Niven's Known Space stories? The name is perhaps ironic as this species doesn't seem to have the appendages normally used by the human performers known by that name. Click here …
(4) KGB. Fantastic Fiction at KGB reading series hosts Ellen Datlow and Matthew Kressel present Rebecca Roanhorse and Angela Slatter in a YouTube livestream on May 19 at 7:00 p.m. Eastern. Link to come – check back at the KGB site.
Rebecca Roanhorse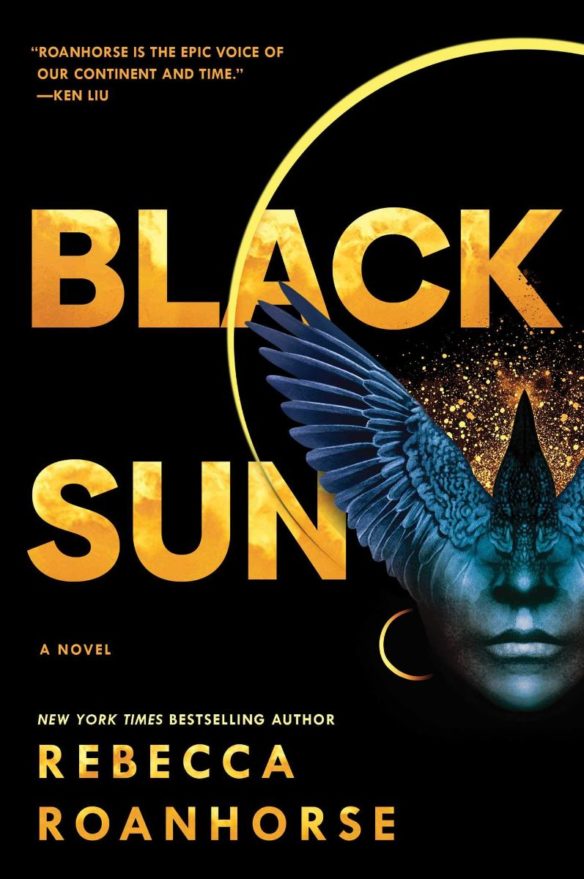 Rebecca Roanhorse is NYTimes bestseller and an award-winning speculative fiction writer. Her latest novel, Black Sun, was recently nominated for the Nebula award for Best Novel of 2020. She has short fiction published in Apex Magazine, Uncanny, and multiple anthologies. She has also written for Star Wars, Marvel , and for TV. She lives in Northern New Mexico.
Angela Slatter
Angela Slatter in a multi-award-winning Australian writer of dark fantasy and horror. Her latest publications are the gothic fairytale novel All the Murmuring Bones from Titan, and the mosaic collection The Tallow-Wife and Other Tales from Tartarus Press. She has a PhD, teaches for the Australian Writers' Centre, and is trying to finish a new gothic novel, Morwood.
(5) REHABILITATING "SOLO". Mike Ryan, the senior pop culture reporter at UpRoxx makes a credible argument in favour of everyone's most forgotten Star Wars movie: Solo. "You Know, 'Solo' Is Actually A Lot Of Fun".
if you haven't watched Solo in a while, away from all the drama and (maybe for you) bad lighting, give it another shot. It might just be the most pure fun Star Wars movie we've gotten from this era so far.
(6) SUE BURKE Q&A. Nerds of a Feather's Andrea Johnson supplies the questions for "Interview: Sue Burke, Author of Immunity Index".
NOAF: Secret sisters, a geneticist studying illegal technology, and a deadly virus. What inspired this story, and how did all those elements get into the story?

SB: The initial central question of the story is identity. What makes us the same and different? Some of it is genetics, and some of it is life experiences. What makes those differences stand out? People show their true nature in a disaster. Because the story is about genetics, I brought more genetics and more disaster into it. The elements posed a lot of questions, and the story resulted from one set of answers.
(7) ASIMOV'S SF EDITOR HAS THE ANSWERS. The Odyssey Writing Workshop shares "Odyssey Podcast #138: Sheila Williams".
Award-winning editor Sheila Williams was a guest lecturer at the 2020 Odyssey Writing Workshop. In this excerpt from a question and answer session, she answers questions about her editorial process, story endings, and what differentiates a good story from a story that she buys.

Sheila is the multiple Hugo Award-winning editor of Asimov's Science Fiction magazine. She is also the winner of the 2017 Kate Wilhelm Solstice Award for distinguished contributions to the science fiction and fantasy community.
(8) COSINE COMING BACK. COSine, the Colorado Springs, CO convention, will be held in person once more next January 14-16.
Last June we had to make the difficult decision to postpone COSine 2021. After that we put ourselves into suspended animation until such time as a vaccine for COVID was available and an appropriate supply of lemon-soaked paper doilies could be acquired.

Well, the doilies arrived, and most of us have aching arms, so it looks like we are on track for COSine 2022:

Guest of Honor: C.J. Cherryh
Artist Guest of Honor: Jane Fancher
Special Guests: Connie Willis & Courtney Willis

Our lowest rates for registration are available through the end of October, but if you want to sign up now, you can beat the Halloween rush! At the very least, please make sure that we are on your calendar.
(9) HORROR UNIVERSITY. It's time to enroll for the virtual Horror University, part of the Horror Writers Association's StokerCon coming May 20-23. See the session schedule at the link. One session, $55/members, $65/nonmembers; multiple-session discounts available.
Horror University is one of the most successful and popular aspects of StokerCon™. We are proud to present another great series of workshops for StokerCon™ 2021. Horror University furthers the Horror Writers Association's focus on education with a curriculum run by some of the best and brightest in the horror field.

HORROR UNIVERSITY offers a series of 90 minute to two-hour workshops. They are not your typical workshop experiences—they are hands-on, intensive classes that include interactive activities and exercises. Workshop registration will open April 12. Workshops for this year's Horror University will be virtual, part of Horror University Online. All HU courses will be run through the Horror University School on Teachable.com and require separate registration and additional payment as has been the practice at all past StokerCons.

All workshops are in Eastern Standard Time. Click the workshop titles in the table below for more detailed information about each workshop and instructor. Pricing is provided below.
(10) THEY DIDN'T ABANDON HOPE. Sarah Gailey's new "Building Beyond" writing prompt is "See You In Hell". Amanda Hamilton and Brendan Williams-Childs play along.
Hell is an urban metropolis in the middle of a sprawling agrarian underworld. You've just moved to a farm about six hours upstate from Hell.

Amanda Hamilton (she/her) is a chaos scheduler for her spouse, daughter and myriad pets. She's also a fundraising professional, primarily focused on corporations and foundations these days. When not managing various and sundry to-do lists, she likes to read and nap and read some more.

Gailey: What is it about Hell that made you decide to move?

They always said that if you could make it in Hell, you could make it anywhere. Well, after a decade of (barely) making it, I was done….
(11) PREDICTING THE PRESENT. Salon did a Q&A with Andy Weir and put one of his quotes in a headline: "'I don't want to be L. Ron Hubbard': Andy Weir on writing escapism & new book 'Project Hail Mary'".
…At its core, science fiction as a genre reflects the fears, anxieties, politics, events, and mood of the present. Thus, the immediate question: What type of science fiction (and speculative fiction more broadly) will the Age of Trump and its aftermath produce?

In an effort to answer that question I recently spoke with author Andy Weir whose first best-sellling novel "The Martian" was adapted by Ridley Scott into a 2015 blockbuster feature film of the same title starring Matt Damon. Weir's other work includes the novel "Artemis" and the beloved short story "The Egg."…

What type of science fiction writing and other works – and creative arts more generally – do you think are going to come out of this moment?

My book "Project Hail Mary" was finished before the pandemic. The story involves an alien microbe. It may seem that "Project Hail Mary" is somehow-pandemic related, but that is just pure coincidence. Moreover, this microbe does not infect humans; it infects stars in outer space.

I honestly do not know what is going to come out of this.

I do not think that there is going to be quite as much disease-related science fiction, as one might suspect. We are all going through this pandemic, and when it's over, it will be a common experience. It is not really something we are going to enjoy reminiscing about. We will never forget the experience with the pandemic, but it is not something we are going to want to mentally relive.

My instinct is that the pandemic experience is not going to impact science fiction very much because science fiction and fantasy are on a basic level about escapism. Spend some time in the world of this book so that you can enjoy yourself away from the world that you live in. The last thing anybody wants is for a book to drag them back to the world that they live in.
(12) TODAY'S BIRTHDAYS.
[Compiled by Cat Eldridge and John Hertz.]
Born May 5, 1856 – W.W. Denslow. First illustrator of Baum's Wizard of Oz; also illustrated Baum's Father Goose and Dot and Tot of Merryland. Designed the sets and costumes for the 1902 stage version of Wizard. Illustrated Denslow's Mother Goose, Denslow's "Night Before Christmas", 18-vol. Denslow's Picture Books. Comic strip Denslow's Scarecrow and Tin Man. Newspaper reporter, editorial cartoonist, poster artist. Designed books and bookplates. (Died 1915) [JH]
Born May 5, 1907 – Pat Frank. Wrote what I've long thought the best-made atomic-bomb-and-after novel Alas, Babylon; two more novels, one shorter story for us; two other novels; memoir; journalism. Office of War Information overseas correspondent during World War II. American Heritage Foundation Award. (Died 1964) [JH]
Born May 5, 1942 — Lee Killough, 79. Author of two series, the Brill and Maxwell series which I read a very long time ago and remember enjoying, and the Bloodwalk series which doesn't ring even a faint bell. I see she's written a number of stand-alone novels as well – who's read deeply of her? (CE)
Born May 5, 1943 — Michael Palin, 78. Monty Python of course. I'll single him out for writing the BFA winning Monty Python's The Meaning of Life and co-writing the BSFA winning Time Bandits with Terry Gilliam. And it might be at least genre adjacent, so I'm going to single him out for being in A Fish Called Wanda for which he won the BAFTA Award for Best Actor in a Supporting Role. (CE)
Born May 5, 1944 – Dave Locke. Active fanziner, e.g. Awry; electronic zine Time and Again. Loved by some, annoyed others (can this surprise you?), or both. Among his best, What do birds of a feather do? Dave Locke. More here. (Died 2012) [JH]
Born May 5, 1944 — John Rhys-Davies, 77. He's known for his portrayal of Gimli and the voice of Treebeard in the Lord of the Rings trilogy, General Leonid Pushkin in The Living Daylights, King Richard I in Robin of Sherwood, Professor Maximillian Arturo in Sliders, a most excellent Hades in the animated Justice League Unlimted series, Hades in Justice League and Sallah in the Indiana Jones films. Oh, and voicing Macbeth in the exemplary Gargoyles animated series too.(CE)
Born May 5, 1957 — Richard E. Grant, 64. He first shows up in our world as Giles Redferne in Warlock, before going on to be Jack Seward in Bram Stoker's Dracula. On a lighter note, he's Frederick Sackville-Bagg in The Little Vampire, and the voice of Lord Barkis Bittern in Corpse Bride. He breaks into the MCU as Xander Rice in Logan, and the Star Wars universe by being Allegiant General Enric Pryde in Star Wars: The Rise of Skywalker. (CE)
Born May 5, 1958 – Ingrid Nielson, age 63. Drawings pp. 15, 21, Program Book for ConFederation the 44th Worldcon; see here (PDF). Photo of her & Andre Norton here. Moderated panel "ASFA [Ass'n of Science Fiction & Fantasy Artists of America] and the Chesleys" at Chicon VI the 58th Worldcon. 2010 Chesley "for work on the Chesley Awards for 20+ years". [JH]
Born May 5, 1961 — Janet Brennan Croft, 60. She's published any number of works on library science, but she is concentrated her research on Tolkien, winning the Mythopoeic Scholarship Award for Inkling Studies for War and the Works of J.R.R. Tolkien, Tolkien on Film: Essays on Peter Jackson's The Lord of the Rings, Tolkien and Shakespeare: Essays on Shared Themes and Language, and Perilous and Fair: Women in the Works and Life of J. R. R. Tolkien. I'd also like to single her work, Baptism of Fire: The Birth of the Modern British Fantastic in World War I. (CE)
Born May 5, 1963 – Michelle West, age 58. Twoscore novels, fifty shorter stories (some as M. Sagara); book reviews for The Magazine of Fantasy & Science Fiction; interviewed in Challenging Destiny, Lightspeed, Northern Dreamers. Within a 4-page single-space rejection letter from Lester Del Rey was a curmudgeonly line of encouragement, and off she went. [JH]
Born May 5, 1975 – Tanya Tagaq, age 46. Canadian Inuk throat singer. Six albums; also collaborator with Kronos Quartet, Buffy Sainte-Marie (here is TT's cover). Polaris Prize, Canadian Folk Music Award, two Junos, Western Canadian Music Award. Novel for us Split Tooth won Indigenous Voices Award. [JH]
Born May 5, 1979 — Catherynne M. Valente, 42. My favorite work by her? Oh, by far that'd be the two volumes of The Orphan's Tales which I go back to fairly often — stunning writing. If you've not read them yet, here's her telling "The Tea Maid And The Tailor" as excerpted from In the Night Garden which is from Green Man. (CE)
(13) COMICS SECTION.
Non Sequitur lives up to its name while depicting the first land-walking creatures.
(14) GETTING THE WORD OUT WITH PICTURES. [Item by Rose Embolism.] Jem Yoshioka, creator of the science fiction romance webcomic Circuits and Veins was tapped for the New Zealand Covid information campaign! The poster is seriously lovely!
(15) IF IT DIDN'T HAPPEN, IT'S NOT A SPOILER, RIGHT? In Brian Hiatt's article for Rolling Stone, "Benedict Cumberbatch's Dr. Strange Almost Appeared in 'WandaVision'", Kevin Feige explains that Dr. Strange was going to appear in the last episode of WandaVision but he thought having Dr. Strange show up "would take it away from Wanda" so Benedict Cumberbatch was written out of the script. This is a preview of a big oral history of WandaVision in Rolling Stone that has yet to appear.
The story of WandaVision's main character, Wanda Maximoff, a.k.a. the Scarlet Witch (played by Elizabeth Olsen), is set to continue in 2022's Dr. Strange and the Multiverse of Madness, but the two projects were almost linked much more directly. As Marvel Studios president Kevin Feige reveals in Rolling Stone's upcoming, extensive oral history of WandaVision, Marvel struck a deal with Benedict Cumberbatch to appear in the final episode of the show as Dr. Strange. But late in the process, they wrote him out.

"Some people might say, 'Oh, it would've been so cool to see Dr. Strange,'" says Feige. "But it would have taken away from Wanda, which is what we didn't want to do. We didn't want the end of the show to be commoditized to go to the next movie — here's the white guy, 'Let me show you how power works.'" That meant the Dr. Strange movie, too, had to be rewritten. In the end, Feige says, Marvel's process is "a wonderful combination of very dedicated coordination, and chaos. Chaos magic."…
(16) WHAT A CROCK. BBC Radio 4's Book at Bedtime brings you "Cookie Jar by Stephen King" in three parts.
After his mother's untimely death, Rhett inherits a cookie jar which proves to have some very unusual properties…

'I had sort of a peculiar childhood, because my mother was peculiar. Not outright crazy, but very, very peculiar. Stories were her way of staying sane… A way to cover that hole in reality the way you might cover a well with boards so no one would fall in. But her stories stopped working for her. Because the thing she was afraid of was in the house with her all along.'

From 'The Bazaar of Bad Dreams', Stephen King's story adapted in three parts. Read by Colin Stinton.
(17) OUT TO LAUNCH. SpaceX posted about yesterday's launch:
On Tuesday, May 4 at 3:01 p.m. EDT, SpaceX launched 60 Starlink satellites from Launch Complex 39A (LC-39A) at Kennedy Space Center in Florida. This was the ninth launch and landing of this Falcon 9 first stage booster, which previously launched Telstar 18 VANTAGE, Iridium-8, and six Starlink missions.
(18) BOARDING PARTY. Insider lets you "Watch Royal Marines Explore Storming a Ship at Sea With Jet Packs".
The British military been exploring the possibility of boarding ships at sea with futuristic jet packs that let wearers fly over the water like Iron Man.

The "Jet Suit" was made by Gravity Industries. The company released a video Sunday that showed its operators wearing jet packs and working with the Royal Marines to launch from rigid inflatable boats and land aboard the Royal Navy Batch 2 River-class offshore patrol ship HMS Tamar.
(19) BAD LOOK? Politico has details as "Pentagon watchdog opens new probe into military's handling of UFOs".
…But one former top Pentagon intelligence official who has lobbied Congress to take more action on such sightings said on Tuesday that the IG's involvement is a positive step to compel the military to take the issue more seriously.

"You are looking at how is it possible that restricted military airspace is being routinely violated for months and years and nobody is informed in the Defense Department or the Congress and there is a complete system breakdown," said Christopher Mellon, former deputy assistant secretary of defense for intelligence. "That's a valid thing for them to investigate."
(20) RIDING ALONG. Sean D. serves up a "Microreview [Book]: Black Water Sister by Zen Cho" at Nerds of a Feather.
Our bodies can often seem possessed. To most people, that possession occurs in a metaphorical sense. Dogma possesses us, as it's hammered down from society until it sticks, nailed down to our core whether we like it or not. And that dogma can deviate from what we want deep down, like how family values dictate who we can and can't love. Black Water Sister explores that possession, and with clever skill, it combines it with literal possession. A family spirit inhabits the protagonist, while they're dealing with family interference from all sides. It's a compelling story that's quality is heightened by witty dialogue, a pacey second half, and vibrant characters….
(21) NOT SF BUT WEIRD. The Canadian census has a soundtrack: "2021 Census soundtrack".
As Canada's statistical portrait, the census is a reflection of who we are and what makes us Canadian. Listen to our Spotify and YouTube playlists while you complete your 2021 Census questionnaire to experience the different facets of Canadian culture through the sounds of our celebrated musical talent. If these songs aren't already among your favourite tracks, we hope that you have the opportunity to discover something new as you fill out your questionnaire online in May.

Get comfortable, press play, and let's experience Canada's musical talent together.
(22) BUTT OF THE JOKE. Left over from May the Fourth, the "R2-D2 & C-3PO 1980 Star Wars Anti Smoking PSA".
R2-D2 and C-3PO from "Star Wars" in a 1980 anti-smoking public service announcement. Aired in 1984 on Milwaukee's WVTV.
[Thanks to Michael Toman, Andrew Porter, John King Tarpinian, John Hertz, Mike Kennedy, SF Concatenation's Jonathan Cowie, James Davis Nicoll, JJ, Cat Eldridge, Martin Morse Wooster, and Rose Embolism for some of these stories. Title credit goes to File 770 contributing editor of the day Peer.]