The FIYAH 2016 Black SFF Writer Survey Report, published today, compiles the responses of 55 black writers to questions about their efforts to get published in the sf and fantasy field. No mere counting exercise, the report includes the testimony of writers who are frustrated with the market's resistance to their work, and analysis of such touchy questions as the real performance of magazines with encouraging diversity statements.
…With this survey, we are attempting to add what is probably the most neglected–and most important–perspective to the conversation: that of black writers themselves.

Our survey responses give us a clearer picture of who these writers are: global, writing in multiple genres, at various stages in their writing careers. In this report, we seek to collect and spotlight information and opinions of these black speculative fiction writers. We feel that this kind of insight is invaluable for a true assessment of black writers' attitudes regarding their treatment by markets that publish short form speculative fiction and by publishing in general.

It is important to note that all of the writer-side data is self-reported. We invited writers to submit information about their practices and insights on submission to SFF short fiction markets with a focus on the period between October 2015 and November 2016.
There are two excellent infographics based on the Market-side and Writer-side data. This excerpt is from the Market-side summary: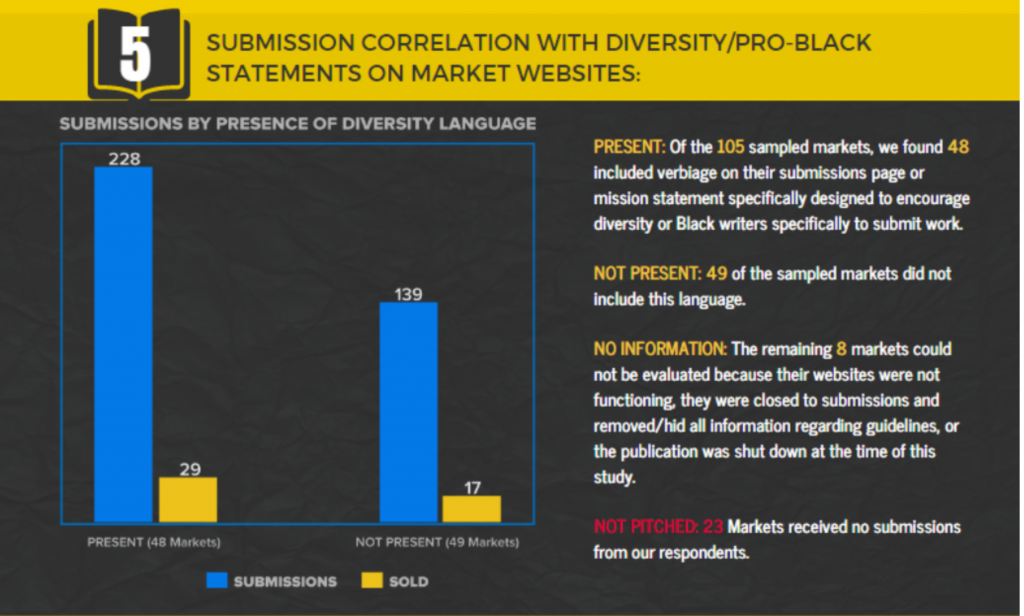 The raw numbers are available for review in a trio of spreadsheets.
The BonFiyah: Anecdote Summary gives voice to stories behind these numbers. These quotes come from the section on Frustrations —
Experiences on the roadblocks encountered in the marketplace.

"I understand that breaking into these highly competitive markets is a struggle for any writer, and have always considered the rejections to be based on normal craft concerns. Until I saw the Fireside Report. I don't think any of my work is perfect, but I can't help but question the evaluation of the extremely exclusive sci if fantasy magazine community. I look forward to receiving a rejection and knowing for sure it's the story that's the problem, not my unabashedly black voice."

"Once got a rejection because the editor said the scenario was unrealistic and unlikely to ever happen (the scenario was, in fact, based on true events in Nigeria.)"

"The market is full of white people who get multiple chances to write uninspiring, clueless, by the numbers speculative fiction, and these white people are often published gleefully in SFWA-qualifying markets that pay professional rates. However, when it comes to black authors, everything that we have to do has to be better than everything else. Black writers cannot be average. We have to be superstars."

"To be honest, the lack of taste representation in magazines–the lack of stories that I want to read and enjoy in most of the major short story markets–is more discouraging than any other factor. I dislike how few authors of color are published but I also dislike how rote and trope many of the stories that do get published are, which makes me hold back from submitting because I feel as though my writing is often too weird for major markets. There's a lot of "safe" choices that aren't particularly compelling getting published and I just don't know if stylistically I'd be accepted in some cases." …
Finally, in Going Forward the authors make a broad range of suggestions for change which are discussed in a nuanced way. But having heard many times before the arguments from people who don't want to make progress on these issues, they say explicitly —
This report is not for those people.

This report is for writers, readers, editors, magazines, and fans interested in actively working against the anti-black bias inherent in this system for the sake of the writers and work that said bias excludes.
It's a very helpful document for pros and fans seeking a way ahead.