(1) BE UPSTANDING. The space shuttle Endeavour will be rehoused in a new building that will allow it to be displayed upright in its original launch position, mated to the orange external tank and two booster rockets: "Space shuttle Endeavour preps for move to new museum" reports the LA Times.
After more than a decade on display at the California Science Center, the space shuttle Endeavour will begin the final trek to its permanent home at a new Los Angeles building in the coming months.

To get ready for the grand move, the state-run museum announced Thursday that crews will begin the installation of the base of the shuttle's full stack on July 20. Workers will use a 300-ton crane to lower the bottom sections of the twin solid rocket boosters, which are 10,000 pounds apiece and roughly 9 feet tall, to the freshly built lowest section of the partly constructed $400-million Samuel Oschin Air and Space Center.

It'll be the first of many delicate maneuvers conducted over roughly six months (if the weather cooperates). Eventually, all half-million pounds of the full stack — including the shuttle Endeavour and a giant orange external tank — will rest on the base of the solid rocket boosters, bolted to the ground by eight supersized, superalloy fasteners that are 9 feet long and weigh 500 to 600 pounds….
(2) OCTOTHORPE. John Coxon, Alison Scott, and Liz Batty have uttered Episode 87 of the Octothorpe podcast, "We Didn't Imagine the Third Option".
Wheeeeeee we're Hugo finalists again! Huge congratulations to Alison Scott and España Sheriff who are finalists in Best Fan Artist, huge congratulations to John Coxon who's a finalist with Journey Planet in Best Fanzine, and of course congratulations to transatlantic besties and cocky cake-makers Hugo, Girl! We also discuss the Locus and the BSFA Awards, plus (of course) picks.
(3) MEET RIVERFLOW. Chinese fan RiverFlow, a two-time 2023 Hugo finalist, tweeted this self-introduction:
(4) IT'S AN HONOR JUST TO BE NOMINATED. Wil Wheaton also shared his happy news: "Still Just A Geek is a Hugo award finalist" at WilWheaton.net.
I have been nominated for a few things in my life. I've even won a few. But I have not won way more often than I have. Based on my experience, the "I won!" thing is awesome for a short time, but where that euphoria fades quickly, the genuine honor of "I was nominated!" lasts forever. With that in mind, I looked at the other nominees this morning, and … I think it's very unlikely I'll be making space for a Hugo statue in my house. But that's okay! I got to reach out to my TNG family today and tell them about it, and everyone who replied made me feel the love and pride that I imagine kids feel from parents who love them unconditionally.

If Still Just A Geek wins in its category, it's going to be awesome. I'm not going to lie: I think it would be pretty great if I got to have a Hugo in my house, next to my Tabletop trophies. But if it doesn't, the excitement, joy, and gratitude I feel that my story even made the finalists this year will never go away, and I get to have that whether I get the statue or not.
(5) COMPLETE LISTS OF HUGO FINALISTS. The Chengdu Worldcon Hugo Administrator limited the number of names they would place on the ballot announcement. As a result, several finalists have tweeted links to the complete lists of people they believe should be included.
(6) HUGO FINALIST ANNOUNCEMENT VIDEO. The Chengdu Worldcon has added the 81st Worldcon Hugo Awards Finalists Announcement to YouTube.
(7) CLARION CROWDFUNDING. The Clarion Science Fiction and Fantasy Writers Workshop at UC San Diego is in the midst of a 2023 crowdfunding campaign on Indiegogo to support the next generation of science fiction, fantasy, and horror writers. They have raised over $5,500 of their $20,000 with over three weeks remaining.
Would you be interested in these perks on offer to donors?

Want to have your name in a new Cory Doctorow novel?

Talk worldbuilding with Sue Burke?

Get a signed proof of Kim Stanley Robinson's story "UCSD and Permaculture"?

Or name a scholarship to support making attending Clarion possible for a student next year? (Donation = $1,000)

All these — and t-shirts! — are on offer through the Clarion Workshop IndieGogo campaign.
(8) ROGERS: THE MUSICAL. [Item by Daniel Dern.] I'd lost track that info about this was already scrolled — Item 7 in the June 30 Scroll — but it doesn't look like there were any links to the actual show.
Here's the five-and-a-half-minute trailer, from Marvel's D23 Ex (watching the full thing once was enough for me, and it's not the same without seeing Clint "Hawkeye" Barton in the audience shaking his head…
And here's two of many links to the full 37-minute show. (The first one seems to have more close-ups, but "features" some MST3K back of somebody's head mid-left…):
Rogers: The Musical | Full Show, Disney California Adventure Park
Full Show: Rogers: The Musical | Disney California Adventure
(9) MEMORY LANE.
1963 – [Written by Cat Eldridge from a choice by Mike Glyer.]
This Scroll, Mike picked a work by Clifford Simak who I knew thot y'all know, so I see no need to introduce him to you. I will say that he was one of the first genre writers that I read deeply of.
I'm fairly sure the first work by him that I read was City, a work that remains my favorite by him. But tonight we're here to talk about Way Station, the source of the Beginning the Mike choose, another favorite of mine.
It was published by Doubleday in 1963 with the cover at by Ronald Fratell. It would win a Hugo at Pacificon II for the original publication as Here Gather the Stars in Galaxy's June and August 1963 issues.
And now let us turn to the Beginning…
The noise was ended now. The smoke drifted like thin, gray wisps of fog above the tortured earth and the shattered fences and the peach trees that had been whittled into toothpicks by the cannon fire. For a moment silence, if not peace, fell upon those few square miles of ground where just a while before men had screamed and torn at one another in the frenzy of old hate and had contended in an ancient striving and then had fallen apart, exhausted.
For endless time, it seemed, there had been belching thunder rolling from horizon to horizon and the gouted earth that had spouted in the sky and the screams of horses and the hoarse bellowing of men; the whistling of metal and the thud when the whistle ended; the flash of searing fire and the brightness of the steel; the bravery of the colors snapping in the battle wind.
Then it all had ended and there was a silence.
But silence was an alien note that held no right upon this field or day, and it was broken by the whimper and the pain, the cry for water, and the prayer for death—the crying and the calling and the whimpering that would go on for hours beneath the summer sun. Later the huddled shapes would grow quiet and still and there would be an odor that would sicken all who passed, and the graves would be shallow graves.
There was wheat that never would be harvested, trees that would not bloom when spring came round again, and on the slope of land that ran up to the ridge the words unspoken and the deeds undone and the sodden bundles that cried aloud the emptiness and the waste of death.
There were proud names that were the prouder now, but now no more than names to echo down the ages—the Iron Brigade, the 5th New Hampshire, the 1st Minnesota, the 2nd Massachusetts, the 16th Maine.
And there was Enoch Wallace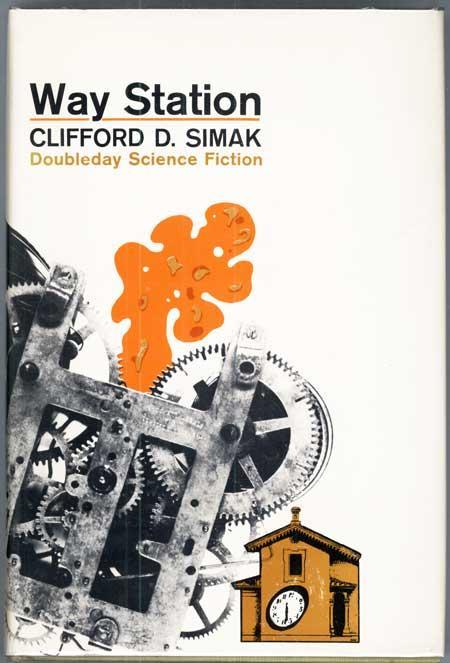 (10) TODAY'S BIRTHDAYS.
[Compiled by Cat Eldridge.]
Born July 7, 1907 — Robert Heinlein. Let's have Paul Weimer tell about his favorite Heinlein works: "If I had to pick one favorite Heinlein novel, and that's a tough road to hoe, I am going to go with the novel I've re-read the most and it's probably not going to be the one you think. It's Glory Road. Yes, Glory Road. The back matter once the quest is done can be overcooked, but Heinlein had a keen eye for epic fantasy quests, the good and the bad, long before the rise of Tolkien clones. It was an early Heinlein for me, and the novel has stuck with me since, with a number of audio re-reads. I survived a boring drive across the flatness of the Great Plains by listening to the adventures of Oscar Gordon." // If I had to pick one Heinlein story, I have a strong fondness for All You Zombies, which encapsulates all the potential paradoxes of time travel in a way that has been done at greater length, but not, I'd argue, with better effect. (The movie Predestination with Ethan Hawke is pretty darned good by the way). Oh, and my favorite book ABOUT Heinlein is Farah Mendelsohn's The Pleasant Profession of Robert Heinlein. (Died 1988.)
Born July 7, 1919 — Jon Pertwee. The Third Doctor and one that I'll admit I like a lot. He returned to the role of the Doctor in The Five Doctors and the charity special Dimensions in Time for Children in Need. He also portrayed the Doctor in the stage play Doctor Who – The Ultimate Adventure.  After a four-year-run here, he was the lead on Worzel Gummidge where he was, errr, a scarecrow. And I must note that one of his first roles was as The Judge in the film of Toad of Toad Hall by A. A. Milne. (Died 1996.)
Born July 7, 1946 — Lisa Seagram. I'm noting her here because she was in the Batman episode "Louie, the Lilac" as Lila in which Milton Berle played the title character. She also had one-offs in both The Man from U.N.C.L.E. and The Girl from U.N.C.L.E., plus My Favorite Martian and Bewitched. (Died 2019.)
Born July 7, 1931 — David Eddings. Prolific and great, with his wife Leigh, they authored several best-selling epic fantasy novel series, including The Belgariad, The Malloreon and The Dreamers to name but three of their series. He's written but one non-series novel, The Redemption of Althalus. (Died 2009.)
Born July 7, 1959 — Billy Campbell, 64. There are some films so good in my memory that even the Suck Fairy can't spoil them and The Rocketeer in which he played stunt pilot Cliff Secord is one of them. (IDW did a hardcover edition called Dave Stevens' The Rocketeer: The Complete Adventures which Amazon has it for a mere twenty bucks! And the ePub is available from the usual suspects for a mere five dollars and ninety nine cents.) Yes, he did other work of genre interest including the main role of Jordan Collier on The 4400, Quincey Morris on Bram Stoker's Dracula, Captain Thadiun Okona in "The Outrageous Okona" episode of Next Gen, the Maine Dr. Alan Farragut on Helix and he's currently voicing Okona once again on Prodigy.
Born July 7, 1968 — Jeff VanderMeer, 55. Ok I'll admit that I'm ambivalent about the Southern Reach Trilogy and am not sure if it's brilliant or not though it is I'll say quite disturbing. (Haven't seen the film and have no desire to so.) I will say the pirate anthology he and his wife Anne did, Fast Ships, Black Sails, is quite tasty reading. Now let's see what the Hugos would hold for him. At Noreascon 4 for The Thackery T. Lambshead Pocket Guide to Eccentric & Discredited Diseases which I truly, madly love, he got a Hugo. He along with his Ann picked up at Anticipation up one for Best Semiprozine: for Weird Tales. It would be nominated the next year at Aussiecon 4 but Clarkesworld would win as it would the Renovation losing out again to Clarkesworld. The Steampunk Bible: An Illustrated Guide to the World of Imaginary Airships, Corsets and Goggles, Mad Scientists, and Strange Literature which he co-edited with S. J. Chambers was nominated at Chicon 7. Another Best Related Work was nominated at Loncon 3, Wonderbook: The Illustrated Guide to Creating Imaginative Fiction. Finally the film Annihilation based off the Southern Reach trilogy was nominated for Best Dramatic Presentation Hugo at Dublin 2019.
Born July 7, 1987 — V.E. Schwab, 36. I'm very pleased with her A Darker Shade of Magic which explores magicians in a parallel universe London. It's part of her Shades of Magic series. Highly recommended. Her Cassidy Blake series is also good provided you're a Potter fan because she makes a lot of references to that series.
(11) COMICS SECTION.
Arlo and Janis know there's always someone ready to jump in and correct the details. Just like in the comments here!
(12) THE VOID CAPTAINS. Mark and Evelyn Leeper today reminded people of the history of their prolific fanzine in today's issue, the 2278th MT VOID:
The MT VOID started as a zine for the newly formed Science Fiction Club at Bell Labs in Holmdel in August 1978, but we have always been the editors (and primary writers). It has been weekly for decades, and has continued even after we retired and the Science Fiction Club dissolved. The current issue is #2278, making it (I'm pretty sure) the perzine with the most issues ever, and at 45 years, one of the longest running.

In July 1981, our area was split off and moved to Lincroft. At that point we thought we needed to spin off a new club, so we started re-numbering the MT VOID (not yet called that) at that point. Hence the volume roll-over in July. Eventually we ended up remerging the clubs and newsletters, but kept the new numbering.

At some point in the 1980s we also renamed the club as the "Mt. Holz Science Fiction Club". "Mt. Holz" came from the inter-company mail designations for the three New Jersey locations of AT&T et al where we once had meetings:
MT Middletown
HO Holmdel
LZ Lincroft

As the work environment changed, meetings eventually ended, but the MT VOID kept rolling along. We retained the "Mt. Holz" name in the heading until last year, when we decided it was misleading to pretend there was an actual club behind this. [-mrl/ecl]
(13) GOING DOWN TO THE SECOND. "After 'Barbie,' Mattel Is Raiding Its Entire Toybox" says The New Yorker.
In 2019, Greta Gerwig became the latest in a line of writers, directors, and producers to make a pilgrimage to a toy workshop in El Segundo, California. Touring the facility, the Mattel Design Center, has become a rite of passage for Hollywood types who are considering transforming one of the company's products into a movie—a list that now includes such names as J. J. Abrams (Hot Wheels) and Vin Diesel (Rock 'Em Sock 'Em Robots). The building has hundreds of workspaces for artists, model-makers, and project managers, and it houses elaborate museum-style exhibitions that document the company's history and core products. These displays can help a toy designer find inspiration; they can also offer a "brand immersion"—a crash course in a Mattel property slated for adaptation. When a V.I.P. visits, Richard Dickson, a tall, bespectacled man who is the company's chief operating officer, plays the role of Willy Wonka. He'll show off the sixty-five-year-old machines that are still used to affix fake hair to Barbies; he'll invite you to inspect life-size, road-ready replicas of Hot Wheels cars. The center even boasts a giant rendering of Castle Grayskull, the fearsome ancestral home of He-Man. "The brand immersion is the everything moment," Dickson told me. "I have met with some of the greatest artists, truly, in the world. . . . And, if you don't walk out drinking the Kool-Aid, then it was a great playdate, but maybe we don't continue playing."

The actress Margot Robbie, who had toured the center in 2018, wanted to continue playing. She'd signed up for a Barbie movie, and had approached Gerwig about writing the script. She saw in Gerwig's filmography the right combination of intelligence and heart: "You watch something like 'Little Women,' and the dialogue is very, very clever—it's talking about some big things—but it's also extremely emotional." The project wasn't an obvious fit for someone whose screenplays included the subtle dramas "Lady Bird" and "Frances Ha," and Gerwig wavered for more than a year. At one point, Dickson called her when she was mixing "Little Women" in New York. "I don't have a ton of friends in corporate America," she told me, over Zoom. "But he was very excited. It was sweet." She finally agreed to come to El Segundo…
(14) ASCENDING MT. TBR. Camestros Felapton is catching up on his reading: "Review: The Twisted Ones by T. Kingfisher".
…The book makes no apologies and shows no respect for genre boundaries. With a chatty, out-going narrator, multiple sections about the trials of clearing out the home of a hoarder, friendly neighbours and a welcoming coffee shop, the story has many elements associated with, dare I say, "cosy" fiction. The latter sections head more into the realm of portal-fantasy. However, these elements are simply flesh hung upon the bones of the horror of thoughts that overwhelm you….
(15) BERLITZKRIEG. Everyone laughs as "Harrison Ford Roasts Conan O'Brien Mid-Interview for Having a Han Solo Note Reminder: 'You Can't F—ing Remember That?'" – Variety has the story.
…Harrison Ford roasted Conan O'Brien on a recent episode of the "Conan O'Brien Needs a Friend" podcast after the "Star Wars" and "Indiana Jones" icon discovered O'Brien had "Han Solo" written down in his notes for the interview. The two men were playfully arguing about Ford's ancestry, which led O'Brien to consult some info he had jotted down prior to the interview.

"I refer you to this piece of paper right here," O'Brien said. "That says, 'Born and raised in Chicago to an Irish German father—'"

Ford leaned over to take a look at O'Brien's notes and then interrupted the host when he realized they included a reminder that Ford played Han Solo in the "Star Wars" franchise. Along with Indiana Jones, Han Solo is Ford's most iconic character.

"Well if that's a quality of your research, and I imagine it is because right there it says 'Harrison Ford' and then you had to write 'Han Solo,'" Ford said. "You can't fucking remember that?"

"No I can't. I can't remember Han Solo," O'Brien hilariously fired back. "I wrote it down because I heard that you were in some of the 'Star Wars' films, and this was news to me because I've seen those films and I don't exactly think that you 'pop.'"

O'Brien continued, "I'm sorry. But I mean, I remember Chewbacca, I remember the bad guy with the black helmet and then… there's some people."

Ford took matters into his own hands, asking O'Brien, "How come you're not still on television?"…
[Thanks to John King Tarpinian, Chris Barkley, Michael Toman, Kathy Sullivan, Daniel Dern, Cat Eldridge, SF Concatenation's Jonathan Cowie, Mike Kennedy, and Andrew Porter for some of these stories. Title credit belongs to File 770 contributing editor of the day Jon Meltzer.]