(1) TITLE BOUT. Shelf Awareness publicized the release of the six-book shortlist for the 2020 Diagram Prize for the Oddest Book Title of the Year. "Founded by Trevor Bounford and the late Bruce Robertson in 1978 'as a way to stave off boredom at the Frankfurt Book Fair,' the Diagram Prize has had a home at the Bookseller and with legendary diarist Horace Bent since 1982." The finalists are —
A Dog Pissing at the Edge of a Path by Gregory Forth
Introducing the Medieval Ass by Kathryn L Smithies
Classical Antiquity in Heavy Metal Music by K.F.B. Fletcher and Osman Umurhan
How to Make Love to a Despot by Stephen D. Krasner
Lawnmowers: An Illus­trated History by Brian Radam
The Slaughter of Farmed Animals: Practical Ways to Enhance Animal Welfare by Temple Grandin and Michael Cockram
More details from the award hosts here: "The Bookseller announces the Diagram Prize 2020 shortlist"
The winning title will now be chosen by members of the public via an online vote. The public vote closes on Friday 20th November, with the winning entry to be announced on Friday 27th November. There is no prize for the winning author or publisher, but traditionally a passable bottle of claret is given to the nominator of the winning entry. If a title wins that was nominated by The Bookseller staff, the claret will be given at random to a member of the public who participated in the online voting. 
(2) FIYAH FOUNDER Q&A. The latest episode of The Imagination Desk, a podcast from the Center for Science and the Imagination at Arizona State University, is live now, featuring an interview with speculative fiction author Troy L. Wiggins, who is also one of the founders of FIYAH Literary Magazine. Listen in here.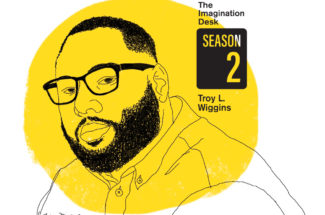 The next episode will be with science fiction author and researcher Regina Kanyu Wang.
Here is the CSI newsletter on Black Speculative Fiction Month activities, which features this podcast, among other things. And here are direct links to the podcast, on the CSI website (which links out to the other services), Apple Podcasts, Spotify, RadioPublic, and Libsyn.
(3) ROCKY HORROR LIVE FUNDRAISER. This invitation was sent in Tim Curry's name for a Rocky Horror Live virtual event to aid the Wisconsin Democratic party.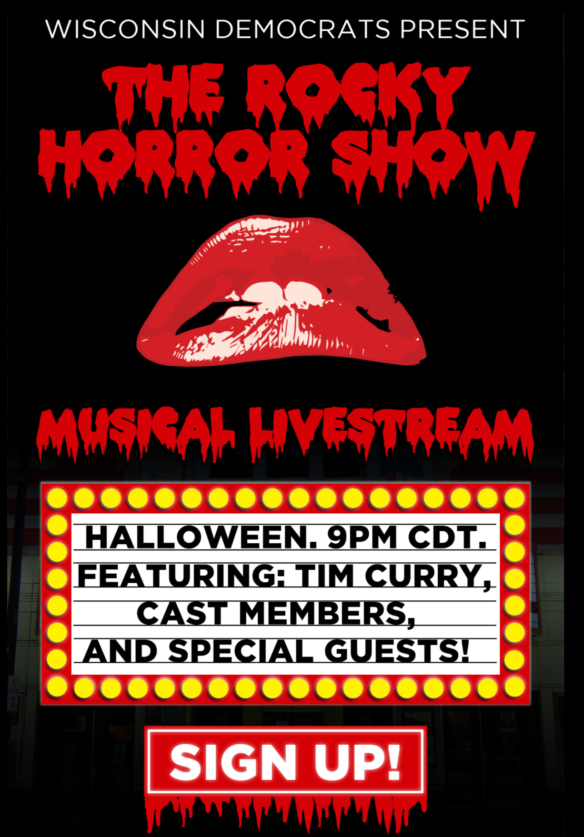 Right now, we can almost see blue skies through the tears… of the Trump presidency, of course. But we absolutely must keep the pressure on!

That's why we're doing the Rocky Horror Show — LIVE — this Halloween night — to help get out the vote in Wisconsin. RSVP and reserve your spot today!

This is a live, once-in-a-lifetime musical livestream event, featuring cast members both old and new. There will be singing, dancing, laughs and plenty of fun.

…Chip in any amount to join us for the Rocky Horror Show Livestream on Halloween with Tim Curry, Wilmer Valderrama, Lance Bass, Rosario Dawson, Jason George, Nell Campbell, Seth Green, Jason Alexander, David Arquette, and more!

Featuring musical performances by The Dresden Dolls, Miss Peppermint, Eiza Gonzalez, Josh Gad, Ben Barnes, Jenna Ushkowitz, Rachel Bloom, Karen Olivo, Marissa Jaret Winkour, Madison Uphoff, Kalen Chase, and Rumer Willis.

This event is only going to be livestreamed once at 9pm CT on Saturday, October 31st.
(4) SANS CLUE. LitHub confirms, "We Have Edgar Allan Poe to Thank for the Detective Story".
…These are the similarities between the Dupin stories and Sherlock Holmes, and there are many. One writer said that "The only difference between Dupin and Holmes is the English Channel." Similarity number one: in both stories we have at the heart a highly intelligent but somewhat eccentric and enigmatic detective. The word detective did not actually exist when Poe was writing, which gives you a sense of how novel he was. He might have taken the idea from a series of magazine articles about a French policeman. Otherwise, he was on his own. This was all his….
(5) MAD, YOU KNOW. [Item by Martin Morse Wooster.] In "Our Culture's Ongoing, Ever-Evolving Fascination With 'The Mad Scientist'" on CrimeReads, sf novelist Jane Gilmartin explains why "mad scientists" remain popular characters in sf.
… Examples of the mad scientist/evil genius in everything from comic books to classics spring to mind without even breaking a sweat: Dr. No of James Bond fame, whose experiments with atomic energy cost him his hands as well as his conscience; Christopher Marlowe's Dr. Faustus, whose unquenchable thirst for knowledge drove him to a deal with the devil; Dr. Henry Wu, who fooled around with genetics and opened a questionable theme park in Michael Crichton's Jurassic Park, and, my personal favorite, Robert Louis Stevenson's Dr. Jekyll, whose work brought to the surface his baser self as Mr. Hyde.

It is the last example, I think, that speaks most clearly to our fears. Scientists are people like the rest of us—multi-faceted, unpredictable and (for the most part) human. Like all of us humans, there's always that slim chance that they're going to turn to the proverbial dark side, especially when they get a taste of power….
(6) MEDIA ANNIVERSARY.
2000 — Twenty years ago at Chicon 2000, the Hugo for Best Novella went to Connie Willis for "The Winds of Marble Arch", a precursor to her Blackout/All Clear novel which would win the Best Hugo Novel eleven years later at Renovation. Runner-ups were Harry Turtledove's "Forty, Counting Down", Adam-Troy Castro and Jerry Oltion's "The Astronaut from Wyoming", Mike Resnick's "Hunting the Snark" and Kage Baker's "Son, Observe the Time". It can be found in The Winds of Marble Arch and Other Stories, the Subterranean Press collection, which is available from the usual digital suspects. 
(7) TODAY'S BIRTHDAYS.
[Compiled by Cat Eldridge and John Hertz.]
Born October 26, 1942 —  Bob Hoskins. I'll insist his role as Eddie Valiant in Who Framed Roger Rabbit? is his finest genre role though I suppose Mario Mario in Super Mario Bros. could be said… Just kidding! He's the Director of The Raggedy Rawney which he also had a role, a strange might-be genre film, and he's Smee in Hook as well. (Died 2014.) (CE)
Born October 26, 1945 – Jane Chance, Ph.D., D.Litt., 75.  Mellon Distinguished Professor emerita at Rice; first woman appointed to tenure track in English; founder president of the Consortium for the Teaching of the Middle Ages; doctorate of letters, Purdue.  For us, six books on Tolkien; a score of others, a hundred articles.  [JH]
Born October 26, 1951 – Melanie Herz, 69.  Hardworking Florida fan.  Many regionals and Worldcons; chaired Traveling Fête 1996, Tropicon 21, OASIS 6. When we've been on the same con committee, and particularly when we were on the same DUFF (Down Under Fan Fund) ballot, we tried to make sure our mail didn't get crossed.  Still wasn't as bad as when I had an office down the hall from a man named Heitz.  [JH]
Born October 26, 1954 — Jennifer Roberson, 66. Writer of of fantasy and historical romances. The Chronicles of the Cheysuli is her fantasy series about shapeshifters and their society, and the Sword-Dancer Saga is the desert based adventure series of sort, but the series I've enjoyed is her Sherwood duo-logy that consists of Lady of the Forest and Lady of Sherwood which tells the Robin Hood tale from the perspective of Marian. Her hobby, which consumes much of her time, is breeding and showing Cardigan Welsh Corgis. (CE)
Born October 26, 1960 — Patrick Breen, 60. He's Redgick, a Squid,  a minor character that appeared in Men in Black. In beloved Galaxy Quest, he's Quellek, a Thermian who forms a bond with Alexander Dane. it's a wonderful role. And he has a recurring role as Larry Your-Waiter, a member of V.F.D. on A Series of Unfortunate Events series. (CE) 
Born October 26, 1960 – David LaRochelle, 60.  A score of children's books, many with fantasy elements.  Also an amazing astounding stellar thrilling pumpkin carver; see here.  [JH]
Born October 26, 1962 — Cary Elwes, 58. He's in the ever-so-excellent Princess Bride as Westley / Dread Pirate Roberts / The Man in Black. He also shows up in Dr. Lawrence Gordon in the Saw franchise, and was cast as Larry Kline, Mayor of Hawkins, for the third season of Stranger Things. (CE) 
Born October 26, 1969 – Mary Ting, 51.  A score of novels; taught a score of years, toured with the Magic Johnson Foundation.  Makes Twilight-themed jewelry.  Besides husband, children, has two dogs Mochi and Mocha.  [JH]
Born October 26, 1971 — Anthony Rapp, 49. Lieutenant Commander Paul Stamets on the most Discovery series . His first role ever was Wes Hansen in Sky High, and he showed up early in his career as Jeff Glaser in the "Detour" episode of X-Files. He was Seymour Krelbourn in a national tour of Little Shop of Horrors. (CE) 
Born October 26, 1972 – Zetta Elliott, Ph.D., 48.  Five novels, seven shorter stories for us; poetry; essays; plays; children's illustrated books under her Rosetta Press.  "I write as much for parents as I do for their children because sometimes adults need the simple instruction a picture book can provide." [JH]
Born October 26, 1973 — Seth MacFarlane, 47. Ok, I confess that I tried watching the Orville which he created and is in and it just didn't appeal to me. For those of you who are fans, why do you like it? I'll must admit that having it described as trying to be a better Trek ain't helping. (CE)
Born October 26, 1975 – David Walton, 45.  Author and engineer.  Seven novels, a dozen shorter stories.  Baen Memorial Award, Campbell Memorial Award, Philip K. Dick Award.  Plays chess and go.  "Science fiction can show us the viewpoints of people whose lives and experiences are so far away from ours that … our minds are stretched and our vision is expanded."  [JH]
(8) COMICS SECTION.
"The death star is flat."

"Actually, some of us believe, the death star is flat. That being round business is a conspiracy."
(9) PIRANESI. Camestros Felapton promises substantial spoilers: "Review: Piranesi by Susanna Clarke (substantial spoilers)". See, what did I tell you?
This was a charming, thoughtful, often whimsical story full of a deep horror that at times wholly unnerved me. I'll be discussing many key plot points and revelations….
(10) THE DOOM FROM THE SUN. [Item by Olav Rokne.] In a quirky bit of science news, astronomers recorded a large solar flare that happened to look like a prop from an old science fiction TV show… "NASA satellites capture massive 'Doomsday machine' solar flare".
From the article: "The image of the explosion was described by some as the stuff of science fiction, specifically the Doomsday machine from Star Trek. Fortunately, the CME did not hit Earth."
(11) SILENT GOLD. Leonard Maltin has a roundup of silent film releases — "Rare Silent Films On Blu-Ray And DVD". One of them is the rediscovered 1916 version of Twenty Thousand Leagues Under The Sea.  The poster for this movie is very cool.
It's not a typo: Universal produced a feature-length version of Jules Verne's 20,000 Leagues Under the Sea in 1916, and the new DVD/Blu-ray release is a 4K transfer of the surviving material. Luckily for us, silent film historian Anthony Slide delivers a highly informative commentary track that tracks the careers of underwater-photography specialists Ernest and George Williamson. Indeed, it is their work that makes this release so intriguing, not the hackneyed mishmash of Verne's famous story and The Mysterious Island. Alan Holubar, then a prominent actor about to turn director, and Jane Gail star. The music score is credited to Orlando Perez Rosso.
(12) SOL SEARCHING. [Item by SF Concatenation's Jonathan Cowie.] A new way has been found to determine which stars are likely to host weird planetary systems and those stars likely to have planetary systems more like our own Solar system.
The following will appear in next season's SF² Concatenation but they've shared it with File 770 now…
How many Solar system type planetary systems are there in our spiral arm? We may soon be finding out from new research. Some planetary systems around stars are very unlike our Solar system. For example, they will have what are called hot Jupiters with a gas giant close to their star in an orbit similar to that of Mercury about our sun, rather than beyond the asteroid belt where Jupiter is in our system.
It had been thought that the type of planetary system that forms is determined by the star's protoplanetary disk of gas and dust. While this may be so, there is also another factor at play – whether the star formed in comparative isolation or along with loads of others in a stellar nursery.
Up to now it has been impossible to address this question as stars disperse (as the Galaxy rotates, spiral arms oscillate, local stellar conditions etc) from when they were born within a billion years of their formation. However, ESA's Gaia star mapping has helped British and German astronomers to determine that whether or not a star is born in a stellar nursery or more isolated by itself, is key to the type of planetary system it will host.
You see the Gaia probe not only maps stars positions, it does it so accurately that after a few years and the star is re-mapped, it is possible to discern its movement, velocity and direction. What the researchers have found is that they can correlate those stars that seem to be moving more or less parallel to, and with a similar velocity, to other stars. These stars can be assumed to have a common birthplace in a stellar nursery. Other stars that have no movement correlation with others, can be assumed to have been born in comparative isolation. With this in mind, the astronomers looked at 600 stars Gaia had mapped.
What the astronomers found was that systems with hot Jupiters tend to be formed in crowded stellar nurseries, while those with gas giants further from their star almost invariably saw the star's birth in comparative isolation: there were few such systems with hot Jupiters – a hot Jupiter system was roughly ten times more likely in a star born in a stellar nursery.
As the researchers themselves point out, their discovery has "possible implications for planetary habitability and the likelihood of life in the Universe" questions. (See Winter, A. J., Kruijssen, J. M. D., Longmore S. N & Chevance, M. (2020) Stellar clustering shapes the architecture of planetary systems. Nature, vol. 586, p528-532.)
(13) MANDO MERCH. "This RC Baby Yoda Waddles Around Your House Like a 50-Year-Old Toddler" – io9 writes that like it's a bad thing!
…Available this fall for $60, the Star Wars: The Mandalorian the Child "Real Moves Plush" stands 11 inches tall, so it's slightly smaller than the animatronic figure used in the series. Mattel still managed to stuff it full of electronics, including authentic sound effects and motors to bring it to life.

The Child's head can turn from side to side, and look up and down while it's giant ears wiggle, and all the mechanisms are hidden under a flexible outer skin, which makes sense when you say it, but out of context feels like a horrifying thing to say about a baby. His tiny, snuggly robes can also be further adorned with an included Mythosaur skull pendant, like the one gifted to him by Din Djarin at the end of the first season.
[Thanks to John King Tarpinian, Mike Kennedy, JJ, Olav Rokne, Martin Morse Wooster, Cat Eldridge, John Hertz, Michael Toman, Joey Eschrich, Lise Andreasen, Jeff Smith, and Andrew Porter for some of these stories. Title credit goes to File 770 contributing editor of the day JJ.]