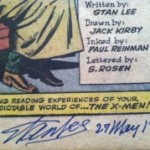 Harlan Ellison has just unlocked the vault of The Lost Aztec Temple of Mars…just a crack…and allowed Blast Off Comics to sneak out a few of the wonders from comic book collection.
Click on  "Harlan Ellison Collection" to see what's for sale now and watch videos of Harlan telling about his treasured comics:
The Harlan Ellison Collection – X-Men #1 [YouTube] touts his copy autographed by Stan Lee.  First appearances of Professor X, Cyclops, Iceman, the Angel, the Beast, Marvel Girl and Mgneto. It's offered for $5,000.
The Harlan Ellison Collection – Batman #234 [YouTube] is a 1971 issue where Batman stars in "Half an Evil," the first appearance of the Silver Age Two-Face. Script by Denny O'Neil, pencils by Neal Adams, inks by Dick Giordano. This is going for the utterly affordable price of $300.
Hundreds of comics will be added to the sale in the near future. These comics come with a certificate of authenticity signed and dated by Harlan.
[Thanks to the Harlan Ellison Recording Collection for the story.]