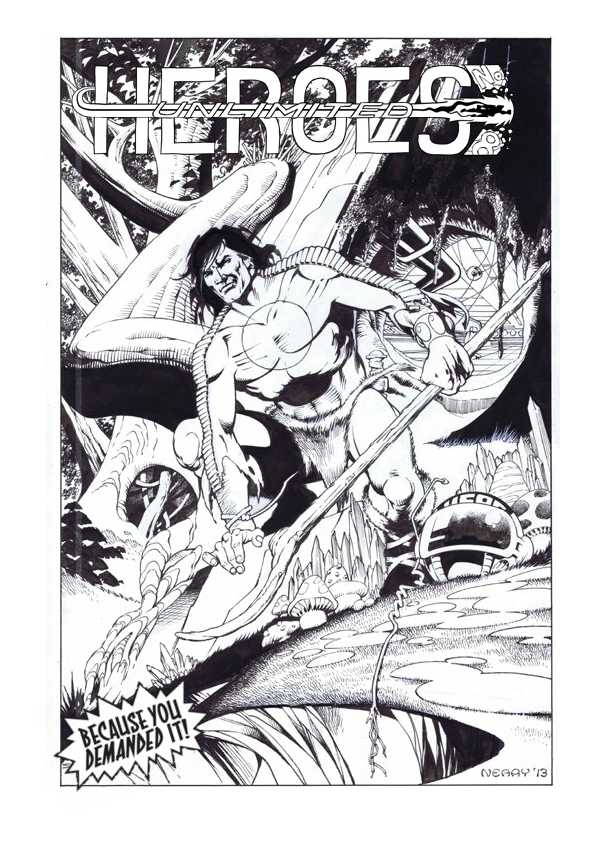 After 49 years, Heroes Unlimited #8 continues the fanzine tradition that started with Merry Marvel Fanzine in Dublin in 1967 by Editor-in-Chief Tony Roche. 
In September this year, Editor-in-Chief Anthony Roche, Co-Editors James Bacon, Chris Garcia, Pádraig Ó Méalóid and Merlin Roche, published in print copy Heroes Unlimited 8.
HU8 sports a cover by Paul Neary, with cover logo by co-editor Merlin Roche and cover caption by Todd Klein. 
The fanzine features a massive interview with Alan Moore by Tony Roche, an article on "Women in Comics" by Sharae Deckard, and interviews with Maura McHugh; Karen Green; Dr. Melanie Gibson; Hannah Means-Shannon; Annie Parkhouse; Kate Charlesworth; Maggie Gray; Suzy Varty; Mary Talbot; Nora Goldberg-Fourrel de Frettes and Sarah McIntyre by Pádraig Ó Méalóid.
The fanzine contains a comic, "Something in the Post" by David Hine, and illustrations and sketches and art from Ken Simpson, Will Eisner, Al Williamson and Henry Scarpelli.
There are articles on Irish authors of the fantastic, such as "A Master of Irish Fantasy: Lord Dunsany" by Patrick O'Donnell, and "Bob Shaw's Science Fiction" by Eamonn Hughes, while Rob Hansen writes about early comics fanzines.
The co-editors took time to write themselves, with Tony Roche reviewing the SCARP Comic Convention in 1968 and the Chicago Comic and Entertainment Expo in 2018. James Bacon took to writing about Troubled Souls by Garth Ennis set in Northern Ireland and science fiction writer and friend James White who also lived in Northern Ireland. Pádraig Ó Méalóid writes about his beloved copy of Watchmen.
Heroes Unlimited 8 also reprints the Letter of Comment that Alan Moore sent in following issue number 5, as well as a letter from Derek G. Skinn that not even Dez remembers; and a late letter from Peter C Phillips.
The fanzine was printed and published in September 2018, and presented to contributors, for comment.
Journey Planet is proud to present this, an updated version of Heroes Unlimited 8, as issue 41 of Journey Planet. We have included a new article about the passing of Stan Lee by Michael Carroll, words from Tony Roche capturing the connection he had with Stan Lee, letters of comments from Dr. Sharae Deckard, Harry McAvinchey, and Dave Hine, and a record of quite a wonderful and humbling day for the editorial team, with photographs of the paper copy being presented to Alan Moore.
Edited by the same group of editors who decided that it would be demanded in PDF format and that they should take full advantage of the electronic form of presentation. They hope you enjoy JP:HU8. Themed, for your pleasure.
Available as a free dowlnload here.