(1) 45 PROOF. [Item by Rich Lynch.] A couple of years ago, in SFPA, I ran an essay titled "Of Beer and the Beltway" which was reprinted in the current (25th) issue of My Back Pages.
In it, I mentioned that a local craft brewery, 7 Locks, was producing a Rye Pale Ale they had named "Surrender Dorothy", the name a riff on The Wizard of Oz but also a homage to a stunt that happened at a Washington Beltway railroad bridge overpass back in the 1970s. Here's what the beer's logo looks like: Surrender Dorothy RyePA – 7 Locks Brewing
In that same issue of MBP, I noted that there had recently been modern day pranksters at work who had updated the "Surrender Dorothy" Beltway bridge stunt by spray-painting that same bridge with "Surrender Donald". And now 7 Locks has produced a limited-run Rye PA with that same name: Surrender Donald 6-packs | 7 Locks Brewing Online Shop
I didn't find out about it until today, when it was described in a short news item in The Washington Post. And since it was a limited run, it's unfortunately no longer available. I see they have beer glasses with that logo listed, so I may try to get one of them. But damn! Wish I'd known about it before today!
(2) SUPER TRAILER. The CW dropped a trailer for Superman & Lois.
(3) VIRTUAL CAPRICON. Capricon 41 begins two weeks from today. It's usually in Chicago, but will be held this year in virtual space.
We have some really amazing program lined up for you, with awesome panelists from all over the world. Check out the full schedule at https://guide.capricon.org/. This is a mostly final schedule, but note that there may still be a few changes to times and panelists to come

Don't Forget to Register! Everyone must register to access the virtual convention space. Register here.
(4) BERNIE SITS IN. A meme-driven website lets you "Put Bernie Anywhere!" The New York Times explains: "Bernie Sanders Is Once Again the Star of a Meme".
Senator Bernie Sanders of Vermont is a fierce advocate of fair wages and a former presidential candidate who lost the Democratic nomination to now-President Biden. And thanks to his practical clothing choices he is also now the center of a seemingly endless flood of altered pictures that dominated some corners of the internet in the hours after Mr. Biden's socially distanced inauguration on Wednesday.

Amid the dark suits and bright coats dotting the Capitol steps, Mr. Sanders was photographed sitting masked, cross-legged and bundled up in a bulky coat and mittens against the frigid weather in Washington, D.C. Soon after, the image, taken by the photographer Brendan Smialowski for Getty Images, began to circulate on social media inserted into a wide array of photographs and scenes from movies and artworks….
(5) NIGHTMARE FROM DEL TORO. "Searchlight Sets Guillermo del Toro's 'Nightmare Alley' for December" reports Yahoo! Entertainment.
Searchlight Pictures has updated its 2021 release calendar, dating Guillermo del Toro's "Nightmare Alley" for December 3. The date puts del Toro's latest in the thick of the 2021-2022 awards season. Searchlight appears to be following the same release plan it gave del Toro's last movie, "The Shape of Water," which started its U.S. theatrical rollout on the first weekend of December. "The Shape of Water" debuted at the Venice Film Festival, winning the Golden Lion, and it seems likely "Nightmare Alley" will show up on the fall film festival circuit.

Del Toro's "Nightmare Alley" is adapted by the filmmaker, and film critic Kim Morgan, from the 1946 William Lindsay Gresham novel of the same name. The ensemble cast includes Bradley Cooper, Cate Blanchett, Toni Collette, Willem Dafoe, Richard Jenkins, Ron Perlman, Rooney Mara, and David Strathairn…
(6) CASE IN POINT. The Hugo Book Club blog is going through all the Hugo-shortlisted dramatic presentations in order to see how the art of SFF cinema has evolved over time. The third post in the series is: "Hugo Cinema Club: 1960 Gets In The Zone".
In 1960, for example, Twilight Zone creator Rod Serling seems to have been mostly unaware of the award until some two weeks later when a delegation of California-based fans who had just returned from Pittsburgh, Pennsylvania visited the CBS offices to hand him a three-pound chrome rocketship on September 22.

The fans — including Bjo and John Trimble, Rick Sneary and Forrest J Ackerman — were greeted warmly by the television legend, who had also earned his fourth Emmy that summer….
(7) DISTAFF SUPERHEROES. The Women of Marvel podcast announced a special celebrating Marvel's heroes will debut in April. Women Of Marvel #1 will spotlight iconic characters from the X-Men to the Avengers in a collection of tales by an all-female lineup from throughout the entertainment industry.
Kicking things off will be comics legend Louise Simonson with a must-read introduction. Simonson will be followed by some of the hottest rising stars in the graphic novel industry. Nadia Shammas punches the glass ceiling with an action-packed She-Hulk adventure, Elsa Sjunneson grits her way to the front line with a tale about Captain Peggy Carter, Sophie Campbell goes feral with a bone-grinding Marrow story, video game and comics writer Anne Toole gets gritty in the streets of Hell's Kitchen, and Natasha Alterici of Heathen fame charges sword-first into the Marvel Universe with a revelatory tale about Rogue and Mystique. With astonishing art from new and established artists Kei Zama (Transformers, Death's Head), Eleonora Carlini (Power Rangers, Batgirl), Skylar Patridge (Resonant, Relics of Youth), Joanna Estep (Fantastic Four, Fraggle Rock) and more, readers are sure to come away powered up and ready to slay.
(8) MEMORY LANE.
2006 — Fifteen years ago at L.A.con IV, Serenity wins the Hugo for Best Dramatic Presentation, Long Form. Serenity was the film that finished off the story that started in the much beloved by fans Firefly series that aired briefly on FOX. Other finalists that year were Wallace & Gromit in the Curse of the Were-Rabbit, The Chronicles of Narnia: The Lion, the Witch and the Wardrobe, Batman Begins and Harry Potter and the Goblet of Fire. It currently holds a phenomenal ninety-one percent rating among audience reviewers at Rotten Tomatoes. 
(9) TODAY'S BIRTHDAYS.
[Compiled by Cat Eldridge and John Hertz.]
Born January 21, 1858 – Anna Dodd. Short stories, novels, essays and other nonfiction e.g. criticism for The Art Journal, In and Out of Three Normandy Inns, Talleyrand. Fluent in French and Italian. Some say Edward Bellamy's Looking Backward was inspired by AD's novel for us The Republic of the Future, subtitled Socialism a Reality, but it's no joyous forecast. (Died 1929) [JH]
Born January 21, 1921 – Charles Eric Maine. A score of novels, as many shorter stories. Here is a cover for his fanzine The Satellite – not to be confused with this. Many applaud his Mind of Mr Soames. Also detective fiction, engineering, radio, television, film. (Died 1981) [JH]
Born January 21, 1923 – Judith Merril. Four novels, thirty shorter stories; book reviews for The Magazine of Fantasy & Science Fiction; half a dozen collections e.g. The Best of JM and posthumous Homecalling; a dozen annual Year's Best SF ("a practically flawless anthologist" – Anthony Boucher). Introduced and commented on Canadian broadcasts of Doctor Who. Co-founded Milford Writers' Conference. Toronto Public Library's Merril Collection named for her. SF Hall of Fame. (Died 1997) [JH]
Born January 21, 1925 — Charles Aidman. He makes the Birthday Honors for having the recurring role of Jeremy Pike on The Wild Wild West, playing him four times. Other SFF appearances include Destination Space, The Invaders, Twilight Zone, Mission: Impossible and Kolchak the Night Stalker to name but a few of them. (Died 1993.) (CE)
Born January 21, 1929 – Arthur Jean Cox. Two novels, a score of shorter stories. Active in his local club – a six-year string of perfect attendance at weekly meetings, eight terms as an officer – and cons e.g. Pacificon I the 4th Worldcon. Essays, letters, reviews in Amazing, Astounding, Fantasy Times, F & SF, Riverside Quarterly, SF Chronicle, SF Review. (Died 2016) [JH]
Born January 21, 1938 — Wolfman Jack. Here because I spotted him showing up twice in Battlestar Galactica 1980 presumably as himself if I trust IMDb as it doesn't list a character for him. He does have genre character roles having been in the Swamp Thing and Wonder Women series plus two horror films, Motel Hell and The Midnight Hour. (Died 1995.) (CE)
Born January 21, 1939 — Walter C. DeBill, Jr., 82. An author of horror and SF short stories and a contributor to the Cthulhu Mythos. Author of the Observers of the Unknown series about a Lovecraftian occult detective which is collected is two volumes, The Horror from Yith and The Changeling. They don't appear to be in print currently. (CE)
Born January 21, 1947 – Cherith Baldry, age 74. Sixty novels, seventy shorter stories, for us, some under different names; a dozen other books; plays; essays, letters, reviews in Banana Wings, Focus, Vector. [JH]
Born January 21, 1956 — Geena Davis, 65. Best remembered genre wise I'd say for being in Beetlejuice but she also appeared in Earth Girls Are Easy and Transylvania 6-5000. She's done some one-offs on series including Knight Rider, Fantasy Island and The Exorcist. Yes, they turned The Exorcist into a series. (CE)
Born January 21, 1956 — Diana Pavlac Glyer, 65. Author whose work centers on C. S. Lewis, J. R. R. Tolkien, and the Inklings. She teaches in the Honors College at Azusa Pacific University in California. She has two excellent works out now, The Company They Keep: C. S. Lewis and J. R. R. Tolkien as Writers in Community and Bandersnatch: C. S. Lewis, J. R. R. Tolkien, and the Creative Collaboration of the Inklings. (CE)
Born January 21, 1972 –Tracy Falbe, age 49. Ten novels. Has read Dracula, Empire of the Summer Moon, Nineteen Eighty-Four, Paradise Lost, Twenty Thousand Leagues Under the Sea. "I want to create someone you want to root for and then give him some disappointing traits. I might infuriate a reader…. I'll at least know that I provoked emotion." [JH]
(10) COMICS SECTION.
(11) BAD FLASHBACK. Sam Besanti, in "What Is Marvel's Heroes Reborn And Why Can't We Shake This Feeling of Impending Doom?" at AV Club, says Marvel Entertainment (the whole company, not just the movie or comic book divisions) sent out a Cryptic Tweet with a teaser announcing the birth of "Heroes Reborn" and speculators are speculating what Marvel means by this.
Today, Marvel Entertainment—that's the whole company, covering the movies, the comics, and the games—posted a curious teaser that simply had the name Heroes Reborn and "whatever happened to Earth's mightiest heroes?" underneath. We don't know specifically what that means, but there is one obvious implication, and based on the… oh, let's say mixed reaction that the post is getting on Twitter, a lot of Marvel fans are coming to the same conclusion….
(12) X-MEN. X-Men Legends #1 hits stand on February 17. The series "will dive into the rich history of the X-Men to tie up loose ends, resolve long-standing plot danglers, and reveal shocking truths that will change the past and future of the X-Men!" Take a first look at the interior artwork here.
X-Men history will be revisited and revealed when X-MEN LEGENDS #1 debuts next month. This first-of-its-kind series will feature the return of the franchise's most influential creators—including Louise Simonson, Chris Claremont, and more— in all-new, in-continuity stories set during their groundbreaking runs. Starting things off will be Fabian Nicieza with a two-part tale that finally reveals the truth behind one of the most talked-about mutant mysteries: Adam-X and his startling connection to the Summers bloodline!

Introduced during Nicieza's explosive work on the X-Men in their nineties heyday, the beginnings of this storyline can be traced back to 1993's X-Men #23. Since then, X-Men fans have endlessly speculated, theorized, and debated what became known as the "third Summers brother" mystery. Now, all will be answered as one the most infamous comic book plot danglers of all time is resolved!
(13) BIG SHOT. [Item by JJ.] Arnold Schwarzenegger posted video of himself receiving his first dose of coronavirus vaccine at the Dodger Stadium mass vaccination site. He celebrated the moment by slipping in a line from his film — "Come with me if you want to live!"
(14) NARNIA IS NOT INERRANT. Joe R. Christopher has a short essay titled "Was Aslan Wrong about Jadis's Plan of Attack?" published in Mythprint 57:4, Whole No. 395 (Winter 2020): 8-9 (for sale at the link.) The answer is "Yes, he was."
(15) HE MUST BE GOING. Larry Correia says Facebook "banned me from my own group because of what I MIGHT say." Correia has been temporarily banned from FB from time to time, but I've never before heard of a ban where a person can still post on his own wall, which is where Correia announced he'll be curtailing his FB presence. Not actually ending it: "There's a few groups I use here that I can't get the equivalent resource anywhere else yet." All that he told his FB followers has been turned into a post for Monster Hunter Nation: "A Farewell to Facebook" [Internet Archive link].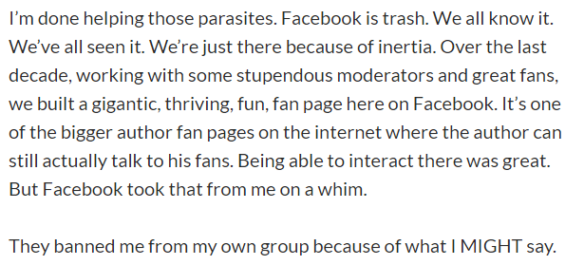 Jon Del Arroz in a new YouTube video said he is amused by this turn of affairs, because he claims Correia had long ago kicked him out of his group.
…The post is kind of making the rounds that Larry Correia was banned from his own Facebook group after a couple of years. I'm kind of laughing about this, I'm not, going to lie, because Larry Correia actually ordered that I would be banned from his Facebook group a couple years ago for my quote wrong think or wrong meaning as it were this always happens with the libertarian crowd…
Truthfulness is not JDA's strong suit, however, he's banned here, so why not from Larry's FB group, too?
(16) BIG AND GRAY. Satellite images may take over from aircraft when it comes to surveying this endangered population: "Elephants counted from space for conservation".
…And all the laborious elephant counting is done via machine learning – a computer algorithm trained to identify elephants in a variety of backdrops.

"We just present examples to the algorithm and tell it, 'This is an elephant, this is not an elephant,'" Dr Olga Isupova, from the University of Bath, said.

"By doing this, we can train the machine to recognise small details that we wouldn't be able to pick up with the naked eye."

The scientists looked first at South Africa's Addo Elephant National Park.

"It has a high density of elephants," University of Oxford conservation scientist Dr Isla Duporge said.

"And it has areas of thickets and of open savannah.

"So it's a great place to test our approach.

"While this is a proof of concept, it's ready to go.

"And conservation organisations are already interested in using this to replace surveys using aircraft."

Conservationists will have to pay for access to commercial satellites and the images they capture.

But this approach could vastly improve the monitoring of threatened elephant populations in habitats that span international borders, where it can be difficult to obtain permission for aircraft surveys.
(17) A ROSE WAR BY ANY OTHER NAME. The Folger Shakespeare Library podcast Shakespeare Unlimited brings us "Shakespeare and 'Game of Thrones'".
Based on his knowledge of Shakespeare's Henry VI plays, Harvard's Dr. Jeffrey R. Wilson knew just how HBO's Game of Thrones would play out. Jon Snow, the illegitimate son, was a Richard III type, who would win the crown (and our hearts, in a love-to-hate-him kind of way). But Daenerys Targaryen, as a kind of Henry VII, would defeat him in battle and win it back, restoring peace and order. Turns out he was wrong about all of that.

But as Wilson kept watching, he began to appreciate the other ways Game of Thrones is similar to Shakespeare—like the way that both Shakespeare and George R.R. Martin's stories translate the history of the Wars of the Roses into other popular genres….
(18) JEOPARDY! Andrew Porter witnessed another stumper on tonight's Jeopardy!
Final Jeopardy: British Writers

Answer: When Agatha Christie disappeared for 11 days in 1926, this British fellow writer tried to find her with the help of a spiritual medium.

Wrong questions: Who is George Orwell? and Who is George Bernard Shaw?

Correct question (only 1 contestant got it right): Who is Arthur Conan Doyle?
(19) A MISSION. Pierre Pettinger, the well-known costumer who along with his wife Sandy received the International Costumers Guild's 2000 Lifetime Achievement Award, published a new space opera in October, The Road From Antioch.
The pilgrim ship Antioch is destroyed just short of the New Vatican. Someone is stealing critical shipments in the Chemosh Empire. Two worlds of the Laanyr Clan Heer have been attacked. Small vessels are buzzing the Rivnyera World Ships.

Who is behind these incidents? Terrorists? Rebels? The mysterious Cherek? Or someone else entirely? The nations of the Orion Arm must join forces and find the culprits.
The investigation ranges from the space around the planet Ans to the fields of Inohr Dan Nool to the supposedly primitive planet of Cordwainer. Join an Admiral, a Catholic Sister, a Knight Militant, an Ensign, a Great Mind, an Inspector and a Herdmaster as they seek out the perpetrators of these odd occurrences.
(20) VIDEO OF THE DAY. Jimmy Kimmel Live aired this wild animation last night – "Goodbye Donald Trump".
[Thanks to John King Tarpinian, Martin Morse Wooster, Mike Kennedy, Michael Toman, John Hertz, Cat Eldridge, JJ, Tammy Coxen, Pierre Pettinger, and Andrew Porter for some of these stories. Title credit goes to File 770 contributing editor of the day Daniel Dern.]