(1) CYBERSTALKING. Patrick Tomlinson has written a 27-tweet thread about the cyberstalking campaign against him, daily threats, invasions of privacy, fake delivery orders, and email accounts impersonating him to send offensive messages to people. His efforts to learn the identities of the stalkers were contested by Cloudflare and a California court refused to require them to be disclosed. Thread starts here.
The pain caused to him and his family has been mocked by the right-wing comics site Bounding Into Comics, and in numerous tweets and videos by Jon Del Arroz.
(2) ON THE FRONT. The Avocado revisits the book cover art – including some international editions – on volumes of Isaac Asimov's famed trilogy: "Judging a Book by its Covers: The Foundation Trilogy".
Del Rey, 1986

Holy smokes, these are beautiful. Three significant points in the Foundation era, illustrated in stunning detail and each with a representative character. Hari Seldon sits on a throne of carefully calculated order. The Mule takes a wrecking ball to the plan and lounges amid the ruins. And Arkady Darell strides through the world that was reborn from that destruction, as nature reclaims the Empire's decaying vestiges. I love these covers. Bravo!

Huh? Doesn't the Mule kind of look like a clown here? That's right! It was Magnifico the whole time, making the Mule an unusually cerebral addition to the hallowed Scary Clown Hall of Fame. Pennywise can eat your soul, but the Mule could make you happy about it….
This is apparently the second in an occasional series. The first installment was: "Judging a Book By its Covers: Podkayne of Mars".
(3) YOU ARE NUMBER SIX. The Hollywood Reporter can hear the cash register still ringing like mad: "Box Office: 'Spider-Man' Swings Past 'Jurassic World' on All-Time List".
No Way Home made headlines on the global stage as it passed up 2019's The Lion King ($1.66 billion) and 2015's Jurassic World ($1.67 billion) to become the No. 6 film of all time worldwide with $1.69 billion in worldwide ticket sales through Sunday, not adjusted for inflation.

In North America, Sony and Marvel's No Way Home returned to No. 1 in its sixth weekend with an estimated $14.1 million from 3,705 theaters for a domestic total of $721 million, the fourth-best showing of all time.
(4) SCOTS TAPING. Do you know where your locations are being shot? "Glasgow becomes Gotham for Batgirl as Scottish film industry booms" says the Guardian.
Icicles were glued on to vintage streetlamps as Glasgow was transformed into a wintry Gotham City over the weekend, as Batgirl became the latest blockbuster to take advantage of Scotland's versatile urban locations and glorious scenery.

Last summer the city was draped in US flags and bunting to simulate a New York parade for the latest Indiana Jones movie, while the stars of the Amazon Prime series Good Omens 2 have been spotted recently in Edinburgh.

For Screw, the flagship new-year drama by STV Studios for Channel 4, the inside of Glasgow's Kelvin Hall – now host to a £11.9m television studio jointly funded by the Scottish government and Glasgow city council – was transformed into a prison wing….
(5) IN SPACE NO ONE CAN HEAR IT TICK. Citizen is ready to sell fans Star Wars Watches, in a variety of franchise themes. Here are two examples, Boba Fett, and Rebel Pilot (each marked down to a mere $280!) There are 18 altogether.
(6) MEDIA BIRTHDAY.
1952 — [Item by Cat Eldridge.] Seventy years ago this month, Alfred Bester's The Demolished Man is first published in three parts starting in the January 1952 issue of Galaxy Science Fiction. Although he had been writing short fiction since 1939, this was Bester's first novel.
The novel is dedicated to Galaxy's editor, H. L. Gold, who made suggestions during its writing. Bester's preferred title was Demolition! but Gold convinced him it was not a good one. Anyone know where the title came from?
The Demolished Man would be published in hardcover by Shasta Publishers the next year. Shasta Publishers was formed in 1947 by a group of Chicago area fans.
Critics at the time really loved it. Anthony Boucher and J. Francis McComas in their Recommended Reading column for The Magazine of Science Fiction and Fantasy said it was "a taut, surrealistic melodrama [and] a masterful compounding of science and detective fiction." And Groff Conklin in his Galaxy 5 Star Shelf column exclaimed that it is "a magnificent novel as fascinating a study of character as I have ever read."
As you know The Demolished Man would win the first Hugo for Best Novel at PhilCon II. It was also nominated for the International Fantasy Award.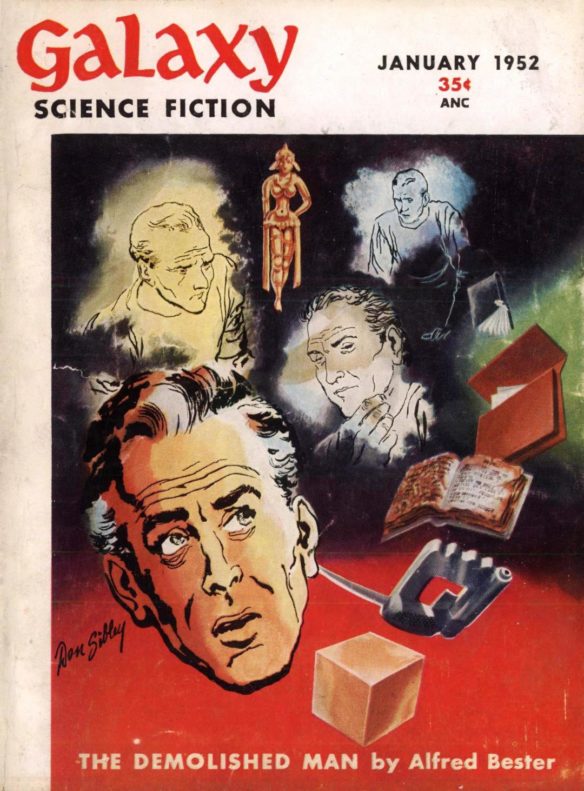 (7) TODAY'S BIRTHDAYS.
[Compiled by Cat Eldridge.]
Born January 24, 1911 — CL Moore. Author, and wife of Henry Kuttner until his death in 1958. They collaborated in such delightful works as "Mimsy Were the Borogoves" and "Vintage Season", both of which were turned into films which weren't as good as the stories. She had a strong writing career prior to her marriage as well with such fiction as "Shambleau" which involves her most famous character Northwest Smith. I'd also single out "Nymph of Darkness" which she wrote with Forrest J Ackerman. I'll not overlook her Jirel of Joiry, one of the first female sword and sorcery characters, and I believe that the "Black God's Kiss" story is the first tale she wrote of her adventures. She retired from writing genre fiction after he died, writing only scripts for writing episodes of Sugarfoot, Maverick, The Alaskans and 77 Sunset Strip, in the late Fifties and early Sixties. Checking the usual suspects , Deversion Books offers a nearly eleven hundred page collection of their fiction for a mere three bucks. (Died 1987.)
Born January 24, 1917 — Ernest Borgnine. I think his first genre role was Al Martin in Willard but if y'all know of something earlier I'm sure you'll tell me. He's Harry Booth in The Black Hole, a film whose charms still escape me entirely. Next up for him is the cabbie in the superb Escape from New York. In the same year, he's nominated for a Razzie Award for Worst Supporting Actor as Isaiah Schmidt in the horror film Deadly Blessing. A few years later, he's The Lion in a version of Alice in Wonderland. Merlin's Shop of Mystical Wonders is horror and his Grandfather isn't that kindly. He voices Kip Killigan in Small Soldiers which I liked, and I think his last role was voicing Command in Enemy Mind (2010). Series wise let's see…  it's possible that his first SF role was as Nargola on Captain Video and His Video Rangers way back in 1951. After that he shows up in, and I'll just list the series for the sake of brevity, Get Smart, Future Cop, The Ghost of Flight 401, Airwolf where of course he's regular cast, Treasure Island in Outer Space and Touched by an Angel. (Died 2012.)
Born January 24, 1937 — Julie Gregg. A performer that showed up in a lot of SFF series though never in a primary role. She was in Batman: The Movie as a Nightclub Singer (uncredited) in her first genre role, followed by three appearances on the series itself, two as the Finella character; one-offs on I Dream of Genie, Bewitched, The Flying Nun, Mission: Impossible, Kolchak: The Night Stalker and Incredible Hulk followed. Her only lead role was as Maggie Spencer in Mobile One which can't even be stretched to be considered genre adjacent. (Died 2016.)
Born January 24, 1944 — David Gerrold, 78. He of course scripted "The Trouble With Tribbles" which I absolutely love, wrote the amazing patch-up novel When HARLIE Was One, has his War Against the Chtorr series and wrote, with Robert Sawyer, Boarding the Enterprise: Transporters, Tribbles, and the Vulcan Death Grip in Gene Roddenberry's Star Trek.  He's been a screenwriter for Star Trek, Star Trek: The Animated Series, Land of the Lost, Logan's Run (the series), Superboy, Babylon 5, Star Trek: Deep Space Nine, Sliders, Star Trek New Voyages: Phase II, and Axanar. Very, very impressive.
Born January 24, 1949 — John Belushi. No, he was not in a single SFF series or film that I can mention here though he did voice work on one such undertaking early in his career that I'll not mention here as it's clearly pornographic in nature. No, he's here for his brilliant parody of Shatner as Captain Kirk which he did on Saturday Night Live which you can watch here.  (Died 1982.)
Born January 24, 1967 — Phil LaMarr, 55. Best known I think for his voice work which, and this is a partial list, includes Young Justice (Aquaman among others), the lead role on Static Shock, John Stewart aka Green Lantern on Justice League Unlimited, Robbie Robertson on The Spectacular Spider-Man, various roles on Star Wars: The Clone Wars and T'Shan on Black Panther. Live roles include playing a jazz singer in the "Shoot Up the Charts" episode of Get Smart, a doctor on The Muppets in their "Generally Inhospitable" segment, a lawyer in the "Weaponizer" episode of Lucifer and the voice of Rag Doll in the "All Rag Doll'd Up" episode of The Flash.
Born January 24, 1985 — Remi Ryan, 37. You most likely remember as her as ever-so-cute hacker urchin in RoboCop 3 who saves the day at the end of that film. She actually had her start in acting in Beauty and the Beast at four and was in The Flash a year later. At twelve, she's in Mann & Machine. A year later is when she's that urchin. Her last genre undertaking was in The Lost Room eight years ago and she retired from acting not long after.
(8) COMICS SECTION.
(9) MARVEL LOADS UP FOR FREE COMIC BOOK DAY. Marvel Comics will celebrate Free Comic Book Day on May 7 this year with three free one-shots. The second title to be announced is Free Comic Book Day 2022: Marvel's Voices #1, an introduction to the critically acclaimed Marvel's Voices series, which spotlights creators and characters across Marvel's diverse and evolving universe. The book will include seven Marvel's Voices stories, spotlighting creators and characters from different cultures, communities, and identities.
In addition to a new story starring Moon Girl by writer Nadia Shammas and artist Luciano Vecchio, the issue will reprint these stories from other Marvel's Voices one-shots:
Writer Evan Narcisse and artist Jahnoy Lindsay's tale showcasing the heroic journey of Brother Voodoo from MARVEL'S VOICES (2020) #1

Acclaimed artist Jeffrey Veregge's showcase of Marvel's greatest indigenous heroes from MARVEL'S INDIGENOUS VOICES (2020) #1

Oscar winning writer John Ridley and artist Olivier Coipel's action packed Miles Morales adventure from MARVEL'S VOICES: LEGACY (2021) #1

Writer Alyssa Wong and superstar artist Whilce Portacio's Wave and Bishop teamup story from MARVEL'S VOICES: IDENTITY (2021) #1

Artist Luciano Vecchio's rousing exploration of the history of LGBTQ+ representation in Marvel Comics from MARVEL'S VOICES: PRIDE (2021) #1

Writer/artist Leo Romero's celebration of Brazilian culture with the X-Men's Shark-Girl from MARVEL'S VOICES: COMUNIDADES (2021) #1 by Leo Romero
(10) N3F SHORT STORY CONTEST. The winners of the 2021 National Fantasy Fan Federation Short Story Contest have been announced.
First Prize ($50): "The Prudence of Silver," by Sean Jones: A Swords and Sorcery "dungeon crawl," with monsters, skeletons, high priests, and a small band of determined heroes to penetrate the depths and accomplish their dire mission. But things are not always what they seem, and, in war, who is really a "good guy?"
Second Prize ($30): "Breaking Good," by Adrian Rayner: A "Noir" style conflict between a publisher and an extortionist. When the armbreakers are making demands, whom can anyone trust?
Third Prize ($20): "Wear Some Flowers In Your Hair," by Markus Nyström: A space battle goes badly — as badly as it could conceivably go — and our hero volunteers to salvage the situation in the only way possible. Will he succeed?
Honorable Mention: "The Landing at the Somme," by Patrick McKay: What if the Martian war machines from "War of the Worlds" had landed in the middle of one of the climactic battles of World War One? What better time to attack, than while earthlings make war on each other?
(11) CRICKETS WILL BE CHIRPING. Netflix has announced that Guillermo del Toro's Pinocchio is coming in December.
Academy Award®-winning filmmaker Guillermo del Toro reinvents Carlo Collodi's classic tale of the wooden marionette who is magically brought to life in order to mend the heart of a grieving woodcarver named Geppetto. This whimsical, stop-motion musical directed by Guillermo del Toro and Mark Gustafson follows the mischievous and disobedient adventures of Pinocchio in his pursuit of a place in the world.
(12) JWST IS ON STATION. "New space telescope reaches final stop million miles out" reports AP News.
The world's biggest, most powerful space telescope arrived at its observation post 1 million miles from Earth on Monday, a month after it lifted off on a quest to behold the dawn of the universe.

On command, the James Webb Space Telescope fired its rocket thrusters for nearly five minutes to go into orbit around the sun at its designated location, and NASA confirmed the operation went as planned.

The mirrors on the $10 billion observatory still must be meticulously aligned, the infrared detectors sufficiently chilled and the scientific instruments calibrated before observations can begin in June.

But flight controllers in Baltimore were euphoric after chalking up another success.
(13) JEOPARDY! Andrew Porter witnessed a category take a bite out of a contestant on tonight's episode of Jeopardy!
Category: Writers do Right

Answer: This author of vampire novels donated $1 each from the sale of "The Short Second Life of Bree Tanner" to the Red Cross.

Wrong question: Who is Anne Rice?

Right question: Who is Stephenie Meyer?
[Thanks to JJ, John King Tarpinian, Andrew Porter, Michael Toman, Dan Bloch, Chris Barkley, Cat Eldridge, Mike Kennedy, and Martin Morse Wooster for some of these stories. Title credit belongs to File 770 contributing editor of the day Jon Meltzer.]