(1) GGBOOKS. The Governor General's Literary Awards presented by the Canada Council for the Arts celebrate literature and inspire the general public to read books by creators from Canada. The five finalists in the fiction category include one work of genre interest, Pure Colour by Sheila Heti. Category winners, who will be named November 16, receive C$25,000 (about US$18,850). The publisher of each winning book receives C$3,000 (about US$2,260) to support promotional activities, and finalists each receive C$1,000 (about US$755).
(2) NOT SUGAR AND PUMPKIN SPICE. Lisa Morton shares her extensive experience writing Halloween-themed fiction with the Horror Writers Association blog: "Halloween Haunts: A Taste of Halloween Beyond – The Talking-board by Lisa Morton".
I've written a lot of Halloween fiction, and I do mean A LOT. As in, I've already had one entire collection of just Halloween short stories and novellas – The Samhanach and Other Halloween Treats – published (by JournalStone) in 2017, and I've written a bunch of new Halloween fiction since. It shouldn't come as a surprise, given that I'm both a horror fiction writer and an expert on Halloween history (with three non-fiction books on that subject to my credit).

When I'm asked to contribute a new Halloween story to something, I always stop first to think about some aspect of the beloved holiday I maybe haven't done…. 
(3) SFF BY POC AT MELBOURNE WRITERS FESTIVAL. "Books: A new wave of sci-fi that has plenty to say about today's world" at the Sydney Morning Herald.
When Maya Hodge read Parable of the Sower, a 1993 novel by Octavia E. Butler, it opened up her mind. This was the first science fiction book the writer had come across written by a black woman. It was about an African American teenager living in a dystopian America, and it made her realise what these books could mean to black and brown folks: "We live in these dystopias. These books are our escape."

Hodge, a Lardil and Yangkaal woman, told the recent Melbourne Writers Festival that she went on to discover the novels of writers such as the African American N. K. Jemisin, hailed by The New York Times as "the most celebrated science fiction and fantasy writer of her generation". Or more locally, Mykaela Saunders, a Koori and Lebanese writer who has edited This All Come Back Now, the world's first collection of blackfella speculative fiction (or spec fic, as it's often known).

What is going on here? It's a new worldwide wave of science fiction and fantasy from writers of colour, First Nations writers, and writers with diverse and migrant backgrounds. They see that creating works in these popular, entertaining and sometimes mind-blowing genres is a way to make serious and subversive points about the real dystopian worlds of marginalised communities, worlds they know only too well….
(4) HEADED FOR NEW ORLEANS. Oghenechovwe Donald Ekpeki told Facebook readers that his Gofundme to attend the World Fantasy Convention funded successfully. The World Fantasy Convention 2022 committee also donated him a free, full membership.
(5) SMOFCON SCHOLARSHIPS AWARDED. Cansmof Inc. announced it has given two people scholarships for the purpose of attending Smofcon 38 in Montréal, Canada.

The first scholarship was awarded to Alex Stornel of Kenora, Ontario.
The second was awarded to Meg Macdonald of Glasgow, Scotland.
Cansmof Inc. created these scholarships to allow promising convention-runners to attend the annual Smofcon convention-runners' convention. The scholarships include a complimentary membership to SMOFCon 38. Smofcon 38 will be held in Montréal. Canada, December 2-4, 2022.
(6) I'M TALKING TO YOU. Katherine Garcia Ley tells SFWA Blog readers how to get answers from their characters: "ROMANCING SFF: 'So, How's Your Love Life?' and Other Questions to Ask Your Characters".
We've all seen them: the thirty pages of interview questions you should ask your characters. The analytical texts on astrological signs. The "ultimate of ultimate" tools offering twenty-some Enneagrams for character development. All these resources are fantastic. Heck, I use them, and they're amazing. I'm a list-loving personality theory hoarder.

These are great tools to use to build characters, but as romance writers (and anyone with a bit of love in their stories), are we asking specific questions about our character in relation to love?

Whether it's for romance novels or romantic subplots, it's incredibly important to examine a character's love life, their perspective on love, and biases on love, because it strengthens arcs, dialogues, and the tone of the story. Honing in on their love life offers insight ranging from a character's body language to their voice….
(7) VALUES BEING LIVED. Poets & Writers interviewer Renée H. Shea finds out "How It Felt: A Profile of Namwali Serpell".
… Activism is part of who Serpell is, her life a bold exercise in human rights in the most literal sense. When she received the Caine Prize in 2015, she announced that she would split the monetary part of the award with the other shortlisted nominees. She was surprised by the impact and intensity of responses. On September 23, 2020—the same day she learned that the police officers who killed Breonna Taylor would not be charged with murder—she learned that she won the prestigious Arthur C. Clarke Award for The Old Drift. She donated the entire monetary prize to the Louisville Community Bail Fund for those detained during protests. She eschews being praised for "generosity"; instead, these actions are motivated by her political and philosophical beliefs about the nature of art. "The logic of competition, of reward, is deeply capitalistic," she says, part of "the insistent corporatization of publishing." She looks to what she calls "people recognition"—other writers, talented editors, and her readers—instead of monetized success…. 
(8) SERPELL Q&A. Then Shondaland interviewed Serpell about her book The Furrows. "Namwali Serpell Distills the Disorienting Experience of Grief in 'The Furrows'".
SN: Death is portrayed in the book as a dynamic and ongoing experience, especially for the people who are left behind. But Wayne has his own life in the book in unexpected ways. How did you approach rendering Wayne's death and life, and the ghosts who live in the bodies of the people you might not even expect?

NS: The second half of the novel really starts to play with this notion of haunting and doubling and doppelgangers in a more explicitly genre sense, and there I was really riffing on Edgar Allan Poe's story "William Wilson." The family in the doppelganger story of Jordan Peele's Us is also named the Wilsons, so he's obviously thinking about this as well, the way that there's some kind of uncanny relationship between the notion of the double or the doppelganger, the notion of haunting, or being haunted by a version of yourself, that seems particular to Black experience. And one of the ways that I think about this is that the double consciousness that W.E.B. Du Bois speaks about manifests as a doppelganger in my novel as well.
(9) PARTY ANIMAL. You'll find "Ray Bradbury's Guide to Throwing the Best Halloween Party" at the American Writers Museum.
Ray Bradbury was a true lover of Halloween. As his favorite holiday, he always made sure to dress in costume and have an amazing Halloween bash. If you're looking to host your own Halloween party—in-person or even online—we've got you covered with advice from the legend himself. To learn more about Bradbury and his love of all things spooky, check out our exhibit, Ray Bradbury: Inextinguishable online and at the museum….

Pro Tip 3: Don't forget the pumpkins!

"The pumpkins began to come alive. One by one, starting at the bottom of the Tree and the nearest pumpkins, candles took fire within the raw interiors. This one and then that and this and then still another, and on up and around, three pumpkins there, seven pumpkins still higher, a dozen clustered beyond, a hundred, five hundred, a thousand pumpkins lit their candles, which is to say brightened up their faces, showed fire in their square or round or curiously slanted eyes. Flame guttered in their toothed mouths. Sparks leaped out their ripe-cut ears."
—Ray Bradbury, The Halloween Tree

We can't guarantee that your jack-o-lanterns will come to life, but they will certainly add to the ambience of the evening. We also cannot necessarily endorse lighting 1,000 candles for pumpkins, so please keep fire safety in mind just in case your pumpkins do come to life.
(10) MEMORY LANE.
1964 — [By Cat Eldridge.] Outer Limits' "Demon With A Glass Hand" (1964)
Through all the legends of ancient peoples — Assyrian, Babylonian, Sumerian, Semitic — runs the saga of the Eternal Man, the one who never dies, called by various names in various times, but historically known as Gilgamesh, the man who has never tasted death … the hero who strides through the centuries … — Opening narration
Fifty-eight years ago on this evening, Outer Limits' "Demon With A Glass Hand" first aired on ABC. As you all know, it was written by Harlan Ellison and it was directed by Bryon Haskin who is best remembered for directing The War of the Worlds which won a Retro Hugo Award.
Really I don't need SPOILER warnings here, do I? Surely you've seen it by now. I have and I think it's one of the best genre stories ever done.
Robert Culp played our central character, our so-called demon with a glass hand, I think it might well be his best performance of his long career. That Trent believes he is human is beautifully scripted by Ellison and acted out just perfectly by Culp right out to point when his hand is finally whole again. And then…
The production was perfect, the other performers, particularly Arlene Martel as Consuelo Biros, the woman in love with him until she discovers that he's quite inhuman, is stellar in her role. And that hand? Years ahead of its time indeed!
It was Ellison third genre script, his first being Voyage to the Bottom of the Sea's "The Price of Doom" the same year flowed by "Soldier" for here. He'd done some amount of mainstream writing — Burke's Law, Ripcord and Route 66, but that was it for our end of things. Later on, his genre output did pick up.
A final note. It has long been held by fans and less than reputable media that "Demon with a Glass Hand" was why Ellison received a settlement after it was supposedly plagiarized for The Terminator. Ellison clarified in a 2001 exchange with a fan at his Web site: "Terminator was not stolen from 'Demon with a Glass Hand,' it was a ripoff of my OTHER Outer Limits script, 'Soldier.'"
Pluto and Youtube are streaming it.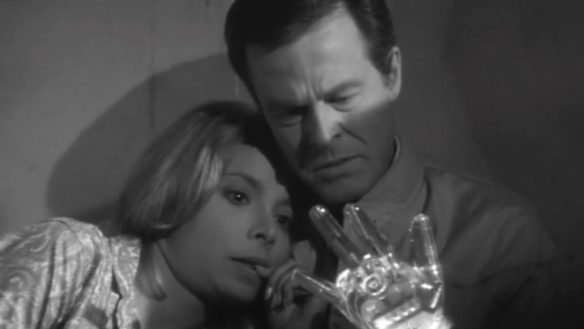 (11) TODAY'S BIRTHDAYS.
[Compiled by Cat Eldridge.]
Born October 17, 1913 — Robert Lowery. Batman in 1949's Batman and Robin. You can see the first episode here. And he popped up in an episode of the Adventures of Superman. (Died 1971.)
Born October 17, 1914 — Jerry Siegel. His most famous creation was Superman, which he created in collaboration with his friend Joe Shuster. He was inducted (along with the previously deceased Shuster) into the comic book industry's Will Eisner Comic Book Hall of Fame in 1992 and the Jack Kirby Hall of Fame in 1993. (Died 1996.)
Born October 17, 1921 — Tom Poston. One of his acting first roles was The Alkarian (uncredited at the time ) in "The Mystery of Alkar" episode of Tom Corbett, Space Cadet in 1950. He much later had the recurring role of Mr. Bickley in Mork & Mindy. (Died 2007.)
Born October 17, 1926 — Julie Adams. Her most famous role no doubt is being in the arms of The Creature from Black Lagoon. She also been on Alfred Hitchcock Presents three times, and once each on The Girl from U.N.C.L.E. The Night Gallery, Kolchak: The Night Stalker, The Incredible Hulk and Lost. (Died 2019.)
Born October 17, 1934 — Alan Garner, 88. His best book? That'd be Boneland which technically is the sequel to The Weirdstone of Brisingamen and The Moon of Gomrath but really isn't. Oh, and The Owl Service is amazing!
Born October 17, 1950 — Michael Tolkin, 72. Of genre interest, he directed Deep Impact, he had uncredited writing in the first Punisher film and the same for Dawn of the Dead. Likewise The Haunting. Is that a form of ghostwriting? EoSF notes, "He also wrote and directed the adaptation of Robert A Heinlein's 'Jerry Was a Man' (October 1947 Thrilling Wonder) for the Television Anthology Series Masters of Science Fiction (2007)." 
Born October 17, 1945 — Thomas Kopache, 77. One of those actors who appeared in a lot of Trek — Next Generation twice in different roles followed by the Generations film then Voyager once followed by Deep Space Nine where he appeared twice in a recurring role, and finally twice on Enterprise in different roles.
Born October 17, 1966 — Mark Gatiss, 56. English actor, screenwriter, director, producer and novelist. Writer for Doctor Who; with Steven Moffat, whom Gatiss worked with on Doctor Who and Jekyll, he also co-created and co-produced Sherlock. As an actor, I'll note he does Vogon voices in The Hitchhiker's Guide to the Galaxy, and is Mycroft Holmes in Sherlock.
(12) COMICS SECTION.
(13) WHAT SMELLS IN MIDDLE-EARTH? [Item by Olav Rokne.] Welp. They did not like that show. And after the finale, I'm inclined to agree. "Now it's over, let's come out and say it: The Rings of Power was a stinker".
…The Lord of the Rings: The Rings of Power isn't very good. It quite often isn't anywhere near good. There are moments in almost every episode where I have found myself sniggering into my sleeve at how inept it is. And all these misgivings were massively underlined by the finale….
(14) IT'S IMPOSSIBLE. No, it's not Perry Como. IGN unveiled the Something in the Dirt Official Trailer.
Levi has snagged a no-lease apartment sight unseen in the Hollywood Hills to crash at while he ties up loose ends for his exodus from Los Angeles. He quickly strikes up a rapport with his new neighbor John, swapping stories like old friends under the glowing, smoke-filled skies of the city. Soon after meeting, Levi and John witness something impossible in one of their apartments. Terrified at first, they soon realize this could change their lives and give them a purpose. With dollar signs in their eyes, these two eccentric strangers will attempt to prove the supernatural.
(15) AESTHETICS IN SFF. Heath Row looks back 50 years ago: "Book Review: 'The Light That Never Was' by Lloyd Biggle, Jr." at the LASFS.org blog.
Lloyd Biggle, Jr., was a musicologist with a PhD in musicology, a musician, an educator, and an oral historian, so it might not come as a surprise that the arts—and aesthetics—play a major role in this delightful 1972 science fiction novel and in much of his sf writing. Biggle also served in various roles for the Science Fiction Writers of America, founded the Science Fiction Oral History Association, and turned to writing full time in the 1960s. Kelly Freas's cover painting for this paperback edition captures the themes of the novel well: alien humanoids considering a human sculpture….
(16) LET THOSE WHO HAVE EARS. [Item by Tom Becker.] One time when Joni Mitchell was singing her famous song "Both Sides Now", she flashed on how it related to Star Trek. "Both Sides Now".
"Did you ever used to watch that show called Star Trek? (cheers from crowd) Oh… I just had a flash of this show, that I saw while I was singing this tune. It was the only show where Dr. Spock ever got any emotion, right? You remember that one? It was really great because… well, for those of you who never saw it, anyway, the premise is this…"
And Mitchell continues for about 400 words…
(17) ARECIBO WILL NOT BE REBUILT. "Fallen Arecibo Observatory telescope won't be rebuilt" reports Space.com.
The Arecibo Observatory's massive radio dish was an unusual facility because it was a key player in three different fields of science: atmospheric studies, radio astronomy and planetary radar. Opened in 1963, the telescope's observing equipment hung from a web-like platform strung over a massive dish 1,000 feet (305 meters) wide. But in December 2020, the cables supporting that platform gave out and the equipment crashed down through the delicate dish, destroying the telescope.

Now, the National Science Foundation (NSF), which owns the site, has determined that despite scientists' pleas, Arecibo Observatory won't be getting any new telescope to replace the loss. The new education project also doesn't include any long-term funding for the instruments that remain operational at the observatory, including a 40-foot (12 m) radio dish and a lidar system….

… Instead, the NSF intends to build on the observatory's legacy as a key educational institution in Puerto Rico by transforming the site into a hub for science, technology, engineering and math (STEM) education, due to open in 2023, according to a statement(opens in new tab). The observatory is also home to the Ángel Ramos Foundation Science and Visitor Center, which opened in 1997….
[Thanks to Chris Barkley, Michael Toman, Cat Eldridge, Bill, Kevin Standlee, Lise Andreasen, Olav Rokne, Tom Becker, Mike Kennedy, Martin Morse Wooster, JJ, John King Tarpinian, Andrew Porter for some of these stories. Title credit belongs to File 770 contributing editor of the day Dan'l Danehy-Oakes.]