(1) SHAUN TAN Q&A. Steven Heller interviews artist Shaun Tan for Print in "The Daily Heller: One-Eyed, One-Horned, Flying Purple People Eater".
You create nightmarish visions that have a witty or acerbic quality, like the one-eyed creature on the cover of your book. Do you lean towards high or comic graphic depictions?
I suppose I hover in between, or try to fuse, as there's no reason a thing can't be both. I think of Philip Guston's paintings, for instance, or a film like Terry Gilliam's Brazil, which was very influential for me as a teenager, or the comics of Daniel Clowes and Chris Ware—which can be simultaneously funny and painful—the stories of Kelly Link. In fact, I love anything that exists in that space between scary and funny, or serious and frivolous. I suppose I'm interested in figuring out the difference, why we react to some things as creepy and disconcerting, and to others as delightful and amusing. I think the one-eyed creature you mention is a good one for that kind of emotional litmus test. It is both disquieting and inviting, cool and warm. A lot of the work at the easel is about striking that balance, and it is a very precarious balance that can take days to get right. For me it comes down to a backlit feather, the obscured parts of a face, the movement of shadow on stems of grass.
(2) GIANCOLA EXHIBITION. The Huntsville (AL) Museum of Art will host "Donato Giancola: Adventures in Imagination" from October 30 through January 22. Giancola is the winner of three Hugo Awards, a World Fantasy Award, plus 23 Chesley Awards for his superlative work in the field.
Donato Giancola is an American artist specializing in narrative realism with science fiction and fantasy content. Considered the most successful sci-fi/fantasy illustrator working today, he creates engaging paintings that bridge the worlds of contemporary and historical figurative arts. Exclusive to the Huntsville Museum of Art, Adventures in Imagination will include a range of thematic subjects, including paintings and drawings based on the popular HBO series Game of Thrones, J.K. Rowling's Harry Potter, J. R. R. Tolkien's Lord of the Rings, and the fantasy tabletop role-playing game Dungeons & Dragons. Also included are works created to illustrate the covers and stories of recent fantasy novels, as well as other surprises….
(3) CLOSE YOUR EYES. "Doctor Who: Every Companion Featured in the Centenary Special" – in case you don't have enough spoilage already, CBR.com says they've named them all.
"The Power of the Doctor" was significant in Doctor Who history in more ways than one. Not only did the episode see Jodie Whittaker's Thirteenth Doctor regenerate into one of her former selves for the first time in the series' history, but the special was part of the BBC's centenary celebration. The episode marked the occasion well with the return of some familiar faces from the sci-fi series' long history, which spans more than half the BBC's lifetime….
(4) A BOOK WITH A DIFFERENT KIND OF PROMOTION. Tananarive Due is named one of the "5 Female Demi-Gods of Horror" by CrimeReads.
TANANARIVE DUE: "Ghost Summer: Stories" (Sept. 2015)

From the USA, I present Ghost Summer: Stories, a collection of horror stories featuring fourteen short stories and the novella, Ghost Summer, from which the book gets its title. The work showcases Due's undisputable skill as a master storyteller. Due also makes little intimate notes after each story which the reader will find just as engaging. The stories are creepy, and the horror subtle, yet powerful. Stories like The Knowing, (dealing with a woman who knows when everybody she meets is going to die, including her own son) and Ghost Summer, (featuring a town where the children are the only ones to see the ghosts dwelling in their midst) are my personal favourites. The themes of racial injustices, as well as historical events, come together to make this book a must-read for every horror fan this Halloween. Another hit by this fiercely unconventional American horror writer….
(5) IS IT A GOOD FAKE? "When a Modern Director Makes a Fake Old Movie: A Video Essay on David Fincher's Mank". Open Culture analyzes how effective the deception is.
As of this writing, Mank is David Fincher's newest movie — but also, in a sense, his oldest. With Netflix money behind him, he and his collaborators spared seemingly no expense in re-creating the look and feel of a nineteen-forties film using the advanced digital technologies of the twenty-twenties. The idea was not just to tell the story of Citizen Kane scriptwriter Herman J. Mankiewicz, but to make the two pictures seem like contemporaries. As Fincher's production designer Donald Graham Burt once put it, the director "wanted the movie to be like you were in a vault and came across Citizen Kane and next to it was Mank." ….
Here's a video about the challenge David Fincher took on.
(6) BECALMED IN WINTER. George R.R. Martin was on Stephen Colbert's show to promote other books and projects, however, you won't be surprised that it was only the book he doesn't have out that made news. In The Hollywood Reporter: "George R.R. Martin Says 'The Winds of Winter' Is Now Three-Quarters Finished".
George R.R. Martin is giving a specific update on his Winds of Winter progress.

The Game of Thrones and House of the Dragon author was on The Late Show with Stephen Colbert on Tuesday, where he was asked the mandatory, yet wearisome, question about his progress on the long-long-awaited next A Song of Ice and Fire book.

"I think it's going to be a very big book [more than 1500 pages] and I think I'm about three-quarters of the way done," Martin said. "The characters all interweave and I'm actually finished with a couple of the characters, but not others. I have to finish all that weaving."

Colbert did the math. "So [it's taken] 10 years to go 75 percent of the way through … which means about … three more years?"

"That's depressing," Martin replied, and also lamented that the moment he finishes, he'll get the first tweet asking when his seventh and final ASOIAF book is coming, A Dream of Spring. The author said he hasn't even played his hit game, Elden Ring, due to his writing commitment….
(7) THE HILLS ARE ALIVE WITH THE SOUND OF GAIMAN. "Author Neil Gaiman to Release First Album with Australian String Quartet" reports American Songwriter.
Creator of The Sandman, Stardust, American Gods, and countless graphic novels and books, Neil Gaiman is releasing his first album of original music, Signs of Life (Instrumental Recordings) in collaboration with the Australian FourPlay String Quartet, out April 28, 2023.

All words, music, and backing vocals provided by Gaiman, the album comes after the author and quartet have collaborated for more than 12 years. The quartet was first commissioned to compose a soundtrack for Gaiman's 2010 novella, The Truth Is a Cave in the Black Mountains, which they later performed together.

Ahead of the April 2023 release, Gaiman and the quartet shared two new singles, "Bloody Sunrise" and "Credo," the former accompanied by an official music video, directed by James Chappell, featuring Goodridge, who sings lead vocals, lying in a coffin and rising to perform with the FourPlay String Quartet in a graveyard. Gaiman, who also sings backing vocals, also makes a cameo on a flickering television screen at the beginning of the video….
(8) PLANETARY POSTER CHILD. In time for Halloween, NASA's Exoplanet Exploration webpage invites us into the "Galaxy of Horrors".
Take a tour of some of the most terrifying and mind-blowing destinations in our galaxy … and beyond. After a visit to these nightmare worlds, you may never want to leave Earth again! You can also download our free posters – based on real NASA science – if you dare.
Here's an example:
(9) MEMORY LANE.
1950s — [By Cat Eldridge.] Ray Bradbury's EC Comics 
During a particularly wonderful moment in the early 1950s, EC Comics adapted twenty-five classic Ray Bradbury stories into comics form. Al Feldstein scripted, and all of EC's artists illustrated, his tales — Johnny Craig, Reed Crandall, Jack Davis, Will Elder, George Evans, Frank Frazetta, Graham Ingels, Jack Kamen, Roy Krenkel, Bernard Krigstein, Joe Orlando, John Severin, Angelo Torres, Al Williamson, and Wallace Wood.
Now the twenty-five stories themselves were done between 1951 and 1954 in oversized newspaper style design. The volume also includes ten "related" stories.
The title story apparently combines two of his stories, those being "Kaleidoscope" and "Rocket Man", and Bradbury was very proud of the result. "Sound of Thunder", which was later filmed, is here as well. So is a favorite story of mine, "The Million Years Picnic".
Bradbury had several primary sources for these stories — the Dark Carnival tales, The Martian Chronicles, The Golden Apples of the Sun and The Illustrated Man stories.
Now Fantographics has gathered all them including those maybe unauthorized stories in Home to Stay!: The Complete Ray Bradbury EC Stories.
Not at all surprisingly, it has a load of bonus features, including introductions and commentary by Greg Bear, Thommy Burns, Bill Mason, Dr. Benjamin Saunders, and Ted White; a nice look at the comics by Bradbury; and two full-color paintings by Frank Frazetta.
It's the usual superbly fine work by Fantographics at, all things considered, a very reasonable price, just seventy-five dollars.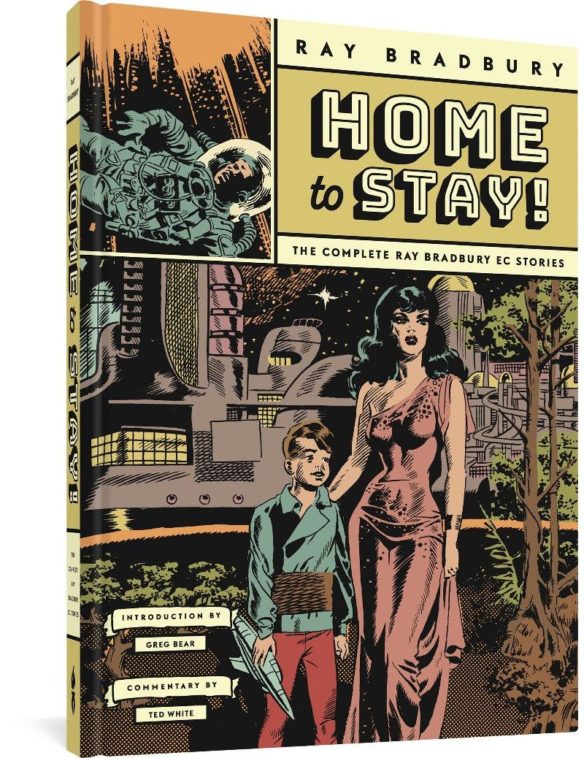 (10) TODAY'S BIRTHDAYS.
[Compiled by Cat Eldridge.]
Born October 26, 1934 — Dan McCarthy. The grand old man of New Zealand fandom. He belonged to Aotearapa, New Zealand's APA, for 25 years, and was its official editor from 1986-1987 and 2001-2003. As a member, he contributed 77 issues of his fanzine Panopticon, for which he did paintings and color graphics. His skills as a fanartist were widely appreciated: he was a Fan Guest of Honour at the New Zealand national convention, a nominee for the Sir Julius Vogel Award, and he won NZ Science Fiction Fan Awards (the predecessor of the Vogel) Best Fan Artist twice. (Died 2013.) (JJ) 
Born October 26, 1942 — Bob Hoskins. I'll insist his role as Eddie Valiant in Who Framed Roger Rabbit? is his finest genre role although I suppose Mario Mario in Super Mario Bros. could be said… Just kidding!  He played Professor George Challenger in a film version of Arthur Conan Doyle's The Lost World, and also appeared in Snow White and The Huntsman, Hook, the Hugo-nominated Brazil, A Christmas Carol, Son of The Mask, and as the voice of The Badger in an animated version of The Wind in The Willows. (Died 2014.)
Born October 26, 1945 — Jane Chance, 77. Scholar specializing in medieval English literature, gender studies, and J. R. R. Tolkien with a very, very impressive publication list for the latter such as Tolkien's Art: A "Mythology for England, Tolkien the Medievalist, The Lord of the Rings: The Mythology of Power and Tolkien, Self and Other: "This Queer Creature". 
Born October 26, 1953 — Jennifer Roberson, 69. Writer of of fantasy and historical romances. The Chronicles of the Cheysuli is her fantasy series about shapeshifters and their society, and the Sword-Dancer Saga is the desert-based adventure series of sort, but the series I've enjoyed most is her Sherwood duology that consists of Lady of the Forest and Lady of Sherwood that tells that tale from the perspective of Marian. Her hobby, which consumes much of her time, is breeding and showing Cardigan Welsh Corgis.
Born October 26, 1962 — Cary Elwes, 60. He's in the ever-so-excellent Princess Bride as Westley / Dread Pirate Roberts / The Man in Black which won a Hugo at Nolacon II. He also shows up in Dr. Lawrence Gordon in the Saw franchise, and was cast as Larry Kline, Mayor of Hawkins, for the third season of Stranger Things. And that's hardly all his genre roles. 
Born October 26, 1963 — Keith Topping, 59. Writer from England. It being the month of ghoulies, I've got another academic for you. He's published a number of non-fiction reference works – frequently in collaboration with Martin Day and/or Paul Cornell – for various genre franchises, including The Avengers, The X-Files, Stargate SG-1, Star Trek Next Generation and Deep Space Nine, Buffy the Vampire Slayer, Angel, and for horror film fans in general, A Vault of Horror: A Book of 80 Great British Horror Movies from 1956-1974. He's also written four novels in the Doctor Who universe, and co-authored The DisContinuity Guide.
Born October 26, 1971 — Anthony Rapp, 51. Lieutenant Commander Paul Stamets on Discovery. His first role ever was Wes Hansen in Sky High, and he showed up early in his career as Jeff Glaser in the "Detour" episode of X-Files. He was Seymour Krelbourn in a national tour of Little Shop of Horrors.
Born October 26, 1976 — Florence Kasumba, 46. Actor of German Ugandan heritage who has done films in English, German, and Dutch languages. She is best known for her role as Ayo in the Marvel universe movies Captain America: Civil War, the Hugo nominated Black Panther, and Avengers: Infinity War, but she also had a role in the Hugo-winning Wonder Woman, played the Wicked Witch of the East in the TV series Emerald City, and voiced a character in the live-action remake of The Lion King.
(11) HO HO HO, IT'S THE GUARDIANS OF THE GALAXY. Entertainment Weekly cues up the clip: "The Guardians of the Galaxy kidnap Kevin Bacon in their first holiday special trailer" .
Yes, the real Kevin Bacon.

The Guardians of the Galaxy are rockin' around the Christmas tree — or is that the Christmas Groot?

Director James Gunn has shared the first trailer for the Guardians of the Galaxy Holiday Special, teasing our first look at Marvel's most festive project yet. The upcoming special will debut on Disney+ in November, and it follows everyone's favorite ragtag band of space weirdos as they cavort around the universe and try to spread a little Christmas cheer….
(12) MAYBE IT'S JUST SOCIAL MEDIA DOES THAT. Try not to be disappointed, however, video games may not rot your brain after all! The Verge reports "Kids who play video games score higher on brain function tests".
Kids who play video games have better memory and better control over their motor skills than kids who don't, according to a new study looking at adolescent brain function.

Video games might not be responsible for those differences — the study can't say what the causes are — but the findings add to a bigger body of work showing gamers have better performance on some tests of brain function. That lends support to efforts to develop games that can treat cognitive problems.

… To study video games and cognition, the research team on this new study pulled from the first set of assessments in the ABCD study. It included data on 2,217 children who were nine and 10 years old. The ABCD study asked participants how many hours of video games they played on a typical weekday or weekend day. The research team divided the group into video gamers (kids who played at least 21 hours per week) and non-video gamers (kids who played no video games per week). Kids who only played occasionally weren't included in the study. Then, the research team looked at the kids' performance on tests that measure attention, impulse control, and memory.

The video gamers did better on the tests, the study found…. 
(13) HOW LONG CAN YOU HOLD YOUR BREATH? "NASA instrument detects dozens of methane super-emitters from space" at Yahoo!
An orbital NASA instrument designed mainly to advance studies of airborne dust and its effects on climate change has proven adept at another key Earth-science function – detecting large, worldwide emissions of methane, a potent greenhouse gas.

The device, called an imaging spectrometer, has identified more than 50 methane "super-emitters" in Central Asia, the Middle East and the Southwestern United States since it was installed in July aboard the International Space Station, NASA said on Tuesday.

The newly measured methane hotspots – some previously known and others just discovered – include sprawling oil and gas facilities and large landfills….
(14) WHY I OTTER… "In Prehistoric Ethiopia, Otters Were as Big as Lions" according to Atlas Obscura.
SOME THREE MILLION YEARS AGO, one of our early hominin ancestors was chowing down on some leaves along a riverbank in what is now Ethiopia. And there it was—440 pounds of fur, with teeth strong enough to crush bone. An otter the size of a large male lion ambled through the dense grasses before bending down to drink from the muddy riverbank. Our ancestor, we figure, crept back into the surrounding woodlands. It doesn't matter how potentially adorable the giant otter may (or may not) have been, you just don't want to cross an animal that size.

The otter, Enhydriodon omoensis, is the largest ever found. A new study in the French journal Comptes Rendus Palevol is the first to classify the species, naming it after Ethiopia's Omo River, where its remains were uncovered. While the study calls the otter "lion-sized," paleontologist Margaret Lewis of Stockton University in New Jersey, who first analyzed some of the fossils in 2008*, thinks "that's kind of underselling it." "Bear otter," she says, is perhaps a better term to encapsulate just how massive these otters were. Okay, grizzly otter it is….
(15) TOM AND JERRY ON THEIR WAY TO THE CRUSADES. "Artist Makes Astonishing Armor for Cats & Mice". Open Culture admires the work.
…Using steel, silver, brass, bronze, nickel, copper, leather, fiber, wood, and his delicate jewelry making tools, DeBoer became the cats' armorer, spending anywhere from 50 to 200 hours producing each increasingly intricate suit of feline armor.  A noble pursuit, but one that inadvertently created an "imbalance in the universe":

The only way to fix it was to do the same for the mouse.
(16) VIDEO OF THE DAY. [Item by Martin Morse Wooster.] In "Honest Game Trailers:  Grounded," the Screen Junkies say this game, where you shrink to bug size and run around a back yard, is a cross between Honey, I Shrunk The Kids and "any survival game you've ever played." With the game explorers' "greatest fear:  touching grass."  But what other game lets you paint your own sphid?
[Thanks to Michael Toman, Cat Eldridge, Mike Kennedy, Arnie Fenner, Daniel Dern, Jennifer Hawthorne, Martin Morse Wooster, JJ, John King Tarpinian, and Chris Barkley and Andrew Porter for some of these stories. Title credit belongs to File 770 contributing editor of the day Cat Eldridge.]