(1) CASE DISMISSED. Nerd & Tie's Trae Dorn finally came out on top: "Ryan Kopf's Second Lawsuit Against Us Has Been Finally Dismissed". (See more details in 2016 post "Ryan Kopf Sues Blogger Trae Dorn".)
Since 2016 Nerd & Tie, former Nerd & Tie contributor Pher Sturz, and I have been defending a defamation lawsuit brought against us by AnimeCon.org convention owner Ryan Kopf in the state of Illinois. It's been a long road, and a lot has happened — but we're happy to say that the Illinois lawsuit (like his Iowa lawsuit before it) has been dismissed.

This time around, it was dismissed for failure to prosecute.

We want to thank everyone who stood by us these six years, and helped raise our voice in the convention community. A lot has changed in the half dozen years of this lawsuit, but we hope to continue our commitment to the con scene at large. We stand by the articles we published that were named in the suit, and twice now we've stood up for ourselves and won….
(2) NYPL RECOMMENDED COMICS. [Item by Cathy Green.] The New York Public Library has put together a list of the 50 best comics for adults published in 2022. There's quite a few on the list that I think would be Hugo eligible in the graphic novel category. "Best New Comics of 2022 for Adults".
(3) TOM GAULD INTERVIEW. In Print Magazine, Steven Heller interviews the cartoonist: "Tom Gauld's 'The First of the Mohicans' and Many, Many More Paeans to Books and Authors".
Do you have a professional, scholarly or simply personal relationship to books?
It started out as a purely personal interest in reading but, because these cartoons appear every week in the "Books" section of The Guardian newspaper, it's become a somewhat professional thing, too. I think without the weekly commission I'd still make some cartoons about books, but probably not on a weekly basis.

Why are librarians the target of your acerbic yet sympathetic humor?
My parents were big library users and drove me and my brother from our house in the countryside in Scotland to the local library every week, and that's where I discovered many amazing authors, so I've always had a soft spot for libraries and librarians. In the UK our dismal government has been closing libraries and I wanted to make a cartoon supporting librarians. It seemed too insipid and obvious to make a cartoon which just said "libraries are good," so I did the opposite and made a cartoon about dangerous librarians rising up and taking over the world. That's where the title for the book comes from.
(4) A WRITER'S CAREER BEGINS. Samuel R. Delany posted a long autobiographical comment on Facebook earlier this week which begins:
From the outside, often I look like the writer of a single novel—a strange, semi-fantasy that can have many readings, which—after a couple of years, when the publisher had published another—*Trouble on Triton* as well—they considered it enough of a success to rope in almost all my earlier books, including half-a-dozen of the seven that had already been published; as well, they bought the rights of the two most interesting (Hogg and Equinox, which there was no chance of their publishing); they even subsidized me through three-quarters of my next major project, Return to Nevèrÿon, before finally deciding I was incorrigible, and turned me over to the university system, in which I had been dabbling my toes since '75, to begin 35+ years as a professor of (first) comparative literature and (second) English and (third) creative writing, at four universities. (One was a repeat.)…
(5) READ TWO TABLETS AND CALL ME IN THE MORNING. "Ecocide, toxic masculinity, fear of death, and more: the Epic of Gilgamesh's themes could be transcribed from yesterday's newspaper," argues Robert Macfarlane in "A Fireball from the Sands" behind a paywall at The New York Review of Books.
…That the Epic of Gilgamesh exists at all is close to a miracle, and has much to do with the bibliophilia of the last great Assyrian king, Ashurbanipal (reigned 669–627 BCE), as well as the curatorial talents of desert sand. Partial versions of Gilgamesh are found in multiple languages, including an older Sumerian cycle of five (probably freestanding) stories that date back in written form to circa 2100 BCE; an Old Babylonian version from circa 1750 BCE; and the twelve-tablet Standard Babylonian version, which provides the main basis of all modern translations of Gilgamesh and is thought to have been edited between circa 1200 and 1000 BCE.

The best-preserved tablets bearing the Standard Babylonian version were recovered in the mid-nineteenth century from the buried ruins of the Library of Ashurbanipal at Nineveh (now Kouyunjik in northern Iraq). A cultured despot, Ashurbanipal used the might of his empire to create the greatest library of the age. He ordered the regional centers of Mesopotamia to send him copies of significant texts in their holdings, he plundered the repositories of the cities defeated by his armies, and he hired scholars and scribes to make copies of Babylonian sources on fine clay, and in many cases to stamp those copies with a colophon recording his ownership….
(6) THE BREAKFAST BAR IS OPEN. A CNN opinion piece speculates about "A Martian menu that could transform how we eat on Earth".
…Lunch takes place in the main cafeteria where every inch of spare space is filled with greenery, because a core design principle on Mars is to ensure that every photon of solar energy is used to grow plants. On the menu is a leafy salad tossed with plant-based protein cubes and seasoned with salty seaweed flakes, accompanied by a milkshake.

The salad greens are grown in hydroponic solutions under LED lights that are timed to ensure each plant gets the right wavelength of light, at the right intensity, and at the right moment to optimize growth. Most of these plants are cultivated underground, safe from radiation, in an atmosphere enriched with carbon dioxide (plants generally do better when carbon dioxide levels are a bit higher than is comfortable for humans).

The seaweed is grown in the tanks along with the algae that went into the breakfast bar…
(7) MEMORY LANE.
1990 – [By Cat Eldridge.] Thirty-two years ago in syndication in the States, the She-Wolf of London series first aired on this date possibly in your market. This series should not be confuse with the horror film that aired forty-five years earlier starting June Lockhart.
Our series was created by Tom McLoughlin and Mick Garris. The former's apparent, and I do mean apparent, claim to fame is directing Friday the 13th Part VI: Jason Lives and One Dark Night. Really? The latter on the other sharpened claw has worked a lot with Spielberg, is the creator of the Showtime Masters of Horror series, has an Edgar for an episode he wrote for the Spielberg's Amazing Stories series… Shall I stop? Seriously he's really great.
SPOILERS NOW. THEY HAVE TEETH. THEY BITE, REALLY.
It starred Kate Hodge as the really sexy American graduate student Randi Wallace who travelled to London Britain to study mythology with Prof. Ian Matheson and gets bitten one night on a British moor and turns into a werewolf.
Together they attempt to solve supernatural cases — a headless horseman, the spirit of Guy Fawkes, another werewolf and other creatures that are sort of convincingly presented.
Eventually, their search takes them from London to Los Angeles, when they move back to Randi's original home and Ian becomes host of an appalling down market TV talk show focusing on psychic phenomena.
NO MORE TEETH FOR NOW
The move to the States represents the really, really weird spilt in the series. There was one season with the first fourteen episodes being filmed in a London studio mostly and aired under the She-Wolf of London name, and a second season of six episodes was filmed in Los Angeles and aired under the name of, and may I say yuck, Love and Curses.
Some sources, well wiki, say the series contained female nudity which would have been extremely unusual for the time. I cannot confirm this.
Episodes of the series ran on Sci-Fi for a short time following its cancellation. For these airings, the Love and Curses episodes were retitled She-Wolf of London. For once, Sci-Fi did something smart.
The series was originally on the Hollywood Premiere Network which would become UPN.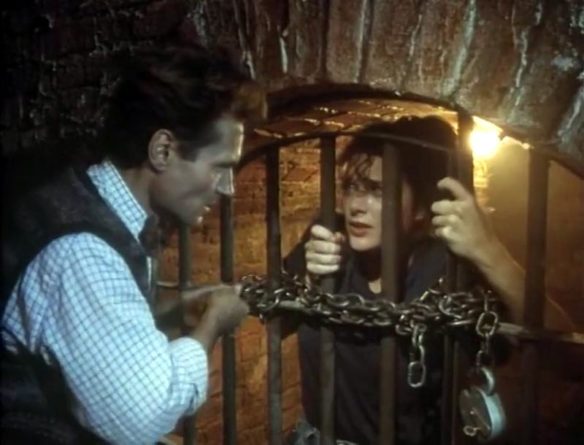 (8) TODAY'S BIRTHDAYS.
[Compiled by Cat Eldridge and JJ.]
Born October 9, 1890 — Harlan Thompson. Screenwriter, Lyricist, Stage and Screen Director and Producer. After an early career co-writing scripts and lyrics for Broadway musicals, he turned his talents to Hollywood, creating films and musicals which starred names such as Cary Grant, Bob Hope, Mae West, and W.C. Fields. His genre connection is his credit for the official novelization in 1972 of the movie Silent Running. The Encyclopaedia of Science Fiction notes that "The novel quietly patches some plot holes in the film's script." (Died 1966.)
Born October 9, 1900 — Harry Bates. Writer, Editor, and Member of First Fandom. Editor from 1930 to 1933 the new pulp magazines Astounding Stories of Super-Science (which later became Astounding Stories, then Analog) and Strange Tales of Mystery and Terror. His Retro Hugo finalist novelette "Farewell to the Master" was the source of the classic science fiction film The Day the Earth Stood Still. He wrote a number of other stories under his own name and under various pseudonyms. In 1976 he was inducted into the First Fandom Hall of Fame. (Died 1981.)
Born October 9, 1949 — Jim Starlin, 73. Comics artist and illustrator. If you've seen Guardians of the Galaxy, you've seen the characters Thanos and Drax the Destroyer which he created. He would also work for DC and other companies over the years. Starlin and Bernie Wrightson produced Heroes for Hope, a 1985 one-shot designed to raise money for African famine relief and recovery. Genre writers such as Stephen King, George R. R. Martin, Harlan Ellison, and Edward Bryant would contribute to this undertaking. He's written a number of genre novels co-written with his wife Daina Graziunas. 
Born October 9, 1948 – Ciaran Carson. Northern Ireland-born poet and novelist who is here, genre wise at least, for his translation of the early Irish epic Táin Bó Cúailnge, which he called simply The Táin. I'm also going to single him out for penning the finest book ever written on Irish traditional music, Last Night's Fun: About Time, Food and Music. It's every bit as interesting as Iain Banks' Raw Spirit: In Search of the Perfect Dram is. With Irish music added in. (Died 2018.)
Born October 9, 1953 — Barbara March. She played the Klingon Lursa a total of five times. First on Next Generation in in two part "Redemption", followed by "Firstborn" and then on Deep Space Nine in "Past Prologue", and finally in the Generations film. Cancer took her far too young. Though she did no other genre acting, she played Titania in A Midsummer Night's Dream on the stage and renown for being Lady Macbeth. She wrote a horror novel, The Copper People.(Died 2019.)
Born October 9, 1954 — Scott Bakula, 68. Lead in two great SF series, Sam Beckett on the first Quantum Leap and Captain Jonathan Archer on Enterprise. He also starred as Nolan Wood who discovers the alien conspiracy in the remake of The Invaders. Though definitely not genre or even genre adjacent, he was Dwayne Pride on the recently cancelled if greatly accent challenged NCIS: New Orleans.
Born October 9, 1956 — Robert Reed, 66. Extremely prolific short story writer with at least two hundred tales so far. And a number of novels as well such as the superb Marrow series. He won a Hugo at Nippon 2007 for his "A Billion Eves" novella. And he was nominated for the Astounding Award for Best New Writer as well.
Born October 9, 1961 — Matt Wagner, 61. The Grendel Tales and Batman / Grendel are very good as is Grendel vs. The Shadow. His run on Madame Xanadu was amazing too. Oh, and I'd suggest both issues of House of Mystery Halloween Annual that he did for some appropriate Halloween reading. And let's not forget his long run on the Sandman Mystery Theatre. 
(9) COMICS SECTION.
Off the Mark did something unexpected – thought of a funny new zombie joke!
(10) CHILD'S GARDEN OF BATMAN. [Item by Chris Barkley.] I think Alan Moore should have a Snickers bar AND a nap… "Infantile Love For Batman Can Be Precursor To Fascism, Says Alan Moore" in a Guardian interview reported by Deadline.
…He said:

"I said round about 2011 that I thought that it had serious and worrying implications for the future if millions of adults were queueing up to see Batman movies. Because that kind of infantilisation – that urge towards simpler times, simpler realities – that can very often be a precursor to fascism."

And he pointed out the time of Donald Trump's election in 2016 coincided with superhero movies moving to the top of the worldwide box office.

Moore told the Guardian:

"Hundreds of thousands of adults [are] lining up to see characters and situations that had been created to entertain the 12-year-old boys – and it was always boys – of 50 years ago. I didn't really think that superheroes were adult fare. I think that this was a misunderstanding born of what happened in the 1980s – to which I must put my hand up to a considerable share of the blame, though it was not intentional – when things like Watchmen were first appearing. There were an awful lot of headlines saying 'Comics Have Grown Up'.

"I tend to think that, no, comics hadn't grown up. There were a few titles that were more adult than people were used to. But the majority of comics titles were pretty much the same as they'd ever been. It wasn't comics growing up. I think it was more comics meeting the emotional age of the audience coming the other way."
(11) DRAWN THAT WAY. John Coulthart casts an admiring eye on old prozine illustrations in "Emshwiller illustrates Bester".
… Before publication in book form, the story was serialised in four parts in Galaxy magazine, from October 1956 to January 1957; Ed "Emsh" Emshwiller illustrated each instalment as well as the cover of the debut issue. I've said before that one of the great benefits of being able to browse old magazines online is having the opportunity to turn up neglected illustrations like these. Bester's novel has long been regarded as a genre classic—Michael Moorcock and William Gibson both refer to it as a favourite—but its print editions haven't generated many memorable covers. Here we have Emshwiller illustrating the entire story, and doing an excellent job, yet his drawings have been buried for years….
(12) PULLMAN SERIES CONTINUES. HBO dropped this trailer for season 3 of His Dark Materials on Friday.
(13) PICARD SEASON 3. The Star Trek: Picard Teaser Trailer was shown at New York Comic Con 2022.
Get a closer look at Star Trek: Picard Season 3 in an all-new teaser that premiered at the Star Trek Universe panel at New York Comic Con 2022. Patrick Stewart, Jonathan Frakes, Brent Spiner, LeVar Burton, Gates McFadden, Marina Sirtis, and Michael Dorn of Star Trek: The Next Generation all return for one final high stakes mission.
[Thanks to Chris Barkley, Michael Toman, Cat Eldridge, Cathy Green, Trae Dorn, Steven French, Mike Kennedy, Martin Morse Wooster, JJ, John King Tarpinian, and Andrew Porter for some of these stories. Title credit belongs to File 770 contributing editor of the day Kip Williams.]