(1) HAPPY TENTH BIRTHDAY. Neil Clarke has a great article about the birth of Clarkesworld  — Clarkesworld Turns Ten – Part Four – The Beginning.
A lot of people were willing to provide advice. The most common thoughts were "don't do it" and "it will be dead in a year." A certain level of stubbornness, foolishness, and passion are required to enter this field and I was already over the edge. I doubt that anything said–unless it was from Lisa–would have deterred me at that point. There were a number of things that did help though, including the advice that I tell people to this day: "know how much you are willing to lose and don't cross that line."
(2) YOUR LACK OF FAITH IS DISTURBING. John King Tarpinian thinks this makes a suitable successor to the lava lamp – the Star Wars Death Star 3D LED Light Lamp.
(3) MYTHOPOEIC AWARDS: Here's another bit of news I never put in the Scroll. It did get listed in comments while I was sick, but since I used to be a Steward of the Mythopoeic Society I like to put a spotlight on these awards when they come out….
The winners of the 2016 Mythopoeic Awards were announced at Mythcon 47 in San Antonio, Texas, on August 7, 2016.
Fantasy Awards
Adult Literature
Naomi Novik, Uprooted (Del Rey)
Children's Literature
Ursula Vernon, Castle Hangnail (Dial Books)
Scholarship Awards
Inklings Studies
Grevel Lindop, Charles Williams: The Third Inkling (Oxford Univ. Press, 2015)
Myth & Fantasy Studies
Jamie Williamson, The Evolution of Modern Fantasy: From Antiquarianism to the Ballantine Adult Fantasy Series (Palgrave Macmillan, 2015)
(4) BRITISH INTELLIGENCE WITH STEPHEN HAWKING. Creativity Online covered this in March —  "Professor Stephen Hawking Is Jaguar's Latest 'British Villain'".
Jaguar's "British Villains" campaign, which kicked off at the 2014 Super Bowl, has starred some distinguished British actors: Tom Hiddleston, Mark Strong, Nicholas Hoult and Ben Kingsley among them. Now, the campaign introduces a new evil mastermind, played by Professor Stephen Hawking.

Directed by Smuggler's Tom Hooper, who helmed the original "British Villains" ad, the global ad promotes Jaguary's first SUV, the F-PACE, and introduces the new theme of "British Intelligence" to the campaign. The spot opens with young man drives the SUV up an mountain road to a modernist lair redolent of a Bond villain. He's off to meet his master: revealed to be Hawking. As they walk into an underground control room, the pair exchange some quips about the laws of time and gravity. "We are the masters of time and space," says his underling and before Hawking finishes: "And we all drive Jaguars. Ha ha ha."
(5) MAKES YOU WONDER. ScienceFiction.com has the scoop: "Lynda Carter's President On 'Supergirl' Gets A Name".
Carter, who also appeared on an episode of 'Smallville', is returning to superhero prime-time action in the third episode of 'Supergirl' which will air in two weeks.  Carter will play the President of the United States, Olivia Marsdin, a name that would appear to be a tribute to William Moulton Marsden, the psychiatrist who created Wonder Woman back in 1942 as an alternative to the testosterone-heavy male superheroes appearing at the time.

… In the episode, entitled "Welcome To Earth," President Marsdin will need Supergirl's protection as the humans vs. aliens debate boils over with Supergirl (Melissa Benoist) suspecting that Mon-El (Chris Wood) could be a threat.  Meanwhile, her sister Alex (Chyler Leigh) will team up with new character Maggie Sawyer (Floriana Lima).
(6) ESCHEW OBFUSCATION. Sarah A. Hoyt, in "Keeping It Real", has interesting advice about striking a balance to help keep stories believable for the reader.
However, imagine how much better it could be if you wrote well.  How many more people you could reach.

So, to begin with, what are the elements of "real."….

2 – Do not obscure the writing with a lot of your opinions, philosophies and views of life.  Save that for the blogs.  Okay, this is not true.  You can do it, if it fits the character voice, which is what I try to do in DST and Earth Revolution, and which Heinlein did pretty well.  BUT do not do it as an omnipresent, omniscient, not-in-the-story narrator.  The more you do go on, the more we get tired of reading unmoored stories.

This is not even just for politics, morals, etc.  I've found the main difference between Heyer and modern regency writers is that Heyer never felt the need to talk at LENGTH about how her characters felt about each other every minute.  Yeah, sure, she gave us hints, but most of it was showing not telling.

We'll discuss how you can be fooled into thinking telling is showing, how to port-in your telling when absolutely needed, etc.
(7) TODAY'S BIRTHDAY BOY
Born October 12, 1968  — Hugh Jackman
(8) LOOK BACK AT WORLDCON MASQUERADES. The "A Look Back" series of videos features clips from science fiction and costuming convention masquerades and other events from the past 30+ years in the International Costumers Guild Pat & Peggy Kennedy Memorial Library.
This episode features highlights from the MidAmeriCon 1 masquerade held in Kansas City in 1976, using the video recording from the Scott Imes archives.
(9) GIVE MY REGARDS TO SHATNER. The New York Post knows "Why Broadway wasn't William Shatner's final frontier".
You can see him Friday at Montclair, NJ's Wellmont Theater in "Shatner's World: We Just Live in It." It's a sharper, tighter version of the one-man show he performed on Broadway in 2012.

Full of anecdotes and a couple of songs, this autobiographical show grew out of off-the-cuff speeches he'd given for years at comic conventions. After an Australian producer suggested he put together a show, Shatner says he thought, why not?

"If the audience grew restless or I failed, I could quit and it would remain buried Down Under," he says. "But it didn't fail, and I've been doing it ever since."

"Shatner's World" delves into his theater career and his first "42nd Street"-like break, when he went on at the last minute and saved the show.

The show was "Henry V" at the Stratford Festival in 1956 and Shatner was the understudy for its star, Christopher Plummer. Plummer woke up one morning and collapsed to the floor, felled by a stabbing pain in his groin. As Plummer writes in his memoir, "In Spite of Myself," what he thought was venereal disease turned out to be a kidney stone.

Plummer tried to break out of the hospital to get to the theater, but "the thought of Shatner or anyone replacing me in that part instantly brought back my pain." He screamed for help. A nurse jabbed him with morphine and he was down for the count….
(10) GUNN CENTER. Starbridge: A Visual Blog highlights books pulled from the shelves of our lending library at the Gunn Center for the Study of Science Fiction at the University of Kansas.
This week's post features an entry in Andre Norton's Forerunner series. These books feature characters discovering and interacting with the artifacts of a powerful but long-lost alien race.  Andre Norton published over 300 titles over the course of her seven-decade career. She was the first woman the SFWA named Grand Master, and also the first to be inducted into the SFF Hall of Fame.  The cover art was illustrated by artist and educator Charles Mikolaycak, whose work was frequently influenced by his Polish and Ukrainian heritage.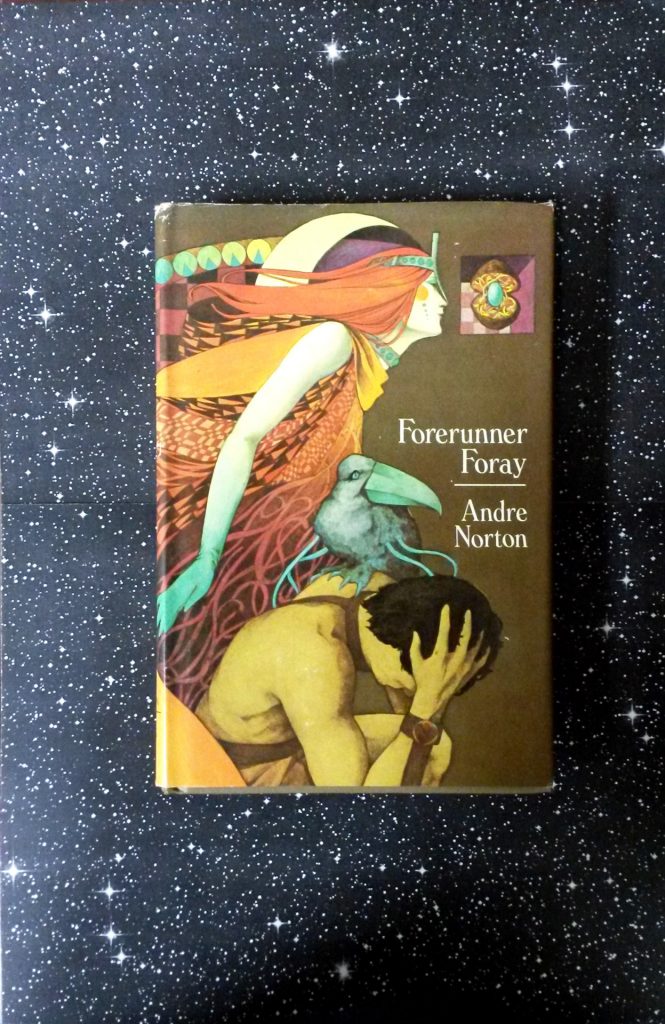 (11) POWER RANGERS TEASER TRAILER. The Power Rangers are high school kids, but getting top billing are Bryan Cranston, Elizabeth Banks and Bill Hader. Who have probably all been through high school, I admit.
[Thanks to John King Tarpinian for some of these stories. Title credit goes to File 770 contributing editor of the day Daniel Dern.]