(1) JOANNE HARRIS Q&A. The Guardian hears from the author of Chocolat: "Joanne Harris: 'When I first read Ulysses I hated it with a passion'".
The book that made me want to be a writer
I don't remember a time when I didn't dream of being a writer. But I lived in a place where dreaming was generally discouraged. Being a writer was a fantasy, on a par with being a pirate, or a pony, or a space adventurer. The moment at which I realised that people could actually be writers was when I read the introduction to Ray Bradbury's S Is for Space, and found him articulating things I'd assumed I was alone in feeling. The idea that the writers you love could become your chosen family was so potent that I carried it throughout my childhood and adolescence. I still do.
(2) ARE YOU LOOKING AT YOUR CARDS? In his opinion piece writer David Mack tells New York Times readers "You Don't Want to Know How Much You Are Spending on Subscriptions".
In recent years, much of my life as a consumer has shifted to what I like to call background spending. As I've subscribed to more apps and streaming platforms, significant sums of my money tend to drift away each month without my ever thinking about it. It's as if it were a tax being taken out of my paycheck, but one that is spent on something silly or indulgent like a subscription box of international snacks, instead of — I don't know — basic public infrastructure.

Think of it as automated capitalism. Spending without the hassle of spending. Acquisition without action. Or thought.

But while this swell of subscriptions was sold to me on the premise it would make my life more hassle-free, there was a certain sticker shock I felt upon actually discovering how much I'm spending without realizing each month ($179.45) — after I've already spent it, of course.

I can't help feeling I'm being conned just a little. I admit I had forgotten I was paying monthly for the privilege of Apple TV+ after being hooked by the first season of "Ted Lasso," before quickly falling off the bandwagon. When I reopened the app for the first time in eons, I was confronted with dozens of shows I've never heard of but to whose production budgets I've been contributing generously.

You see, the thing about background spending is it tends to happen, well, in the background without your full attention. And therein lies the point.

"Hand over your credit card details and let us take care of the rest," these companies assure us. But by agreeing to this trade, we've become passive consumers who are allowing the balance of capitalism to tilt away from us. We have ceded one of our key powers as individuals: our agency.

And this laziness breeds more laziness because most of us can't be bothered conducting regular reviews of our subscription spending. Indeed, economists estimate that buyers forgetting to cancel subscriptions can increase a business's revenues by as much as 200 percent. It's no wonder these companies feel that they can jack up the prices. We're too lazy or busy to even notice or cancel!

I know it's not just me who is suddenly living life as a smooth-brained subscriber. The average consumer spends $273 per month on subscriptions, according to a 2021 poll of 2,500 by digital services firm West Monroe, which found this spending was up 15 percent from 2018. Not a single person polled knew what his actual monthly spending was….
(3) TAKE TWO. "How William Hartnell's Second Season Changed Doctor Who for the Better" explains CBR.com.
…After Season 1 of Doctor Who saw the TARDIS crew encounter cavemen, the Aztecs and Revolutionary France, the second season saw the series push the boundaries of the TARDIS' trips to the past. The two final serials of Doctor Who Season 2 featured the first instances of extraterrestrial enemies from the future appearing in historical settings. In the first of these serials, "The Chase," the trip to the past was only a fleeting moment in a wider story. However, "The Time Meddler" saw the Doctor contending with another time traveler for an entire story set in the past.

"The Chase" marked the final appearance of Ian Chesterton and Barbara Wright as the Doctor's companions. Following Susan Foreman's earlier departure, this meant "The Chase" was the final regular appearance of any of the Doctor's original companions. The story also saw the return of the Daleks to Doctor Who for their third outing and their first journey through time. "The Chase" saw the Daleks using their own time machine to pursue the TARDIS. The third episode of the serial, "Flight Through Eternity," saw the Daleks arrive on an old ship, terrifying the sailors they encountered into jumping overboard. It was then revealed that the ship was the legendary Mary Celeste, with the Daleks' arrival effectively explaining the mysterious disappearance of the crew.
(4) CALLBACKS. Radio Times revisits its roundups of the actors who played the time lord: "Doctor Who at 60: All the times the Doctors assembled for Radio Times".
…The Five Doctors in 1983 was a joyful celebration of two decades of Doctor Who – but also an odd one. William Hartnell had died in 1975, so the "original" Doctor was recast as Richard Hurndall, who bore only a passing resemblance to Hartnell. Although other past Doctors Patrick Troughton and Jon Pertwee readily signed up to star alongside current star Peter Davison, the fourth incarnation Tom Baker declined to appear. Instead, he allowed clips from his unfinished 1979/80 story Shada to be used, while for a publicity shoot his Madame Tussauds waxwork was pressed into service….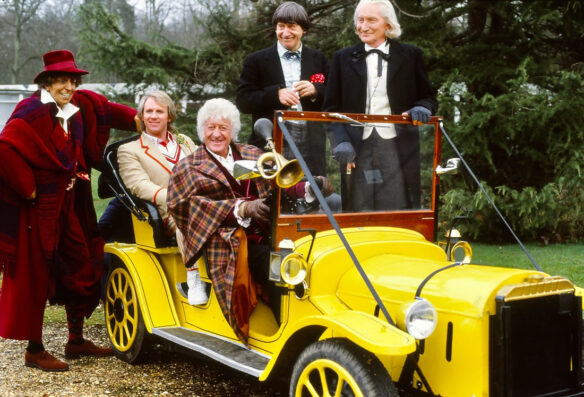 (5) AS TIME GOES BY. Kabir Chibber asks "Did 'Demolition Man' Predict the Millennial?" in the New York Times.
Now that we live in the future, we no longer seem to make as many films about the future — at least not the way we once did, when we tried our hardest to imagine a future as different from the present as we were from ancient history. Today, with all of human knowledge in our pockets, we prefer to think in terms of alternate timelines, paths not taken, the multiverse of infinite possibilities. We're looking sideways, not forward. But for most of the existence of cinema, a glorious near-centennial from "Metropolis" (1927) to, let's say, "WALL-E" (2008), people used celluloid to dream of what lay ahead….

…the one that I think got it most right is a 1993 action-comedy whose hallmark is a tremendous recurring poop joke.

In "Demolition Man," a cop named John Spartan (played by Sylvester Stallone) is frozen in 1996, for spurious reasons, and thawed out in the year 2032, when Southern California has been merged into an enormous metroplex called San Angeles. He's tasked with hunting down a homicidal maniac, played by a blond, mugging Wesley Snipes. The joke is that in this future, everyone is kind and gentle to one another. Lenina Huxley, Spartan's '90s-loving partner, explains that alcohol, caffeine, contact sports, meat, bad language and gasoline, among other things, are banned. "It has been deemed that anything not good for you is bad," goes the tao of "Demolition Man." "Hence, illegal."

The movie's pleasure doesn't lie in its plentiful violence (well, some of it does). It's in the humor that arises from these future San Angeleans' disgust over Spartan's primitive ways, like his desire to use guns and to smoke and to have sex "the old-fashioned way," rather than through a virtual-reality headset. They mock him over the fact that he asks for toilet paper. (Everyone now uses something called the Three Seashells, which is never explained.) Spartan is baffled by new technology like the omnipresent Alexa-like morality boxes that issue instant fines for offensive language, and kiosks that offer words of affirmation on the streets ("You are an incredibly sensitive man who inspires joy-joy feelings in all those around you"). Stallone's cop has been subliminally rehabilitated while frozen and wakes up knowing how to knit. "I'm a seamstress?" he laments.

What separates "Demolition Man" from other sci-fi films of much higher aspiration is that it imagined a future generation who might view our civilization, at the peak of its powers, as utterly barbaric. We're not quite there, but it feels as if the world that the younger generations loathe is the one I was raised in. And in the process, this has turned the film, at least for me, into an explosive, sometimes vituperative allegory for aging. As Spartan finds out, it hurts to wake up one day and find that the world has moved on without you.

Some days I feel like I've woken up from cryosleep, and am looking around to discover that I'm the only one who misses our previous era of casual cynicism and dubious morality and brilliant jerks. Back in the '90s, I sat in the cinema and watched this film like thousands of other people, never imagining that I might one day feel like Spartan. I am living in the future, and I don't belong. Everyone else has moved on. I'm still wiping myself with toilet paper instead of the Three Seashells….
(6) EATING THE FANTASTIC. Scott Edelman invites listeners to polish off a Peruvian lunch with Alex Shvartsman in Episode 212 of the Eating the Fantastic podcast.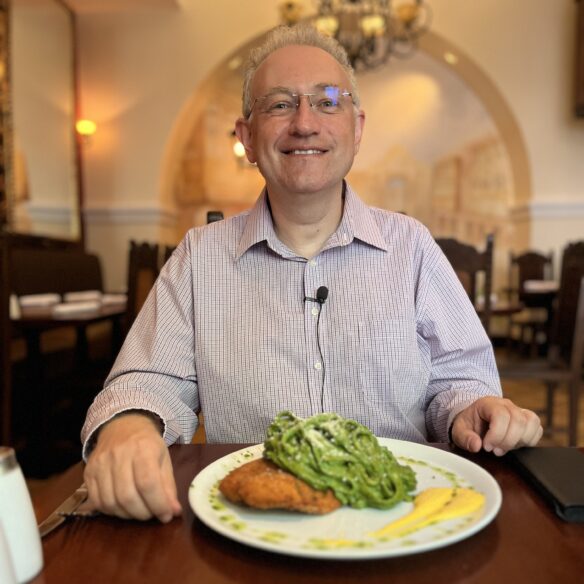 My guest this time around is Capclave regular Alex Shvartsman, with whom I've pontificated on many panels over the years.

Shvartsman is the author of the new fantasy novel Kakistocracy, as well as The Middling Affliction (2022), and Eridani's Crown (2019). More than 120 of his short stories have appeared in Analog, Nature, Strange Horizons, Fireside, Weird Tales, Galaxy's Edge, and many other venues. He won the WSFA Small Press Award for Short Fiction in 2014 and was a three-time finalist for the Canopus Award for Excellence in Interstellar Fiction. His translations from Russian have appeared in The Magazine of Fantasy & Science Fiction, Clarkesworld, Tor.com, Asimov's, Analog, Strange Horizons, and elsewhere.

He's also the editor of the Unidentified Funny Objects series of humorous SF/F, as well as a variety of other anthologies, including The Cackle of Cthulhu, Humanity 2.0, and Funny Science Fiction. For five years he edited Future Science Fiction Digest, a magazine that focused on international fiction. And on top of all that, he's one of the greatest Magic: The Gathering players ever, ranking way up there in tournaments from 1998-2004, something I hadn't known about him even though I've known him for years.

We discussed how intimations of mortality got him to start writing fiction, what he learned as a pro player of Magic: the Gathering which affected his storytelling, why he set aside his initial urge to write novels in favor of short stories, which U.S. science fiction writers are more famous in Russia than their home country, the reason his success as a writer and editor of humor came as a surprise, why he feels it's important to read cover letters, the secret to writing successful flash fiction, his "lighthouse" method of plotting, and much more.
(7) THE INVENTORY WILL BE FLYING OFF THE SHELVES. In "Brian Keene: 'Let's Open A Bookstore!'", Keene tells readers of Chuck Wendig's Terrible Minds blog why he and Mary SanGiovanni are doing so.
….But the idea of that second revenue stream still haunts me, and it haunts Mary, as well. In the years since that sobering conversation in the kitchen, when Doug Winter scared the hell out of us, she and I have gotten married. We make an okay living together — as good of a living as two midlist horror writers whose core audience is beginning to age out can make. But we are fifty-six and forty (clears throat) and most of our readers are that age, as well. Over the next two decades, that audience will continue to dwindle. We are painfully aware that those royalties will lessen over time, and that we could very well go the way of the giants.

So, we decided to do something about it. Mary wasn't inclined to become a forest ranger or a tugboat captain, so we opted for a different second revenue stream instead — one that is connected to writing, but doesn't involve writing. One that, when managed properly and professionally, can supplement those royalties and advances. One that will allow us to give back to our community and our peers, both locally and nationally, and keep those forgotten giants in the collective memory a while longer, as well as elevating today's new voices, so that they will one day be giants, too.

We're opening an independent bookstore….
(8) FUGUES FOR DROOGS. "Newly discovered string quartet by Clockwork Orange author Anthony Burgess to have premiere" reports The Guardian.
He is best-known as the author of A Clockwork Orange, his 1962 savage social satire, but Anthony Burgess saw himself primarily as a thwarted musician. Although self-taught, he was a prolific composer, and now a previously unknown piece for a string quartet is to receive its world premiere following its discovery.

The score was unearthed in the archive of the International Anthony Burgess Foundation, an educational charity in Manchester, his home city, where it had been overlooked among uncatalogued papers donated by his widow, the late Liana Burgess.

Professor Andrew Biswell, Burgess's biographer and director of the Foundation, told the Observer: "Nobody's heard it before. We've got some very good musicians from the Hallé Orchestra who are going to perform it. Thirty years after his death, Burgess is finally coming into focus as a musician." The world premiere takes place at the Burgess Foundation on 1 December….
(9) TODAY'S BIRTHDAYS.
[Compiled by Cat Eldridge.]
Born November 19, 1911 — Mary Elizabeth Counselman.  Writer of genre short stories and poetry. "The Three Marked Pennies" which she wrote while she was in her teens published in Weird Tales in 1934 is considered one of the three most popular stories in all of that zine's history. There's but a smattering of her at the usual suspects but she did get published— Masters of Horrors, Vol. Three, Mary Elizabeth Counselman: Hostess of Horror and Fantasy collects seventeen of her short stories and it's readily available, and The Face of Fear and Other Poems collected much of her poetry.  It was published by Eidolon Press in an edition of 325 copies, so good luck on finding a copy. (Died 1995.)
Born November 19, 1936 — Suzette Haden Elgin. She founded the Science Fiction Poetry Association and is considered an important figure in the field of SFF constructed languages. Both her Coyote Jones and Ozark Trilogy are most excellent. Wiki lists songs by her that seem to indicate she might've been a filker as well. Mike, of course, has a post on her passing and life. (Died 2015.)
Born November 19, 1943 — Allan Cole.  Author and television writer, who wrote or co-wrote nearly thirty books. As a script writer, he wrote for a lot of non-genre series and a few genre series, The Incredible Hulk and Buck Rogers in the 25th Century, which are of course familiar, and two, Dinosaucers, an animated series, and Werewolf, a horror series, that I'd never heard of at all. Genre wise, he and Chris Bunch wrote the Anteros / Far Kingdoms series, and they also wrote the Sten Adventures which was a critique, according to Bunch, of SF writers who were fascinated with monarchies and their fascist rulers. (Died 2019.)
Born November 19, 1955 — Sam Hamm, 68. He's best known for the original screenplay (note the emphasis) with Warren Skaaren for Burton's Batman and a story for Batman Returns that was very much not used. However because of that, he was invited to write a story in Detective Comics for Batman's 50th anniversary and thus, he wrote "Batman: Blind Justice". He also wrote the script for Monkeybone. Sources, without any attribution, say he also wrote unused drafts for the Fantastic Four, Planet of the Apes and Watchmen films. And he co-wrote and executive produced the M.A.N.T.I.S. series with Sam Raimi. 
Born November 19, 1958 — Charles Stuart Kaufman, 65. He wrote Being John Malkovich and Eternal Sunshine of the Spotless Mind, both definitely genre. The former was nominated for a Hugo at Chicon 2000, the year Galaxy Quest won. Eternal Sunshine of the Spotless Mind was also a Hugo nominee, losing to The Incredibles at Interaction. 
Born November 19, 1975 — Alex Shvartsman, 48. Author of the delightfully pulpy H. G. Wells: Secret Agent series. A very proficient short story writer, many of which are collected in Explaining Cthulhu to Grandma and Other Stories and The Golem of Deneb Seven and Other Stories.
(10) FOR THE MORE LITERAL-MINDED. The anniversary of Doctor Who inspired BBC Future to ask "Is time travel really possible? Here's what physics says".
Doctor Who is arguably one of the most famous stories about time travel. Alongside The Time Machine and Back to the Future, it has explored the temptations and paradoxes of visiting the past and voyaging into the future.

In the TV show, the Doctor travels through time in the Tardis: an advanced craft that can go anywhere in time and space. Famously, the Tardis defies our understanding of physical space: it's bigger on the inside than it appears on the outside.

While time travel is fundamental to Doctor Who, the show never tries to ground the Tardis' abilities in anything resembling real-world physics. It would be odd to complain about this: Doctor Who has a fairy-tale quality and doesn't aspire to be realistic science fiction.

But what about in the real world? Could we ever build a time machine and travel into the distant past, or forward to see our great-great-great-grandchildren? Answering this question requires understanding how time actually works – something physicists are far from certain about….
(11) A SHOE-IN. "Reebok Releases Line of Harry Potter Shoes for Fans of the Wizarding World" – CBR.com has details. (And honestly, the idea of these designs is more interesting than the execution.)
… The Harry Potter sneaker collection includes four colorway variants of the Reebok Club C 85 ($110), which comes with interchangeable laces and embroidered crest patches of the four Hogwarts houses. The message "It's not Hogwarts without you, Hagrid" is also inscribed inside the tongue of the shoe as an homage to the character and a tribute to its actor Robbie Coltrane, who passed away in 2022. This variant is expected to be well-received among die-hard Harry Potter fans, who now have official footwear to represent the Hufflepuff, Ravenclaw, Slytherin, or Gryffindor house….

… The Reebok Instapump Fury 95 ($250) is inspired by "He Who Must Not Be Named," with its prominent black suede accented by the Death Eaters' Dark Mark. The sleek design also has snake and scale details homaging the Slytherin house. For more casual Harry Potter fans, the Reebok Classic Leather ($100) offers a staple sneaker with details referencing the Deathly Hallows — an "Invisibility Cloak" textile lining the shoe's tongue, a Resurrection Stone metal lace lock, and lace tips designed after the Elder Wand. Finally, the Classic Leather Hexalite ($120) evokes the Patronus spell with its silvery blue gradient fade, glow-in-the-dark and reflective details, and Patronus animals featured on the tongue label….
(12) PREMEMBER THOR FIVE. [Item by Daniel Dern.] Yet more news/speculations about Marvel Thor movie #5.
Obviously, this is all speculation, guesswork, and subject to change. I've submitted this item mostly for the item title.
(13) UNTANGLED. Sony/Marvel's Madame Web opens in theaters on February 24.
"Meanwhile, in another universe…" In a switch from the typical genre, Madame Web tells the standalone origin story of one of Marvel publishing's most enigmatic heroines. The suspense-driven thriller stars Dakota Johnson as Cassandra Webb, a paramedic in Manhattan who may have clairvoyant abilities. Forced to confront revelations about her past, she forges a relationship with three young women destined for powerful futures…if they can all survive a deadly present.
(14) VIDEO OF THE DAY. Saturday Night Live's "Old-Timey Movies" sketch shows found footage of L. Frank Baum writing while being constantly photobombed (or whatever the right word would be).
[Thanks to Mike Kennedy, Andrew Porter, John King Tarpinian, Daniel Dern, Steven French, Chris Barkley, Cat Eldridge, and SF Concatenation's Jonathan Cowie for some of these stories. Title credit belongs to File 770 contributing editor of the day OGH.]