(1) X FILES. Deadline covers the courthouse as "Elon Musk Files Lawsuit Over White Supremacist Ads Placement On X/Twitter".
It wasn't exactly the "split second" the courthouse opened this morning as promised, but Elon Musk has now filed his self-described "thermonuclear lawsuit" against Media Matters.

"Defendant Media Matters for America is a self-proclaimed media watchdog that decided it would not let the truth get in the way of a story it wanted to publish about X Corp," proclaimed the jury trial seeking complaint filed in federal court in Texas. Musk and X's three-claim disparagement suit primarily wants a preliminary and permanent injunction against Media Matters' report on the alleged placing of corporate ads next "Pro-Nazi Content." (Read Elon Musk's lawsuit over the pro-Nazi ad placement allegations here)

Enraged about studies by the media watchdog that claimed X/Twitter is placing the advertising of major brands and big corporations aside such vile material, Musk lashed put with his legal threats late on November 17. As there was more fallout from the Media Matters study, Apple, Disney Comcast, Paramount Global, Warner Bros Discovery and others suspend their ad buys and presence on X/Twitter.

It is worth noting that none of the media companies and others actual given a reason why they paused their ad campaigns on X/Twitter – and certainly one could speculate it had to do with Musk's personal online amplification of antisemitic screech as much as the Pro-Nazi ad placement accusations….
(2) GETTING PAID. Publishers Weekly covers a lot of ground in "The PW Publishing Industry Salary Survey 2023". But here's an excerpt about the money people are making.
… There was little change in the gender pay gap, even as more women moved into management ranks; the survey found women in management had a median income of $120,000. Men in management had a median income of $110,000. Overall, however, median compensation for men was $89,000 in 2022, while median compensation for women was $70,000.

The reasons for the disparity haven't changed: while 56% of managers who responded were women, women have an even greater presence in the lower-paying areas of editorial, sales and marketing, and operations. And the median length of time in the industry from male respondents was 21 years, compared to 10 years for women….
(3) WORM VS. MEATBALL. "NASA Celebrates the Worm Logo Designer, Richard Danne" in PRINT Magazine.
Do you remember the moment the core concept of the Worm Logo came to you? How did it develop? Did you immediately know that you'd created something brilliant, or was that more of a surprise?

This logotype and its evolution in our Danne & Blackburn studio was arduous and definitely not a quick-hitting surprise.

Back in 1974, the mountain of current visual material supplied to us by NASA was almost overwhelming. And, by any standard, poor! There were no designers at Headquarters or any of the Centers. So Bruce and I went back and forth and kept simplifying our symbols and logotypes as we tried to make them work in all two and 3-dimensional applications: from publications to signs to rockets and space vehicles! We even designed to survive the mediocre printing from GPO back then.

We just kept refining until we had a strong, progressive mark that spoke for aeronautics and space exploration. We had decided early on to present only one solution and back it up with multiple applications to show it was a real Program, not just a badge. It was the analog age, so Bruce (the lead designer) rendered the final logotype solution in a Pentel pen, and we were airborne!
(4) THE MARVELS. Finally, someone reviews the movie and not just its box office. Camestros Felapton also notes interesting parallels between the film and current events in "Review: The Marvels".
…. There are a few missteps but there is a decent plot, an interesting antagonist and some innovative action scenes. Iman Vellani steals the show as Ms. Marvel, with an infectious charm as the starstruck teen with bizarre superpowers but Brie Larson and Teyonah Parris give more grounded performances as Captain Marvel and Monica Rambeau. Also, there are cats….
(5) MEMORIES. "'I got to have an affair with Kylie!' Stars share their best Doctor Who moments – part one" in the Guardian.
Simon Callow (played Charles Dickens, 2005-2011)

I was one of the very few children who had no time for Doctor Who. I saw the very first episode and said in scornful falsetto, "Science fiction? Ugh!" So when I appeared as Chas Dickens, I was a Doctor Who virgin. But I remember I was moved to tears, as was Christopher Eccleston, by our exchange at the end: "You seem to know a lot about the future," says Dickens to the Doctor. "May I ask you a question?" "Go ahead." "Will my books be read?" "Yes." "How long for?" "For ever." Exquisite.
(6) UNWRAPPED. Slashfilm is still traumatized by "Sci-Fi TV Shows That Were Canceled After A Cliffhanger".
… With the stakes often so high for sci-fi television, that makes these unresolved plot threads all the more frustrating for fans following a series and invested in the characters. From being stranded across time and space to fan-favorite characters faced with mortal peril, these cliffhangers threaten to overshadow a show's legacy. Here are the biggest television cliffhangers in the sci-fi genre that were left unresolved by cancelations from the studios or networks producing them….
One of those shows was —
Quantum Leap (1989)

Premiering in 1989, the original "Quantum Leap" rates as something of a television cult classic, running for five seasons on NBC until 1993. While conducting time travel experiments, scientist Sam Beckett (Scott Bakula) is flung through the space-time continuum, temporarily possessing figures throughout history. In each leap, Sam corrects different anomalies in the past, hoping to one day return to his own body and time period.

This hope is never fulfilled, with a title card in the series finale declaring that "Sam Becket never returned home." The suddenness and finality of this statement, along with the show misspelling the last name of its own protagonist, gave "Quantum Leap" a laughably abrupt sendoff. A revival series, set in the same continuity as the original "Quantum Leap," premiered in 2022, renewing hopes of closure for Sam Beckett. Unfortunately, series star Scott Bakula passed on an offer to return, with Sam described as lost in time at the beginning of the revival instead.
(7) WILLIAM B. ELLERN (1933-2023). Author, engineer and longtime LASFS member William B. Ellern died November 18. His daughter Jill made the announcement on Facebook.
With the permission of E. E. "Doc" Smith he extended the Lensman series. His first published story was "Moon Prospector" in Analog (1966). Later, "New Lensman" was serialized in 14 parts in Perry Rhodan #61-74 (1975) and "Triplanetary Agent" was serialized in 6 parts in Perry Rhodan #100-105 (1978).
Ellern worked as an engineer for JPL, Raytheon, Boeing, Hughes Aircraft and Northrop Corporation.
He was a member of the Los Angeles Science Fantasy Society board of directors for decades, ending his service in 2009.
He was married to Anne Morrel for 30 years; she predeceased him in 2015.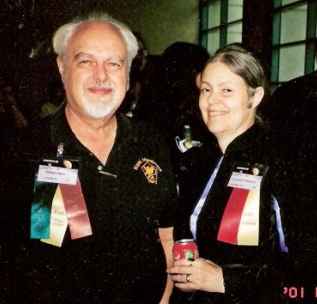 (8) TODAY'S BIRTHDAYS.
[Compiled by Cat Eldridge.]
Born November 20, 1923 — Nadine Gordimer. South African writer and political activist. Her one genre novel was July's People which was banned in her native country under both governments. Her three stories are collected in Beethoven Was One-Sixteenth Black and Other Stories. She received the Nobel Prize in Literature, recognized as a writer "who through her magnificent epic writing has been of very great benefit to humanity". (Died 2014.)
Born November 20, 1923 — Len Moffatt. He was a member of First Fandom. Len and his second wife June helped organize many of the early Bouchercons, for which he and June received a Lifetime Achievement Award from the Bouchercon staff. He was a member of LASFS. He wrote far too many zines to list here. Mike has an excellent look at his memorial here. (Died 2010.)
Born November 20, 1926 — John Edmund Gardner. No, not the one that wrote that Grendel novel, and author of more Bond novels than one would think possible. He'd write fourteen original James Bond novels, more than Fleming wrote, and the novelized versions of two Bond films, License to Kill and GoldenEye. He'd also dip into the Sherlock universe, writing three novels around the character of Professor Moriarty. Rights to film them were optioned but never developed due to a lack of funding. (Died 2007.)
Born November 20, 1932 — Soma Vira. Indian-born British citizen mostly remembered for her Planet Keepers space opera series began with Checkmating Aliens. She's unusual in that she started writing late in life, in her sixties to be precise. (Died 2003.)
Born November 20, 1944 — Molly Gloss, 79. Her novel Wild Life won the 2000 James Tiptree, Jr. Award. She has two more SF novels, The Dazzle of Day and Outside the Gates. Her "Lambing season" short story was nominated for a Hugo at Torcon 3, and "The Grinnell Method" won a Sturgeon. She's available at the usual suspects.
(9) WORLDS OF IF BONUS MATERIAL. [Item by Jean-Paul Garnier.] In anticipation of the relaunch of Worlds of IF Magazine in February 2024, over the next several months the editorial staff is regularly rolling out free online bonus materials on the IF site.
Recent additions include a new YouTube channel and video, History of IF through Cover Art, featuring all 176 covers throughout the entire run of IF, plus an interview with Jeremy Brett, curator of the Cushing Memorial Library & Archives, Texas A&M University about the role that pulp magazines play in one of the largest SF archives in the world, and audio adaptations of classic Worlds of IF stories, most recently Time Enough at Last by Lynn Venable from the January 1953 issue (famously adapted into a Twilight Zone episode in 1959).  Find out more at Worlds of IF Magazine.
(10) DON'T PANIC. Yesterday there reportedly were "Fears for Wallace and Gromit after clay manufacturer shuts up shop" –
With innovative animation films featuring characters such as Wallace, Gromit and Shaun the Sheep, it was the production company that turned humble modelling clay into cinematic art.

But the closure of Aardman Animations' only supplier of modelling clay has raised question marks over the future of the studio's output, prompting drastic measures.

When Newclay Products announced it was closing its factory in Newton Abbot, near Torquay, in March this year, Aardman's staff moved quickly to buy up all remaining stock of the clay, a specific type that is not made elsewhere, ensuring they could finish work in the studio's production pipeline.

The Telegraph understands that the last remaining stock of "Newplast" clay was enough to allow Aardman's animators to create one more film, a new Wallace and Gromit animation due to hit the screens next year….
But today Aardman told people not to worry:
(11) WERTHAM AGAINST THE COMICS. Bobby Derie looks at "'Beyond the Past' (1953) by Lou Morales" and ruminates on the Necronomicon, Frederic Wertham, and the Fifties anti-comics crusade in a post on Deep Cuts in a Lovecraftian Vein.
… Wertham used the leading question about the Necronomicon more than once; a 1954 article titled "The curse of the comic books" appeared in the journal Religious Education Vol. 49, No. 6 a few months prior with essentially the same opening, and Wertham may have reused it elsewhere.

There is no surprise in this case that Wertham got the details wrong; there are numerous examples in Seduction of the Innocent where his apparent encyclopedic knowledge of comic characters and plots is shown to be superficial at best. What's surprising is how he got ahold of a British newspaper article—possibly through a clipping service—and how swiftly and avidly he seized on the word Necronomicon, apparently in complete ignorance of its provenance….
(12) FRICKIN' SPACECRAFT, WITH FRICKIN' LASERS ON THEIR HEADS. [Item by Mike Kennedy.] NASA's Psyche spacecraft is headed to the main asteroid belt to visit a metal rich body of the same name. While the journey will take about 3.5 years and cover over a quarter-billion miles, the craft has already started working on an interim task.
Psyche is being used to test deep space communication using near infrared lasers for both up- and downlink. These should prove to be more efficient than radio communications and provide 1-2 orders of magnitude improvement in bandwidth.
The narrower beam path of the laser (versus radio communications) does mean that the transmitting systems will need to more precisely predict where the receiver (spacecraft or Earth) will be when the beam arrives. Kind of like kicking a soccer ball to where the other player will be when the ball gets there rather than to where they are now. "NASA's Psyche wins first deep space laser relay" at Popular Science.
… NASA also noted that, while similar infrared communications has been successfully achieved in low Earth orbit as well as to-and-from the moon, this week's DSOC milestone marks the first test through deep space. This is more difficult thanks to the comparatively vast, growing distance between Earth and Psyche. During the November 14 test, data took roughly 50 seconds to travel from the spacecraft to researchers in California. At its farthest distance from home, Psyche's data-encoded photons will take around 20 minutes to relay. That's more than enough time for both Earth and Psyche to drift further along their own respective cosmic paths, so laser arrays on the craft and at NASA will need to adjust for the changes. Future testing will ensure the terrestrial and deep space tech is up to the task….
[Thanks to Andrew Porter, John King Tarpinian, Chris Barkley, Steven French, Jean-Paul Garnier, Cat Eldridge, SF Concatenation's Jonathan Cowie, and Mike Kennedy for some of these stories. Title credit belongs to File 770 contributing editor of the day Daniel Dern.]