(1) WAITING FOR AGLOW. Robert J. Sawyer tells fans why his next book won't be released until 2020.
After he lost his security clearance, J. Robert Oppenheimer, the father of the atomic bomb, really did say: "There is a story behind my story. If a reporter digs deep enough he will find that it is a bigger story than my suspension."

Well, I'm writing that story: an alternate-history novel about The Manhattan Project and the years following it to be called The Oppenheimer Alternative. Every character in the book is a real person, including many of the greatest scientists of the 20th century: Oppie himself, Albert Einstein, Edward Teller, Leo Szilard, Hans Bethe, Enrico Fermi, I.I. Rabi, Wernher von Braun, and more.

I know you've all been patiently waiting for a new book from me, and I'm afraid you'll have to be patient a little longer. For this book to get the launch publicity it deserves, we're going to publish it to coincide with the 75th-anniversary of the first atomic bomb explosion and the dropping of bombs on Hiroshima and Nagasaki. Look for The Oppenheimer Alternative in July 2020.
(2) STALKER AWARD. Europa SF announces Estonian fandom's "2018 Stalker Awards".
Stalker is Estonian Science Fiction Association (ESFA) award for the best original and translated speculative fiction (i.e SF, Fantasy and horror).

Stalker was created to acknowledge the best original and translated speculative fiction published in Estonian. First Stalker nominees were announced in 1998.

Stalkers for fiction are awarded based on the reader's votes. (The guidelines of voting are described in the Stalker Statute.) This means everyone who's interested in Estonian speculative fiction can vote!

The award is announced annually on Estcon – the annual convention of the local fandom. All the voters and fans and other interested parties are very welcome to witness the event!
(3) GQ ON JEMISIN. One more in a flurry of magazine profiles about the Hugo-winning author – Joshua Rivera's "N.K. Jemisin Is Trying to Keep the World From Ending" at GQ.
I wanted to talk to Jemisin because she wrote a trilogy of books that largely took the world as it is now—buckling under the weight of systemic racism, income inequality, and environmental disaster—and portrayed it, through the lens of fiction, as what it truly is if left to momentum and entropy: the end of the world. It's not a farfetched notion.There are cops outside the library, and they're carrying assault rifles because a man whose fervent support of the nation's president has moved him to terrorism.

"If the United States right now in this moment decided that it wanted to invest in educating every child to an equal degree, making sure everybody had actual equal opportunity, then we would become one of the most powerful countries on the planet," Jemisin says. "We'd be able to reverse climate change. We would be able to do amazing things. Any country that genuinely harnesses its entire population and treats them all like people has nowhere to go but up."
(4) THE TRAVELER VISITS LA. Galactic Journey's Loscon presentation assumed the date was November 24, 1963 —
Not only did we get to put on a show (in which the [Kennedy] assassination, of course, featured prominently), but we also met Laura Freas, wife of Kelly Freas, the illustrator who painted Dr. Martha Dane.  As y'all know, Dr. Dane graced our masthead until very recently, and she remains the Journey's avatar.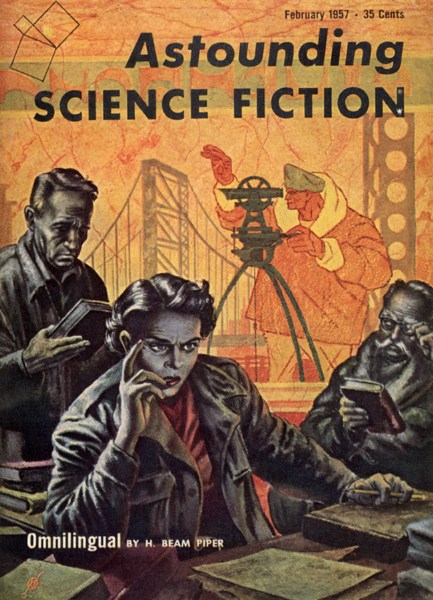 And for those of you who missed the performance, we got it on video-tape.
This is the first of three segments –
(5) FOR THOSE WHO DIDN'T GET IT THE FIRST TIME AROUND. Canadian satire site The Beaverton covers Atwood's forthcoming book The Tempest: "Margaret Atwood confirms Handmaid's Tale sequel is just original manuscript but with more exclamation points".
"As you can see here," explained editor Angela Harper, pointing to the paragraph where the Handmaids' puritanical red outfits are first described. "She has added a note that says 'For the love of God, STOP making sexy Halloween costumes of this, what is hell wrong with you people?' I really think it will add a delightful personal touch, and remove any trace of subtlety, nuance, or potential for anyone to misinterpret the point of the novel."
(6) WHO TUNES. There may be some debate about the latest version of the Doctor Who theme but Nature remembers the first female pioneers of electronic music who founded the BBC Radiophonic Workshop and brought us the original theme: "The Doctor Who theme and beyond: female pioneers of electronic music".
The history of electronic music usually centres on the men (including Pierre Schaeffer, Olivier Messiaen, Pierre Boulez, Karlheinz Stockhausen and Edgard Varèse) who developed musique concrète from recorded everyday sounds in Paris in the mid-twentieth century. Yet in those decades, a group of sound engineers — many of them women — were making waves in an old London skating rink.

The BBC Radiophonic Workshop produced effects and theme tunes for the British broadcaster, including iconic sounds for the sci-fi television and radio programmes Doctor Who and The Hitchhiker's Guide to the Galaxy, using electronic oscillators and tape loops decades before synthesizers were common. That many of its engineers were women was, and still is, a rarity. Last week, two of them, Daphne Oram and Delia Derbyshire, were celebrated anew in Synth Remix, a concert series of live performances and DJ sets touring Britain.

Oram (1925–2003) co-founded the Radiophonic Workshop.She gained experience in mixing electronics and music during the Second World War while working for the BBC on sound balance for radio broadcasts. During Germany's bombings of London in the Blitz, she switched pre-recorded tracks of orchestral music into broadcasts of live music. That allowed the musicians to flee the city's grand concert venue, the Albert Hall, without the radio audience knowing.

In the 1950s, Oram became intrigued by the potential of tape recording to transform music by exploding space and time. She was a fan of musique concrète, regularly staying up all night to mix her own tracks. In 1958, after years of badgering the BBC to modernize its music, Oram and her colleague Desmond Briscoe were given a room with some old equipment. Thus began the workshop.
(7) JDA ACTS OUT. Jon Del Arroz tried to slime Cat Rambo's AMA ("Ask Me Anything") session on Reddit yesterday. Jim C. Hines has the quotes and provides contextual analysis in "When Harassment Appears Harmless".
There's nothing friendly about repeatedly, deliberately violating someone's boundaries. When someone has again and again told you to leave them the hell alone, and you keep following them around, popping up to leave comments or whatever? The words might be friendly, but the behavior is creepy/stalker/harassing.

It's an attempted power move on the part of the creeper. "Ha ha, I don't have to respect your boundaries, and there's nothing you can do about it!" And if the victim complains, the harasser immediately blames them. "I was just trying to be friendly. Why does she have to be so hateful?"
(8) WHAT'S IT ALL ABOUT? Author Barbara Ashford, an Odyssey Workshop instructor, advises — "Don't Lose Sight of the Big Picture".
When I began revising my first novel, I believed my story had good conflict, complex characters, and a world that was pretty cool. Okay, the plot was a bit of a scavenger hunt. And the novel was way too long. But trimming and refining was what revising was all about, right?

Well…that depends on your interpretation of "refining." I ended up rewriting two-thirds of the novel and cutting 80,000 words from the final manuscript. But my biggest revelation occurred early in revisions: while my protagonist was blazing a trail through a magical forest, I realized that I had lost sight of the forest for the trees. What was this story about?
(9) NEIL DEGRASSE TYSON & #METOO. Neil deGrasse Tyson is responding to allegations of sexual misconduct. (Variety: "Neil deGrasse Tyson Sexual Misconduct Claims Being Investigated by Fox, 'Cosmos' Producers").
Fox and the producers of the television series "Cosmos" have opened an investigation into multiple sexual misconduct claims against the show's host, Neil deGrasse Tyson. The move follows a report on the website Patheos in which two women accused Tyson of inappropriate sexual behavior.

"The credo at the heart of 'Cosmos' is to follow the evidence wherever it leads," the producers said in a joint statement. "The producers of 'Cosmos' can do no less in this situation.  We are committed to a thorough investigation of this matter and to act accordingly as soon as it is concluded."

Fox Broadcasting also issued a statement, saying, "We have only just become aware of the recent allegations regarding Neil deGrasse Tyson. We take these matters very seriously and we are reviewing the recent reports."
More recently, Tyson has posted answers to three allegations on Facebook (Vulture: "Neil deGrasse Tyson Addressed His Sexual Misconduct Accusations on Facebook").
Neil deGrasse Tyson took to Facebook to address the multiple accusations of sexual misconduct his is now facing. Tyson said he had refrained from commenting previously "on the grounds that serious accusations should not be adjudicated in the press." He then immediately launched into a defense of his actions, claiming that he "clearly" can no longer stay silent. Tyson is accused of misconduct by two women, and of drugging and raping a third. "In any claim, evidence matters. Evidence always matters," wrote Tyson. "But what happens when it's just one person's word against another's, and the stories don't agree? That's when people tend to pass judgment on who is more credible than whom." Tyson then provided his accounts of what happened in each case.
Tyson responds at length in his Facebook post.
(11) TODAY IN HISTORY.
December 1, 1932 — H.G. Wells' Island Of Lost Souls premiered in theaters.
December 1, 1942 – House of Frankenstein is released.
(12) TODAY'S BIRTHDAYS
[Compiled by Cat Eldridge and JJ.]

Born December 1, 1905 – Charles G. Finney, Writer and Editor. It's rare that I pick writers whose main accomplishment is one work which has defined them, but his one such work is, well, phenomenal. His first novel and most famous work, The Circus of Dr. Lao, was a Hugo finalist and won one of the inaugural National Book Awards, the Most Original Book of 1935; it is most decidedly fantasy. Ray Bradbury liked the novel so much that he included it as the headline story in his anthology The Circus of Dr. Lao and Other Improbable Stories; it is said that the carnival in his Something Wicked This Way Comes is modelled upon The Circus of Dr. Lao. (Died 1984.)
Born December 1, 1928 – Malachi Throne, Actor of Stage and Screen who is likely recognizable to genre fans as Commodore Méndez from the Hugo-winning Star Trek double-episode "The Menagerie", or as a Romulan senator in The Next Generation double-episode "Unification"; decades later, he played a Klingon in the fan series Star Trek: New Voyages. He was the Narrator for the one-season series Visionaries: Knights of the Magical Light, and he was a popular character actor, appearing in many episodes of genre series, including Babylon 5, M.A.N.T.I.S., The Six Million Dollar Man, Voyage to the Bottom of the Sea, The Time Tunnel, Land of the Giants, Lost in Space, Mission: Impossible, Project U.F.O., Ark II, Electra Woman and Dyna Girl, and The Outer Limits. His guest role as False Face in the Adam West series of Batman likely got him started in voice roles, including in the series The New Batman Adventures, Batman Beyond, and Avatar: The Last Airbender. (Died 2013.)
Born December 1, 1936 – Melissa Jaffer, 82, Actor from Australia who played Utu-Noranti Pralatong in all four seasons of Farscape and its sequel miniseries The Peacekeeper Wars. In addition to appearing as "Keeper of the Seeds" in Mad Max: Fury Road, she had roles in The Nargun and the Stars, The Distant Home, On the Dead Side, Komodo, and Sally Marshall Is Not an Alien, and guest parts in episodes of The Lost World and Glitch.
Born December 1, 1942 – John Crowley, 76, Writer and Documentary Filmmaker. I'm tempted to say he's a literary genius and stop there, but I won't. The Mythopoeic and World Fantasy Award-winning Little, Big is brilliant – but if anything, his new crow-centric novel Ka: Dar Oakley in the Ruin of Ymr (also a Mythopoeic winner) makes that novel look like child's play in comparison. Did you know that he wrote a novella called The Girlhood of Shakespeare's Heroines? Or Lord Byron's Novel: The Evening Land, which contains an entire imaginary novel by the poet? His novella Great Work of Time won a World Fantasy Award and a Prix Imaginaire, and he was recognized with a World Fantasy Award for Life Achievement in 2006.
Born December 1, 1956 – Bill Willingham, 62, Writer and Artist who is best known, I'd say for his long-running, four-time Hugo finalist Fables comic series – though personally I think his best work was Proposition Player, in which the souls of those lost in a card game become entangled in the politics of Heaven and Hell. He got his start in the late 1970s to early 1980s as a staff artist for TSR Games, where he was the cover artist for the AD&D Player Character Record Sheets and a lot of other games. I must mention his superb 1980s comic book series Elementals, and he later wrote the equally excellent Shadowpact for DC. I was always ambivalent about the Jack of Fables series which he spun off of Fables, but his House of Mystery was rather good as well. His work has been recognized with several Eisner Awards, and he was honored as a Special Guest at the 2011 Worldcon.
Born December 1, 1957 – Deep Roy, 61, Actor and Stunt Performer of Indian descent who was born in Kenya. Genre fans may know him as Keenser, Scotty's diminutive assistant in the Hugo finalist Star Trek (2009) and its two sequels Into Darkness and Beyond, but he also has an amazingly-extensive genre resume, with roles in the films Flash Gordon, The Dark Crystal, Star Wars: Return of the Jedi, Return of the Ewok, Greystoke: The Legend of Tarzan, The NeverEnding Story, Starship, Return to Oz, Charlie and the Chocolate Factory, and Transformers: Revenge of the Fallen, a 6-episode role with Tom Baker in Doctor Who, a 4-episode stint on Blake's 7, and a list of genre movies in which he's performed stunts that is longer than this Pixel Scroll.
Born December 1, 1964 – Jo Walton, 54, Writer from Canada who was born in Wales. She won the John W. Campbell Award for Best New Writer in 2002 and the World Fantasy Award for her novel Tooth and Claw, in which dragons got positively and delightfully Victorian (even if they eat each other). Her Small Change trilogy may be the finest WWII novels I've read, bar none, and her Sulien series is an excellent retelling of the Arthurian myth. Her Hugo, Nebula, and World Fantasy Award-winning novel Among Others, she says, is about the "coming-of-age experience of having books instead of people for friends and solace". I can relate to that, as I imagine many here can, too.
Born December 1, 1970 – Greg Ruth, 48, Artist and Illustrator who has provided covers and interior art for dozens of genre fiction works and comics, including the Lodestar Award-winning Akata Warrior, and the new hardcover and German editions of Nnedi Okorafor's Hugo-winning Binti series. His art has earned four Chesley nominations, winning once, and has been selected for numerous editions of the industry year's best art book, Spectrum; he was one of five artists selected for the Spectrum jury in 2015. His covers for the German editions of Okorafor's Lagoon and Book of the Phoenix were nominated for the Kurd-Laßwitz-Preis, and Lagoon took home the trophy. Interestingly, he has created two music videos – for Prince and Rob Thomas (of Matchbox Twenty).
Born December 1, 1985 – Janelle Monáe, Writer, Actor, Composer, Singer and Producer who is known for her science-fictional song lyrics and videos. Her debut EP, Metropolis: Suite I (The Chase), is the first in a 7-part conceptual series inspired by Fritz Lang's classic SF film; the single "Many Moons", and her subsequent album, The ArchAndroid, garnered Grammy nominations, and her next album, The Electric Lady, was also acclaimed. This year she released the album Dirty Computer, with a companion 48-minute mini-movie which is very much a science fiction film. She played a lead role in the Hugo- and Oscar-nominated film Hidden Figures, and has also had guest appearances on Stargate Universe and Philip K. Dick's Electric Dreams.
(13) PASSING PAPER. Book Riot warns that "Paper for Books Is Getting Harder To Come By: Why the Backbone of Publishing May Make Book Prices Rise".
With gift-giving season approaching, booksellers are gearing up for seeing more traffic through their doors and at the registers. But this year, more than any year in recent memory, booksellers are increasingly worried about whether there will be enough copies of the biggest titles. Some of the hottest picture books of the season, including We Don't Eat Our Classmates by Ryan T. Higgins, were missing from shelves in the otherwise rigorously stocked indie Mclean & Eakin Booksellers in Petoskey, Michigan. Inquiries were made about special ordering the title and the expected fulfillment date was a ways off—January. […]

"There's basically four different types of paper that are out in the world right now, and it's freesheet, coated groundwood, uncoated freesheet, and uncoated groundwood. Most trade fiction and nonfiction, books you'd find on the New York Times list or in a store, straightforward text are printed on, those are all on an uncoated groundwood. Almost all of that paper, right now, is coming from the U.S. and Canada, mainly Canada. Most printers are always stocking up on that," says Doug Wolff, Director of Production at Workman. […]

"Right now, paper is a major problem domestically, for no other reason other than paper mills have been shutting down, paper mills have been consolidating, there's not as much book paper being made, so for me today to say I want to do a book and I want to print it in two weeks, that could be impossible, just because I might not be able to get paper that quickly. We're getting things where they're saying it's five to six to seven weeks to get paper, which has never been the case in all the years I've done production. We might have to choose a different type of paper," says Wolff.
(14) GREEN BOOK. Two places where fanhistory was made in Los Angeles are among "LA's last remaining Green Book locations" says LA Curbed.
In Jim Crow-era America, the open road was not open to all. For African Americans, Route 66, the iconic cross-country highway, was dangerous. It was dotted by racist signs and Sundown towns, cities like Glendale that warned blacks to "leave town by sundown."

In 1936, a postal worker named Victor Green set out to create a guide that would help black travelers drive the "Road of Dreams" safely, and as he put it at the time, "without embarrassment."

What he published was the Negro Motorist Green Book. Up until the final year it was published in 1966, the guide listed thousands of safe havens that made up a nation-wide network for people of color, from barbershops to ballrooms.

Of the 224 original Green Book sites in Los Angeles, only about 8 percent still stand, mostly due to neglect and gentrification.
Number 4 on the list – the Hotel Alexandria, which hosted the 1958 Worldcon.
Hotel Alexandria has a turbulent history. One of the oldest Green Book sites, it was built in 1906 as the exemplification of luxury. Over a few decades, it went from hosting the likes of Franklin Roosevelt and Winston Churchill, to being shuttered during the Great Depression, to being reopened and re-styled in a faux-Victorian model, to hosting Cassius Clay and Aretha Franklin. From Coppertone beauty contests to Malcolm X rallies, Hotel Alexandria was a notable hub for international and community-based events.

But, in the late '70s and early '80s, it fell into decline again, becoming a single room occupancy hotel and drug-trafficking focal point. It wasn't until the early 2000s that arts and entertainment kicked off its revitalization. Thanks to films such as Dreamgirls, Water for Elephants, and Spider-Man 3, which shot in its famous Palm Court, the Hotel Alexandria is now a functioning low-income housing apartment building. This year, it's even welcoming a new bar geared to creatives called The Wolves downstairs. And, like many Green Book sites, it's rumored to be haunted.
Clifton' Brookdale, where LASFS once met, is on the list, too.
(15) DO YOU KNOW YOUR SFF? Steve Davidson says: stay tuned for Amazing Stories' new trivia contest.
The Big News (saved for last) this week is, this coming Wednesday, December 5th, we're going to start a weekly SF Trivia Contest.

There will be TWO winners for each contest:  one prize will be awarded to the first person who leaves the correct answer in the comments, and an additional prize will be awarded to a randomly selected contestant from among all of those who have provided the correct answer..

The prize will be a One Year Digital Subscription to Amazing Stories.  (If you are already a subscriber and win, your subscription will be extended.)
(16) WHO YA GONNA CALL? Despite long experience, when Camestros Felapton needed "Travel Advice" he asked Timothy the Talking Cat.
[Felapton Towers at a strange hour. A phone rings. Timothy the Talking Cat sitrs, weak and weary having spent the night pondering over many a quaint and curious volume of forgotten lore. He answers the phone.]

Timothy: Ahoy. Felapton Towers. Timothy the Talking Cat speaking.

Camestros: Hullo, hullo. Timothy! I need a bit of help!

Timothy: Where are you? What is that echoing background noise?

Camestros: I'm in an airport Timothy. And I've forgotten something Timothy.
(17) PRIMATES MAKE BETTER PREDATORS. On io9/Gizmodo, Julie Muncy thinks that "The Predator Would Have Been Way Better With These Predator-Monkey Hybrids". Art for an unused monkey/Predator hybrid concept has surfaced from September 2018's The Predator—a reboot of the franchise. The story first surfaced on AVPGalazy ("Constantine Sekeris Shares The Predator Hybrid Creature Concept Art"). That latter story quotes Sekeris as saying (in part):
Today I'm sharing a Predator Hybrid Multi Limb Monkey creature. Production designer Martin Whist and Shane Black had notes exactly that of multi limb hybrid Predator monkey. Typically I spend some time exploring in sketch phase if I have the time with simple paper and pencil. For this creature I had to jump right into 3D and blast out something pretty quickly in a night or 2 after hours.

Early part of the script there were a lot of different hybrid creatures that Tully Summers and myself tackled. I'm not sure if 3D were in the ship in the pods or the Predator Scientists/Emmisaries were experimenting with different animals and mixing DNA. I think there were some initial quick ideas and wanted to see some quick options to explore if it was something to refine later. In the end all that was cut out of the final edit of the film. Regardless, was still fun tackling this as an exercise. Looking at it now with fresh eyes I would make the skin texture patterning a lot simpler and graphic.
(18) GET THE MESSAGE? In other words, it's going to be about as subtle as his other movies: "Marrakech: Guillermo del Toro Talks "Political" 'Pinocchio,' Confirms 'Terrifed' Remake" – The Hollywood Reporter has the story.
Guillermo del Toro said his upcoming Pinocchio project for Netflix will be a political parable, and not the kid-friendly fare of the competing Disney remake.

"It's not a Pinocchio for all the family," he said of his story, set in 1930s Italy. So is it a political film? "Of course. Pinocchio during the rise of Mussolini, do the math. A puppet during the rise of fascism, yes, it is."
(19) SPOTTING MORE MEASLES. From NPR: "Amid Spike In Measles Cases, Health Officials Warn Of 'Losing Decades Of Progress'".
Health officials believe they know the roots of the growth.

"Without urgent efforts to increase vaccination coverage and identify populations with unacceptable levels of under-, or unimmunized children, we risk losing decades of progress in protecting children and communities against this devastating, but entirely preventable disease," Soumya Swaminathan, the WHO's deputy director general for programs, said in a statement released Thursday.

…But medical experts say those global successes have depended on the vaccine. Regions that do not have a high rate of vaccine coverage, whether due to a lack of access or conscious rejection by parents, are susceptible to a rise in measles — even relapses in areas where the disease had been nearly or entirely eliminated.
(20) BUSTING A SLUMP. BBC expects the next mission will be free of the program's recent problems: "All systems go as Russia's Soyuz aims to erase space failures".
Soyuz launch number 138 should be as routine as it gets for space flight. The next crew are due to lift off on Monday heading for the International Space Station (ISS) from the same launch pad Yury Gagarin used in 1961 on his historic first flight into orbit.

But two months ago an accident on the last Soyuz launch sent the Russian and American astronauts hurtling back to Earth.

Shortly before that, the crew on the ISS had discovered a mysterious hole – located after air pressure on the Station began to drop, and successfully plugged.

Both incidents have raised questions about the state of Russia's space industry – once the great pride of a Superpower – and the future of cosmic co-operation with the US.
(21) SOMETIMES, IT CAUSES ME TO RUMBLE. Keep your ear to the ground, but keep your head out of the way — "Vibrations offer new way to track elephants".
Researchers have come up with a new way of tracking elephants, via the vibrations that the animals make.

Scientists Dr Beth Mortimer and Prof Tarje Nissen-Meyer discovered that elephants generate vibrations through their normal movements and through vocalisations, known as "rumbles".

These can be measured by techniques usually used for studying earthquakes.
(22) MORE AUTHENTIC FAKES. A post WWII sell-off from the Victoria & Albert Museum collection changed set decoration in Hollywood epics for the better: "How London's Victoria & Albert Museum Boosted Hollywood's Historical Cred" in The Hollywood Reporter.
In that V&A stash: the cast tin replica of a 100 A.D. silver cup from Pompei that Charlton Heston clutched in MGM's 1959 monster hit Ben Hur. Considering that a single V&A electrotype can easily command $6,000-$7,000 or more on auction websites today, it was a smart move by the studio. "Even allowing for inflation, MGM got a bargain," Patterson tells THR.

While the museum's electrotypes were also sold off to third parties and were ultimately purchased in the secondary market by the likes of Warner Bros., the V&A's hidden hand in Hollywood is far greater than even all this suggests. Henry Cole, the V&A's first director, used his position in the mid 19th century to convince 15 European princes and various art and academic institutions to make copies publicly available of the treasures they held in their little-seen collections. That is how the copper and electrogilt copies of historic silver buried deep inside Cambridge and Oxford universities ultimately wound up in the Holy Grail cave of 1989's Indiana Jones and the Last Crusade
(23) CHANNEL 2001. The next generation of TV started airing today. Not that any of us can tune in: "Space Odyssey helps launch first 8K TV channel".
Stanley Kubrick's 2001: A Space Odyssey will help launch the world's first super-high definition 8K television channel on Saturday.

Japanese broadcaster NHK said it had asked Warner Bros to scan the original film negatives in 8K for its new channel.

Super-high definition 8K pictures offer 16 times the resolution of HD TV.

However, few people currently have the necessary television or equipment to receive the broadcasts.
(24) SABRINA'S NO APRIL FOOL. She'll wait 'til later in the week to arrive…. Nextflix's Chilling Adventures of Sabrina resumes April 5.
Get ready, mortals. Our girl's gone full witch. Join Sabrina as she navigates the Path of Night while holding on tight to her friends who walk the Path of Light.
[Thanks to Martin Morse Wooster, JJ, SF Concatenation's Jonathan Cowie, Mike Kennedy, Chip Hitchcock, Cat Eldridge, John King Tarpinian, Carl Slaughter, and Andrew Porter for some of these stories. Title credit goes to File 770 contributing editor of the day Kip Williams.]