(1) THE PERFECT MATCH. Fathom Events is bringing Starship Troopers back to theaters – but only so the stars of Mystery Science Theater 3000 can give the movie everything it deserves.
The stars of Mystery Science Theater 3000® are bringing The Best of RiffTrax Live back to select cinemas nationwide. On Thursday, January 14, join Mike, Kevin, and Bill for a re-broadcast of their hilarious take on Starship Troopers.

Originally riffed in August 2013, this fan favorite features the guys hurling their wisecracking humor at what has become the king of modern campy sci-fi epics.
(2) THREE BODY. President Barack Obama spent his holiday vacation in Hawaii reading these four books reports Newsweek.
His reading list includes: The Whites by Richard Price, Purity by Jonathan Franzen, The Wright Brothers by David Mccullough, and The Three Body Problem by Liu Cixin.
(3) DEMENTO AND CRAZY-EX. Joe Blevins at Splitsider fills you in on everything from Dr. Demento to YouTube in "2015: The Year Comedy Music Broke".
And then there are the vloggers and other YouTube stars, the ones who make their livelihoods from the site. It's an under-reported phenomenon, but original comedic music has played a huge role in the success of many of them. Popular channels like Epic Rap Battles of History, Axis of Awesome, and Schmoyoho, all of which regularly rack up millions of views per video, are essentially delivery systems for new comedy music, even if few would think to lump them in with the acts getting airtime on The Dr. Demento Show. They're all playing the same basic sport, though, just in different arenas. The comedy duo Smosh, long one of YouTube's most-subscribed channels, mostly concern themselves with sketches, but they do enough songs to warrant inclusion here. Even vlogger Jenna Marbles occasionally does a musical number (usually about her doted-upon dogs) as part of her weekly video series. If there is a way to make money doing funny music in 2015, it is to partner with YouTube, nurture a subscriber base, and never really define yourself as a comedy or worse yet "novelty" music artist. Meanwhile, none of these people are getting much validation from traditional media, including pop radio. Whether that constitutes a problem is debatable.
(4) CHAOTIC NEUTRAL. Brandon Kempner has declared Chaos Horizon ineligible for the 2016 Hugos.
After careful thought, I'm declaring that Chaos Horizon (and myself) will not accept a Hugo nomination in 2016. Because Chaos Horizon reports so extensively on the numbers related to the Hugo process, I feel it would be a conflict of interest to be part of that process in any way.

Since I do reporting and analytical work here at Chaos Horizon, it's important from me to maintain some journalistic distance from the awards. I couldn't do that if I were nominated. This is consistent with my past practice; I haven't voted in the Hugos since I began Chaos Horizon. Simply put, the scorekeeper can't play the game.
(5) TANGENTIAL HISTORY. The "Tangent Online 2015 Recommended Reading List" says it contains 417 works: 355 short stories, 46 novelettes, and 16 novellas.
Its long, error-filled endorsement of Sad Puppies 4 begins with this generous rewriting of history —
Sad Puppies was the name given to a small group of fans four years ago who had become disgruntled after seeing many of the same names on the final Hugo ballot, year after year. It was spearheaded that first year by SF author Larry Correia, who decided to put forth a list of authors and works he believed were being overlooked. He recused himself from being recommended or being nominated.
The Sad Puppies name was given these campaigns by their creator, Larry Correia, who started them to stir support for his own Hugo prospects. He was successful enough to be nominated three times; it was only the third he declined. Nor did he recuse himself from Sad Puppies 3, but supported the SP3 slate with his novel on it, only at the end suprising his fans by taking himself off the ballot.
(6) SOMETIMES THEY DO GET WEARY. The respected Lois Tilton begins "2015 Reviews in Review" at Locus Online with a sigh:
Lovers of SFF can only deplore the late year's outbreak of divisiveness and animosity, with the hostile parties displaying a willingness to destroy the genre in order to deny it to the other. Calls for unity go unheard while the partisans make plans to continue the hostilities in the upcoming year. The only bright spot is that ordinary readers appear to have largely ignored the entire thing.
(6) FLICK ANALYSIS. Ethan Mills shares his picks "2015 Movies: The Good, the Bad, and the Mediocre" at Examined Worlds.
I've been trying to decide between Fury Road and The Force Awakens as my favorite movie of the year.  Both movies have ultra-competent female protagonists, although Fury Road could certainly have done better on the racial diversity front.  While Fury Road gives us pulse-quickening action and a fully realized post-apocalyptic world, Star Wars gives us all the fun of a real Star Wars movie.
Click to see who wins.
(7) READY-TO-WEAR TBR PILE. And if you have a week free, Fantasy Faction will tell you about the Top 50 fantasy novels of 2015.
It's getting harder and harder to be a well-read and up-to-date reviewer in Fantasy these days. It's also getting incredibly difficult to order the best of the year lists. I know that complaining that too many good books are being released probably isn't an argument I will get much support for, but wow oh wow were there too many damned good books published in 2015, right? RIGHT!?

It's not just the quality of the books, but the diversity of the Fantasy genre worth applauding too. Take Empire Ascendant, The Grace of Kings, The Vagrant and Uprooted – these aren't books being based on proven and familiar formulas
(8) TODAY'S BIRTHDAY GIRL
Born December 31, 1945 – Connie Willis
https://twitter.com/EdMcKayinFay/status/682559367087013888
(9) MURDER BY DEATH. "The Medieval Revenant: Restless, Dead, and Out for Revenge" by Matt Staggs at Suvudu. Interesting paragraph – perhaps the literati around here can tell whether it's accurate.
Unlike us, medieval men and women didn't make much of a distinction between various kinds of the living dead. There were revenants who fed on blood, and vampires who fed on anything but blood. Sometimes the restless dead took physical form, and other times they were immaterial spirits, like ghosts. (The zombies stayed down in Haiti, and those poor souls didn't eat anyone.) Because of these reasons, classifying a story as one about a revenant rather than a ghost, vampire, or other restless dead thing can be difficult. That said, we can draw upon these tales for some ideas of what revenants did and why they rose from the dead in the first place.
(10) MISSING YOU. Journey Planet #27 takes as its theme "Fan History – To Absent Friends." Download it here.
We look at the impact of those who have come before us, and what they meant to the evolution of Fandom, and of fans. Wonderful stories of legends like Bruce Pelz, Peggy Rae Sapienza, Jerry Jacks, Mikey Jelenski, Fred Duarte, Gary Louie, Robert Sacks, Poul Andersen, Mick O'Connor, Dave Stewart, James White, Ted Johnstone, Joe Mayhew, LeeH, Jay Haldeman, George Flynn, and many many more, help us understand the legacies that led us to where fandom is today.

It was lovely to learn more about so many people that we had heard of but sadly never met, and to learn about people new to us that, unfortunately, we will never have an opportunity to meet. Our experience as fans is enriched by knowledge, and we hope that you will all have a similar experience reading the issue. Produced by guest editors Helen Montgomery & Warren Buff, plus editors Chris Garcia & James Bacon.
(11) BOOKLESS. Is making these announcements a new trend? Greg Van Eekhout is another author explaining why he won't have a new book out in 2016.
First of all, I won't have a new novel out. That's mostly because I didn't complete one in time to have a novel out in 2016. From the time a novel is sold, a publisher usually needs at least nine months and often more than a year to get it ready for release. And by "ready" I mean not just editing and printing, but also positioning it with a marketing campaign and finding an advantageous slot for it in the release schedule. So, for me to have a book out in 2016, I would have had to finish writing it sometime in late 2014 or early 2015, so an editor could edit it, so I could revise it, so an art director and book designer and cover artist could make it pretty, and so on. Unfortunately, taking care of two elderly parents was more than a full-time job that didn't leave much physical or emotional energy for new writing.
(12) EXPANSE RETURNING. Lizard Brain shares Syfy's press release announcing that The Expanse has been renewed for a second season.
Currently airing on Syfy Tuesdays at 10PM ET/PT, THE EXPANSE has garnered strong multiplatform viewership since its December 14 debut, with 4.5 million viewers sampling the first episode on Syfy.com, On Demand and digital outlets prior to the series' linear premiere, and an average of 1.6 million P2+ linear viewers (L3) in its first three episodes.
(13) MISTER LISTER. Black Gate's John ONeill amusingly comments —
Fortunately, the tireless John DeNardo works much harder than me. He doesn't go to Christmas parties, or watch movies. Ever. Or sleep, apparently. No, he read every single one of those Best SF & Fantasy of the Year lists. The ones that matter anyway…
— before guiding us to John DeNardo's compilation of "The Best of the Best of 2015's Science-Fiction and Fantasy Books" at Kirkus Reviews. There, De Nardo explains:
o  I used 8 different sources to arrive at the aggregate, all of them specifically geared toward science-fiction and fantasy books: Amazon, Barnes and Noble, Los Angeles Times, NPR, Publishers Weekly, The Guardian, The Washington Post, and course Kirkus Reviews.

o  I only included books that garnered three or more mentions. That yielded a list of seven books, which seems like a good size. That said, I also include below a list of "Honorable Mentions" that appeared on two lists.
(14) SNOPES CLEARS HARLAN. Snopes says a famous Harlan Ellison story never happened/
Claim:   Writer Harlan Ellison was rebuffed after making a crude remark to a tall blonde woman at a party.

Status:   False.
In Snopes' example, Isaac Asimov spins out an entire anecdote, but the gist is —
…Harlan approached one of these giraffelike women, fixed her with his glittering eye, and said, "What would you say to a little fuck?" And she looked down at him and said, "I would say, 'Hello, little fuck.'"
Snopes says this is nothing more than a riff off one of the jokes in Gershon Legman's Rationale of the Dirty Joke first published by Grove Press in 1968.
I remember hearing the joke whispered between fans in the early 1970s. It must have been freshly purloined from Legman at the time.
(15) HALLOWEEN STAMPS. Naturally, horror news blog Dread Central is more interested in the 2016 Jack O'Lantern stamps that will be issued for Halloween. I skipped over those to avoid spoiling the symmetry of the space and Star Trek theme in yesterday's post. But they are lovely!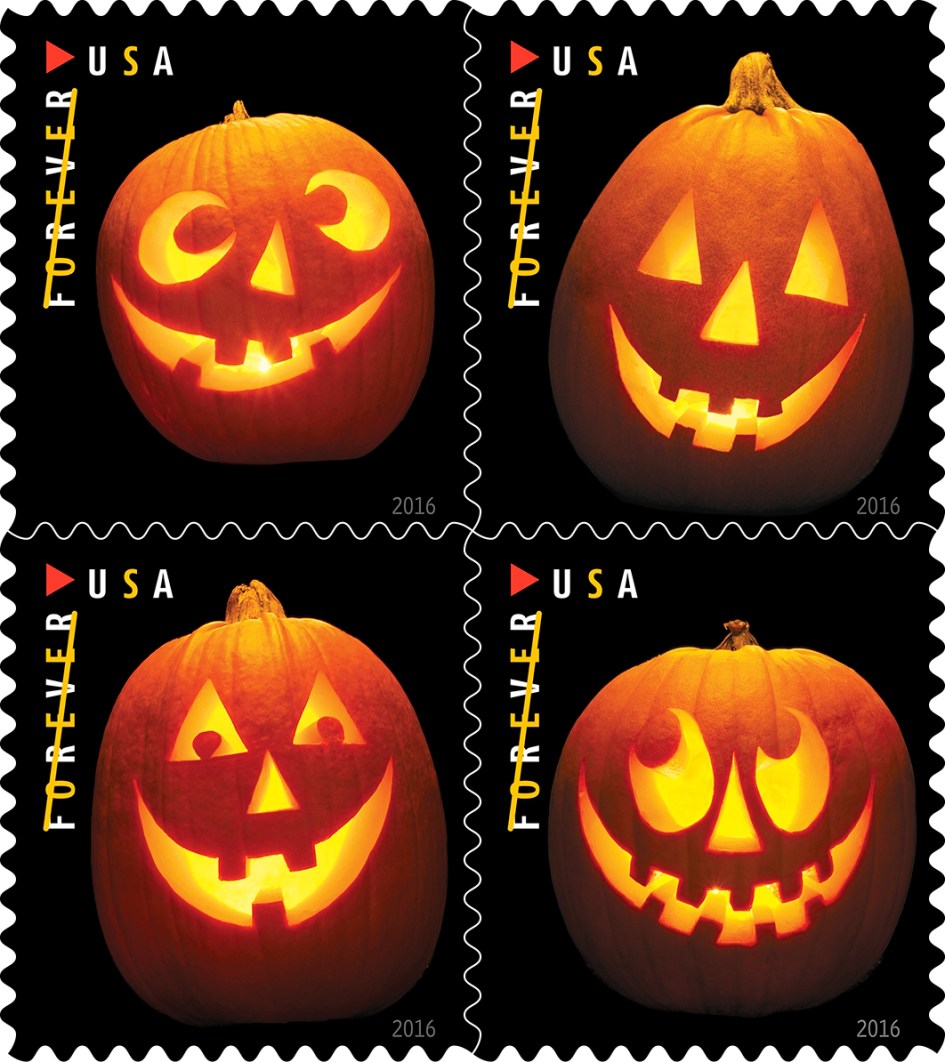 (16) TREK ACTORS CASH IN. "Star Trek Actor Salaries Just Beamed Up With Big Raises" at Celebrity Net Worth says Paramount will pay big to hang onto the cast of its franchise films.
…In order for the latest Star Trek film series to "live long and prosper," Paramount needed to keep Pine and Quinto on board as Spock and Kirk…

Pine only made $600 thousand for 2009's Star Trek, which grossed over $385 million. For 2013's Star Trek: Into Darkness, Captain Kirk made $1.5 million of the $467 million gross. Before a new deal was struck, he was scheduled to make $3 million for the upcoming Star Trek Beyond. Thanks to a lucrative new deal, Pine will now make $6 million for the third Star Trek film, which is double what he was supposed to make, and will be 10 times what he made for the first film in the series!

The new deal features big raises and much better performance bonuses for the cast. Paramount only wanted to give the ship mates nominal raises, but ended up giving in for the better of the franchise. Thanks to last minute negotiations, the production house ended up adding somewhere between $10 and $15 million to the movie's budget to pay the stars of the show. As part of the new deal, Pine and Quinto have been granted an option and will now be a part of the 4th film in the J.J. Abrams directed series.
(17) SKY TRASH. Almost 20,000 pieces of space debris are currently orbiting the Earth. This visualisation, created by Dr Stuart Grey, lecturer at University College London and part of the Space Geodesy and Navigation Laboratory, shows how the amount of space debris increased from 1957 to 2015, using data on the precise location of each piece of junk. (Via Chaos Manor.)
(18) KEEP THE FAITH. James H. Burns writes:
For the end of the year, or really the start of the new, and in the spirit of the season, one of the greatest minutes ever in the history of filmed science fiction…  Courtesy of J. Michael Straczynski, and the good folks at, and on, Babylon 5….
[Thanks to Andrew Porter, John King Tarpinian, James H. Burns, Brian Z., and Sean Wallace for some of these stories. Title credit goes to File 770 contributing editor of the day Will R.]