(1) AN ORDERLY ILLUSION. The Daily Californian's Logan Roscoe, in "Bureaucratizing science fiction", analyzes the use of architectural design in New Weird visuals.
…When playing Control, the player fights interdimensional enemies, but in every background, they see an attempt at subjecting the supernatural to a distinctly human authority. When watching "Loki," the watcher is baffled by the mysteries of time travel and elusive authoritarians, but in every background, they see an attempt at condensing those mysteries into something understood. When watching "Legion," the viewer is captivated by sights such as an interview room positioned upside down, dangling above an entire city; but in every background, they see a need for such an interview room — characters lost and scrambling for ways to understand the phenomena that make every cell in their bodies scream in discomfort. In all of these pieces of media, the humans try to colonize the unknown before it colonizes them….
(2) THERE'S KNOW PLACE LIKE HOME. Jennifer Bernstein studies the reasons for "Edith Wharton's Ghosts" in the Boston Review.
… This disposition of unease followed her into adulthood. She married Edward Robbins Wharton (Teddy) in 1885; the two traveled extensively until Teddy's depression anchored him to The Mount, a melancholy that seems to have bled into Edith's psyche. Wharton lived some happy years there, famously writing in bed with her little dogs, but gradually became disillusioned with the house she had once loved, even coming to find it sinister and threatening. Her marriage deteriorated; after verbal abuse and violent episodes of hysteria on Teddy's part and infidelity by both parties, Edith moved to Paris, and Teddy sold the house without her consent in 1911. They divorced two years later. Wharton would never again live in the United States.

So the symbol of her self-invention became something Wharton hated and feared. Amidst her marital and emotional turmoil, did Wharton really believe The Mount was haunted? Subsequent occupants shared her suspicions; some reported hearing strange noises and seeing spectral figures. The estate, now open to the public as a house museum, offers a popular ghost tour, promising the chance to see apparitions of past denizens, caretakers, groundskeepers, and tragic suicides.

But the question of Wharton's own beliefs is perhaps the wrong one to ask. In the preface to Ghosts, Wharton adumbrates her view that belief in the supernatural is not an act of the intellect. Rather, it is "in the warm darkness of the pre-natal fluid far below our conscious reason that the faculty dwells with which we apprehend the ghosts we may not be endowed with the gift of seeing." …
(3) SUN SETS ON YURI'S NIGHT. "Space Conference Censors Name of First Human in Space Because He Was Russian" says Futurism in a disapproving article.
Whipping themselves into a Freedom Fries-esque fit of censoriousness, a space industry conference has removed the name of celebrated Soviet cosmonaut Yuri Gagarin, the first human to travel into space, from an event.

The nonprofit Space Foundation announced in a now-deleted note that "in light of current world events" it would be changing the name of a fundraiser from "Yuri's Night" to "A Celebration of Space: Discover What's Next" at its Space Symposium conference.

"The focus of this fundraising event remains the same — to celebrate human achievements in space while inspiring the next generation to reach for the stars," the deleted update notes.

… Erasing the name of the first person to ever fly to space while supposedly celebrating "human achievements in space" is bad enough.

But doing so in line with the milquetoast trend of disavowing all things Russian, including famous composers and food products, amid the country's current invasion of Ukraine is just outrageous….
(4) ESSAY: GINJER BUCHANAN — [Item by Cat Eldridge]
I have come to honor one of our most excellent Editors ever. She was the Editor-in-Chief at Ace Books and Roc Books where she stayed for a stellar thirty years before retiring. Prior to that, she was consulting editor for the Star Trek tie-ins at Pocket Books and an outside reader for the Science Fiction Book Club. And yes, she was active in fandom from an early age which included being a founding member of the Western Pennsylvania Science Fiction Association or WOOPSPA or as it was affectionately known as she noted in a Locus interview.
Berkley president and publisher Leslie Gelbman upon her retirement said of her: "During her thirty years with Ace and Roc, Ginjer was essential in growing our science fiction and fantasy list and launching the careers of several bestselling authors. Her love for the genre and books in general and dedication to her authors is unparalleled, and she's a key reason Ace/Roc is one of the preeminent science fiction-fantasy publishers."
She won a Hugo at Loncon 3 for Best Editor, Long Form and was nominated for the same at Nippon 2007, Denvention 3, Anticipation, Aussiecon 4 and Renovation.
She won the Nebula Solstice Award in 2013, and the same year saw her garner the Edward E. Smith Memorial Award for Imaginative Fiction. She was nominated in 2006 for a World Fantasy Award for a Special Award, Professional for her work Ace Books but alas did not win.
She was the Toastmaster at the World Fantasy Convention in 1989, and a Guest of Honor at ArmadilloCon in 1988, Foolscap in 2000 and at OryCon in 2008. Ginjer Buchanan was also a Guest of Honor at the Dublin 2019 Worldcon. And she will be a GOH at World Fantasy Con in New Orleans in 2022.
And yes, she's written fiction. Her sole novel is a Highlander series tie-in, White Silence. She's also penned three short pieces of fiction, "The End of Summer by The Great Sea" in the Alternate Kennedys anthology, Cathachresis" in the More Whatdunits anthology, and "If Horses Were Wishes …" in the By Any Other Fame anthology. The first two are edited by Mike Resnick alone, the last by Resnick and Martin H. Greenberg.
Being a serious Firefly fan, she has an essay, "Who Killed Firefly?" in the Jane Espenson edited Finding Serenity: Anti-Heroes, Lost Shepherds and Space Hookers in Joss Whedon's Firefly collection. Being a fan of the Buffy the Vampire Slayer series, she penned "The Journey of Jonathan Levenson: From Scenery to Sacrifice" which was in Buffy the Vampire Slayer: The Watcher's Guide, Volume 3 edited by Paul Ruditis.
Oh, and she has one published poem, "Four Views of Necon" published in Cemetery Dance's The Big Book of Necon anthology edited by Bob Booth.
All in all, an amazing individual who has contributed in oh so many ways to our community, so let's toast her now as she so richly deserves to be.
(5) TODAY'S BIRTHDAYS.
[Compiled by Cat Eldridge.]
Born March 20, 1932 — Jack Cady. He won the Nebula Award, the World Fantasy Award, and the Bram Stoker Award, an impressive feat indeed. McDowell's Ghost gives a fresh spin on the trope of seeing seeing a War Between The States ghost, and The Night We Buried Road Dog is another ghost story set in early Sixties Montana. Underland Press printed all of his superb short fiction into two volumes, Phantoms: Collected Writings, Volume 1 and Fathoms: Collected Writings, Volume. He had a Hugo nomination at ConAdian for his novella "The Night We Buried Road Dog". (Died 2004.)
Born March 20, 1948 — Pamela Sargent, 74. She has three exemplary series of which I think the Seed trilogy, a unique take on intergenerational colony ships, is the one I like the best. The other two series, the Venus trilogy about a women determined to terraform that world at all costs is quite good, and there is the Watchstar trilogywhich I know nothing about. Nor have I read any of her one-off novels, so please do tell me about them. Her "Danny Goes to Mars" novelette won a Nebula and was nominated for the same at ConFrancisco. She was given the Kevin O'Donnell Jr. Service to SFWA Award.
Born March 20, 1948 — John de Lancie, 74. Best known for his role as Q in the Trek multiverse, though I was more fond of him as Janos Barton in Legend which stars Richard Dean Anderson (if you've not seen it, go now and watch it). He was also Jack O'Neill's enemy Frank Simmons in Stargate SG-1. He has an impressive number of one-offs on genre shows including The Six Million Dollar Man, Battlestar Galactica (1978 version), The New Twilight Zone, MacGyver, Mission: Impossible (the Australian edition which is quite excellent), Get Smart, Again!, Batman: The Animated Series, and I'm going to stop there. He's currently reprising Q in the second season of Picard.
Born March 20, 1950 — William Hurt. He made his first film appearance as a troubled scientist in Ken Russell's Altered States, an making film indeed. He's next up as Doug Tate in Alice, a Woody Allen film. Breaking his run of weird roles, he shows in Lost in Space as Professor John Robinson. Dark City and the phenomenal role of Inspector Frank Bumstead followed for him. He was in A.I. Artificial Intelligence as Professor Allen Hobby and performed the character of William Marshal in Ridley Scott's Robin Hood. Up next was horror film Hellgate and his role as Warren Mills,and Jebediah from Winter's Tale. His final, to date that is, is in Avengers: Infinity War as Thaddeus "Thunderbolt" Ross. Two series roles of notes, the first being in the SyFy Frank Herbert's Dune as Duke Leto I Atreides. Confession: the digitised blue eyes bugged me so much that I couldn't watch it. His other role worth noting is Hrothgar in Beowulf: Return to the Shieldlands. (Died 2022.)
Born March 20, 1955 — Nina Kiriki Hoffman, 67. Her first novel, The Thread That Binds the Bones, won the Bram Stoker Award for first novel. In addition, her short story "Trophy Wives" won a Nebula Award for Best Short Story. Other novels include The Silent Strength of Stones (a sequel to Thread), A Fistful of Sky, and A Stir of Bones. All are amazingly excellent. Most of her work has a strong sense of regionalism being set in either California or the Pacific Northwest.
Born March 20, 1962 — Stephen Sommers, 60. He's responsible for two of my very favorite pulpish films, The Mummy and The Mummy Returns which he directed and wrote. He also did the same for Van Helsing, and the live action version of Rudyard Kipling's The Jungle Book. No, I've not seen it, so how is it? Not that he's perfect as he did all four of the Scorpion King films…
Born March 20, 1970 — Cathy DeBuono, 52. If you were observant, you noticed her as M'Pella, a dabo girl who worked in Quark's on Deep Space 9 during the last three seasons for an amazing fifty two episodes. She also worked on the series as a stand-in, photo double, and body double for Terry Farrell. She received no on-screen credits until her final appearance in "The Dogs of War" episode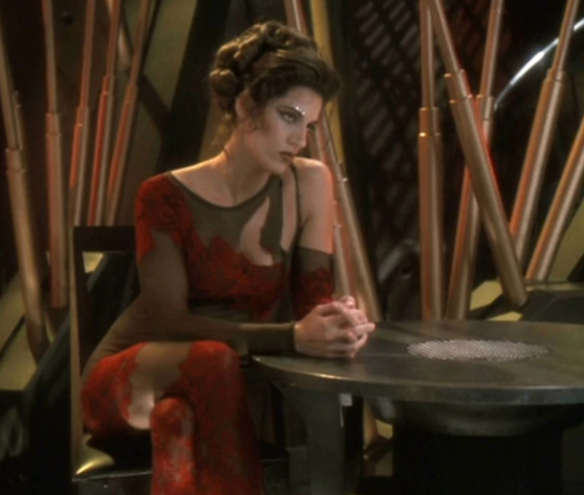 Born March 20, 1979 — Freema Agyeman, 43. Best known for playing Martha Jones in Doctor Who, companion to the Tenth Doctor. She reprised that role briefly in Torchwood. She voiced her character on The Infinite Quest, an animated Doctor Who serial. Currently she's on Sense8 as Amanita Caplan. And some seventeen years ago, she was involved in a live production of Terry Pratchett's Discworld's Lords and Ladies held in Rollright Stone Circle Chipping Norton, Oxfordshire. It was presented out of doors in the centre of two stone circles. She's continued her Martha Jones role in the Big Finish audio productions.
(6) COLLECTOR'S ITEM. The New York Post listens to the register ringing as "First-ever Marvel comic nabs whopping $2.4M at auction".
A particularly prized copy of the first-ever Marvel comic book fetched more than $2.4 million in an online auction, the auctioneer said Friday.

Known as the Marvel Comics #1 "pay copy," it's "arguably one of the top three comic books in the world of comics collecting," said Vincent Zurzolo, chief operating officer of ComicConnect. The New York-based auctioneer sold the book Thursday night for a bit under $2,427,800.

The buyer's name has not been disclosed. He is "an extremely passionate comic book collector and investor" who also collects other items, Zurzolo said.

Published in 1939, Marvel Comics #1 introduced characters including Sub-Mariner and the original Human Torch, a precursor of the character of the same name that was later a member of Marvel's Fantastic Four. The book launched what became the Marvel universe of comics, movies, TV shows and video games….
(7) WEAVER OF TANGLED WEBS. Spider-Man: No Way Home special effects supervisor Kelly Port discusses what he did on the film in this video from Vanity Fair that dropped Friday. "How 'Spider-Man: No Way Home' Visual Effects Were Made".
(8) ROBOSMACKDOWN. "'More Than Robots' Review: An International Battle" in the New York Times.
… Despite the movie's title, robots are, in fact, the subject and spectacle of this lighthearted film.

Working in groups over the course of several weeks, young inventors participate in the FIRST Robotics Competition to create industrial-size robots that are complex enough to move automatically, shoot projectiles and even climb. The organization that runs the competition was founded by the inventor Dean Kamen, who wanted to host an event that would develop the skills of young engineers. (The international reach of the competition drew powerful patrons: When the organizers of the tournament present the season's challenge, they acknowledge that the competition is sponsored by Lucasfilm.)

The documentary follows four teams in early 2020 as they prepare for regional competitions in Japan, Mexico and California. The most memorable scenes come from the two teams in Los Angeles, each led by their teachers Fazlul and Fatima, who are also a married couple. Despite the apparent differences in funding between the two schools, both mentors encourage their students to build robots that stand up to the hard knocks of engineering battles….
(9) ANIME NEWS. A trailer for a new Netflix anime series "Tekken: Bloodline".
(10) WHAT'S MISSING. [Item by Martin Morse Wooster.] In this video, Patrick WIlliens, self-proclaimed Batman nerd. wonders what happened to Robin in most of the versions of Batman released this century. He notes that Batman co-creator Bill Finger created Robin to be Watson to Batman's Holmes and give Batman someone to talk to, and thinks that having an age-appropirate Batman (not 13 and not an adult) would make Batman more human and less broody and obsessed. "Why Are Batman Movies Afraid Of Robin?"
[Thanks to JJ, John King Tarpinian, Andrew Porter, Michael Toman, Chris Barkley, Will R., Cat Eldridge, Mike Kennedy, and Martin Morse Wooster for some of these stories. Title credit belongs to File 770 contributing editor of the day Anna Nimmhaus.]